It is easy to get into a rut. Chicken roasted with salt, pepper? Tuna salad with mayo and celery? BORING! Well, sometimes we actually like simple, but this article is about expanding your flavor and ingredient repertoire. Have you ever baked with buckwheat? Tasted yuzu, fish sauce, jackfruit or nutritional yeast? Enjoyed fabulous bitter greens like escarole, or how about kimchi or fermented bean curd? We have 20 recipes for you that will take your palate to new places!
Buckwheat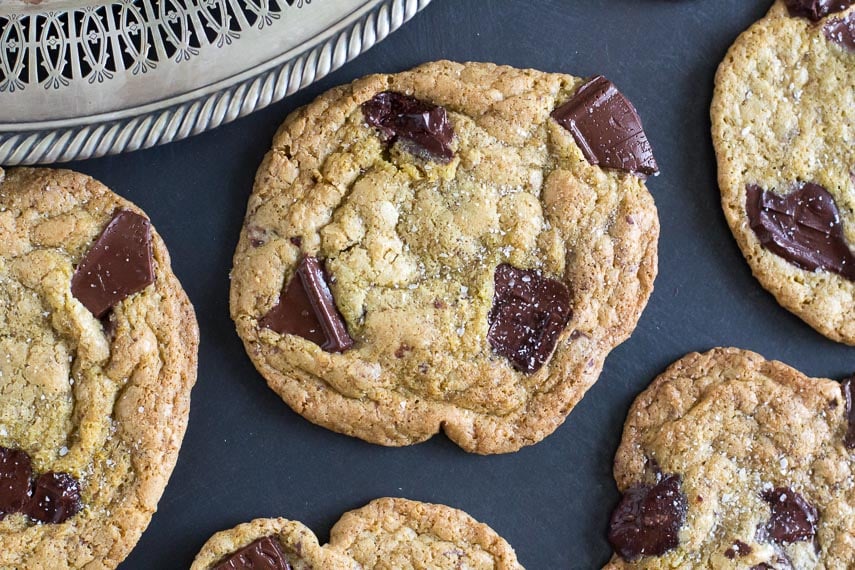 Highlighted Ingredient: Buckwheat. Buckwheat is a gluten-free grain that has an earthy flavor that works wonders in savory as well as sweet cooking. We have dozens of version of chocolate chip and chocolate chunk cookies, and these are one of our absolute faves, thanks to the buckwheat and a hit of salt! The hearty flavor of buckwheat offset with the sweetness of brown sugar, rich dark chocolate and a sprinkling of salt is a hard combination to beat. Get the Salted Buckwheat Chocolate Chunk Cookie recipe.
Kimchi
Highlighted Ingredient: Kimchi. Get ready for a plant-based, spicy tofu stew – with loads of kimchi! Kimchi is basically a spicy fermented cabbage condiment, and once you try it, you will want to add it to so many dishes. Garlic-oil, ginger, hot pepper flakes, scallions and firm tofu create a 30-minute stew you will be craving again and again. Get the recipe.
Fish Sauce
Highlighted Ingredient: Fish Sauce. Pungent fish sauce adds umami and salinity to your dishes in a way no other ingredient can. Note that the quality varies hugely; we like Red Boat brand. Inexpensive brands can be very harsh and ruin a dish, in our opinion. Pok Pok is a restaurant and restaurant group owned by Chef Andy Ricker in the Portland, Oregon area and they, among other things, are known for their pungent fish sauce marinated chicken wings coated with a crispy rice flour fried coating. Now you can make them at home. Get the recipe for Pok Pok Chicken Wings.
Nutritional Yeast
Highlighted Ingredient: Nutritional Yeast. Vegans are not the only ones who love nutritional yeast! It is a great way to add a cheesy flavor and creamy texture to plant-based cooking. Our plant-based Baja Tempeh Taco Salad features spicy, seasoned tempeh as the star of the show, but it doesn't stop there! In addition to cumin, cayenne, smoked paprika and oregano tempered with maple syrup and soy sauce we have a fresh crunchy salad with arugula, cilantro, cabbage and pepitas. More texture and flavor from nutritional yeast and tortilla chips top everything off with a garlicky lime dressing. Get the recipe.
Jackfruit
Highlighted Ingredient: Jackfruit. While it might have "fruit" in the title, jackfruit is often used as a savory meat replacement. We have New Orleans Style Gumbo featuring jackfruit! Instead of the "holy trinity" of lots of onions, celery and bell peppers and also the inclusion of garlic and garlic-laden andouille sausage, we have re-configured our recipe to be plant-based and tummy friendly, using jackfruit for a meaty texture, and butter beans for protein. You can add sausage, too, if you like, plant-based or otherwise. Get the recipe.
Preserved Lemons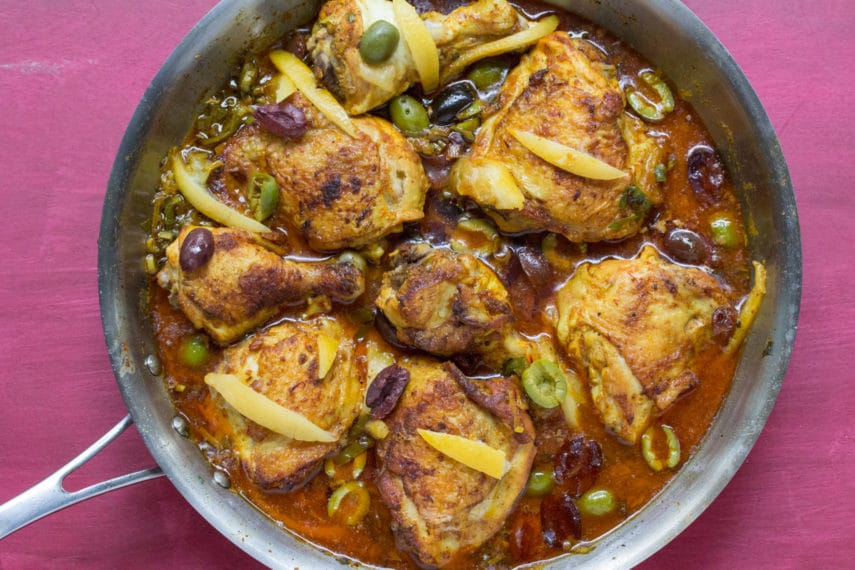 Highlighted Ingredient: Preserved Lemons. The simple combination of lemons and salt (homemade or purchased) becomes preserved lemons – a classic and sophisticated condiment. Here we have the enticing flavors of Morocco in a one-pot chicken dinner. The blend of spices – saffron, turmeric, cumin, ginger and cinnamon – might seem unusual. Combined they are indeed heady and fragrant but they are also perfectly balanced by the acidity from the Preserved Lemons as well as lemon juice. Click for the recipe.
Calamari Steaks
Highlighted Ingredient: Calamari Steaks. While you can sometimes find them fresh, we rely on frozen Calamari Steaks, which are large, flat pieces of squid meat – that you can grill and treat like a beef steak. This recipe is a classic Mediterranean dish that's all about quality ingredients and simple preparation. Just be sure to use a good quality olive oil and a very hot grill pan. Flash-frozen calamari steaks are now readily available in many fish markets and grocery stores. Get the recipe for Grilled Calamari Steaks.
Smoked Paprika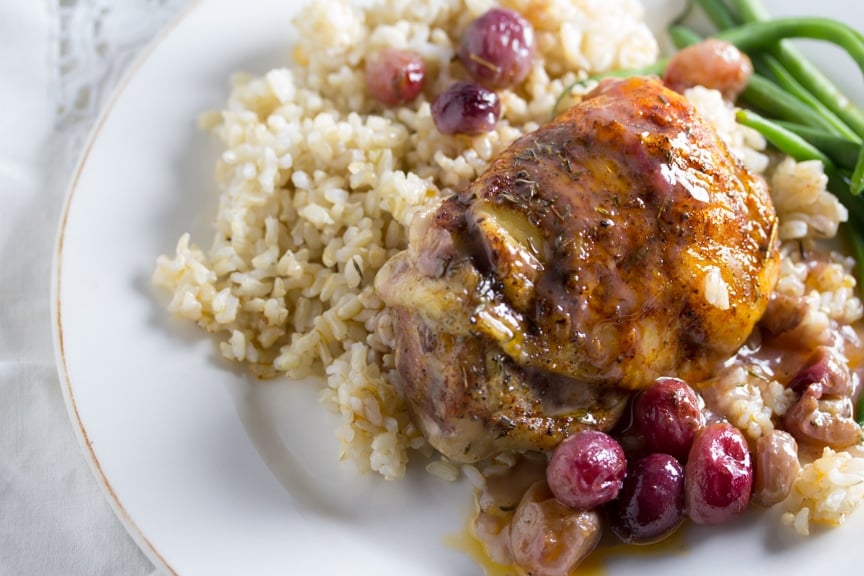 ​Highlighted Ingredient: Smoked Paprika. You probably have paprika in your spice drawer, but how about smoked paprika? Its smoky savoriness adds loads of flavor to your cooking. This Chicken with Grapes, Thyme and Smoked Paprika is a simple one-pan, oven-roasted meal that highlights the sweetness of the grapes, the smokiness of the paprika and the savory-ness of the chicken and thyme. It comes together in less time than it takes for the oven to preheat and is easy enough for a weeknight.
Tempeh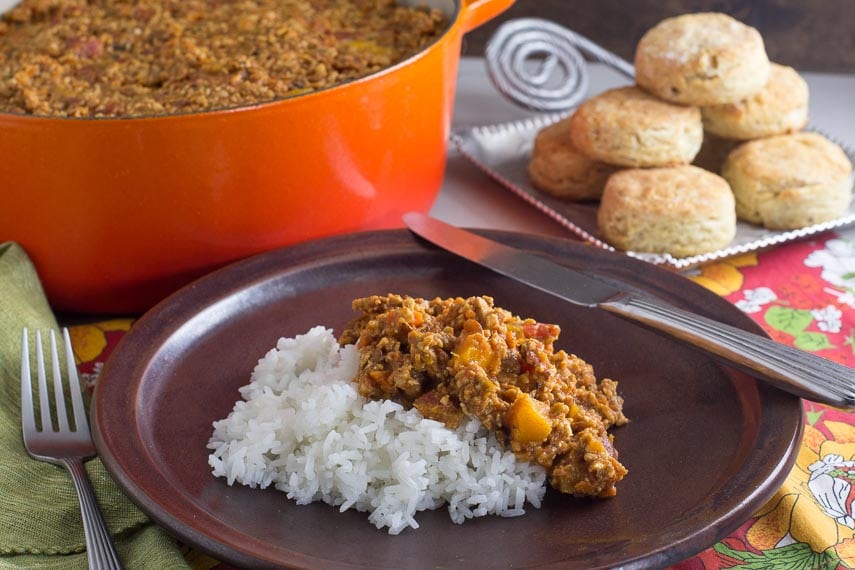 Highlighted Ingredient: Tempeh. If you have never cooked with tempeh before, this is a great dish to try the nutritious fermented soybean product. Protein packed with tempeh and lentils; this chili also has roasted butternut squash. Generously flavored with chipotle, smoked paprika and oregano, we love this served with rice. BTW, this recipe is vegan as it is, but if you are so inclined and do eat cheese, this chili is very tasty topped with some shredded sharp cheddar cheese. Get the recipe for Tempeh Lentil Chili with Squash.
Za'atar
Highlighted Ingredient: Za'atar. perhaps you have seen the term "za'atar" and wondered what it was? It is a comb of coriander, cumin, sesame seeds, sumac, thyme and hot peppers flakes, and can add loads of flavor to your cooking. This tofu scramble makes a great breakfast or lunch, or even light dinner. Nutritional yeast adds a cheesy, umami flavor. Get the recipe.
Tofu
Highlighted Ingredient: Tofu. We know tofu can get a bad rap, but like any ingredient, you have to know how to use it. Our Banh Mi Tofu Bowl is comprised of cooked rice, tofu, quick pickled carrots and daikon radish, red cabbage, cilantro and a little bit of spicy mayo, and will make you a tofu convert. Easy to make and perfect for plant-based eating. Low fat and protein packed, too. Get the recipe.
Miso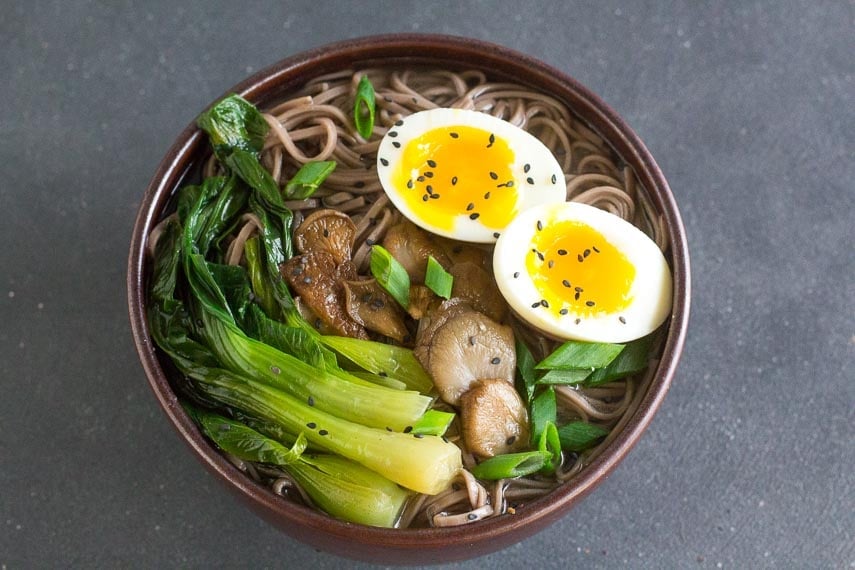 Highlighted Ingredient: Miso. Soy is so versatile, and miso, which is a fermented condiment, is a traditional Japanese ingredient. This soup has it all: slurpy soba noodles, vegetable broth, tender crisp baby bok choy, meaty oyster mushrooms, jammy eggs and of course, miso. Miso adds umami – rich, savory flavor. Get the recipe.
Seaweed
Highlighted Ingredient: Seaweed. If the thought of seaweed gives you pause, this recipe that uses nori sheets is a great way to try it. This homemade vegan sushi recipe is SO tasty and just perfect for beginners to learn how to roll sushi easily. You can put all your favorite ingredients into your perfect custom roll — here's how! Get the recipe for Easy Vegan Sushi for Beginners.
Sorghum
Highlighted Ingredient: Sorghum. Whole grains add nutrition and fiber to our diet, and sorghum is gaining in popularity. It is hearty, chewy, easy to cook and versatile. This incredibly delicious Vegan Sorghum Grain Bowl combines whole-grain sorghum with fresh vegetables, and cannellini beans and is topped with pecans and avocados. Perfect for a healthy summer meal! Get the recipe for Vegan Sorghum Grain Bowl.
Black Sesame & Yuzu
Highlighted Ingredients: Yuzu & Black Sesame. If you like citrus, you have to try yuzu, which is often described as a combo of lemon, grapefruit and orange. Black sesame seeds are dramatic and nutty. This Japanese-inspired Black sesame Tart with Yuzu curd is a must-try if you are into citrusy desserts and/or anything Japanese! Pâte Sablée sweet shortcrust enriched with black sesame seeds and filled with tangy and creamy yuzu curd. A beautiful contrast of flavors and textures topped with a super easy yet decorative chocolate shard decoration. If you want to try something new and that brings Japan to wherever you live in the world, this Yuzu dessert is the perfect easy tartlet recipe for you! Get the recipe for Black Sesame Tart with Yuzu Curd.
Fermented Bean Curd
Highlighted Ingredient: Fermented Bean Curd. If we didn't tell you that this dish contained fermented bean curd, you probably wouldn't know it. It lends a rich, savory flavor that cannot be duplicated. If you love a juicy, sweet & sticky char siu (Chinese BBQ Pork, 叉烧), give this easy recipe a try! Delicious authentic char siu is achievable at home! Includes instructions on how to make char siu in the oven so this can be made in the oven or the grill depending on the season. Get the recipe for Sweet And Sticky Char Siu.
Escarole
Highlighted Ingredient: Escarole. We are always looking for ways to add greens to our diet and escarole is a bitter green that works beautifully in this soup. For a light and delicious soup that you can whip up and have ready in just 20 minutes, escarole soup does the trick! This one-pot soup is simple to make and does not require any complicated equipment or recipes. It is both flavorful and filling, creating a perfect addition to your lunch or dinner table! Get the recipe for Escarole Soup.
Buckwheat Groats
Highlighted Ingredient: Buckwheat Groats. Rice might be a staple in your home, but buckwheat groats are a whole grain that can add flavor, texture and fiber to your cooking. The best vegan lentil loaf should be rich, moist, juicy, and easy to make. The good news is that you don't need to look any further. Jump to the recipe and check out how our secret ingredient makes this Lentil Loaf the best. We are so proud of this recipe we have perfected through several tests. We hope you'll fall in love with it too. Get the recipe for Juicy Vegan Lentil Loaf.
TVP
Highlighted Ingredient: TVP – Textured Vegetable Protein. TVP stands for "textured vegetable protein" and it can mimic ground beef in texture in extraordinary ways. Why is this the meatiest Vegan Beef Burger? Because it has a chewy, ground beef-like texture (thank you TVP), and it does not taste like veggies at all. It holds together during grilling and frying, even if you make thin patties. It is juicy and moist (not mushy) on the inside, but has a crispy crust on the outside. Did I mention it is also gluten-free! Get the recipe for Meaty Vegan TVP Burger.
6 Gas Station Chains With Food So Good It's Worth Driving Out Of Your Way For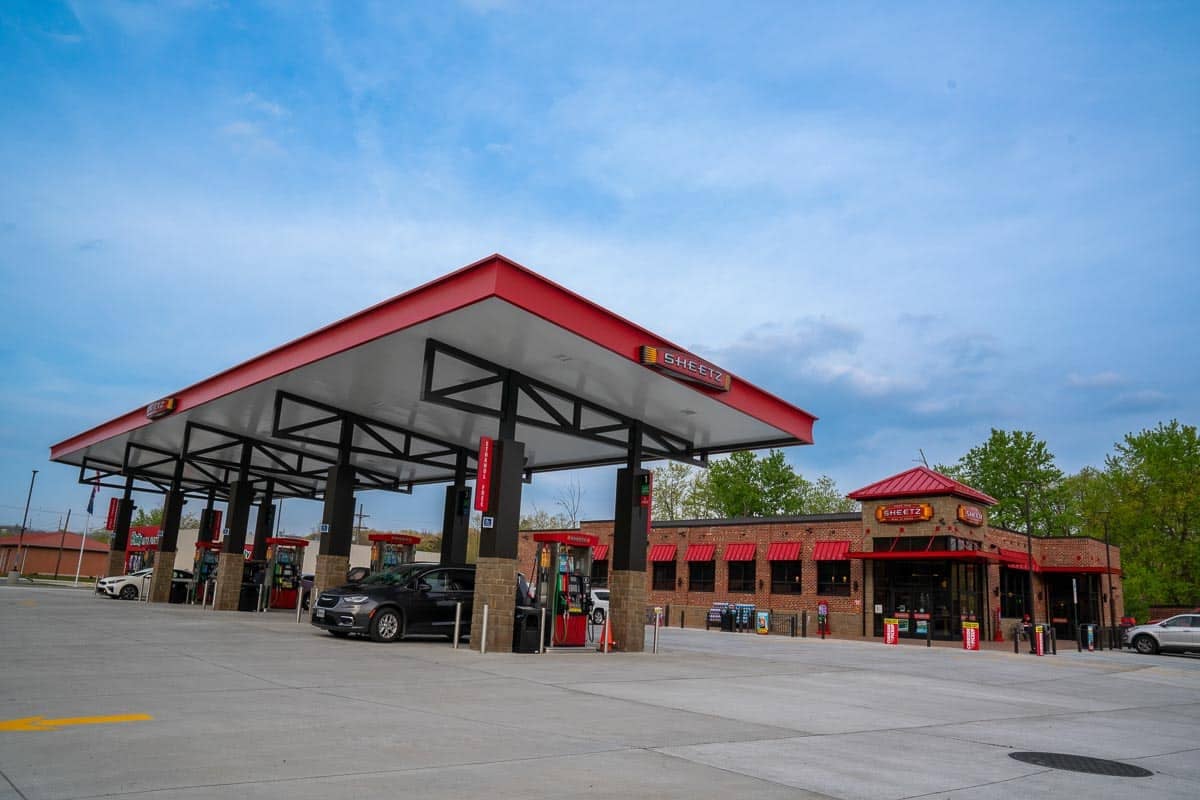 We scoured the Internet to see what people had to say about gas station food. If you think the only things available are wrinkled hotdogs of indeterminate age, and day-glow slushies, we've got great, tasty news for you. Whether it ends up being part of a regular routine, or your only resource on a long car trip, we have the food info you need. Let's look at 6 gas stations that folks can't get enough of and see what they have for you to eat. Read 6 Gas Station Chains With Food So Good It's Worth Driving Out Of Your Way For
18 of the World's Deadliest Foods: How Many Are You Eating?
Whether you eat to live, or live to eat, let's make sure you live to see another day! These are some of the world's deadliest foods. They can bring on extreme symptoms, ranging from paralysis to seizures, choking and even death, so don't go tucking these into your lunchbox. Click for 18 of the World's Deadliest Foods: How Many Are You Eating?
10 Of The Worst Tasting Drinks People Pretend To Like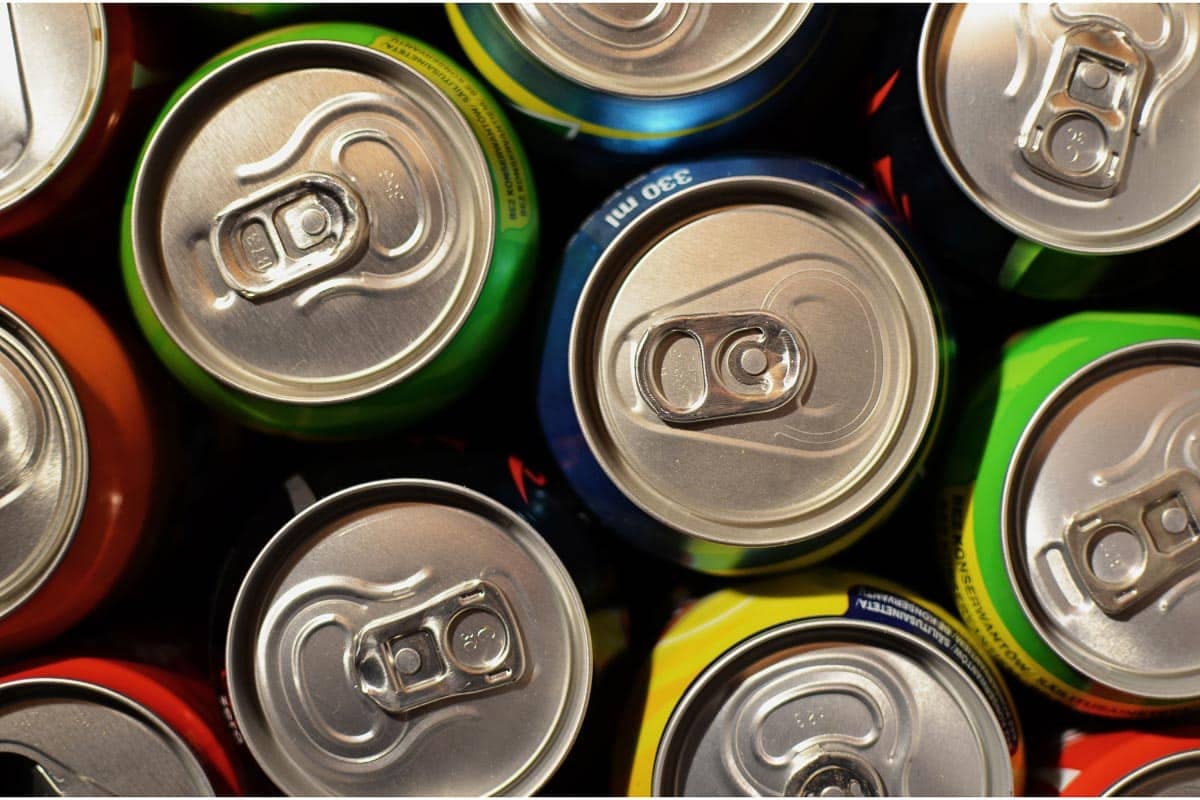 Hold onto your taste buds, because we're about to embark on a flavor-filled adventure through the realm of beverages! Sure, we all need water to survive, but let's be real – drinks are so much more than just basic hydration. Recently, the question of which beverages people secretly think taste awful sparked a fiery debate. Boozy elixirs, non-alcoholic refreshments, and everything in between were thrown into the mix. Brace yourself as we unveil the truth behind the drinks we pretend to love. Get ready for a wild ride of taste revelations! Read 10 Of The Worst Tasting Drinks People Pretend To Like
Alive or Dead? You Be The Judge… 15 Famous People Rumored To Be Alive After They Were Reported Dead
There are many celebrities who have been rumored to be alive after they were reported dead, either because of false reports, hoaxes, rumors or conspiracy theories.
You be the judge…. Are they really alive or dead as claimed? Read: Alive or Dead? You Be The Judge… 15 Famous People Rumored To Be Alive After They Were Reported Dead
14 Of The Craziest Hacks People Use Mayonnaise For – Even In The Bedroom!
After you click through this slide show you will never look at a jar of mayo the same way again. Trust us. Click for 14 Of The Craziest Hacks People Use Mayonnaise For – Even In The Bedroom!
Take Back Control: How to Identify and Tackle Medical Gaslighting
What is medical gaslighting? Medical gaslighting refers to a situation in which healthcare providers dismiss or diminish the symptoms that an individual is experiencing, attempting to persuade them that the symptoms are attributed to an alternative cause or are mere figments of their imagination. Medical gaslighting can leave you questioning your own experience. And at worse can lead to undiagnosed serious illness.
Learn the signs and the ways in which you can take back control if this happens to you. Read: Take Back Control: How to Identify and Tackle Medical Gaslighting
Don't Fall For These 17 Foods That Pretend To Be Healthy
Have you heard the term "Dr. Google"? That's when you turn to search engines and the Internet to provide health and medical information – and unless you know how to vet sources, it is a mine field of faulty information. Here are 17 foods that you might have heard are "healthy", but we have the whole story. PS: the moment a food becomes a trend, research carefully. We're looking at you bulletproof coffee!
Click for Don't Fall For These 17 Foods That Pretend To Be Healthy
17 Of The Most Expensive Foods In The World: Would You Pay This Much To Eat Any Of These?
These days our food budget is not going very far, even for everyday foods. And yet, there are still those who seek out extravagant foods, regardless of price. I guess we can live vicariously through these pictures. Maybe someday someone will bestow a 4-pound white truffle upon us, but until then, this will have to suffice.
Click for 17 Of The Most Expensive Foods In The World: Would You Pay This Much To Eat Any Of These?
19 Of The World's Most Overrated Foods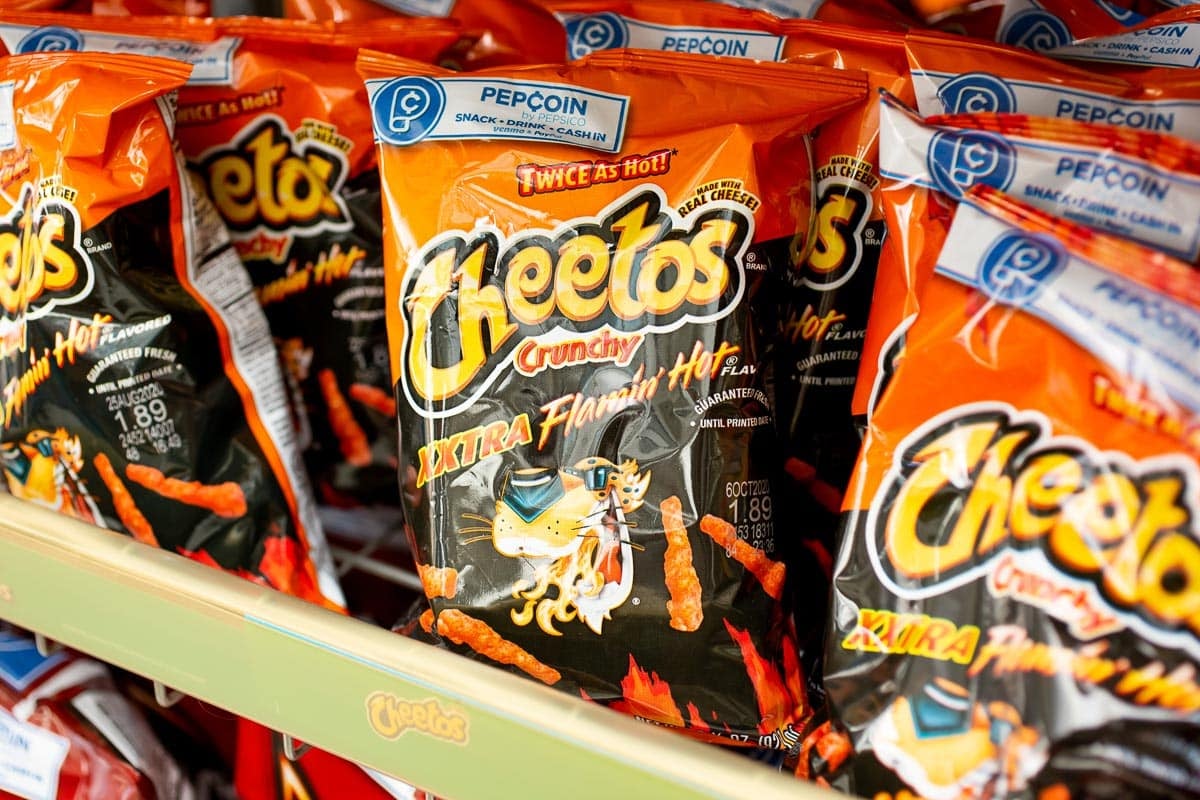 We have foods we love, and those we won't touch. We all have our own likes and dislikes, but what are the most overrated foods? That was the question posed on this Reddit thread by Even_Cause_3478. There were a lot of opinions. Some made sense to us, and some were things we had never thought of before!
What is the most overrated food in your opinion?
Click for 19 Of The World's Most Overrated Foods
Miracle at 30,000 Feet: What Happens When a Baby is Born During a Flight?
Have you ever wondered What Happens If You Give Birth On a Plane? Who delivers the baby? Where do you deliver the baby? What is the child's citizenship, and do they get free trips for life?
Is Cash Still King In Your Life? 13 Reasons People Still Carry Cash
Cash. It never used to be controversial, but these days it appears that there are those on both sides of the coin (so to speak). For those of us of a certain age we can remember our mothers always telling us to keep a $20 bill in our shoe or bra, in case of emergencies. Now many of us struggle to find a coin to put in the meter.
Cash lovers, and those who never carry it. What's the reasoning, either way? A Redditor was thinking the same thing, and asked the question, Do You Still Carry Cash? These are the answers they got. Read Is Cash Still King In Your Life? 13 Reasons People Still Carry Cash