Meet Kiera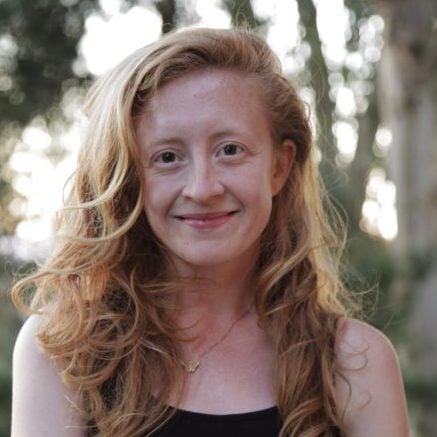 I am a certified Vinyasa instructor offering alignment based yoga with a strong emphasis on physical safety and deep body listening. I'm interested in helping people explore their bodies through close attention and thoughtful adjusting, with emphasis on staying connected to the breath.
I completed my study of shiatsu and acupressure at the Mckinnon Institute in Oakland, CA and currently am a licensed practitioner in order to create a bodywork practice that incorporates traditional healthcare forms that work with people to maintain healthy/​balanced bodies, minds and hearts.
I became aware of my love of body movement at a very young age – growing up in a family where yoga instruction was a daily practice and a profession and pre-dinner dancing around the house was integral to my daily life. Subtly, over time, I became aware of the profound impact this has had on my life choices and how I relate to my own body. It's a constant process of discovery.
Current fitness culture often leads to injury or pain, especially in spinal and knee joints, and I enjoy focusing on these areas to work on spinal alignment and heighten subtle and innate awareness of the body throughout your day and during activity or exercise. My hope is to work together to listen in closely to your body and explore a way to understand your health, keep your body safe, and expand your sense of awareness especially through shiatsu style massage, asana and meditation, sound, and touch.
---
Practice Description
Kiera sees individuals and smalls groups for private yoga instruction in the Pioneer Valley of Western MA. She is also taking appointments for Shiatsu sessions in your home or hers. Sliding scale fees. You may reach her at the contact below.
Contact Information
Kiera Jaffin
Website: www.kkjshiatsu.com
Email: kkj.shiatsu@gmail.com
---
Use Your Senses – They Are Great for Gleaning Information.
Look at your body.
Look at your arms, hands, fingers. Look at your legs and feet and knees, your stomach, and your chest. Observe your body when you move it around, look at the way your legs bend at the knee and your torso bends at the waist. Observe the direction your feet point when you walk, your knees, your hips.
Feel your body.
It's your body! Get to know how it feels! Touch your legs with your hands, touch your arms with your feet. Touch your face, your lower back, your belly. Push on things, pull on things, twist them and warm them up, jump around, shake.
Just doing this every day for 5 minutes would give you tremendous insight into your state of being over time! Go through the senses, and get to know your body (also a great way to increase the sensitivity of your senses). Is there pain anywhere in your body? Is there tightness? Does doing this make you uncomfortable? Just let yourself gather information; write it down if you like, draw a picture, or just take it all in. (shame, non-judgment)
Growing up I've always loved being able to walk out into my mother's gardens and pick fresh vegetables to eat straight from the soil or heat of the day. A quick wash or wipe with my shirt and into my mouth it goes. There is nothing like a fresh vegetable or fruit eaten directly after being picked. And when that is not available I find the freshest produce I can and lay out a selection, well washed and cut and laid out on a plate and just eat slowly and enjoy each type of vegetable or fruit. I love fresh tomatoes, alongside some cucumber and avocado. A little coarse sea salt and nothing more. Remember to watch the portions!