FODMAP Everyday® Tools & Resources for You!
FODMAP Everyday® is a proud sponsor of the Women In GI Symposium.
And we are privileged to be supporting dietitians and GI medical professionals as they guide their patients to health using the low FODMAP diet.
We believe that one can THRIVE on the low FODMAP diet with the correct medical, nutritional and lifestyle guidance and tools.
We are here to help your clients learn to shop for, cook and eat delicious food and remain IBS symptom free.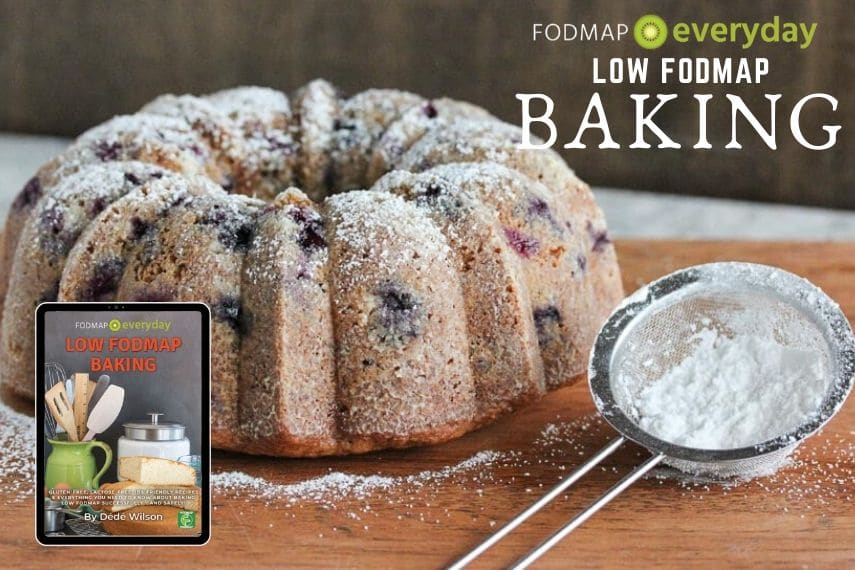 Our Special Gift To Women In GI Symposium attendees and your clients: A Free Download of Our Most Popular Ebook:
Everything You Need To Know For Creating Successful and Delicious Gluten-Free, Lactose-Free and Low FODMAP Baked Goods
This entire book is about yummy baked goods and desserts, from simple muffins to rich cheesecakes and other recipes that make our lives just a little bit sweeter, like cookies, bars, cupcakes and scones.
It is perfectly possible to enjoy baked goods while following the low FODMAP diet – even during the Elimination phase!
Just click this link and put 'WIGI' in the coupon code area for your FREE COPY.
You may share this link and coupon code with your clients.
---
Additional Gifts for You and Your Clients!
You can add them all to your cart and
use coupon code "wigi" at checkout to get them for free!
Vegan & Low FODMAP Series: Expert Tips on Nutrition For Vegans Following The Low FODMAP Diet
You might find that low FODMAP vegan recipes are harder to find. But the good news is that it is often possible to simply make a few tweaks to a recipe to make it vegan friendly! We have created a companion article, Converting Conventional Low FODMAP Recipes To Vegan Recipes, that we suggest you read in tandem with this article. For a downloadable copy of the Expert Tips on Nutrition for Vegans we created this ebook you can share.

Fiber and IBS: What you need to know
While increased fiber is encouraged for the majority, not all fiber sources are well tolerated for those suffering with IBS. We cover the topic Fiber and Irritable Bowel Syndrome (IBS): What You Need To Know in this ebook.
What Is Leaky Gut Syndrome?
'Gut Leakiness' Is An Observation, Not A Medical Diagnosis
Intestinal permeability is indeed a real occurrence, and the researchers who study it are still very much in the early stages of trying to understanding the complex mechanisms by which it is triggered, how best to even measure it, whether it causes certain diseases like Crohn's—or whether it is actually being caused BY these diseases. This ebook looks at all the information currently swirling around the internet and lays out a clear evidence based overview of this misused term.
---
Free Directory Listing for Low FODMAP Experienced Registered Dietitians
If you are a registered dietitian who has services in support of individuals following the Low FODMAP diet and would like to be included in this free listing please send your information to us through our RDN RESOURCE LIST SIGN UP page.
If you are seeking additional education in the low FODMAP diet please visit Monash University's FODMAP Knowledge Hub- where you will find access to their online training program.
Low FODMAP Meal Planner – for you and your clients!
Looking to support your clients in their meal planning? We are THRILLED to announce our new partnership with REAL PLANS where we have uploaded over 700 of our low FODMAP recipes into one of the most sophisticated and customizable meal planners available.
Your clients can subscribe directly at Real Plans or you can use Real Plans Pro to manage and oversee your clients programs and progress.
If you would like to become an affiliate for Real Plans you can check that opportunity out here!
---
Our Resources and Tools for You and Your Clients!
Free to user: new, original and exclusive content posted 8-10 times per week
Food
Lifestyle, Health and Wellness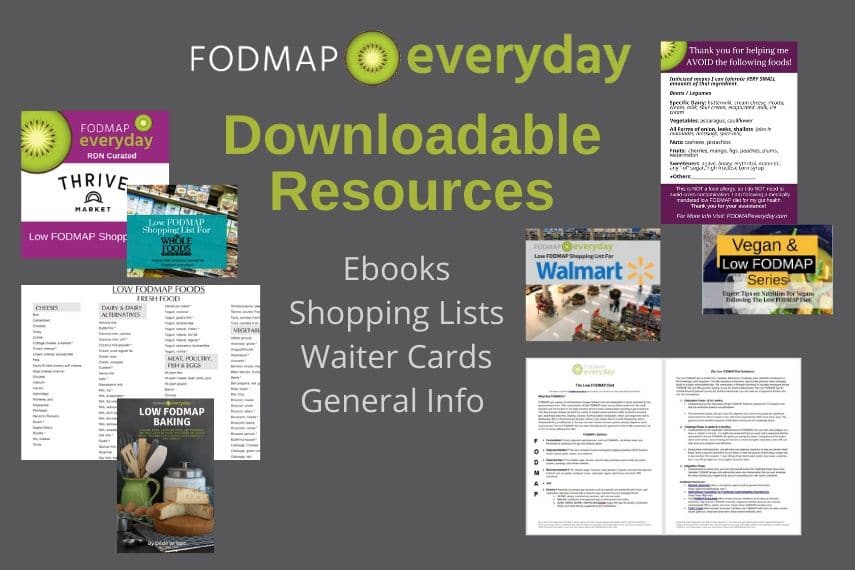 Resources & Tools
Shop
Follow Us on Social Media
Sign up for our NEWSLETTER HERE!
All of our latest recipes and articles, plus discounts and opportunities for our readers exclusively available through our newsletter.
Who We Are
Launched November 2017 – The FODMAP Everyday® brand is the only internationally focused, free web-based resource that offers recipes, articles, educational tools and up-to-date scientific information backed by a Success Team of professional recipe developers and registered dietitians. Our aim is to not only take the pain out of following the low FODMAP diet, but to help users thrive.
FODMAP Everyday® is committed to bringing the joy in eating and cooking to millions of people who are now or will be following the low FODMAP diet for IBS. Clinically proven, the low FODMAP diet relieves symptoms in up to 75% of those suffering with irritable bowel syndrome (IBS)- which translates to an  estimated 1 in 5 individuals worldwide suffering from IBS- over 40 million people in the United States alone.
It is also used to alleviate or manage symptoms for those with inflammatory bowel disease (IBD), celiac disease, non-celiac gluten sensitivity (NCGS), small intestinal bacterial overgrowth (SIBO) and gastroesophageal reflux disease (GERD).
FODMAP Everyday® is mainstreaming this diet into the food, wellness and lifestyle space – all the while respecting and ensuring the science-based elements of the diet are well supported and represented through the original content produced by our FODMAP Everyday® Success Team of professional recipe developers and Registered Dietitians.
Accredited Low FODMAP Expertise
FODMAP Everyday® as a brand and Dédé Wilson as a recipe developer are both accredited by FODMAP Friendly as having the highest standards and expertise in the low FODMAP diet.
Dédé Wilson and 6 of our Success Team Member RDN's have also completed the Monash University Low FODMAP Diet For IBS Online Training Course for Health Professionals ensuring that all of our recipes and content reflect the most up to date and accurate information about the diet.
Our Team
Recipe and Content Developer, Food Photographer, Brand Spokesperson
Business Development, Website Management and Strategic Partnerships
We have a team of professional low FODMAP trained RDNs, complementary health professionals and recipe developers across a wide range of sub-specialties who provide quality content monthly and engage with our followers on social media, in specialty groups and directly through our website.
Contributors: RDNs, recipe developers & healthy lifestyle experts contributing content on a guest basis.
---

SPONSORSHIP & ADVERTISING

We would love to introduce your services, brand or products to our readership. We will work with you to reach the global Low FODMAP market within your budget and creatively!

If you would like to receive a Sponsorship and Promotional Partnership Price Sheet please let us know!
Robin Jaffin, Business Development & Marketing
robin@FODMAPeveryday.com