What makes a wedding memorable? Is it the wedding dress? The venue? The music, or food? Any of these things can create drama and excitement. Couples want to create an event that is representative of who they are, and that can extend to getting creative. Here are 10 wedding trends that caterers and wedding planners are seeing in 2023 – and some things that are just not popular anymore.
The Gown
Regardless of what trends you might see on social media and in magazines, the best advice is to buy a dress that is your style, and makes you feel beautiful. If high necklines are in, but you are the kind of person who never wears turtlenecks because they are so bothersome, then don't be a lemming!
But what are wedding dress designers and salespeople seeing? Ultra-feminine looks. Sensual fabrics like satin. Details like rich embroidery. Corseting. Bow details. Modular dresses, where there can be pants underneath a skirt, or sport a voluminous skirt for the ceremony only to be turned into a sleeker look for the reception.
Dramatic back details are increasingly popular. After all, during the ceremony the guests are often looking at the bride's back.
And lengths? They are all over the place, from mini to floor length, to elegant trains.
Dresses – Plural
Speaking of wedding gowns, it is becoming more common for brides to have a gown for the ceremony, and then to change into a dress that allows them to enjoy their party a bit more freely.
These dresses could be white, or any other color, and often have something fun about them. Feathers, crystals, a different length from the main wedding dress, etc.
The Groom's Look
We cannot overlook the groom. So much focus is always on the bride, but hey, how about the other half?
Just as for the brides, the groom should wear something that is emblematic of who he is – and there are more choices than ever before.
Color and texture. Colorful suits in rich purples, blues, burgundies, and greens are being seen. The fabric itself is key: velvets, linen, and rich woven wools are gaining steam.
The suit can be a very modern suit and does not have to be a tuxedo, by any stretch of the imagination.
The Classic Tux
There will always be men who want a classic tux, and a well-fitting one will never go out of style. While a black tuxedo with a notch lapel is always fashionable, many men are branching out to peak lapels and shawl collars.
Most menswear experts suggest that if you go with a tux, keep it classic, and if you want to bring individualism to the table, maybe inject it via cufflinks, the tie or pocket square.
Midday Ceremonies
Time was that the ceremony started at an allotted hour, flowing into the reception. By the end, an average of 5 hours was spent, if not longer. Many couples want to have fun at the reception – without already being exhausted – and one idea wedding planners are seeing is the midday ceremony.
It would look like this: Ceremony at noon. Afternoon to rest. Cocktails, dinner and party begin at 6pm. We see how this would work if everyone were staying on site at a hotel, where all the events are happening, otherwise, this seems quite demanding on the guests.
Interactive Food Stations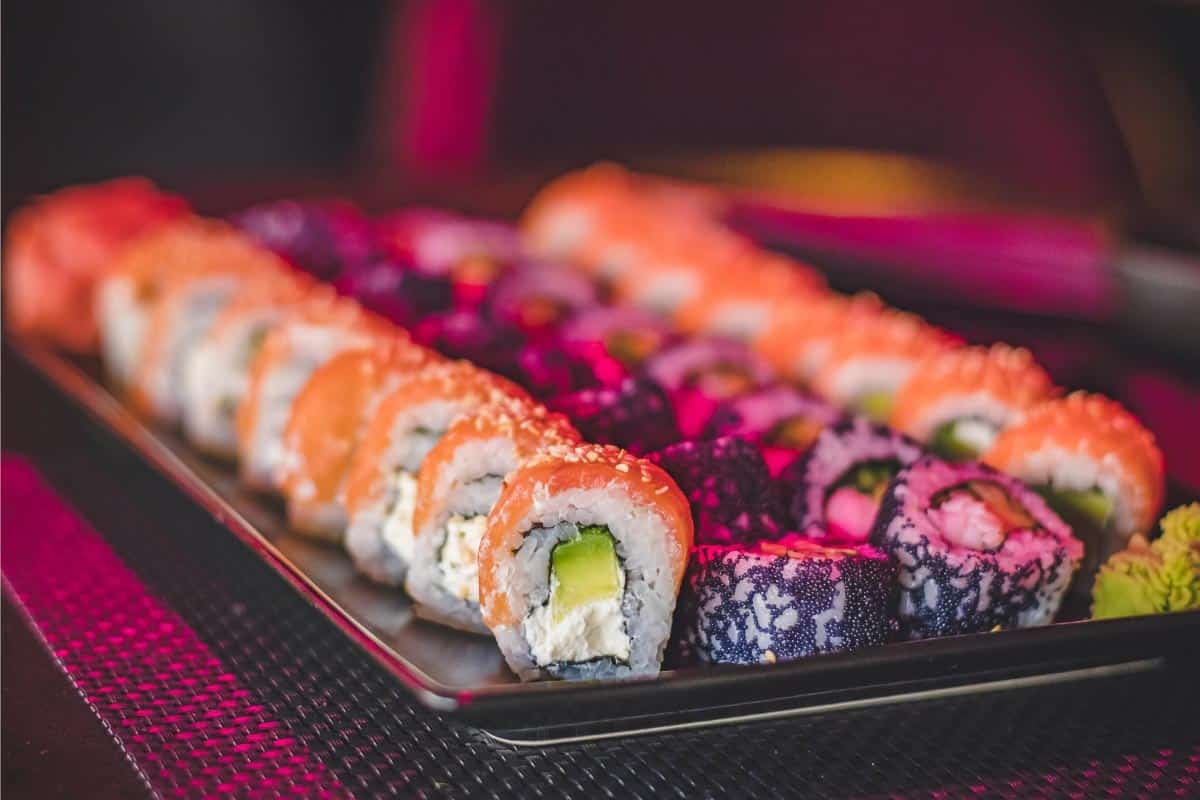 Food is usually an important part of a wedding reception, and caterers tell us that interactive stations are quite popular. Think pasta stations, taco stations, sushi stations, where a chef is actively creating the treat in front of the guest, who often get to make custom requests.
Beverage Focus
Some couples opt for named cocktails, created just for them, presented at the wedding. A mixologist works with the couple, discovering their likes and dislikes, and comes up with a signature cocktail to share. Naming allows for creativity. How about after the place where the couple met? Or their favorite pastime? Or turn to the pros. Brides.com suggests names like Main-Squeeze Margarita, or Mint-to-Be Mojito. Yes, they are often a bit corny.
Another way to go is to have a deep-dive into a favorite drink, like a gin or whiskey tasting. This can be a mobile cart, or if the logistics (budget and layout) allow, some couples are creating "tasting rooms".
And let's not forget those who do not imbibe. Zero-proof cocktails are increasingly popular. Having orange juice and cranberry juice available at the bar is no longer enough. And non-alcoholic beverages can be just as pretty to look at and delicious to enjoy.
Have Your Cake & Eat Dessert, Too
There are two trends to address here. First of all, gone are the days of wedding cakes that taste terrible! There is simply no reason not to have a gorgeous cake that tastes fantastic, too. So, assuming you have a great tasting cake, that could be all you offer, but more and more couples are opting to include additional desserts.
If the couple has favorite desserts, why not incorporate? Love apple pie? Have mini apple pies or hand pies available. If you want a light colored cake, but are a huge dark chocolate fan, why not have truffles or small squares of decadent flourless chocolate cake?
KFC? Five-Guys? Why Not?
The wedding ceremony was hours ago, as was the beginning of the reception. Folks have been dancing their tushies off – and now everyone is famished. Some couples are using Uber eats and other delivery services to bring pizza, burgers, fries and other fast food favorites to the party. Why not? Folks go crazy. You would think they had never seen pizza before. And it will be talked about for years.
Color!
Color is being used in bold ways. It can begin with the invitations and extend way beyond flowers and tablecloths. Think fuchsia wedding dresses. Large-patterned wallpaper fronting the bars, and colored lights on the dance floor.
Most pros suggest choosing 2 or 3 colors to highlight – and not to overdo just one color. In terms of palettes, there are plenty of options, but choose carefully. If green is your favorite color, it can work in a variety of ways, but green light is not usually favorable, as it casts a sickly hue on many skin tones.
Intimate Ceremonies
Maybe it started during COVID and the need to hold a wedding without too many people in attendance, but the trend continues. Having an intimate ceremony, with just witnesses, is an attractive approach for many, as well as economical. Then, all efforts can go towards a major party.
Trends That Are No Longer Popular
In 2023 there are some trends that are falling by the wayside. Anything overly wasteful is currently avoided by many. Couples are being ecologically conscience. For instance, the welcome bag. They were so often filled with useless things. Tchotchkes that the receiver doesn't really want, and the couples don't need to spend money on.
And wedding hashtags? Planners tell us that social media posts with hashtags are passé, as are bridesmaids in matching dresses.
Miracle at 30,000 Feet: What Happens When a Baby is Born During a Flight?
Have you ever wondered What Happens If You Give Birth On a Plane? Who delivers the baby? Where do you deliver the baby? What is the child's citizenship, and do they get free trips for life?
Get Through Airport Security Quickly with These Newly Released TSA Tips
Flying can be exciting, as well as daunting, and "getting through security", as we tend to reference it, always feels like a chore. Is the line going to be long? Will I get there in time, or miss my flight? How can I make this required step go as smoothly as possible? The Transportation Security Administration (TSA) manages the security checkpoints, and on August 8, 2023 they released a new list of helpful suggestions to make your experience as smooth as possible.
READ: Get Through Airport Security Quickly with These Newly Released TSA Tips
Is Cash Still King In Your Life? 13 Reasons People Still Carry Cash
Cash. It never used to be controversial, but these days it appears that there are those on both sides of the coin (so to speak). For those of us of a certain age we can remember our mothers always telling us to keep a $20 bill in our shoe or bra, in case of emergencies. Now many of us struggle to find a coin to put in the meter.
Cash lovers, and those who never carry it. What's the reasoning, either way? A Redditor was thinking the same thing, and asked the question, Do You Still Carry Cash? These are the answers they got. Read Is Cash Still King In Your Life? 13 Reasons People Still Carry Cash