We scoured the Internet to see what people had to say about gas station food. If you think the only things available are wrinkled hotdogs of indeterminate age, and day-glow slushies, we've got great, tasty news for you. Whether it ends up being part of a regular routine, or your only resource on a long car trip, we have the food info you need. Let's look at 6 gas stations that folks can't get enough of and see what they have for you to eat.
Maverik
We have listed Maverik first because it won the USA Today Readers' Choice Award as having the best gas station food in the US. The Maverik chain has about 400 stores in 12 western states and is known for its adventure and western-themed logo and décor.
Full Fledged Grill!
There is a full-fledged eatery within the store called BonFire, where they make fresh food every day.
The Choricheezo is a burrito with chorizo, egg, potato, pepper jack cheese and chipotle mayo, and beloved by many.
The Mother Of All Burritos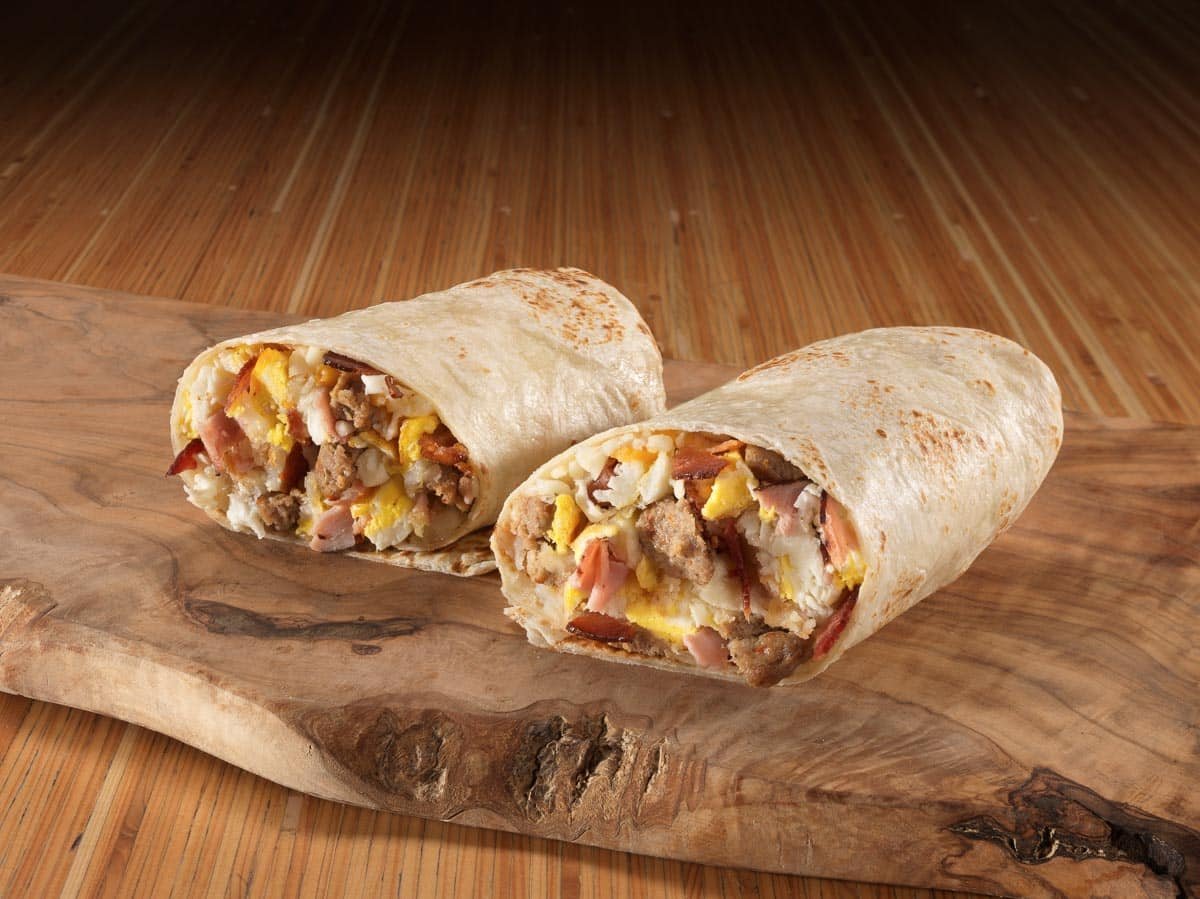 There's also the M.O.A.B – the mother of all burritos, seen above – jam packed with eggs, hash browns and a whole lotta meat. Apparently, they serve about 24,000 burritos every day. Or, how about breakfast nachos piled high with steak and eggs? Want a fresh salad? They've got those, too.
Triangular Donuts?
For the sweeter side of things, try their yeasted, triangle shaped glazed donut.
Beverages are not overlooked. In fact, there is an entire beverage fountain area with crushed as well as cubed ice, fresh limes (wat?!) and all kinds of flavored syrups. Fans mix and match and come up with combos, like the Twisted Arnie, a flavorful combination of Sprite, lemonade and coconut, mango, and pineapple syrups.
Rave Reviews
"Love their hotdogs. The fresh brew tea is great!"
"I do like their BonFire baked goods! Good selection of fresh cookies. Who knew. I got the Reese's peanut butter cup one and it was cooked awesome. Not too hard but not too soft! A whole peanut butter cup just on top of the cookie. Yummy!"
"This is my favorite gas station. It's pretty big, has a walk in beer fridge."
Buc-ee's
Buc-ee's holds the world record for the World's Largest Convenience Store! Their location in New Braunfels, TX is 66,335 square feet huge. At their Katy, TX location they have the World's Longest Carwash at 255 feet.
The Beaver is the company mascot and logo, and during the carwash a colorful beaver is projected onto your windshield. Soap in all the Bucee's colors (red and yellow, with some others thrown in for fun) come pouring down and your car is bathed for a full 5 minutes. We know this has nothing to do with food…but it kinda does…read the next paragraph.
Clean Enough To Eat Off Their Floor
In a promotional video of the carwash, one woman says, "the bathrooms are so clean here, you could eat Beaver Nuggets off the bathroom floor". Those are caramel coated popcorn snacks, to the uninitiated. Her child standing next to her looks horrified at her Mom's statement LOL.
BBQ For Days
The food offerings have been compared to a "down-home Cracker Barrel." 24 hours a day you can get barbecue, brisket, turkey or all kinds of sandwiches, sliced and made to order at their "barbeque station."
Beef Jerky For Miles
"They have the best beef jerky I've ever had," one Reddit poster wrote. "It's expensive, but the Bohemian Garlic by the pound is worth a stop on its own!" In fact, it is one of their best sellers. Not a garlic fan? Go for Korean BBQ, Steakhouse, Cherry Maple, and several other flavors. Fans say the jerky is softer than most and comes in easy-to-eat chunks.
In a sweet mood? There is Bucee's brand fudge (red velvet, cookies and creme, key lime pie, rocky road, and more), with flavors changing often and house brand roasted nuts.
Shout Outs For Buc-ee's
"Shout out to Buckees (sic)!!!! Their store made beef jerky. Store made fudge. Store made candy. The pulled pork is good too."
One Yelp reviewer said, "I've never had such a tasty brisket sandwich since moving to San Antonio in 2016."
Wawa
How Wawa trademarked the term "Built-to-Order®" we have no idea, but you get the concept. This gas station/convenience store has fresh food, made for you when you order, and they have ready-to-go options, too. You can even order ahead online, there is curbside pickup, and the offer catering!
They've got offerings for breakfast, lunch and dinner: Sizzli® Breakfast Sandwiches, like Applewood Smoked Bacon, Egg & Cheese, or Turkey Sausage, Egg White, & Cheese.
Food and Alcohol Available
They have salads, soups, burgers, crispy fried chicken sandwiches, pizza…fresh coffee, lattes…even their own Wawa brand ice cream. Chocolate Peanut Butter Cup, or Black Raspberry Chocolate Chip, anyone?
Some stores sell alcohol as well, including some branded beverages.
Serious Fans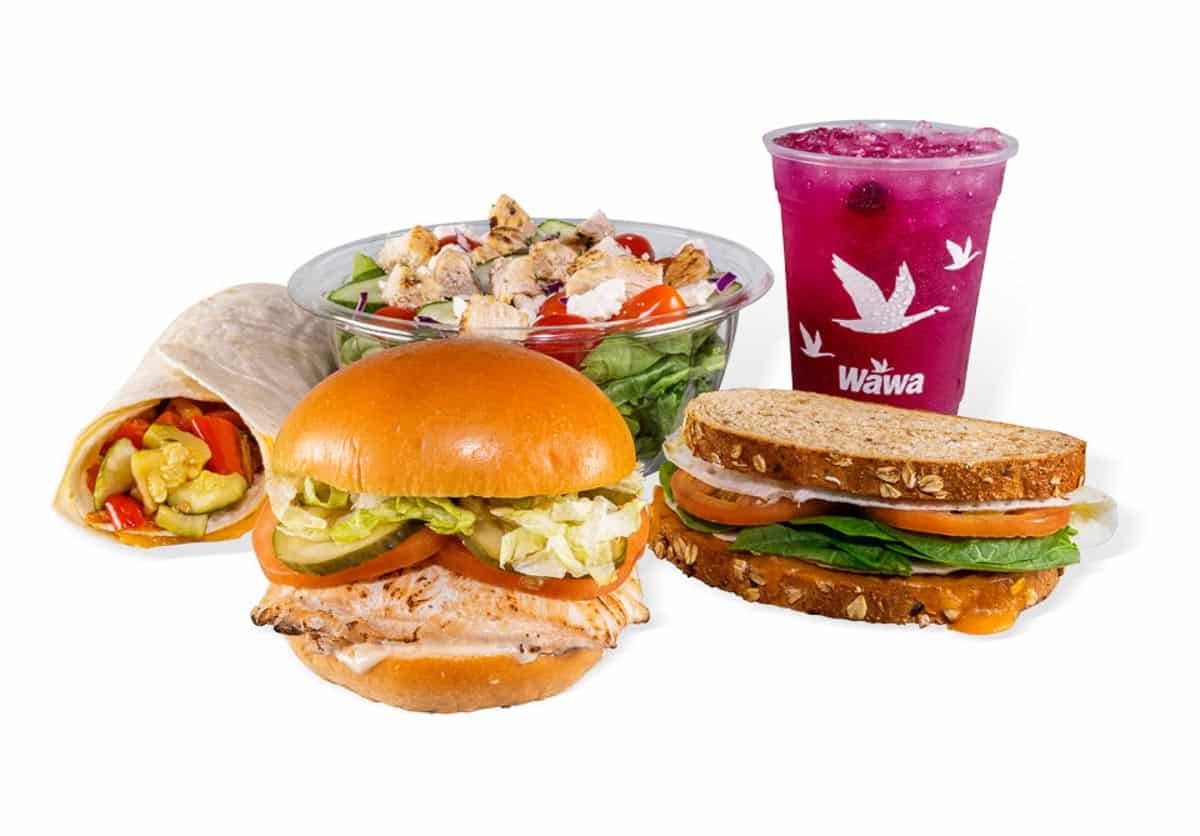 Here's what devotees have to say:
"I'm from PA, and Wawa is life."
"Wawakanda Forever!"
Real Food At Good Prices
"My typical Wawa order is a chipotle chicken cheesesteak, with spinach, roasted peppers, jalapenos, tomatoes, and bacon and a mint cream smoothie."
"I actually don't get the hoagies; I get the bacon/egg/cheese bagel or the chicken/beef quesadillas."
One Wawa employee said, "(great coffee) damn right, and we aren't overpriced crap like Starbucks. Also, I get free fountain drinks/coffee when I'm on shift, so I guess that's as cheap as it gets."
Love's Travel Stops
Right away, Love's differentiates. Just look at their formal name – Love's Travel Stops – and it gives you a clue. They want to be there for the traveler and indeed they are somewhat geared towards the average consumer, but they also have what truckers often want from a truck stop, such as truck washes, WIFI availability, apparel, electronics, and even hot showers – even mechanical help and casinos at some locations.
There is a Love's somewhat near us that we stop at from time to time. They have their Roller Grill, which the brand is quite proud of. You can find over a dozen items ranging from hot dogs (of course) to Cheddar Beef Bratwurst, Oscar Mayer Blueberry Pancake Sausage, Ranchero Steak & Cheese Tornado, and lots of optional toppings. We aren't recommending them necessarily, but we are always impressed with the array.
For some reason this particular location has a glass case with helmets for sale. Like Viking helmets. We know it doesn't make any sense, so we became fond of calling the place "Hot Dogs & Helmets" if for no other reason than to share the absurdity.
Fresh Fruit Is Fabulous
To balance out what's coming off of the roller grill, they do have salads, fresh fruit and cut up vegetables you can grab. Here some fans extoll the virtues:
"Never thought I'd see the day when I'd review a travel stop…. but Love's is just THAT different. My travel companion told me how his dad would only stop at Love's, and I now understand why… I was surprised at how tasty the food was (that pepperoni pizza is bomb!)."
Even Dogs Are Loved at Loves
Customers often remark how clean the stores are, and, as this person said, "One of the coolest things I thought was the fenced in dog park."
Kwik Trip/Kwik Star
Kwik Trip is a well-established convenience store franchise, operating 1965. The company operates a widespread network of stores across various states, including Michigan, Minnesota, South Dakota, and Wisconsin, where they are known as Kwik Trip. Additionally, they have a presence in Illinois and Iowa, operating under the name Kwik Star.
You Can Mix and Match To Your Heart's Delight
"Kwikstar's hot area is pretty on point. I haven't done pizza or potatoes, but Mac & Cheese, Egg Rolls, Cheesy Breadsticks, Rib Sandwiches, Burgers, and Fried Chicken are great…For a while there my Friday dinner would be some combo of the above."
You can even find fresh fruit and vegetables, as seen below.
Fried Chicken Is Great Here And So Much More!
"They have a lot of variety. One of the better fried chicken places and Wednesday it's like $10 for an 8 piece. There premade refrigerated meals aren't bad either. Decent soups as well. Big fan of the 1.50 rib sandwich Tuesdays too. Pizza is Casey's. Hy Vee is pretty decent too. They have good premade refrigerated meals including Sushi and Chinese. Wish their hot food was a little better, but it's not bad. They have the best breakfast selection. Cheap Nathan's Roller Dogs. They also have Hy Vee bakery items."
Huge Fan Of The Pork Rib Sandwich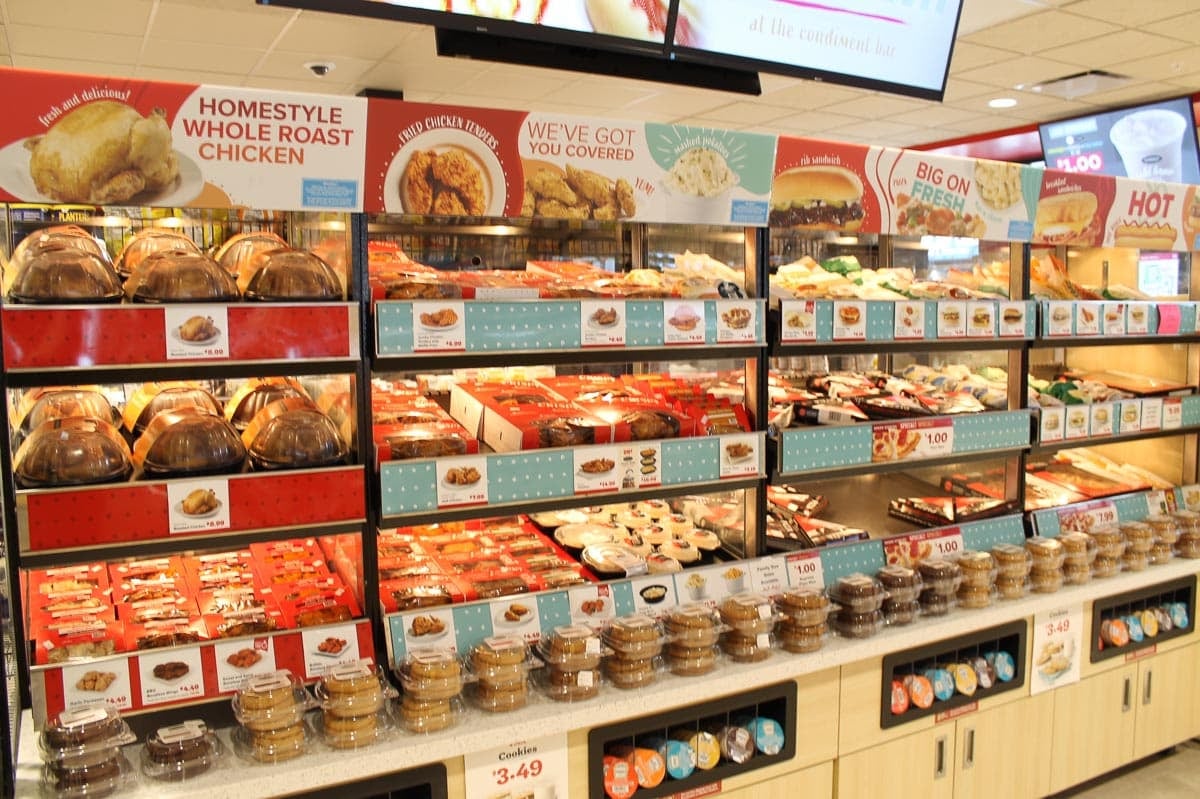 "Their egg rolls and pork rib sandwich are freaking spectacular."
"A great stop for lunch if I'm running errands and short on time. I love how they have the calories on all their food items too and a nice condiment bar that is consistently stocked with fresh veggies (lettuce, tomato, pickles, onion), nutrition-wise a chicken sandwich here is way healthier than the Subway down the road."
Great Coffee
"The coffee here is called Cafe Karuba and it is great coffee. Something new is Karuba Gold, a do-it-yourself cappuccino machine. It's not a really a substitute for a barista making cappuccino for you in an expensive brewer, but it works well if you're on the road and need a jolt. Watch for deals, too, that pop up now and again.

Smart phone users can download an app that allows Kwik Trip/Kwik Star to send you notices about gas prices and an occasional coupon and sometimes, free coffee."
Sheetz
Established in 1952, Sheetz of Altoona, PA is about providing "kicked-up convenience!" Open 24 hours a day, they pride themselves in having "what you need, when you need it." Gas, food, bathrooms.
"Honestly mine was when I lived in VA, they had Sheetz and coming from a place that had nothing even remotely close I was skeptical about trying 'gas station food' but I fell in love with their burgers. I'd put almost everything on it: cheese sticks, marinara, BBQ sauce; honestly all but about 3 or 4 toppings and that was damn near heaven."
Grab A Milkshake Here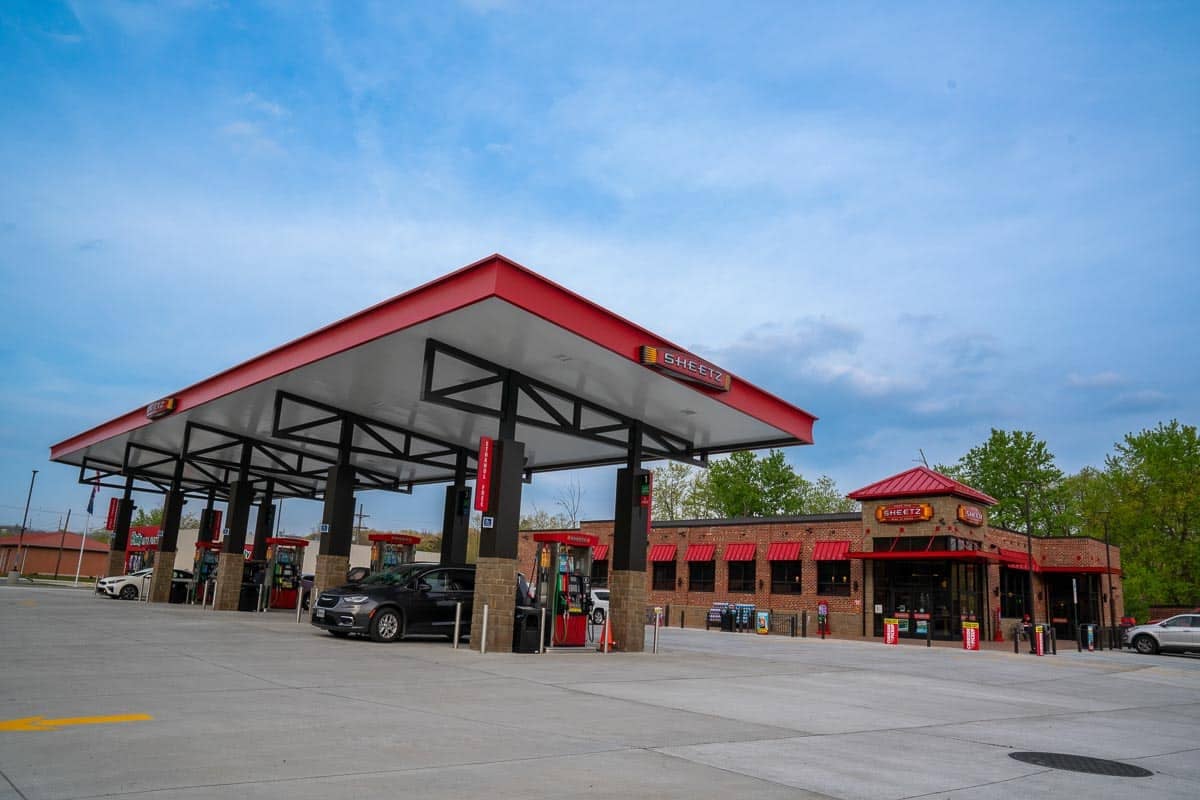 "I'm from PA and Sheetz is better (than Wawa). I will fight the gas station war until I die."
"Appetizer platter. Typically, the chicken bites, mozz sticks, and jalapeno poppers. Meatball sub is alright, but their breakfast sandwiches are pretty good."
"They are 24/Hr, clean, well lit, and offer a wide range of vendor pastries (packaged and brought in) as well as a 'made to order' hot food station. They make milkshakes and smoothies. If you crave it at 2am, Sheetz has it."
18 of the World's Deadliest Foods: How Many Are You Eating?
Whether you eat to live, or live to eat, let's make sure you live to see another day! These are some of the world's deadliest foods. They can bring on extreme symptoms, ranging from paralysis to seizures, choking and even death, so don't go tucking these into your lunchbox. Click for 18 of the World's Deadliest Foods: How Many Are You Eating?
10 Of The Worst Tasting Drinks People Pretend To Like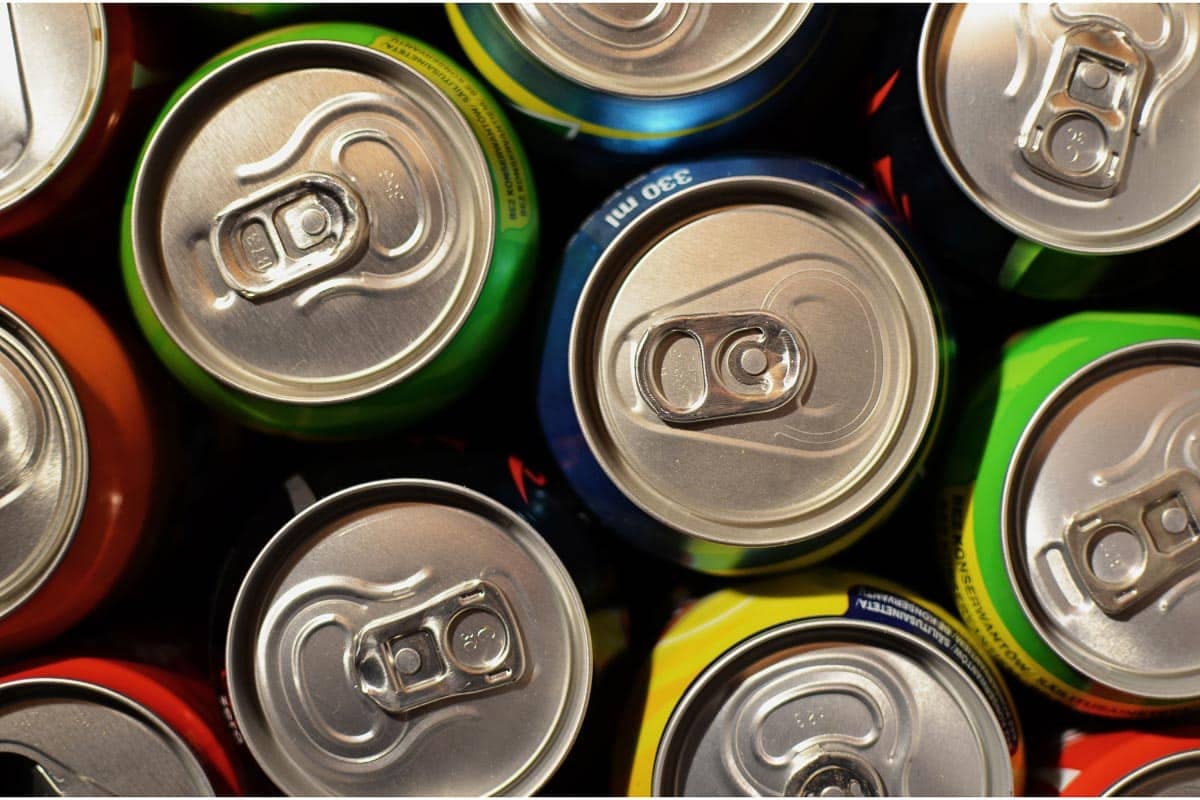 Hold onto your taste buds, because we're about to embark on a flavor-filled adventure through the realm of beverages! Sure, we all need water to survive, but let's be real – drinks are so much more than just basic hydration. Recently, the question of which beverages people secretly think taste awful sparked a fiery debate. Boozy elixirs, non-alcoholic refreshments, and everything in between were thrown into the mix. Brace yourself as we unveil the truth behind the drinks we pretend to love. Get ready for a wild ride of taste revelations! Read 10 Of The Worst Tasting Drinks People Pretend To Like
14 Of The Craziest Hacks People Use Mayonnaise For – Even In The Bedroom!
After you click through this slide show you will never look at a jar of mayo the same way again. Trust us. Click for 14 Of The Craziest Hacks People Use Mayonnaise For – Even In The Bedroom!
Don't Fall For These 17 Foods That Pretend To Be Healthy
Have you heard the term "Dr. Google"? That's when you turn to search engines and the Internet to provide health and medical information – and unless you know how to vet sources, it is a mine field of faulty information. Here are 17 foods that you might have heard are "healthy", but we have the whole story. PS: the moment a food becomes a trend, research carefully. We're looking at you bulletproof coffee!
Click for Don't Fall For These 17 Foods That Pretend To Be Healthy
17 Of The Most Expensive Foods In The World: Would You Pay This Much To Eat Any Of These?
These days our food budget is not going very far, even for everyday foods. And yet, there are still those who seek out extravagant foods, regardless of price. I guess we can live vicariously through these pictures. Maybe someday someone will bestow a 4-pound white truffle upon us, but until then, this will have to suffice.
Click for 17 Of The Most Expensive Foods In The World: Would You Pay This Much To Eat Any Of These?
19 Of The World's Most Overrated Foods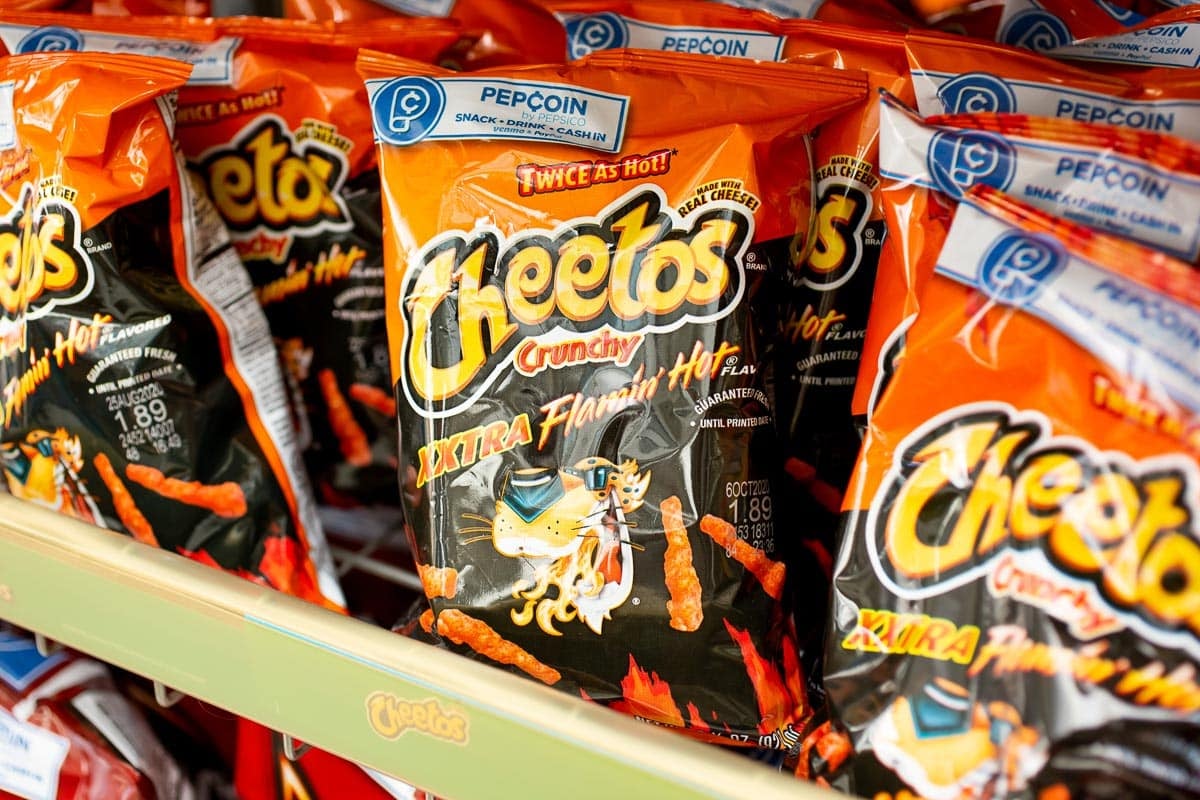 We have foods we love, and those we won't touch. We all have our own likes and dislikes, but what are the most overrated foods? That was the question posed on this Reddit thread by Even_Cause_3478. There were a lot of opinions. Some made sense to us, and some were things we had never thought of before!
What is the most overrated food in your opinion?
Click for 19 Of The World's Most Overrated Foods
Miracle at 30,000 Feet: What Happens When a Baby is Born During a Flight?
Have you ever wondered What Happens If You Give Birth On a Plane? Who delivers the baby? Where do you deliver the baby? What is the child's citizenship, and do they get free trips for life?
Is Cash Still King In Your Life? 13 Reasons People Still Carry Cash
Cash. It never used to be controversial, but these days it appears that there are those on both sides of the coin (so to speak). For those of us of a certain age we can remember our mothers always telling us to keep a $20 bill in our shoe or bra, in case of emergencies. Now many of us struggle to find a coin to put in the meter.
Cash lovers, and those who never carry it. What's the reasoning, either way? A Redditor was thinking the same thing, and asked the question, Do You Still Carry Cash? These are the answers they got. Read Is Cash Still King In Your Life? 13 Reasons People Still Carry Cash