Read this again – and look at our pictures: Low FODMAP Cream of Tomato Soup with Grilled Cheese Croutons and let that sink in. This is comfort food of the ultimate sort. Warm, slightly creamy tomato soup, not too rich, but tasting like the tomato soup of your childhood (I'm looking at you, Campbell's). And grilled cheese – oozy, gooey, buttery, crispy, cheesy and crunchy – but this time cut into small squares and floated IN THE SOUP!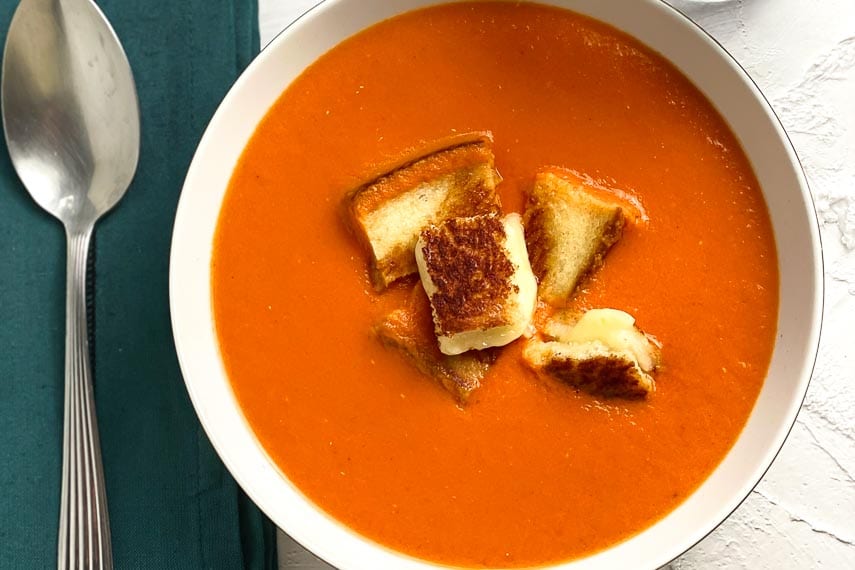 All About Canned Tomatoes
This Low FODMAP Cream of Tomato Soup is made with…drum roll…canned tomatoes! There is absolutely no need to start "from scratch". Here's why:
It is easy to find very high-quality canned tomatoes.
Using canned tomatoes is economical.
Canned tomatoes give us the nostalgic tomato soup flavor we are all looking for!
The last point is the most important, in my opinion. If I am going to eat "cream of tomato soup" I want it to have the taste that I remember.
As for finding canned tomatoes, most every supermarket has them. But which to choose? Here is a great article on canned tomato comparisons, but of course they were focused on flavor.
We have to also think about FODMAPs. Monash has lab tested canned tomatoes and they have determined that ⅗ of a cup (that is not a typo) or 92 g are low FODMAP. Monash says that canned tomatoes reach a Moderate FODMAP level fairly quickly, at ¾ cup or 115 g for excess fructose.
We also know that fresh tomatoes contain NO FODMAPs. As so often happens, the processing of a food changes the FODMAP content.
One thing to note is that canned tomatoes come in their own juice and also in purée. You want to purchase the former. Additional purée would add to the FODMAP load.
Serving Size Of This Soup
Now, there are a couple of points that I want to call to your attention. Firstly, if I take the total gram amount of canned tomatoes used in this soup, 1588 g, and divide it by the lab tested low FODMAP amount of 92 g, then this batch of soup would need to be divided into 17 servings. And since this batch makes about 4 cups (960 ml) of soup – that is a teeny tiny serving.
Secondly, I looked at what others have done, and I have to say that I was surprised and a bit shocked. I found two popular FODMAP websites with tomato soup recipes with recommended serving sizes that are twice the size that they should be – if going by Monash lab tests – with no discussion about it.
Thirdly, we look at certified low FODMAP products like Fody Marinara Sauce and the low FODMAP serving size is 250 g of sauce. So, what is the FODMAP consumer supposed to think? What are you supposed to do? Of course, you want to know how much you can eat!
Do You Have Fructose Malabsorption?
You might have noticed that we did not give this soup our green kiwi icon designation as a low FODMAP soup safe for Elimination. This is because in the serving sizes that we have recommended, the soup will be high in excess fructose. It is labeled as such.
Thankfully, we developed our Recipe Filter to be able to be used in such a way that you can search for dishes that might contain excess fructose, such as this one.
If you know that you react to excess fructose or if you have been formally diagnosed with fructose malabsorption, then this recipe would not be a good choice for you.
Now is a perfect time to review our article on Monosaccharides.
How To Make The Best Grilled Cheese
Grilled cheese can be so simple, and yet there are things you can do that make it the best it can be.
Choice of Bread: 

For grilled cheese you can go fancy and use any kind of LOFO bread – like an artisanal sourdough. But for these purposes, to replicate our childhood, comfort-food experience,

I suggest plain old sandwich bread. For the final photos I went with Udi's White, for looks. You can see that I was experimenting with two different kinds of sandwich bread in the pan.
Pick Your Cheese: I like real cheese – not American cheese,

which is a processed cheese product. I do like extra-sharp cheddar, but also like the melt-ability of Monterey jack, hence the suggestion to use a combo.

Check out our article, Is Cheese Low FODMAP? for more info.
Use Butter AND Mayo: I like to begin by melting a bit of unsalted butter in my skillet, but for extra flavor, crispness and golden-brown color, I like to schmear my bread with mayonnaise. Don't knock it until you try it!

The mayo acts as a fat and a texture and flavor-enhancer.

Weird Directions: Read the directions through and follow them.

Making our grilled cheese is not hard, but might be different from what you are used to. We start with room temperature cheese, so that it will melt most easily. This is also why we get the bread and cheese in the pan as soon as possible. Because both exterior sides of your bread slices will have a coating of mayo, the technique if getting the bread in the pan is a bit different, but not hard to follow.
Ingredients For Low FODMAP Cream of Tomato Soup
We have two parts to the recipe: the soup and the grilled cheese. First up, the soup. Don't forget the salt! It didn't make it into the photo and you do need salt and pepper to adjust seasoning and balance to the soup.
Here are our Grilled Cheese ingredients. I forgot an ingredient in this image, too! I must have been preoccupied that day. You will need unsalted butter, too; it is listed in the recipe ingredients itself.
How To Make Low FODMAP Cream of Tomato Soup
As mentioned above, please do read the directions through before beginning. None of this is hard, but there are a few moments during preparation that do require your focus.
For The Soup: Step 1 is sautéing the scallions greens in onion-infused oil for lots of oniony flavor.
Then the canned tomatoes are added and you need to mash them, either with your hands, or use a potato masher like I did here:
Once the soup is cooked, it will be hot and it needs to be puréed. Please take care. You can purée hot soup in a blender if you are careful, if the blender is large enough and if can vent the top, all while not creating a hot soup explosion. You have been warned. I also highly recommend that you strain it for ultimate silky, smoothness.
You don't have to strain the soup, but I highly recommend it. Pour through a fine-messed metal strainer and press it through with a silicone spatula. You can see some seeds which will be left behind. Simply discard them.
For The Grilled Cheese: Have your cheese at room temp. Get the sandwiches into your pan ASAP. Below you can see LOFO white bread on the left and another choice on the right. The size differential in real life is not actually as dramatic as it looks here!
You do not want the pan very hot when you start cooking them or the bread will brown too soon and won't give the cheese time to catch up and melt properly. Get them nice and golden on both sides.
If you want to be prepared to make recipes quickly and easily – be prepared! Check out our article on 12 Essential Pantry Items, 10 Essential Low FODMAP Baking Items and 8 Essential Fridge & Freezer Items.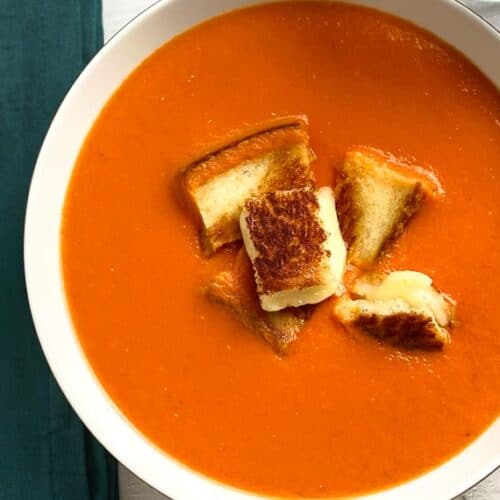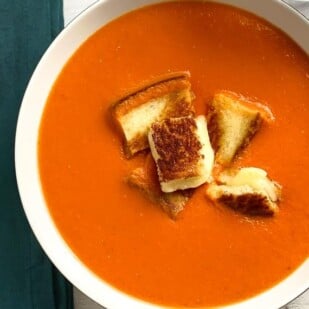 Low FODMAP Cream of Tomato Soup with Grilled Cheese Croutons
Read this again: Low FODMAP Cream of Tomato Soup with Grilled Cheese Croutons and let that sink in. This is comfort food of the ultimate sort. Warm, slightly creamy tomato soup, not too rich, but tasting like the tomato soup of your childhood (I'm looking at you, Campbell's). And grilled cheese – oozy, gooey, buttery, crispy, cheesy and crunchy – but this time cut into small squares and floated IN THE SOUP!
Low FODMAP Serving Size Info: Makes about 4 cups (960 ml); 3 servings; serving size 1 ⅓ cups (315 ml)
Ingredients:
Grilled Cheese Croutons:
4

slices

of low FODMAP sliced bread

¼

cup (56 g)

mayonnaise

2

tablespoons

unsalted butter,

softened

4-

ounces (115 g)

cheddar cheese, white or orange, Monterey Jack or a combo,

at room temperature, sliced very thinly
Preparation:
For the Soup: Heat oil over low-medium heat in a large Dutch-oven or heavy pot until shimmering. Add scallion greens and sauté until softened but not browned. Add tomatoes and juice and crush tomatoes with your hands (fun but messy) or squash with a potato masher. Either way go slowly and watch out for squirts! Add salt and pepper, bring to a boil, then adjust heat to a simmer, cover pot, and cook for 15 minutes. Taste and adjust seasoning. Carefully transfer to blender and purée, or purée right in the pot if you have an immersion blender. You can leave as is, or for a more classic texture, strain through a fine-meshed strainer (my recommendation) and return to pot to reheat. Add cream, heat gently, but do not boil. Keep warm.

For the Grilled Cheese Croutons: You make the grilled cheese while the soup is cooking to save time, if you want to multitask.

Lay your bread out on your work surface in front of you and spread a tablespoon of mayonnaise on each slice, edge to edge, covering completely.

Place a large nonstick or cast-iron pan on the stove over low heat and add butter. Melt the butter and swirl it around the pan. Place two slices of bread in the pan, mayo side down. Divide cheese between the two pieces of bread and top with remaining bread, mayo side up. Increase heat to low-medium. Cook until bottom is golden brown, flip and continue cooking until second side is equally crispy and golden and cheese is melted.

Pour hot soup into warm bowls. Cut sandwiches into small square "croutons", about 1-inch (2.5 cm) across. Divide croutons amongst bowls and serve immediately.
Notes:
Tips
FODMAP Information
Our recipes are based on Monash University and FODMAP Friendly science.
Oil: All pure oils are fats and contain no carbohydrates, therefore they contain no FODMAPs.
Onion-Infused Oil: Make your own Onion-Infused Oil or buy a commercial equivalent for the easiest way to add onion flavor to your food. Fructans in onions are not oil-soluble, so onion-infused oil is low FODMAP.
Scallions: The green parts of scallions are low FODMAP as determined by Monash University lab testing and can be used to add onion flavor to your low FODMAP cooking.
Please always refer to the Monash University & FODMAP Friendly smartphone apps for the most up-to-date lab tested information. As always, your tolerance is what counts; please eat accordingly. The ultimate goal of the low FODMAP diet is to eat as broadly as possible, without triggering symptoms, for the healthiest microbiome.
Nutrition
Calories:
524
kcal
|
Carbohydrates:
48
g
|
Protein:
13
g
|
Fat:
47
g
|
Saturated Fat:
2
g
|
Cholesterol:
8
mg
|
Sodium:
744
mg
|
Sugar:
14
g