FODMAP IT!™ Cranberry Almond Buttermilk Bundt Cake for the Holidays – or Any Day
I have an entire video class on what we call Coffee-Shop Cakes at Craftsy. These are the cakes that you cannot wait to dig into with a hot cup of coffee or tea: cinnamon streusel cakes, pound cakes, Bundt cakes and decorative ring cakes. This Cranberry Almond Buttermilk Bundt Cake is right up the same alley. (You might also like our Almond Tea Cake.)
It is easy to make, feeds a crowd, tastes even better than it looks and makes quite the splash on the buffet table. It was inspired by a version from my friend Dorie Greenspan that was much more laden with almonds, which I wanted to minimize due to FODMAPs.
Buttermilk, Yogurt – or Kefir?
I like making this Cranberry Almond Buttermilk Bundt Cake with homemade lactose-free "buttermilk", which is simply a combo of lactose-free milk and lemon juice. You could also make this cake with yogurt, if you have it on hand – or kefir! Lactose-free kefir might be new to you.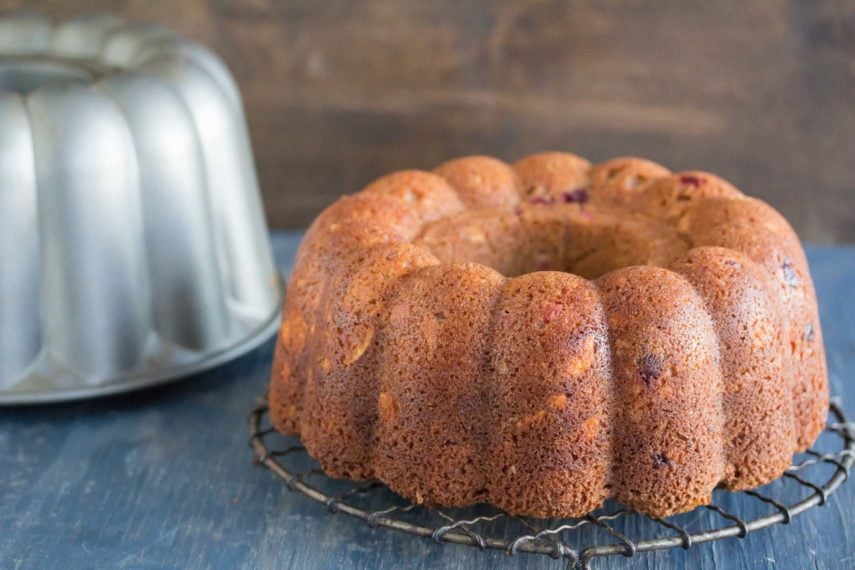 It is a cultured, fermented beverage kind of like a liquid version of yogurt, or some describe it as halfway between buttermilk and yogurt in tartness and texture. Kefir usually has a greater variety of cultures, in addition to yeasts, and many people love it for its nutritional benefits.
This cake works with any of these, in the same amounts.
To Glaze or Not to Glaze?
The glaze on this Cranberry Almond Buttermilk Bundt Cake makes a more dramatic statement but is not necessary. I love this cake just as much plain, or a middle ground would be a shower of sifted confectioners' sugar.
And since we know you are a cranberry fan, please read our Explore An Ingredient: Cranberries article for everything cranberry.
FODMAP IT!™ Cranberry Almond Buttermilk Bundt Cake
This Cranberry Almond Buttermilk Bundt Cake feeds a crowd, keeps well and is perfect for the holiday breakfast or brunch table.
Total Time:
1
hour
15
minutes
Preparation:
For the Cake: Position rack in middle of oven. Preheat oven to 350°F/180°C. Generously coat the inside of a 12 cup (2.8 L) Bundt pan with nonstick spray then sprinkle with the extra flour, coating all the interior surfaces; tap out any excess. Set aside.

Whisk together the flour, cinnamon, allspice, ginger, baking powder, baking soda and salt in a medium bowl to aerate and combine; set aside.

Beat the butter in a large bowl with an electric mixer on high speed until soft and creamy. Add both sugars in two batches, continuing to beat on high speed, scraping down the bowl once or twice, until light and fluffy, about 4 minutes. Beat in the eggs, one at a time, allowing each to absorb before adding the next. Beat in the extracts, then add the dry mixture and the yogurt alternately in 3 batches, ending with the flour and beat until a few floury streaks remain. Beat in the cranberries, almonds and yogurt until batter is blended and smooth. Scrape into prepared pan and smooth top with a small offset spatula.

Bake cake for about 50 to 60 minutes or until a bamboo skewer inserted in the center of the cake comes out with a few crumbs clinging. Cool pan on rack for 10 minutes, then unmold onto rack to cool completely. Place cooled cake on a sheet of aluminum foil for easy cleanup after glazing.

Make the Glaze: Place confectioners' sugar in a saucepan. Whisk in water until beginning to combine; it will be thick before you heat it. Cook over medium heat, whisking often, until it liquefies, becomes completely smooth and just warm to the touch. Do not let it get too hot or simmer. This cooking will be brief - about 5 to 10 seconds, give or take. Whisk until completely smooth, whisk in vanilla, and use immediately. Use a spoon drizzle over cake or you can even pour it onto the cake right out of the pan if you feel confident. The glaze will harden slightly within minutes. The cake is ready to serve. Cake may be stored under a cake dome at room temperature for up to 3 days.
Notes:
Tips
When using a decorative pan, such as Bundt pan, make sure that the interior surface is scratch free and that you prep the pan according to directions. Your cake will ummold flawlessly.
Nutrition
Calories:
366
kcal
|
Carbohydrates:
54
g
|
Protein:
6
g
|
Fat:
16
g
|
Saturated Fat:
1
g
|
Cholesterol:
40
mg
|
Sodium:
144
mg
|
Potassium:
15
mg
|
Fiber:
4
g
|
Sugar:
28
g
|
Vitamin A:
55
IU
|
Calcium:
30
mg
|
Iron:
1.4
mg