Searching the Internet for nutrition advice can be overwhelming, confusing and full of contradictions.
If you are looking for dietary guidance to manage IBS or implement the low FODMAP diet, it's a smart idea to work with a Registered Dietitian, but how do you go about finding the right one for you?
Statistically, Working With A Dietitian Leads To Success
Most of the research on the effectiveness of the low FODMAP diet for managing IBS have included dietitians as part of the care team (1-2). The low FODMAP diet is complex and nuanced; a dietitian's support can help ensure your success in improving your symptoms so you can thrive.
7 Steps to Finding The Right Dietitian For You
Dietitians work on various specialty areas, including reproductive health, pediatrics and sports nutrition. At this time there is no specific credential for dietitians who specialize in gastrointestinal health (often referred to as GI dietitians), but there are some things to look for.
Identify Your Health & Nutrition Needs
With endless information at your fingertips, it's tempting to self-diagnose. However, in order to get the best treatment, it's important to work with a qualified professional and not just Dr. Google.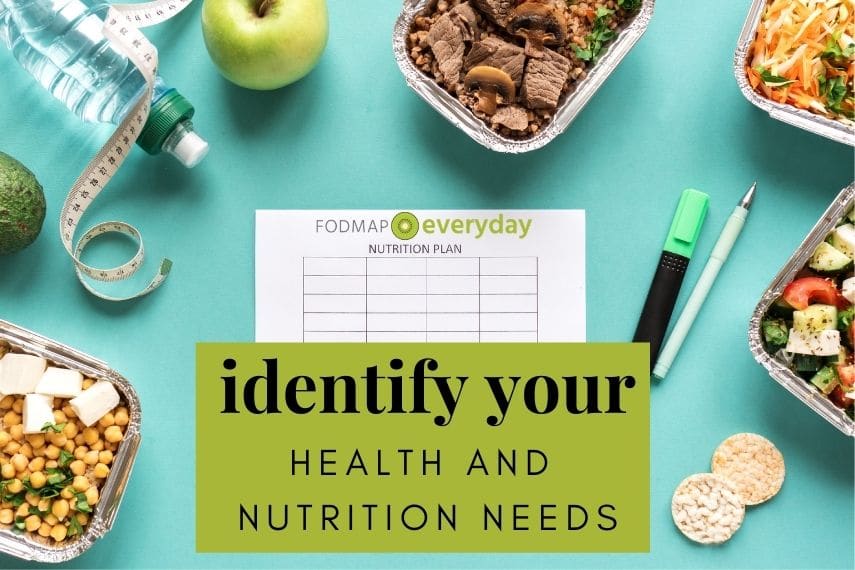 Ideally you would have a medical diagnosis from a medical doctor before reaching out to a dietitian, but from experience this is not always the case.
Although dietitians are unable to make medical diagnoses like irritable bowel syndrome, based on your symptoms they may be able to help you get the proper diagnosis and then help address any nutrition-related components of your condition and for general health.
Find a RD/RDN (or equivalent)
First, if you're located in the US, look for a provider with a RD (Registered Dietitian) or RDN (Registered Dietitian Nutritionist) credential. To become a RD/RDN, individuals must earn at least a bachelor's program in nutrition or dietetics, complete a rigorous dietetic internship with supervision and pass a licensing exam, plus they must maintain at least 75 hours of continuing education every five years.
For RDs who specialize in certain areas, like gastrointestinal health, they will often pursue continuing education seminars, webinars, courses, etc. in those areas. For instance, if a dietitian intends to focus on IBS, they can take the Monash University Dietitian Training.
Not All Nutritionists Are Dietitians
Please note that you might come across people who call themselves a nutritionist, culinary nutritionist, holistic nutritionist, health coach, nutrition therapist, nutrition therapy practitioner, etc. None of these titles require the level of training and qualifications that registered dietitians have, although some RDs will use these titles as well. As the saying goes, all registered dietitians are nutritionists but not all nutritionists are dietitians.
For more information read our article, Dietitians & Nutritionists: What's The Difference?
If you're in Canada or the UK, the credential has the same name RD (Registered Dietitian); in Australia, look for an APD (Accredited Practicing Dietitian). For other countries, check the International Confederation of Dietetic Associations, which includes members from 40 national dietetics associations from countries including Chile, India, Nigeria and the Philippines.
Search Directories For RDs with GI or Low FODMAP Experience
If you're looking for a RD who has experience with the low FODMAP diet, various credible websites have dietitian/provider directories including our own here at FODMAP Everyday®, and the Monash University website. You can also seek out dietitians who have undergone training courses with Monash University and Kings College.
Consider Your Budget/Insurance Coverage
While health insurance may cover nutrition counseling, this varies widely between plans and may depend on your medical diagnosis. Some RDs are in-network with insurance while others do not participate. In the latter case, you may be able to use an HSA or FSA card for payment, or the RD can provide a superbill after your visit, which is an itemized receipt from a healthcare provider to submit for potential reimbursement.
If you work with a dietitian who is not well-versed in the low FODMAP diet just because they take insurance, it may not be the best use of your time to get the help you need.[1] If you don't have insurance coverage or the dietitian does not take insurance (and you can afford the service), think of the cost of nutrition counseling as an investment in yourself – improved symptoms, less pain and discomfort, a better understanding of the low FODMAP diet and how it applies to your life and unique needs.
Think A Dietitian Is Too Expensive?
By the time someone connects with a dietitian, they have likely spent money on books, webinars, ill-suited online courses, all kinds of supplements, special foods and dietary approaches gleaned from social media, or from crowdsourcing symptoms and self-diagnosing. You could spend a significant amount of cash as well as time and still be in pain and searching for a solution.
Registered Dietitians help unravel the complexity of your particular digestive situation in the shortest and most efficient way. We see time and time again that even just a few visits with an RD can make the difference between continuing to suffer and finally finding relief. And those visits might end up costing less out-of-pocket than you have already spent. Stop the cycle of wasting money and experiencing continued pain and symptoms – work with a FODMAP-trained RD.
Set Up a Phone Call to Assess Fit
This is more likely an option for dietitians who do not take insurance, although dietitians who are in-network can certainly answer questions before scheduling an appointment. An introductory or discovery call can help you determine your nutrition needs or concerns, identify potential goals and to learn more about how that dietitian can help you.
Determine Their motivations for Working with You
If a nutrition provider, dietitian or otherwise, requires you to buy a bunch of expensive products or supplements, you may want to consider their motivations. Reputable dietitians tend to focus on food as the main source of nutrients, and can help you identify vitamin, mineral or additional supplements as needed to fill in the gaps. They can also help you troubleshoot your challenges with nutrition and lifestyle-based interventions. (I think this is good!)
Consider Telehealth and State Licensure
Even before the COVID-19 pandemic, some dietitians worked with patients via telehealth, but in the past year it has become the norm! Nutrition counseling is very conducive to virtual visits since the primary interaction is to discuss diet and lifestyle and set goals together. Telehealth also makes it easier to access a dietitian, especially for folks who live in rural areas or who would benefit from seeing a specialized dietitian.
Telehealth becomes a grey area for dietitians with regards to state licensure and working with individuals located in another state. There are states that require providers to be licensed in order to provide medical nutrition therapy (MNT) for its residents.
For example, Illinois has the Licensed Dietitian Nutritionist (LDN) so you must be an LDN[2] [3] to provide MNT to Illinois residents. In states like Michigan that do not require a separate license for dietitians, any RD can provide MNT in Michigan without getting additional licensure.
Some state telehealth and licensure laws have made exemptions in the past year because of the pandemic. Additionally, nutrition "coaching" or "education" is not subject to the same kind of licensure restrictions as medical nutrition therapy, so some dietitians will work with patients located in any state as long as they aren't providing MNT.
Consumers should be aware, however, that this also applies to health coaches or people who do not have the same kind of training and experience as Registered Dietitians, hence the importance of doing your homework and following the steps above! 
Registered Dietitians To The Rescue
The low FODMAP diet is meant to be undertaken along with a Registered Dietitian (RD, or equivalent in your country). The diet is nuanced and complex; statistically and anecdotally you will have a greater chance of success if you work with one.
We have put together a series of articles called Working With A Dietitian to help you learn why you should work with a dietitian, how to find the right dietitian for you, the difference between dietitians and nutritionists, what to expect from working with one, tips for successful telehealth appointments, and more.
Please take the time to familiarize yourself with these articles and resources:
The Takeaway
We hope this information will help you find the right dietitian for you. If you're struggling with IBS or about to embark on the low FODMAP diet, we highly recommend working with a FODMAP-trained registered dietitian. Start with an online search through the directories we suggested and then schedule an initial call to learn more and see if you'd be a good fit for working together.
---
Sources
Barrett, S. How to institute the low-FODMAP diet. (2017) https://onlinelibrary.wiley.com/doi/full/10.1111/jgh.13686
Eswaran, S. et al. A Diet Low in Fermentable Oligo-, Di-, and Monosaccharides and Polyols Improves Quality of Life and Reduces Activity Impairment in Patients With Irritable Bowel Syndrome and Diarrhea (2017) https://www.cghjournal.org/article/S1542-3565(17)30791-7/fulltext
https://www.eatright.org/food/resources/learn-more-about-rdns
---