Everything You Need To Know For Creating Successful and Delicious Gluten-Free, Lactose-Free and Low FODMAP Baked Goods
This entire book is about yummy baked goods and desserts, from simple muffins to rich cheesecakes and other recipes that make our lives just a little bit sweeter, like cookies, bars, cupcakes and scones.
It is perfectly possible to enjoy baked goods while following the low FODMAP diet – even during the Elimination phase!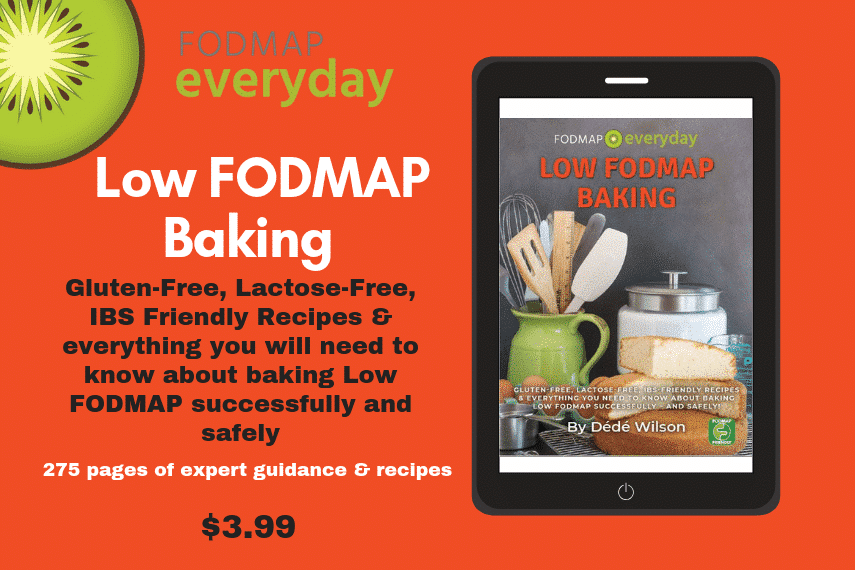 275 Pages of Deliciousness and Expert Instruction
This e-book is a primer on low FODMAP baking and includes fabulous FODMAP Everyday® recipes developed in our own professional test-kitchen, I have over 30 years of professional recipe development experience and baking is a particular specialty.
I am also trained on the use of the low FODMAP diet for IBS by Monash University, and accredited by FODMAP Friendly as a reputable FODMAP educator. Our brand FODMAP Everyday® is also accredited by FODMAP Friendly as an approved FODMAP resource.
We want to be your low FODMAP baking resource!
You will find basics like Pie Crust, Vanilla Frosting, Chocolate Cupcakes and Chocolate Chunk Cookies and recipes for Cornbread Muffins, Red Velvet Cake, Cream Puffs, crisps, cobblers, popovers, pastry cream and more.
This e-book is jam-packed with over 60 recipes for your low FODMAP enjoyment, as well as many pages of tips and instruction unique to this book.
This book is for all of you, who like me, are following the low FODMAP diet and love your baked goods and desserts, too!
Flip through our Table of Contents and an Example of our Baking Basics Section
Flip Through An Example of Recipes
---
About Monash University Low FODMAP Training Certification
Monash University, the originators of the low FODMAP diet, offer comprehensive FODMAP training geared towards dietitians and health professionals. Having completed the course, Dédé is considered trained on the use of the low FODMAP diet for IBS by Monash University. It was important to us at FODMAP Everyday® for Dédé to undertake the training so that you, as our community, can rest assured that our approach to the low FODMAP diet is as up-to-date and reliable as possible.
---
About FODMAP Friendly Accreditation
FODMAP Friendly has an accreditation program for recipe developers who can demonstrate excellence and professionalism in their expertise in FODMAPs and recipe development. Both FODMAP Everyday®, and Dédé as an individual, have been accredited by FODMAP Friendly. The FODMAP Friendly icon is a mark designed to help consumers identify reliable and reputable sources for FODMAP information.
---
Shopping Links in This Book
We have provided a one stop place for you to shop for the tools and some of our favorite low FODMAP ingredients in this book. Come visit our FODMAP Everyday® Amazon Low FODMAP Store where we have gathered our recommended products in one easy to shop from location.
You will see when you come to our shop that we have created a folder where we have put all of the products noted in this e-book if Amazon US sells it. Please note that this is for Amazon US. We are currently building our Amazon UK, AU and CA Shops – and future issues of this e-book will have links for that those as well.
Affiliate Disclosure: "We are a participant in the Amazon Services LLC Associates Program, an affiliate advertising program designed to provide a means for us to earn fees by linking to Amazon.com and affiliated sites."