Dark Chocolate Waffles
Chocolate for breakfast? Well, sure but why stop there? These chocolate waffles make the most amazing ice cream sandwiches too!
These dark chocolate waffles are decadent and not something you would eat everyday or even every week, but once or twice a year when a heart shaped treat makes you smile? Why not?
Valentine's Day And…
These work for Valentine's Day, of course, but also for Mother's Day or any time you want to show someone you love them – after all there is that brain gut connection, right? ?Food equals love around here, that's for sure!
We think that once you try these Dark Chocolate Waffles you will FIND reasons too have them:) And they are always a conversation starter, that's for sure.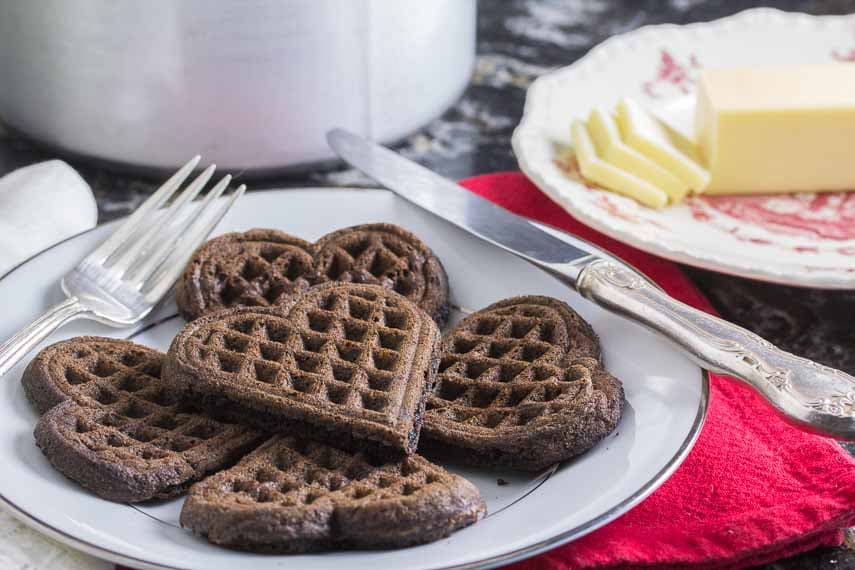 Extra Dark Cocoa
The extra dark color of our waffles comes from extra-dark cocoa, sometimes referred to as "black cocoa".
It is the color of Oreos and brings a deeper level of flavor and color than other cocoas. You can make these waffles with natural or Dutch-processed, but if you want the super dark look you will have to get the special cocoa.
For more information, please read our All About Cocoa article.
Low FODMAP Ice Cream Sandwiches!
Have you ever had a Good Humor Ice Cream Sandwich? Our version is like a handcrafted version of those, made with better ingredients.
There is something about the soft texture of these frozen waffles encasing vanilla ice cream that is very reminiscent of – but so much better than – the originals.
FYI we used a heart shaped waffle maker similar to this one from Euro Cuisine. Your serving size and yield will depend on the size and shape of your waffle maker.
Dark Chocolate Waffles
These Dark Chocolate Waffles are great for breakfast - or, make them into ice cream sandwiches!
Low FODMAP Serving Size Info: Makes about 50 small heart shaped waffles, which will depend on size of waffle maker and size of hearts within. Servings size 4 waffles or 1 ice cream sandwich (using 2 hearts).
Ingredients:
2

cups (480 ml)

lactose-free whole milk,

at room temperature

2

tablespoons

lemon juice

1 3/4

cups (254 g)

gluten-free all-purpose flour,

such as Bob's 1 to 1 Baking Flour

1/2

cup (21 g)

sifted black cocoa

1/4

cup (54 g)

firmly packed light brown sugar

2

teaspoons

baking powder;

use gluten-free if following a gluten-free diet

1

teaspoon

baking soda

1

teaspoon

salt

3

large

eggs,

at room temperature, whisked until well blended

1/2

cup (120 ml)

canola or vegetable oil

1

teaspoon

vanilla extract

Butter maple syrup,

and/or confectioner's sugar, optional

Lactose-free vanilla ice cream,

optional

Heart-shaped cookie cutter,

same size as waffles or sharp paring knife

Melted semisweet or bittersweet chocolate,

finely chopped, optional
Preparation:
For Waffles: Position rack in middle of oven. Preheat oven to 200°F/60°C. Set a rack on a rimmed baking sheet pan and set aside.

Combine the milk and lemon juice in a measuring cup and allow to sit for 5 minutes to thicken.

Whisk flour, black cocoa powder, brown sugar, baking powder, baking soda, and salt in a large bowl. Make a well in the center of the dry mixture and add the beaten eggs, thickened milk, oil, and vanilla. Whisk together until batter is very well combined and smooth.

Heat a waffle iron until very hot; lightly coat with nonstick spray. Working in batches, cook waffles until cooked through. Transfer to prepared wire rack and keep warm in oven until ready to serve.

Serve waffles with butter and maple syrup or a sprinkling of confectioners' sugar or make ice cream sandwiches!

To Make Ice Cream Sandwiches: For every ice cream sandwich you will need two cooled heart shaped waffles, ½ cup (120 ml/66 g) ice cream and ¼ ounce (7 g) of melted dark chocolate.

Soften the ice cream a little bit and scoop it out onto a cutting board. Press it down to a thickness of about ¾ inch (2 cm). Cut out heart shapes using cookie cutter the same size as the hearts, or use a paring knife to cut out heart shapes. Use a broad spatula (like a pancake turner) to scoop up each heart and place on one heart shaped waffle, topping with second waffle and gently squeeze together. Smooth the sides of the ice cream, if necessary, with a small offset spatula. Freeze until solid on a tray or pan. Drizzle with melted chocolate, if using, and freeze again until chocolate is firm then individually wrap ice cream sandwiches in plastic wrap. Freeze for up to 1 week. Let them soften outside of freezer for a couple of minutes before serving.
Notes:
Tips
The black cocoa really does add to the look and taste of these waffles, but you can substitute Dutch-processed cocoa.
Nutrition
Calories:
252
kcal
|
Carbohydrates:
31
g
|
Protein:
7
g
|
Fat:
14
g
|
Saturated Fat:
1
g
|
Cholesterol:
53
mg
|
Sodium:
364
mg
|
Potassium:
20
mg
|
Fiber:
3
g
|
Sugar:
7
g
|
Vitamin A:
75
IU
|
Vitamin C:
1
mg
|
Calcium:
28
mg
|
Iron:
1.4
mg
---
---
Low FODMAP Recipes Created Just For You!
We take low FODMAP recipes seriously at FODMAP Everyday®. That's why Dédé oversees our Test Kitchen and makes sure that each and every recipe works – and is low FODMAP following the most up-to-date science.
Rest assured that you will not find more trustworthy or delicious low FODMAP recipes anywhere – several hundred and counting.
FODMAP Everyday®Low FODMAP Recipes At A Glance:
Come Join Our Low FODMAP Recipe Community!
Use Our Exclusive Recipe Filter To Find The Low FODMAP Recipe You Are Looking For Today!