Classic Pineapple Upside Down Cake – Now Low FODMAP!
Ah, another classic cake that takes to being FODMAPed very easily; let's bake Pineapple Upside Down Cake.
I have made many variations back in my pre-FODMAP days, from playing with the cake portion – like adding part cornmeal – to playing with toppings, using everything from cranberries to even combinations of fruit.
For this first topsy-turvy cake for FODMAP Everyday® I wanted to keep it classic – presenting our Pineapple Upside Down Cake!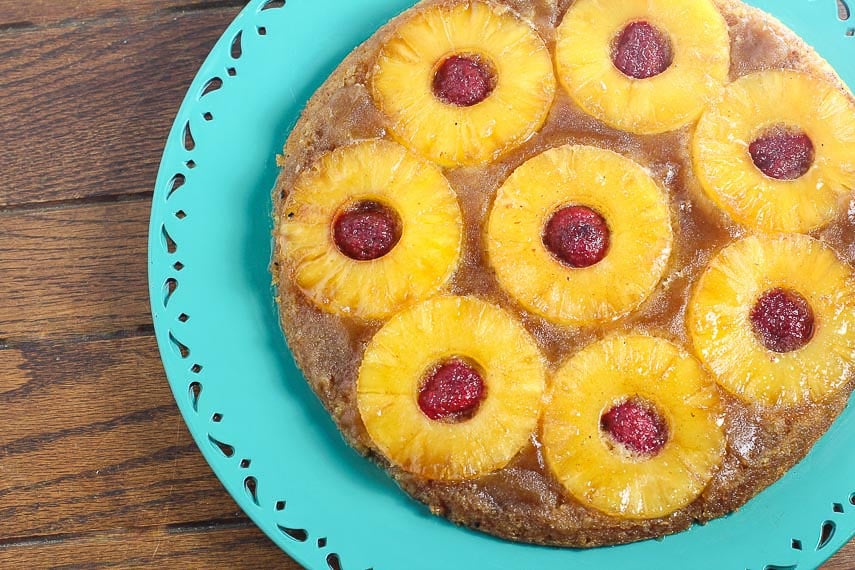 Pineapples and FODMAPs
Pineapple, according to Monash University, is low FODMAP in amounts of 1 cup (chopped) at 140 g. Each canned pineapple ring weighs 1 ¼ ounce (35 g) and we use 7 rings in the recipe.
Other than that, the ingredients are fairly straightforward. In lieu of maraschino cherries in the middle of the pineapple rings, which you often see in the traditional version, I suggest optional dried cranberries or even raspberries.
The recipe lends itself to a allowing you to eat a nice slice of cake and still stay low FODMAP.
Notice that I mentioned canned pineapple. This cake is traditionally made with canned, so there is no need to buy fresh. It is also true that processing, in this case canning, can change the FODMAP content of a food.
You can read about that in our Food Processing Series articles.
While canned pineapple has not been tested, we know several FODMAPers who have done very well with the portions suggested below. Make sure to buy canned pineapple that is packed in juice and not sugar syrup and drain the fruit well.
Although pineapple juice has not been tested either, you could save it and test small amounts if you are not in the Elimination stage.
PS: Make sure that your nonstick skillet is ovenproof. Most are. If you are in doubt, you can make this in a triple-ply stainless steel skillet or a cast-iron one.
Low FODMAP Pineapple Upside Down Cake
This Pineapple Upside Down Cake is low FODMAP and gluten-free.
Ingredients:
5

tablespoons (71 g)

unsalted butter,

cut into pieces

¾

cup (160 g)

firmly packed light brown sugar

7

slices (245 g)

total canned pineapple,

from a 20-ounce/567 g can (in juice, not sugar syrup) drained on paper towels

7

dried cranberries or fresh raspberries,

optional

2

large

eggs,

separated

¾

cup (149 g)

sugar

1/4

cup (60 ml)

lactose-free milk,

whole or 2%

¾

cup (109 g)

low FODMAP,

gluten-free all-purpose flour, such as Bob's Red Mill Gluten-Free 1 to 1 Baking Flour

½

teaspoon

baking powder;

use gluten-free is following a gluten-free diet

⅛

teaspoon

salt
Preparation:
Position rack in center of oven. Preheat oven to 350°F/180°C.

Melt the butter in a 9-inch (23 cm) nonstick skillet over medium heat, then add the brown sugar, stirring to combine. Simmer for about 1 minute. Remove from heat and make sure mixture is spread evenly over the bottom of the pan. Arrange 6 pineapple slices around the edges and one in the middle (see image). Place one dried cranberry or fresh raspberry inside each pineapple ring, if using.

Vigorously whisk egg yolks and sugar together until combined, thickened and creamy. Whisk in the milk, then the flour, baking powder and salt until well combined.

Beat the egg whites in a clean, grease-free bowl with an electric mixer on high speed until stiff but not dry. Fold one-quarter of the whites (you can do this by eye) into the batter to lighten it, then fold in the rest. Pour batter over pineapple and spread evenly over fruit in pan.

Bake for about 35 to 40 minutes or just until a toothpick tests clean. Loosen the edges of the cake from the pan and invert onto a large, flat serving plate. If any pineapple, cranberries or raspberries stick to the pan, simply pry them loose and put them into place. Serve as soon as possible. Cake is best served the same day and may be served warm or at room temperature.
Notes:
Tips
Don't be afraid of flipping the pan over! Just show the pan and plate who is boss and DO IT! If you try and do it too tentatively that's when it usually doesn't work!
Nutrition
Calories:
315
kcal
|
Carbohydrates:
58
g
|
Protein:
3
g
|
Fat:
9
g
|
Saturated Fat:
1
g
|
Cholesterol:
53
mg
|
Sodium:
79
mg
|
Potassium:
20
mg
|
Fiber:
1
g
|
Sugar:
42
g
|
Vitamin A:
75
IU
|
Calcium:
8
mg
|
Iron:
0.3
mg
---
Low FODMAP Recipes Created Just For You!
We take low FODMAP recipes seriously at FODMAP Everyday®. That's why Dédé oversees our Test Kitchen and makes sure that each and every recipe works – and is low FODMAP following the most up-to-date science.
Rest assured that you will not find more trustworthy or delicious low FODMAP recipes anywhere – several hundred and counting.
FODMAP Everyday®Low FODMAP Recipes At A Glance:
Come Join Our Low FODMAP Recipe Community!
Use Our Exclusive Recipe Filter To Find The Low FODMAP Recipe You Are Looking For Today!