As the temperatures begin to dip, the end of summer looms. But it aint over yet! And while it is still summer and those warm-weather fruits are still at the market, it is time to make pies and tarts highlighting the produce that will be leaving the shelves soon. Fresh Strawberry Tart, several blueberry options, Cherry Hand Pies, even a Keto Strawberry Pie, and more. Twelve in all, and several are gluten-free! Get baking!
Fresh Blueberry Pie
What is Fresh Blueberry Pie? A pie that is so blueberry-y that it is practically incomprehensible. It is made by cooking blueberries on top of the stove until they are jammy, and then folding in fresh blueberries and the whole shebang is poured into a flaky, pre-baked crust. Get the recipe for Fresh Blueberry Pie.
Fresh Strawberry Tart
If you love fresh strawberries and want to make a dessert, look no further. These berries are kept fresh and nestled in a buttery crust. The glaze is made from additional puréed and strained berries. It's strawberries maximized! Get the recipe for Fresh Strawberry Tart.
Gluten-Free Blueberry Pie
Looking for a classic double crusted blueberry pie? In a flaky buttery crust? That just happens to be gluten-free? This is the one! Get the recipe for Gluten-Free Blueberry Pie.
Strawberry Rose Tart
This tart is all about the berries – cut into little rose shapes. It is a little fiddly, as you will be making several cuts into each berry, but it is so pretty and always brings on exclamations from those lucky enough to be served this lovely tart. The base is a sweet tart crust, and the filling is a classic pastry cream. Get the recipe for Strawberry Rose Tart.
Crumb Topped Berry Slab Pie
A slab pie is a great way to feed a crowd and this one features a gluten-free crust, strawberries, blueberries, and raspberries, and has a buttery, cinnamon-enhanced brown sugar crumb topping. Get the recipe for Crumb Topped Berry Slab Pie.
Fourth of July Flag Slab Pie
A patriotic pie showcasing strawberries and blueberries in a buttery, flaky crust. How about for Memorial Day, or Labor Day, too? Get out your tiny star cookie cutters for the stars on the flag – or you can use a small knife to cut stars out of the rolled out crust. Get the recipe for Fourth of July Flag Slab Pie.
Rhubarb Raspberry Crostata
A crostata is a free-form tart and as such, they have a more casual air to them, as opposed to those made in a tart pan. For this Rhubarb Raspberry Crostata, you will need a batch of our easy Crostata & Tart Crust and a bunch of fresh rhubarb as well as fresh raspberries. The natural tartness of the rhubarb and sweetness of the raspberries work beautifully together. Get the recipe for Rhubarb Raspberry Crostata.
Peach Blueberry Crostata
Our Peach Blueberry Crostata features our Crostata & Tart Crust that is super easy to work with. These rustic style tarts are simple, beautiful, and packed with fruit! Get the recipe for Peach Blueberry Crostata.
Honey Sweetened Blueberry Pie
This blueberry pie recipe has a healthy new look! It's super easy to make too.
It makes a delicious pie with NO refined sugar! Naturally sweetened with honey and real blueberries. With this healthier, clean eating dessert, you can have your pie and eat it too! Get the recipe for Honey Sweetened Blueberry Pie.
Mini Cherry Pies
Mini cherry pies. Cute little handheld desserts perfect for sharing with the neighbors. I get to save 1 (or 3 but who's counting?) pies for myself and gift the rest away. The perfect pay it forward gift from the cherries I had been given by a friend. Get the recipe for Mini Cherry Pies.
Raspberry Pie
This raspberry pie recipe is one I learned to make when I lived in Germany. It's light, delicious, and perfect for a warm summer evening's dessert.
While I never got the chance to actually make it while I was in Germany, I wrote down the recipe as it was recited to me by the mother of the family I was staying with. I will love her forever for giving me this recipe. Get the recipe for Raspberry Pie.
Keto Easy Strawberry Pie
Dessert is one thing I hate giving up. That is why this Easy Keto Strawberry Pie recipe is an excellent choice for a keto or low-carb lifestyle. It gives me the flavor and sweetness I love without adding sugar to my diet. Get the recipe for Easy Keto Strawberry Pie.
The Crazy Best and Easy Cookie Recipes Ever!
Cookies – small, large, soft, chewy, crispy, chocolaty, peanut buttery, elegant, homespun, one-bowl, drop, rolled and shaped – we'll take them all. You can never have enough cookie recipes and ours are all created in our very own Test Kitchen; these recipes work! Several can be prepped in the time it takes to preheat the oven. Click for The Crazy Best and Easy Cookie Recipes Ever!
Looking For Dairy Free Ice Cream & Frozen Desserts?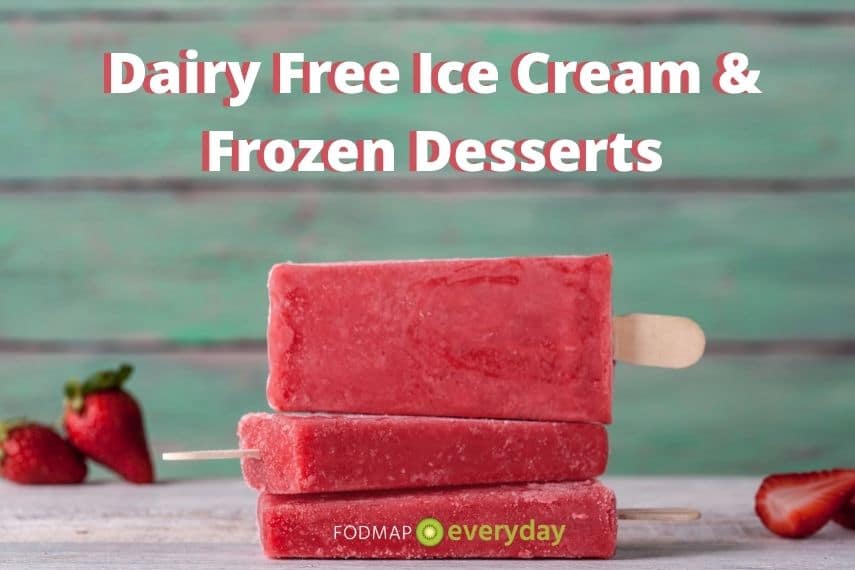 This article will discuss the low FODMAP ice cream and frozen desserts that you can find in supermarkets and restaurants, as well as our own exclusive recipes, and will include information on dairy based as well as alt milk frozen desserts and recipes. Click here for Dairy Free Frozen Desserts Recipes.
20 Strawberry Recipes That Will Make You Berry Happy!
These days, depending on where you live, you might be able to get decent strawberries all year long. Spring, however, brings fresh, new batches and we are always looking for new ways to incorporate these delicious berries into our diet. From drinks to cakes, crisps, cobblers, bars and even a salad, frozen desserts and a salsa, we have 20 strawberry recipes for you. Click for 20 Strawberry Recipes That Will Make You Berry Happy!