Iced tea is the most refreshing beverage! Whether it is made with black tea, green tea or white, in beverage form (duh!) or popsicles (wat?), we have 8 recipes for you. Quench your thirst now; do yourself a favor and make a big batch! We have included our Masala Chai recipe, too. Just ice it down!
Iced Black Tea with Lychee
Our Iced Black Tea With Lychee is simply chilled low FODMAP black tea, with optional sweetening, served with fresh lychee purée. We are here to show you that we have many beverage ideas for you – that are even suitable for Elimination. This article takes you through this drink step by step and explores the FODMAP levels of black tea and lychees. Get the recipe for Iced Black Tea with Lychee.
Sparkling Ginger Cranberry Punch
This Sparkling Ginger Cranberry Punch was developed to satisfy our desire for a good non-alcoholic option. Tea adds depth and an intriguing tannic flavor. It will also add caffeine, which is why we use a decaffeinated black tea. Cranberry juice provides a light refreshing flavor, and a clear gorgeous color. The Gus Ginger Ale contains purified sparkling water, cane sugar, natural ginger root extract and other natural flavors, citric acid, and caramelized sugar for color. Get the recipe for Sparkling Ginger Cranberry Punch.
Iced Tea with Mango
Our Low FODMAP Iced White Tea With Mango is simply chilled low FODMAP white tea, optionally sweetened, served with low FODMAP amounts of fresh, juicy mango. Like our recipe for Low FODMAP Iced Green Tea With Passionfruit, this one almost doesn't need formal direction, but we want to make sure you get portions right for the white tea and mango. Get the recipe for Low FODMAP Iced Tea with Mango.
Peach Iced Tea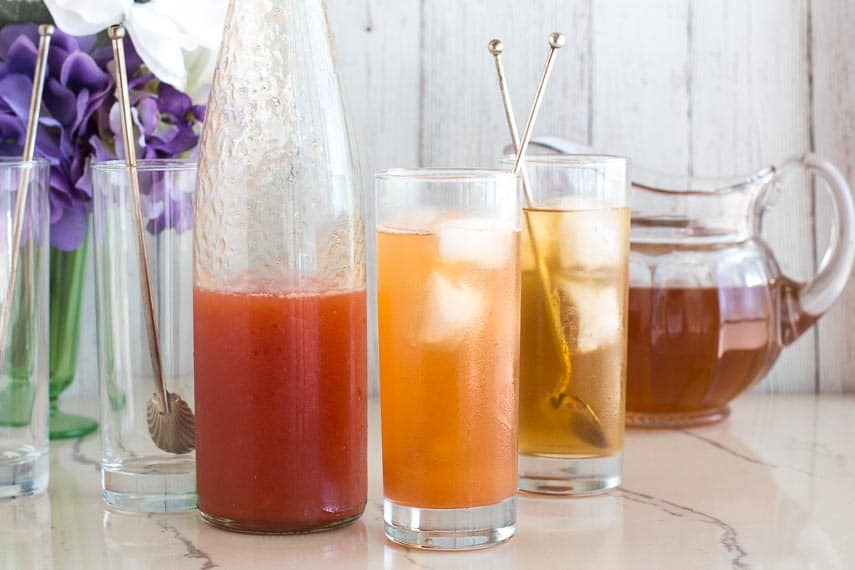 This Low FODMAP Peach Iced Tea is as refreshing as it is pretty, and easy to make. It begins with a sugar sweetened peach purée featuring a low FODMAP amount of yellow peaches. You can stir this purée into black iced tea, as we did for the images, or it works beautifully in green or white tea, too. Please read our article Tea & FODMAPs for general tea information. Get the recipe for Peach Iced Tea.
Iced Green Tea with Passionfruit
Our Green Tea With Passionfruit is simply chilled green tea, optionally sweetened, served with passionfruit ice cubes. It almost doesn't need a recipe, but here you go! Get the recipe for Iced Green Tea with Passionfruit.
Strawberry Arnold Palmer
The Arnold Palmer is a combo of lemonade and iced black tea and it is incredibly refreshing. The drink is also sometimes called a Half & Half, as the ratio is half of each beverage, but whatever you call it, the sweet and tangy flavors are incredibly thirst quenching. We added strawberry purée; we think it makes it even better! Get the recipe for Strawberry Arnold Palmer.
Arnold Palmer Popsicles
If you have never had that combo of half strong black iced tea and half lemonade, you are missing out – and in frozen form, such as these Arnold Palmer Ice Pops, it is refreshing to the nth degree! Get the recipe for Arnold Palmer Popsicles.
Masala Chai
No need to go to the local coffee or tea shop for a cup of masala chai! Our Masala Chai is easy to make and by creating it ourselves, we can control ingredients and make one that is gut friendly and to our personal taste. Chai is simply the word for tea in India but many of us will think of the milky, sweet, spiced black tea more properly called Masala Chai when we hear the word. We chatted with a few friends, born in India or first-generation Americans – self-proclaimed chai fanatics and one tea sommelier from New Delhi – to gather information that would help us make classic masala chai. Get the recipe for Masala Chai – and ice it down for a refreshing take.
Tea & FODMAPs
Many of these recipes involve tea – white, green and black. If you are a tea lover and want to learn more, this article has all the details you need. It also covers herbal infusions and what is appropriate for the low FODMAP diet. Get the article for Tea & FODMAPs.
Starbucks & Dunkin' Donuts: What Should You Order?
What are your IBS-friendly, low FODMAP choices at Starbucks and Dunkin' Donuts? We've got the answers! When you are running around town and want to grab a hot or cold beverage from these popular stores, there are certainly some items that will be more suitable for your IBS than others. Read our article Low FODMAP Choices At Starbucks & Dunkin' Donuts.