ModifyHealth is the first low FODMAP meal delivery service that is delivered nationwide. We had an opportunity to interview CEO GB Pratt about their innovative business and service.
ModifyHealth, a fast-growing Atlanta based low FODMAP meal delivery company has a personal mission: to help you "Take control of your IBS and take back your life". With free nationwide delivery and a team of GI trained dietitians, they are ready to help you on your low FODMAP journey.
We sat down with GB Pratt, CEO of ModifyHealth, to learn more about the company and how they are helping IBS patients across the US.
Dédé
:
GB
, thank you so much for taking the time to talk with us. Our community is comprised of people of all ages and backgrounds, with a common denominator of IBS and that they have an interest in the
Low-FODMAP
diet. Let's start at the beginning. Tell us about
what led you to start ModifyHealth
.
When did you launch?
GB: We launched in the DC area in late 2018 and then, after seeing strong demand for convenient, great–tasting Low-FODMAP meals, we expanded our service nationwide last June. 2019 was an amazing year with amazing patient successes and we're excited for 2020!  
[bctt tweet="As for why we started, we're here to change lives by making food as medicine simple and effective." username="FODMAPeveryday"]
As for why we started, we're here to change lives by making food as medicine simple and effective. That's our mission. Several of us on the team deal with IBS, Crohn's, Colitis, Celiac and non-Celiac gluten sensitivity so what we do is more than "business," it's personal.    
We intuitively know what studies have shown over and over again – what we eat impacts our health and quality of life. That said, we also know for those suffering from food related symptoms, finding specific triggers and making helpful changes can be extremely challenging. By providing chef curated, convenient meals designed for specific conditions like IBS, SIBO, IBD, and gluten sensitivity, we help make finding relief simple and enjoyable.
Why we exist is best described by one of our customers
who recently shared her story with us
.
Her symptoms were so bad for years that it affected her ability to interact with her family. As she said, "my symptoms would come on in the evening, generally when my husband would come home from work. My 'go to' would be to lay on the couch and watch him enjoy time with our boys." After completing the ModifyHealth program, her symptoms are under control and she can now "jump in on the action." In her words, she is "thankful for the knowledge and power to live a different life than the symptom-heavy one I felt trapped in before." 
Stories like hers drive us every day.  
Are you using Monash University lab results as
a starting point
for determining FODMAP amounts?
  If so, how do you create the recipes? 
Yes, we closely follow Monash University guidelines to ensure all meals are below the cumulative amount of recommended FODMAPs for the elimination phase.  
The creation of our recipes starts with our lead Culinary Director, Seth Freedman – a 'first-in-class'graduate of the world-renowned Culinary Institute of America in Hyde Park, NY. Prior to ModifyHealth, he held leadership roles at several prominent restaurants in the Atlanta area and for five years served as the Culinary Director for a nationwide "southern-infused and internationally inspired" meal delivery service. His creativity and passion for the impact food can have on our lives makes him a perfect fit to lead our culinary team. 
After a recipe has been created, it's reviewed by Patsy Catsos MD, RDN, LD to ensure it meets the Monash standards. I'm guessing many of your readers are familiar with Patsy as she was one of the pioneers in bringing the FODMAP protocol to the States and continues to be a leading advocate for education and patient awareness. She's been a wonderful partner for ModifyHealth! 
At your core, you offer
Low-FODMAP
, gluten-free
meals delivered to your customer's doorstep. Please explain how the process works. Are there minimums,
different
plans to choose from? 
We currently offer two subscription meal plans designed to help you take control and/or maintain control over your IBS symptoms. Both plans are available as a weekly subscription and the great news is that nationwide shipping is always free. 
m1 "Get Better" Low FODMAP Plan Described
Providers recommend our m1 "Get Better" Low-FODMAP plan if you are currently struggling with IBS and want control over your symptoms.  The m1 plan is based on Monash University's research, which indicates 3 out of 4 people gain relief after completing a Low-FODMAP protocol. 
Under this plan, it's recommended that patients order breakfast, lunch and dinner but an option for only lunch and dinner is also available.  The Plan guides you through the elimination and reintroduction phases of the FODMAP protocol and after approximately 8 weeks you'll not only have relief, you'll also know your specific trigger foods to control symptoms on your own moving forward. This plan is best delivered with the help of an IBS trained dietitian to make compliance simple and increase the likelihood of achieving positive results. 
m2 "Stay Better" Low FODMAP Plan Described
Our m2 "Stay Better" Low-FODMAP plan is helpful if you already know which foods trigger your IBS symptoms and want a convenient and great tasting way to enjoy safe meals on an ongoing basis.  This plan allows you to order as few as 5 meals per week.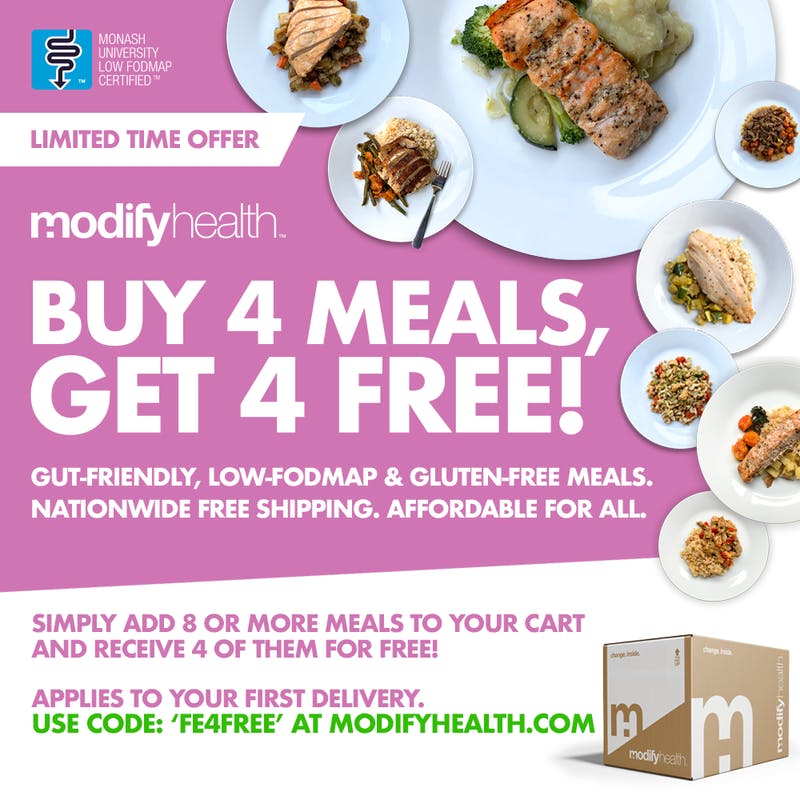 Are all of
your
meals
gluten-free as well? How about GMO and organic ingredients?
Yes, in addition to being Low-FODMAP, all of our ingredients are organic, gluten-free, nutrient–dense and non-GMO. In addition, our animal proteins include grass-fed meat, free-range poultry, and wild-caught fish which are all antibiotic and hormone-free. The compassionate treatment and welfare of animals is very important to us so we partner with suppliers who are equally committed to ensuring farm animals have a humane life. 
When meals arrive, do I have to prep anything?
No prep is required. All meals are delivered fresh, fully–prepared and ready to eat after just 1-2 minutes in the microwave. Directions are also provided for heating in a conventional oven or stovetop if preferred.  
Where are you available and how much does it cost?
We've worked hard to keep the cost down to make it reasonable for those who want as many meals as possible to get through the elimination and reintroduction phases. Currently, entrees are all below $12, breakfasts are less than $8 and again, all orders include free shipping throughout the continental US. 
And tell us about your team of FODMAP dietitians! This is such a great distinguishing aspect to your offerings.
I'm glad you agree and this really comes back to our mission to help change lives. We believe, we've seen, and data shows that patients have greater success with FODMAP when working with a trained dietitian. Because of this, we support dietitians around the country and for those patients not working with a dietitian; we gladly connect them with one of ours. More than just meals, we're here to ensure positive outcomes. Dietitians play a big role in this. 
---
Are you a Dietitian interested in learning more about ModifyHealth and how you can partner with them to help your patients achieve success on the Low-FODMAP protocol? Click here to contact ModifyHealth and be sure to tell them FODMAP Everyday sent you!
---
Would you say that you have a particular customer profile?
We have two customer profiles and we're excited for the opportunity to serve both. 
The first profile includes those who are experiencing symptoms and want our help in providing a simple way to start the FODMAP protocol to gain relief and learn their individual trigger foods. While they often find us on their own, these customers are generally referred by gastroenterologists and dietitians. In line with published research, more than 75% of those we support with the FODMAP protocol experience significant relief within weeks of enrolling in the program. We love seeing the long-term quality-of-life impact this can make! 
The second profile includes those who already know their trigger foods and simply want convenient, great-tasting meals on an ongoing basis. While most in this group receive meals weekly, some also order ahead of important life events such as vacations and work trips just to be on the safe side. 
Tell us a bit about how you have been received. I am sure you are hearing both horror stories
about folks in need and then
from people with some amazing success stories!
We're so grateful for the reception we've received thus far from dietitians, the GI community, customers, and advocates like FODMAP Everyday. If we've seen anything, it's that there's a great opportunity (and responsibility) for us and others in our space to help many with the benefits of food as medicine. Thank you for this time and for all you do!  
GB
,
t
hank you so much for talking with us. We know that ModifyHealth can be a key factor in helping many IBS sufferers get back to feeling well – as well as in healing their gut and their relationship with food.
---
UPDATE
As of February 2020 ModifyHealth became the first nationwide low FODMAP meal-delivery service to receive Monash University Low FODMAP Certification. You can always rest assured that your meals will be appropriate for your low FODMAP lifestyle. This means every meal has been reviewed and given approval by Monash University, the developers of the low FODMAP diet.
---