Not Your Typical Granola
I have a love/hate relationship with granola. I love the crunch, convenience and versatility, and I like it as much for breakfast as I do for a snack out of hand or to munch with yogurt. This Gluten-Free Chocolate Granola with Almonds is going to be your new bestie.
The problem is that most commercial granolas contain FODMAPs such as wheat flakes or honey and certainly many of them are way too sweet for me – especially those that come boxed from the supermarket.
Making low FODMAP granola, like this Chocolate Granola, is easy; the biggest hurdle is eating too much! We do need to heed the Monash Green Light amounts for oats, which is ½ cup (52 g) – and this granola has some other potential FODMAP issues, which I will address, so keep reading.
Come on! This granola contains chocolate! I promise you the read and a sampling is worth it.
Challenge Yourself!
Perhaps, like me, when you go through the Challenge Phase and test yourself you just might find out that you can eat more than ½ cup (52 g) of oats, just maybe not everyday or two days in a row.
For me it is the too-many-days-in-a-row issue. Once or twice a week spread out is fine.
I listen to my body and it clearly tells me what is digesting easily and well and keeping me symptom free.
Your experience might vary; the point is that we are all individuals and not even your RDN can tell you the answer. Only you will know from trying foods and recording reactions.
Chocolate for Breakfast?
So, back to this Chocolate Granola. I love, love, love chocolate, the darker the better and while I mostly eat granola for breakfast, I also like it as a snack.
Chocolate might not be what you think of first as a breakfast food but it definitely is as a snack! So I decided to combine these concepts. This is also a FODMAPed version of a Chocolate Granola that I had developed years ago for Bakepedia.
That version had a hefty dose of almonds and also featured apricots, both of which could be problematic nowadays. I streamlined the recipe and now I can enjoy it again – in moderation. Read on!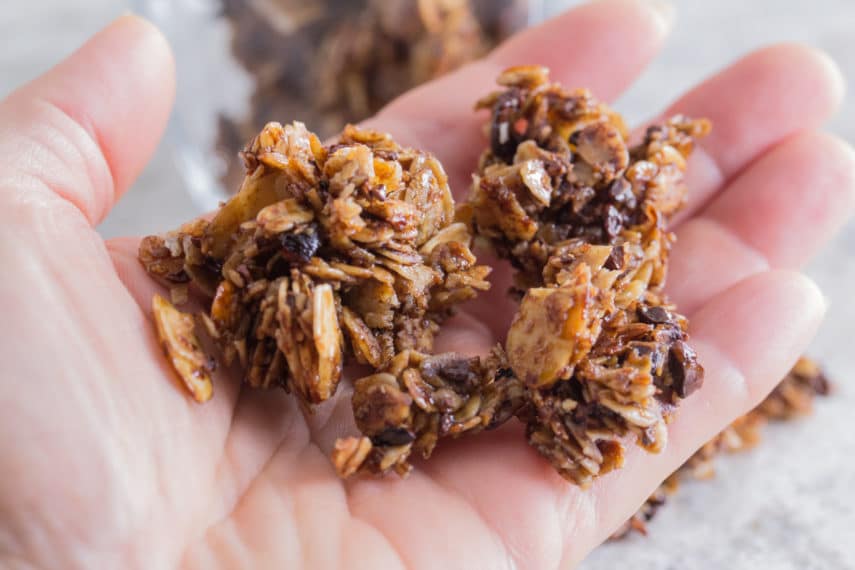 What About the Cacao Nibs?
I had posted an Instagram pic of this granola when I was testing the recipe and promised that I would address why I considered this granola to be low FODMAP even though it contains cacao nibs, which are not listed on the Monash app (as of now).
Well, they are there, but you just might not realize it.
Every year I teach several chocolate tastings to both professional chefs and lay people alike. Chocolate is one of my favorite ingredients and I know it inside and out. So here's the deal.
Cocoa powder, dark chocolates and milk chocolates are all made from cacao nibs. Cacao nibs are the raw agricultural product from the cacao tree, Theobroma cacao.
The cacao pod contains moist, fleshy covered seeds. The seeds are fermented and dried, then roasted. When they are cracked open the nibs are revealed.
The nibs, as seen below on the right next to some whole seeds on the left, are crushed and refined to make unsweetened chocolate.
If sugar is added, dark chocolate is made. If dairy is also added, milk chocolate is made. If the cacao nibs are crushed, some of the naturally occurring cocoa butter removed and the mass is dried, you get cocoa powder.
The point is that all of these foods, which are Monash approved, begin with and contain cacao nibs. I am working on Monash to publish testing results of cacao nibs themselves, but before then we have to make some educated guesses.
Also, they have approved and certified goodMix 11, and that contains cacao nibs, so this is another reason why we do know that some amount of nibs are low FODMAP.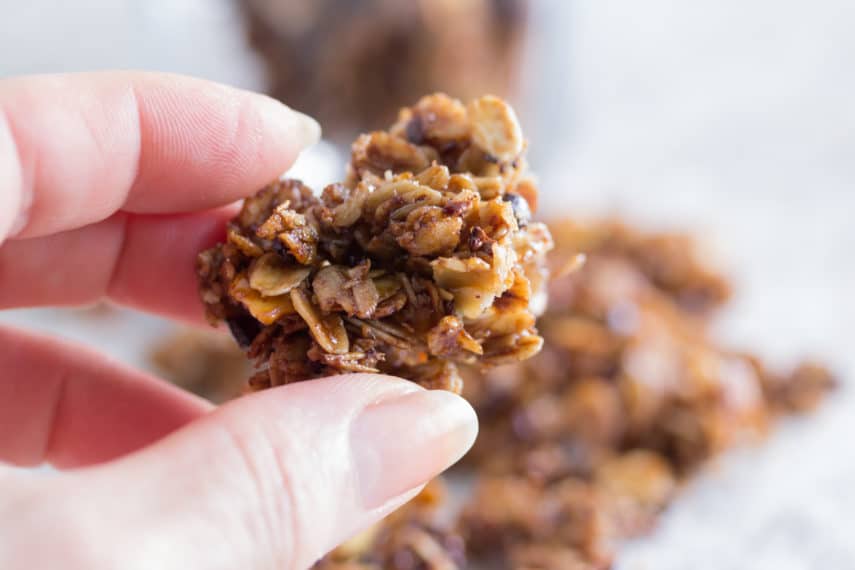 Let's Look at the Science & the Math
Cocoa powder is Green Lighted at about 1 tablespoon (8 g). We have a total of 4 tablespoons (¼ cup; 21 g) in this recipe total.
Dark chocolate (which contains the most cacao nibs of the chocolates among white, milk and dark) is Green Lighted at 30 g per serving. It comes down to math, which I have to say is terribly ironic.
I really hated math as a child and was really, really bad at it. The thing is that it was always presented in an abstract way. Nowadays, in my recipe testing life, I use math all day long and absolutely revel in figuring out what ratios exist within recipe test versions of new dishes and in this case, find out exactly how much chocolate I can eat!
Math can be our friend.
Numbers!
Dark chocolate is allowed at 30 g per serving as mentioned. The percentages you see on chocolate bars, such as 55%, mean that 55% of that chocolate bar is actual cacao mass, which is made from cacao nibs.
A typical "dark chocolate" would be 55% cacao. So if a 30g serving of 55% chocolate is allowed, we can extrapolate that the cacao nib amount in that 30 g piece of chocolate would represent 16.5 grams.
Therefore, a serving of 16.5 g of cacao nibs would be a good place to start to determine a "serving". There are 30 grams in ¼ cup of cacao nibs (the amount called for in the recipe).
All the FODMAPs
Okay, okay I know that this recipe has a few red flags. There's the oats (GOS and fructans) and the cocoa powder (GOS and fructans). The nibs (most likely GOS and fructans) and the almonds (GOS again).
They are all potential FODMAP bombs if eaten in to large amounts and they are all brought together into one crunchy, chocolaty cereal snack. Why, you might be asking, have I done this to you?
You can see the image and think, I WANT THAT! And then find out it is FODMAP laden.
How much should you eat? I don't know for sure, but there's a way to find out. My suggestion is to not make this recipe during your Elimination Phase.
If you find out during the Challenge Phase that you and Oligos get along somewhat, give it a try in ¼ cup amounts at first. See how you feel and proceed from there.
That might not sound like a lot of granola, but this version is so flavor packed that you don't need a lot to feel satisfied and it is better than not being able to have it at all!
Timing
Another thing to consider is timing. If you find that Oligos are an issue for you now, take care of yourself and listen to your body. However, our bodies can change.
A few months from now you might very well be able to tolerate – and enjoy – this granola. As always, our big message here at FODMAP Everyday is don't give up on yourself!
For another granola with chocolate, try our Chocolate Coconut Granola.
Chocolate Granola
This Chocolate Granola can be enjoyed while following the low FODMAP diet - just watch your amounts. The ¼ cup amount is a starter suggestion; try it and see how you feel and proceed from there.
Low FODMAP Serving Size Info: Makes about 5 cups (600 g); serving size ¼ cup (30 g)
Ingredients:
2 1/2

cups (248 g)

old-fashioned rolled oats;

use gluten-free if following a gluten-free diet

1/2

cup (43 g)

sliced almonds

1/4

cup (30 g)

cacao nibs

1/2

cup

rice syrup or maple syrup

1/4

cup (21 g)

sifted Dutch cocoa

1/4

cup (60 ml)

neutral flavored vegetable oil,

such as safflower, canola or vegetable

1/2

teaspoon

vanilla extract
Preparation:
Position rack in center of oven. Preheat oven to 300°F/150°C.

Toss oats, almonds, and nibs together in a large bowl; set aside.

Whisk together the sweetener of choice (rice syrup will be more gently sweetened; maple syrup will be sweeter), cocoa and oil in a saucepan. Bring to a simmer, whisking often, until ingredients are combined and smooth. Pour over dry mix and use a large rubber spatula to combine thoroughly. Fold in vanilla. Spread granola in an even layer on a rimmed baking sheet.

Bake granola for about 30 to 35 minutes or until beginning to dry to the touch, tossing once during baking time. Cool pan on rack. Store granola at room temperature in an airtight container for up to 1 month. We love it for breakfast with low FODMAP lactose-free milk or dairy-free milk - particularly unsweetened almond milk such as Almond Breeze - tossed onto yogurt or even eaten out of hand for a snack.
Notes:
Tips
Your local store might not have cacao nibs. Plan ahead as you might have to order them.
Nutrition
Calories:
190
kcal
|
Carbohydrates:
28
g
|
Protein:
5
g
|
Fat:
7
g
|
Saturated Fat:
1
g
|
Sodium:
2
mg
|
Potassium:
107
mg
|
Fiber:
3
g
|
Sugar:
7
g
|
Calcium:
15
mg
|
Iron:
1.3
mg
SaveSave
SaveSave
SaveSave
SaveSave
SaveSave
SaveSave
SaveSave
SaveSave
SaveSave
SaveSave
SaveSave