Turkey Is A Versatile Low FODMAP Protein
The New York Times has a great article on roasting turkey parts and this recipe for the Fastest & Easiest Roast Turkey Ever took inspiration from it.
You can get turkey on the table in a little over an hour (for smaller birds)! How can you resist?
Sure you don't get to present a whole bird at the Thanksgiving table but…what? You only eat turkey once a year? We are here to persuade you otherwise.
Having cooked turkey around is great for low FODMAP sandwiches, our Chicken Enchiladas Using Cooked Turkey, curries, soups and snacking.
This was an easy recipe to FODMAP. Leek greens stand in for the onion and even though you could use a celery stalk, we left it out because we wanted to make this super easy and fast and with a short shopping list.
You do need a big roasting pan or use a large rimmed baking sheet like we show in the images.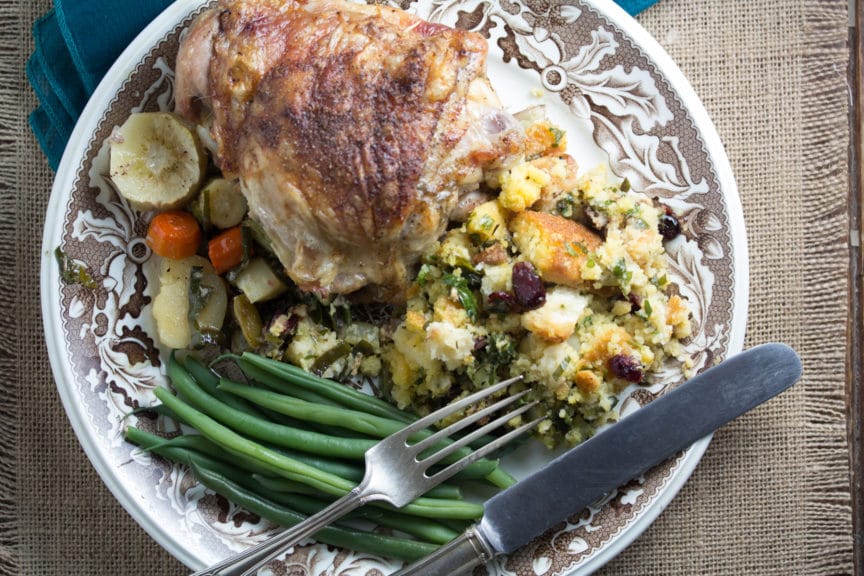 Note that your number of servings is going to depend on the size of the breast. Aim for about ¼ pound (115 g) per serving.
Check out our Thanksgiving Roundup for 100+ Fabulous Holiday recipes!   We've got everything from apps, to sides, to desserts – even creative low FODMAP recipes for leftovers!
Fastest & Easiest Roast Turkey Ever
Think roasting a turkey is hard? Not anymore. You can prep this bird in the time it takes for the oven to preheat.
Low FODMAP Serving Size Info: Depends on size of turkey. We suggest about ¼ pound (115 g) of turkey off-the-bone per person.
Total Time:
2
hours
20
minutes
Ingredients:
12 to 16

pound (5.4 kg to 7.3 kg)

turkey,

thawed, with giblets and neck removed, brought to room temperature (see Tips for an easy prep idea)

Freshly ground black pepper

1/2

cup (36 g)

chopped leeks,

green parts only

Fresh or dried rosemary, sage, and thyme

6

tablespoons (85 g)

unsalted butter,

cut into thin pieces
Preparation:
Position rack in center of oven. Preheat oven to 450°F/230°C.

Place the turkey on a cutting board, breast side down. Use a very sharp knife or cleaver to remove the backbone. Start at the "tail" end and just start cutting/hacking along one side of the backbone, then the other. The backbone can be used to make

Turkey Stock

.

Turn the turkey over, cut off the wings and add them to the backbone for stock (or feed to your dogs if you are a raw dog food fan like Dédé). Cut off the legs and thighs, and then separate the legs from the thighs. Firmly press down on the turkey breast to flatten the carcass as much as possible.

Place the breast, two legs and two thighs on a large roasting pan or large rimmed sheet pan. Generously season the pieces on all sides with salt and pepper. Scatter leeks over all, then season with some herbs. Just go by eye and use images for visual help with amount. Place butter pieces evenly over all.

Roast for 30 minutes, then reduce heat to 325°F/165°C, basting with accumulated juices once during this first roasting period. 15 minutes later check the legs, which will probably be done first. (whenever you open the oven, use it as a moment to baste). When individual pieces reach 165°F/74°C, remove them to a heatproof platter (we use another rimmed sheet pan) and tent loosely with foil. Keep roasting pieces until all are done, but it will be within another 15 to 30 minute increment (it will depend on whether your turkey was truly at room temperature to begin with). Let pieces rest for about 20 minutes after they are out of the oven to allow juices to redistribute.
Dédé's Quick Recipe Tips Video
Notes:
Tips
Cutting up the raw bird can be a bit of a to-do. Ask your butcher to do it for you and you will be able to get this ready to go into the oven in the time it takes the oven to preheat.
For a little extra effort, you can ensure the juiciest breast meat. Loosen the skin carefully away from the flesh and tuck a few pieces of butter underneath the skin as well as on top.
Nutrition
Calories:
328
kcal
|
Carbohydrates:
1
g
|
Protein:
50
g
|
Fat:
12
g
|
Fiber:
1
g
|
Sugar:
1
g