Mexican Food No More?
When you first learn of the low FODMAP diet and you see that onions and garlic and beans are a big no-no, your dreams of Mexican inspired meals might seem to be hanging by a thread. And yet, check out this plate of Chicken Enchiladas.
We can have all the flavor of those yearned-for Mexican dishes, such as with these Chicken Enchiladas, by using a little creativity in ingredient choices. We start with a low FODMAP homemade Red Enchilada Sauce.
Corn tortillas are stuffed with tender, gently spiced chicken, with the sauce ladled under, inside the tortillas and on top. Three kinds of cheese round out the dish along with scallions and cilantro for a green burst of freshness.
Speaking Of Corn Tortillas
Not all corn tortillas are created equally. For easiest rolling we recommend the type that do include gums, such as xanthan gum or guar gum. Not only are these gums low FODMAP, but Monash University has lab tested corn tortillas with gums, so there is not need to worry; they are low FODMAP.
That said, we have found that different brands roll more easily than others. Temperature can affect them, too. If they are too cold, they will have a tendency to crack. Follow our directions, take note of the brand you are using and try a different brand next time if you have issues with cracking.
Here's the thing, though. This dish ends up looking a bit messy upon serving anyway, so don't worry! The sauce and cheese can cover many cracks!
Please review our article, Is Corn Low FODMAP? for a deeper dive into this versatile ingredient.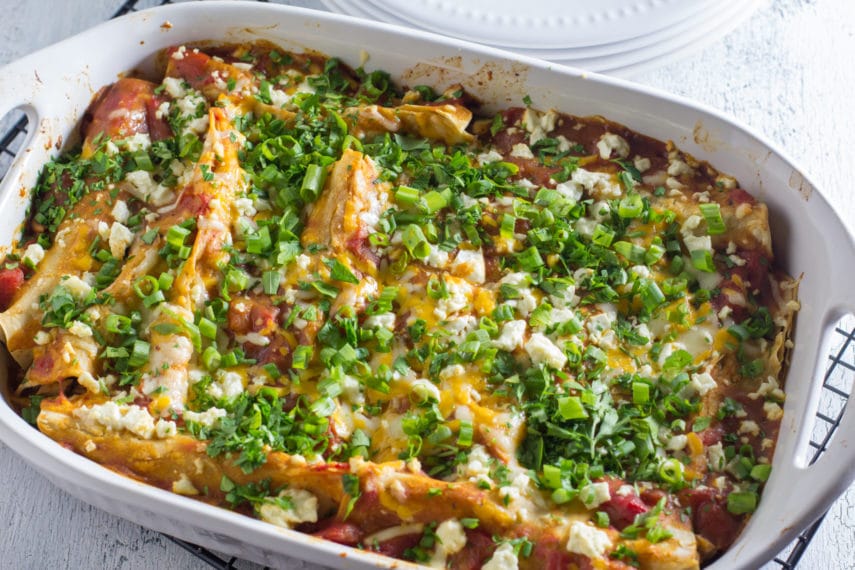 Everybody Loves These. Trust Us
These are a great family meal, for FODMAPers and non alike. There are do-ahead steps; kids can help roll up the tortillas…there are many, many reasons to make this dish.
But the #1 reason is this: they taste as good if not better than your local Mexican joint's version – and these will keep your tummy happy.
You can see our Red Enchilada Sauce as a stand-alone recipe, for future use.
Low FODMAP Chicken Enchiladas
Our low FODMAP chicken enchiladas are Monash University diet compliant and even safe for the Elimination phase! Look for our kiwi icon for dishes that are safe even during the most restrictive part of the diet.
Ingredients:
Enchiladas:
1 1/2

pounds (680 g)

boneless,

skinless chicken breasts, pounded to ½ inch (12 mm) thick, then diced

1/4

teaspoon

chilli powder,

ground red serrano chillis or more to taste

1/4

teaspoon

cumin

or more to taste

1/4

teaspoon

oregano

or more to taste

1/4

teaspoon

kosher salt

Freshly ground black pepper

2

teaspoons

EITHER Low FODMAP Garlic-Infused Oil or Onion-Infused Oil

made with vegetable oil, or purchased equivalent

1

tablespoon

minced fresh green chilles,

such as serrano, or to taste

4

ounces (115 g)

sharp or extra sharp cheddar,

grated (about 1 cup)

4

ounces (115 g)

Havarti,

grated (about 1 cup)

10

corn tortillas

7

ounces (200 g)

feta or cotija cheese,

(about 1 ¼ cups)

1/4

cup (4 g)

chopped cilantro

1/4

cup (16 g)

chopped scallions,

green parts only
Preparation:
For the Sauce: Heat the oil in a medium sized pot over medium heat until hot, then whisk in flour and cook, stirring often, for a minute or two to lightly cook the roux, which is the basis for our sauce (you are just removing the raw flour taste). Whisk in chilli powder and cook for 15 to 30 seconds then slowly whisk in stock, then tomatoes, cumin, oregano and salt until combined. Bring to a simmer over medium heat and cook, stirring often, for about 10 minutes. Set aside. This makes about 3 cups of sauce; you might not use all of it for this recipe but it will keep, refrigerated, in a covered container for up to a week.

For the Enchiladas: Meanwhile, place diced chicken in a mixing bowl and add the chilli powder, cumin, oregano, salt and several grinds of black pepper and toss to coat.

Heat oil in a medium sized nonstick skillet over medium heat until hot, add chicken and cook, stirring often, until about halfway cooked through (just losing its pink color), about 3 to 5 minutes. Stir in green chillis (to taste) and a splash of the enchilada sauce and stir to coat. Continue cooking the chicken until cooked through, about 3 to 5 minutes more.

Position rack in middle of oven. Preheat oven to 350°F/180° Spread a little Enchilada Sauce in the bottom of an oven-proof glass 13 x 9-inch (33 cm x 23 cm) pan (or you can use two 9-inch/23 cm pie plates). Toss the cheddar and Havarti together in a bowl and set aside.

Take one corn tortilla, spread a little Enchilada sauce all over its surface using the back of a spoon and then place about ¼ cup (55 g) of the chicken (do this by eye) in a line down the center. Sprinkle with a bit of cheese (you will use about one third of the shredded cheese for this part of the recipe for all 10 tortillas). Roll up and place tortilla seam side down in prepared pan. Repeat with remaining tortillas, chicken and up to one third of the cheese, nestling each rolled tortilla next to one another.

Pour Enchilada Sauce over the rolled tortillas and sprinkle with the remaining shredded cheese and feta evenly over all. Bake for about 20 to 30 minutes or until filling is hot and cheese is bubbly. Sprinkle cilantro and scallions over the top and serve immediately.
Dédé's Quick Recipe Tips Video
Notes:
Tips
You can prepare the enchiladas ahead. After sprinkling with the cheeses they can be covered with plastic wrap and refrigerated overnight. Bring to room temperature while oven preheats. You can also heat these in the microwave, but it will depend on your familiarity with your unit. Start by trying high power for 10 minutes, check, and proceed from there.
Nutrition
Calories:
591
kcal
|
Carbohydrates:
30
g
|
Protein:
45
g
|
Fat:
33
g
|
Saturated Fat:
1
g
|
Sodium:
533
mg
|
Potassium:
81
mg
|
Fiber:
4
g
|
Sugar:
3
g
|
Calcium:
44
mg
|
Iron:
1.1
mg
SaveSave
SaveSave
SaveSave
SaveSave