A FODMAP IT!™ recipe from Colu Henry's cookbook
Back Pocket Pasta: Inspired Dinners to Cook on the Fly
---
Note: We received this cookbook from the publisher- but all opinions are our own. This post may include affiliate links. Please see our complete disclosure here.
Quick, Easy, Elegant Penne Rigate
What is "back pocket pasta"? It is the kind of pasta recipe that you can memorize by heart and whip up at a moment's notice. Like this Penne Rigate with Gorgonzola, Radicchio & Walnuts from my friend Colu Henry.
She came up with the hashtag, #backpocketpasta, because that is how she actually cooks! Effortlessly, but with a keen eye towards interesting flavors and texture combinations.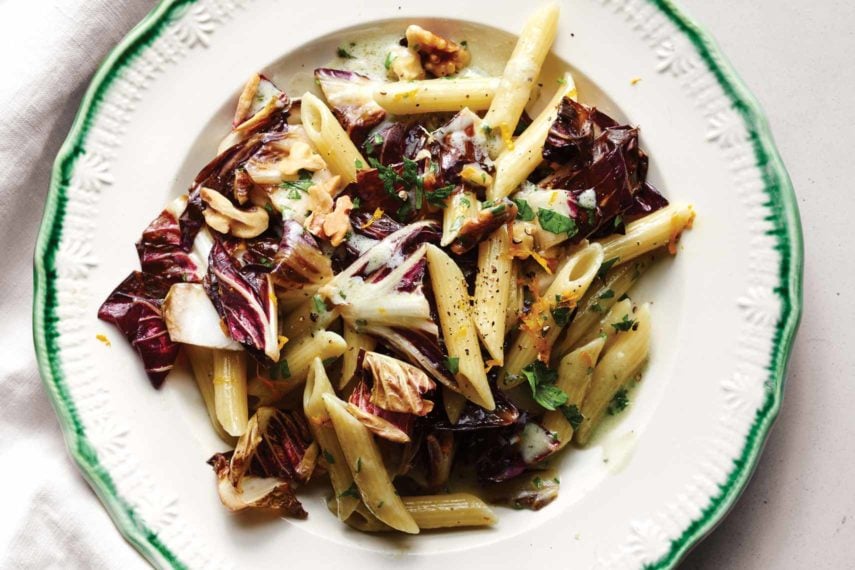 Take a Break
Sometimes we like to prepare a real to-do! You know, a whole turkey or roast or some such. And sometimes we want to eat quickly and easily, but well – taking a break from more involved preparations. This penne frigate dish is an example of the latter.
Quick and easy shouldn't mean shortcutting on taste and Colu's book, Back Pocket Pasta, is filled over 75 recipes that will satisfy, whether you are craving seafood, as with the Grilled Squid with Chiles and Mint, a vegetable-centric recipe such as this Tuscan Kale Caesar Pasta, an elegant dish like Pappardelle with Duck Confit, Olives and Raisins or something super fast, like Linguine with Quick Chili Oil.
FODMAP IT!™
So many of her recipes are ready to work with our low FODMAP diet by simply substituting gluten-free pasta, which is the only change we made for this dish. Note that the recipe will only be gluten-free if you use gluten-free pasta.
Reprinted from Back Pocket Pasta. Copyright © 2017 by Colu Henry. Photographs copyright © 2017 by Peden + Munk. Published by Clarkson Potter/Publishers, an imprint of Penguin Random House LLC.
From Colu:
You've got everything you need here for a successful dinner: a little sweet, something bitter, and some crunch. The Gorgonzola adds a silky texture and curbs the gentle bite of the radicchio. Walnuts add, well, nuttiness and are a traditional northern Italian combination with the other two ingredients at play.
If you have a blood orange around, grate some zest over the top for brightness and then garnish with chopped parsley. This can work well as a starter to a Sunday roast or as a main alongside a quick green salad.
FODMAP IT!™ Penne Rigate with Gorgonzola, Radicchio & Walnuts
FODMAP IT!™ Penne Rigate with Gorgonzola, Radicchio & Walnuts from Colu Henry's Back Pocket Pasta book.
Ingredients:
1

cup (113 g)

chopped walnuts

3/4

pound (340 g)

gluten-free penne rigate

1/4

cup (60 ml)

olive oil

1

(about 1 pound; 455 g)

head radicchio

(preferably Treviso if you can find it), cut into 1-inch-wide (2.5 cm) ribbons

Freshly ground black pepper

6

ounces (170 g)

crumbled Gorgonzola

or other mild blue cheese

1/2

cup (16 g)

chopped flat-leaf Italian parsley

Orange zest,

preferably from a blood orange; optional

Grated Pecorino Romano cheese,

for serving
Preparation:
Heat a 12-inch (30.5 cm) skillet over medium heat. Add the walnuts and toast them over medium-low heat for about 4 minutes, stirring frequently so they do not burn. Remove and set aside. Wipe out the skillet.

Bring a large pot of water to a boil. Add 2 tablespoons of the salt and return to a rolling boil. Add the pasta and cook until al dente according to package directions.

While the pasta cooks, prepare the sauce: Heat the oil in a 12-inch (30.5 cm) skillet over medium-high heat. Add the radicchio and season with salt and pepper. Cook the radicchio until it begins to wilt and brown, about 5 minutes. Season with salt and pepper.

Stir in the Gorgonzola and cook for 2 minutes. Add ½ cup (120 ml) of the pasta water directly from the pot and simmer for 3 minutes more. The water should emulsify the cheese and create a velvety texture.

Scoop the cooked pasta directly into the skillet and toss to combine the pasta with the sauce. Add the walnuts and parsley and toss again until glossy, adding ¼ cup (60 ml) of pasta water or more (up to 1 cup/240 ml), as needed to loosen up the sauce.

Plate in bowls and garnish with orange zest, if desired. Season with salt and pepper and pass grated Pecorino Romano.
Notes:
Tips
From Colu: This recipe will work well with just about any nut, so feel free to use whatever you have lying around, such as almonds or pecans. No radicchio? Another bitter leafy green like curly endive or Dandelion greens are a great substitute. Penne rigate is similar in shape and size to penne, but it has deep ridges, which hold more sauce, maximizing the amount of creaminess in each bite!
Nutrition
Calories:
656
kcal
|
Carbohydrates:
50
g
|
Protein:
18
g
|
Fat:
46
g
|
Saturated Fat:
4
g
|
Sodium:
1
mg
|
Potassium:
174
mg
|
Fiber:
5
g
|
Sugar:
1
g
|
Vitamin C:
0.5
mg
|
Calcium:
39
mg
|
Iron:
1.2
mg