A New Take on Squid – Grilled Calamari Steaks
A classic Mediterranean dish that's all about quality ingredients and simple preparation. Just be sure to use a good quality olive oil and a very hot grill pan. Flash-frozen calamari steaks are now readily available in many fish markets and grocery stores.
With the right ingredients at hand our Low FODMAP Grilled Calamari Steaks will come together in a flash!
Dédé's Comments: You might not be familiar with calamari steaks and think that they are some kind of conglomeration of calamari and who-knows-what formed into a "steak". Rest assured that they are a very clean product, usually just a flattened portion of a large, Humboldt squid.
Some cooks like to score a diamond pattern in the squid to keep it from curling during cooking and also to allow for very even cooking.
If you are a squid lover, also check out our Calamari Salad and our Grilled Squid with Chiles & Mint. They are both super easy to make and actually quite elegant. Folks will think you slaved one the stove! (Shhh we won't tell).
Grilled Calamari Steaks
Grilled Calamari steaks are very easy to prepare and can add variety to your low FODMAP dinner plans.
Ingredients:
4

calamari steaks,

about 6 ounces (170 g) each

Extra-virgin olive oil for drizzling and serving

Freshly ground black pepper

Chopped Italian flat leaf parsley

Lemon wedges for serving
Preparation:
Remove the calamari steaks from the refrigerator half an hour before cooking to allow then to come to room temperature. (If you have purchased them frozen, defrost per package instructions).

Heat a cast iron or heavy grill pan over high heat until extremely hot. If cooking outdoors, let the grill become very hot. Calamari steaks need to be cooked quickly or they can toughen.

Meanwhile, thoroughly pat the calamari steaks dry with paper towels, which will help to provide a nice sear. In a medium bowl, toss the calamari with a drizzle of olive oil until lightly coated. Don't season the calamari until after they are cooked, as salt would draw out moisture causing then to steam rather than sear.

Grill the calamari 1 to 2 minutes per side, until lightly browned on both sides. Transfer to a platter and season with salt and pepper. Drizzle fresh olive oil on top, garnish with parsley, and serve with lemon wedges.
Notes:
Tips
We hope you try this recipe just because it is SO EASY and you will be blown away! And you will have a quick and easy main dish in your repertoire.
Nutrition
Calories:
156
kcal
|
Carbohydrates:
5
g
|
Protein:
26
g
|
Fat:
2
g
Looking For More Seafood Recipes?
18 Easy Breezy Low FODMAP Fish Recipes You Can Whip Up In A Flash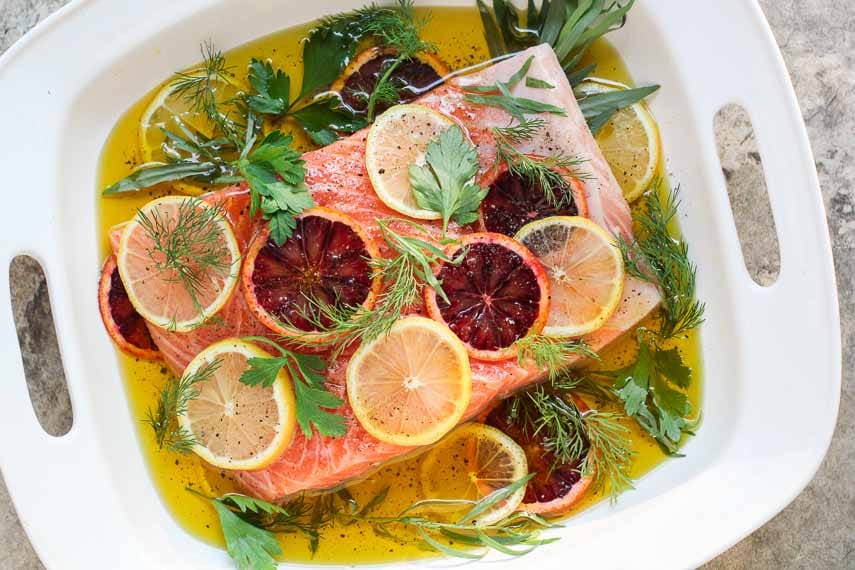 Dive into a world of flavor and nutrition with the tantalizing treasure trove of seafood! Picture succulent fish, grilled to perfection, releasing a symphony of flavors with every bite.
But the magic doesn't stop there. Seafood is a powerhouse of nutrients, from omega-3 fatty acids that boost heart and brain health, to vitamins D and B2 that promote strong bones, energy production, and healthy skin. Loaded with calcium, phosphorus, iron, zinc, iodine, magnesium, and potassium, seafood truly elevates your well-being. With the American Heart Association recommending at least two servings per week, it's time to unlock 18 incredible recipes that will take your nutrition to new depths.
READ: 18 Easy Breezy Low FODMAP Fish Recipes You Can Whip Up In A Flash