Pastry Cream is a basic recipe in classic patisserie, being found inside éclairs, cream puffs, Napoleons, as a base for fruit tarts and in so many other desserts and pastries. Our Lactose-Free Pastry Cream offers everything you want from a pastry cream – the silky texture, the rich mouthfeel and the flexibility – without what we want to avoid. Classic pastry cream is filled with lactose-rich milk or cream and often made with wheat-based, fructan rich flour.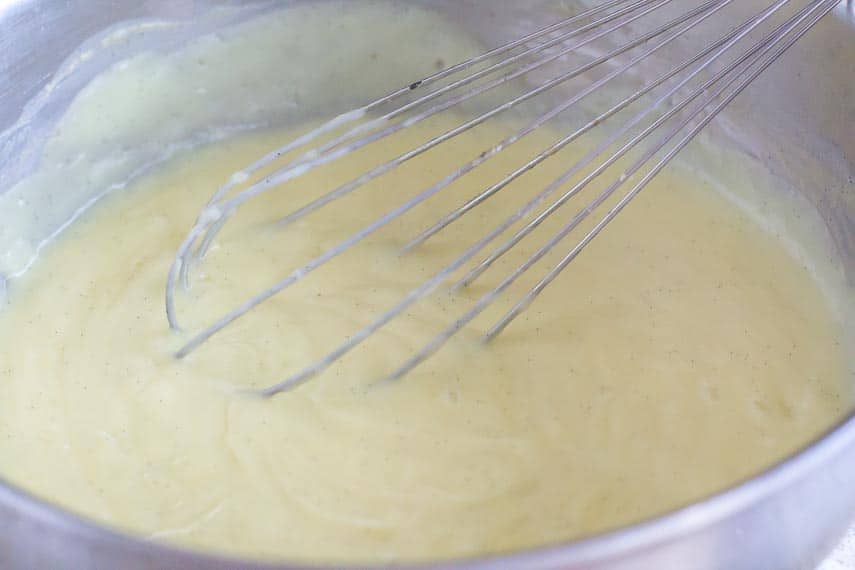 Choosing Dairy & Thickeners
This version of Lactose-Free Pastry Cream uses lactose-free whole milk and chooses cornstarch as the thickener. It is true that many chefs use cornstarch in their pastry cream instead of flour, but the lactose-free milk is certainly a new approach. And all together makes our version low FODMAP!
It is not hard to make; just don't walk away from the stove as the cooking goes quickly and you do not want to curdle the eggs or scorch the pastry cream.
You can see this Lactose-Free Pastry Cream put to excellent use in our Strawberry Rose Tart, which features another basic recipe, our low FODMAP Crostata & Tart Crust.
BTW I think the vanilla bean adds complexity, but I do give you the option of simply using vanilla extract, which we hope you have in your pantry.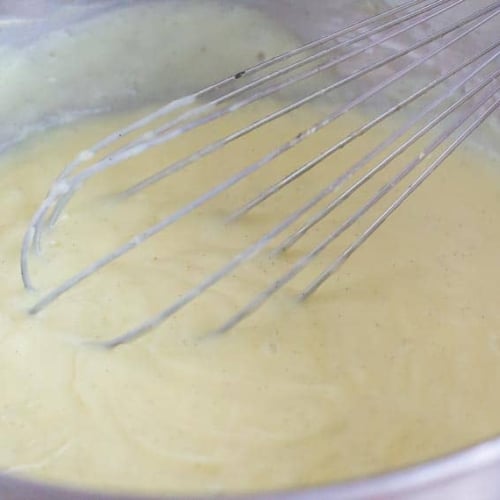 Lactose-Free Pastry Cream
Classic pastry cream is made with lactose-laden milk and or cream and very often fructan-rich flour as well. Our version is low FODMAP and just as delicious and versatile.
Low FODMAP Serving Size Info: Makes about 2 cups (480 ml); serving size 1/2 cup (120 ml)
Ingredients:
2

cups (480 ml)

lactose-free whole milk

1/2

vanilla bean,

split lengthwise (see Tips)

2

large

eggs

1/2

cup (99 g)

sugar

2

tablespoons

cornstarch

Pinch

of salt

1

tablespoon

soft unsalted butter,

cut into tiny pieces
Preparation:
Put the milk in a medium saucepan and scrape in the vanilla bean seeds. Add the vanilla bean pod to the pot as well. Whisk well to break up the seeds. Just bring to a boil over medium heat, remove from the heat, and allow to steep for 15 minutes. Discard the bean pod.

Meanwhile, whisk together the eggs, sugar, cornstarch, and salt in a heatproof bowl until very smooth.

Drizzle about one-quarter of the warm milk over the egg mixture, whisking constantly. Add the remaining warm milk and whisk to combine. Immediately pour the mixture back into the saucepan, and cook over low-medium heat until it begins to simmer and bubbles appear around the edge. Cook, whisking constantly to prevent scorching, for about 1 minute. The pastry cream should be thick enough to see whisk marks, but still satiny smooth and fluid. Remove from the heat and whisk in the butter.

Proceed as called for in individual recipes or cool and refrigerate until needed. See Tips below; stir the pastry cream a couple of times as it cools down to dissipate heat. When almost at room temperature, scrape into an airtight container, press plastic wrap directly onto the surface, snap on the cover, and refrigerate for at least 4 hours or until thoroughly chilled. Refrigerate for up to 3 days.
Tips
If you would like to use vanilla extract instead of the vanilla bean, simply whisk 1 teaspoon of vanilla extract into the pastry cream along with the butter.
Pastry cream is very perishable. By stirring occasionally while cooling to release the heat, you will cool it down most effectively, and you will be able to get it into the refrigerator more quickly. However, the firmness of the pastry cream is setting up during cooling as well, so stir very gently. My approach is to make one gentle rotation of a wooden spoon or spatula a couple of times during cooling, nothing more. If you are immediately scraping it into a tart shell as in our Strawberry Rose Tart, it will cool very quickly as the layer is so thin.
If You Can Tolerate
Lactose: If you have passed the Lactose challenge, feel free to use conventional whole milk instead of the lactose-free.