Easy-to-Make Low FODMAP Cranberry Hot Pepper Glazed Ham for Your Next Party
Ham can be low FODMAP if you know what to look for on the ingredient label. We have everything you need to know in Is Ham Low FODMAP?, which we recommend you read first before shopping for this recipe.
Our Cranberry Hot Pepper Glazed Ham makes a perfect Christmas or Easter centerpiece, or make it anytime you need to feed a crowd and love built-in leftovers.
Choose Your Ham
Now that you know what to look for in terms of labels, for this recipe we have had great success with both smoked and unsmoked hams, but we are partial to using spiral-sliced.
Spiral sliced hams make for super-easy carving at the buffet table, so especially if you are having a party where guests might be serving themselves, this is the way to go.
Spiral sliced hams are purchased already sliced. The ham makers have sliced the meat for you on a machine, and the process creates easy-to-access, even slices.
The slices also allow the glaze to drip down a little bit in-between the slices, imbuing the ham with the sweet and spicy flavors from the glaze.
Is Hot Pepper Low FODMAP?
Great question and we hear it all the time. Here's the deal: there are hot peppers that are low FODMAP in small amounts, but that doesn't mean that they won't trigger your IBS symptoms.
Some folks are sensitive to hot, spicy foods, and if you are one of those people, perhaps you might like our Low FODMAP Brown Sugar Baked Ham instead. With hot peppers it is the capsaicin that your digestive system might react to.
Monash has approved 28 g (about 11-inch (28 cm) long) hot red or green peppers as a low FODMAP serving. In private emails with Monash researchers they have told us that the chiles tested were Serrano and Cayenne peppers.
We also have an article for you to read, All About Chile, Chili and Chillies.
Buying Pepper Jelly
Hot pepper jelly is a specialty product that you might have to seek out from a specialty food store or purchase ahead of time online, so plan accordingly.
As with any jams or jellies, look for a clean label that doesn't list any high fructose corn syrup (HFCS). This is not the same as corn syrup and you can read about both in our article Corn Syrup vs. High Fructose Corn Syrup.
The ingredients for the jelly should be sugar, water, hot peppers and perhaps some acidic ingredient, such as lemon juice. Watch out for any brands that contain garlic; leave those on the shelf.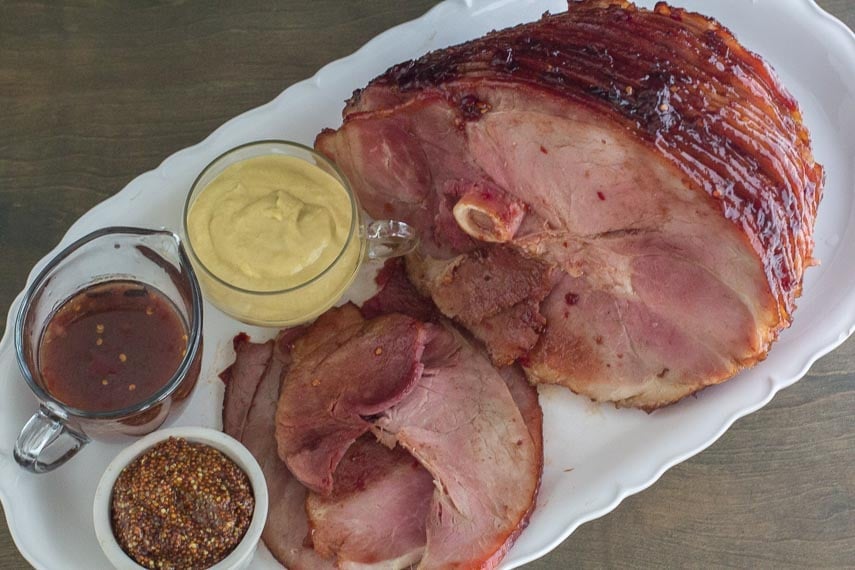 Buying Cranberry Juice
Monash has lab tested cranberry juice, but we do not know what brand. Again, when buying cranberry juice, watch out for any that contain HFCS.
Also, if you do find cranberry juice that doesn't contain HFCS, but it is sweet, read the label carefully and make sure it isn't sweetened with high FODMAP ingredients, such as apple juice or the juice of other fruits.
This is why I opted for unsweetened cranberry juice. I used Whole Foods brand. R.W. Knudsen and Lakewood also make version with just cranberries.
This allowed me to sweeten the glaze myself and I opted for the rich caramel flavor of brown sugar, which combines so well with the Dijon mustard, hot pepper, cranberry and spices.
For a special treat, try this ham with our flaky Low FODMAP Biscuits, Pumpkin Biscuits or Cornbread Muffins. Or, how about our low FODMAP Cheddar Scallion Biscuits? See below where we have used leftover ham and created an amazing breakfast by stuffing the biscuit with ham and eggs. Any of these are great set out on the buffet table with the ham. Or buy some ready-made sourdough rolls.
Low FODMAP Cranberry Hot Pepper Glazed Ham
makes our Low FODMAP Cranberry Hot Pepper Glazed Ham when you want to feed a crowd! We have great leftover ideas, too.
Total Time:
2
hours
10
minutes
Ingredients:
12

ounces (340 g)

hot pepper jelly

1

cup (240 ml)

unsweetened cranberry juice

2

tablespoons

firmly packed brown sugar

2

tablespoon

Dijon mustard

1

tablespoon

lemon juice

1/2

teaspoon

ground cinnamon

1/4

teaspoon

ground ginger

5 to 7

pound (2.3 kg to 3.2 kg)

fully cooked city-style smoked or unsmoked ham, at room temperature

20

whole cloves

1

cup (240 ml)

low FODMAP chicken stock
Preparation:
Position rack in middle of oven. Preheat oven to 325°F/165°C.

Whisk together the hot pepper jelly, cranberry juice, brown sugar, Dijon, lemon juice, cinnamon and ginger together in a small saucepan. Bring to a simmer over low-medium heat - watch for boil-overs. Simmer for about 5 to 8 minutes or until glaze has slightly thickened.

Meanwhile, place ham in a large roasting pan. Stud all over with whole cloves. Pour the stock in the bottom of the pan. Brush about half of the glaze (you can eyeball it) all over the ham, seal everything up with foil and roast for about 1 hour, basting often, until an instant read thermometer reads 125°F/52°C.

Turn heat up to 350°F/180°C. Uncover ham and discard foil. Brush with remaining glaze and return to oven. Roast until ham is shiny and glazed, about 20 minutes more. Allow ham to rest about 15 minutes; meanwhile remove and discard the cloves. Pour all the pan juices into a gravy boat or bowl and serve alongside. We love this ham hot, warm or at room temperature!
Notes:
Tips
Eating FODMAP and need to entertain NON-FODMAPers? This ham is a perfect dish! No one will know this is "diet" food!
Nutrition
Calories:
315
kcal
|
Carbohydrates:
18
g
|
Protein:
41
g
|
Fat:
54
g
|
Saturated Fat:
1
g
|
Sodium:
26
mg
|
Potassium:
5
mg
|
Fiber:
1
g
|
Sugar:
14
g
|
Vitamin C:
0.3
mg
|
Calcium:
3
mg
|
Iron:
0.1
mg