Low FODMAP Cranberry Horseradish Sauce – Sweet & Tangy
I can't get enough of cranberry sauces and thankfully my cousin Judith is like-minded. When we go to her home for Thanksgiving there are usually 4 or 5 choices – my kind of gal.
Even if you think that is overkill, I encourage you to have at least one sweet choice, and one that is more savory, like this Cranberry Horseradish Sauce.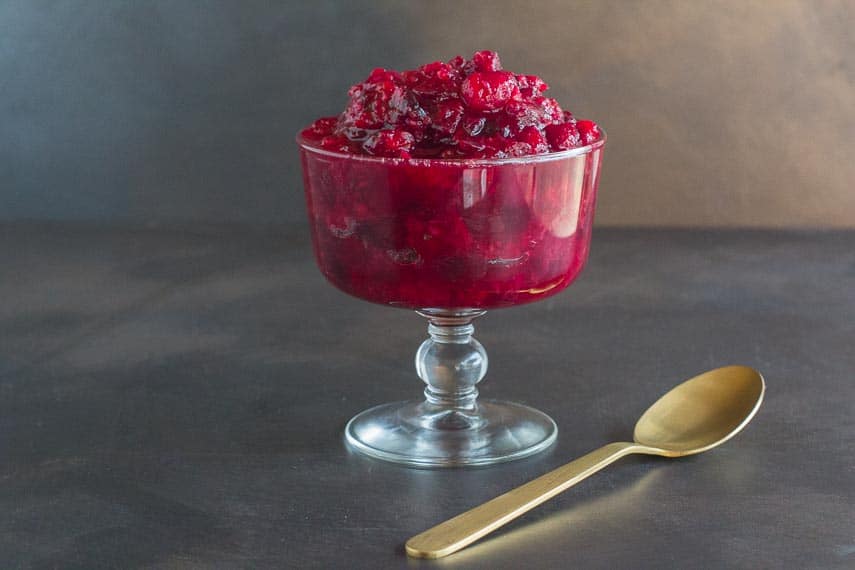 Horseradish is Low FODMAP
Prepared horseradish should be easy to find in the refrigerator section of your supermarket. Read the label: it should just contain horseradish (which is a root vegetable), vinegar and salt. That's it.
Horseradish is low FODMAP in portions of 42 g or 2 Australian tablespoons, according to Monash.
Cranberries Are Low FODMAP
Read more about cranberries in our Explore and Ingredient column. We love these tart berries, in sauces, cakes, scones, granola bars – you name it. If there is even a hint of cranberries working in a dish, we have tried it!
Briefly, the Monash app lists dried cranberries as low FODMAP in 1 Australian tablespoon, 15 g, portions.
Fresh cranberries are not listed on the app, however, they are discussed on their blog, where they suggest sampling and assessing for yourself.
Your own experience is the answer. Stick with our recommended portions and assess your tolerance.
Dump & Mix
"Dump & mix" is such an awkward phrase, but truly it speaks to the ease with which something can be made, such as this cranberry sauce. You literally place (dump) all the ingredients at once into a pot, stir (mix) together and cook for a very brief period of time.
In less than 10 minutes you will have a world-class condiment– that just happens to be low FODMAP.
Low FODMAP Cranberry Horseradish Sauce
This Low FODMAP Cranberry Horseradish Sauce is a savory and tangy addition to the more expected sweet cranberry sauce - although we think you need at least two options!
Low FODMAP Serving Size Info: Makes about 2 ½ cups (600 ml) amount; 20 servings; 2 tablespoons per serving
Ingredients:
12

ounces (340 g)

fresh cranberries,

picked over

6

ounces (170 g)

prepared horseradish

2/3

cup (131 g)

sugar

1/2

cup (120 ml)

water
Preparation:
Stir all the ingredients together in a medium-sized pot. Bring to a simmer over low-medium heat, stirring occasionally, until the mixture gets saucy and the berries are mostly popped, about 8 minutes. Serve warm or at room temperature. The sauce may be cooled, packed into an airtight container, and refrigerated for up to 1 week. Bring back to room temp before serving.
Dédé's Quick Recipe Tips Video
Tips
Cranberries freeze well, so buy extra when they are fresh at the market and store in the freezer for up to 6 months.
Nutrition
Calories:
37
kcal
|
Carbohydrates:
10
g
|
Protein:
1
g
|
Fat:
1
g
|
Saturated Fat:
1
g
|
Sodium:
36
mg
|
Potassium:
21
mg
|
Fiber:
1
g
|
Sugar:
9
g
|
Vitamin C:
2.1
mg
|
Calcium:
5
mg
Low FODMAP Recipes Created Just For You!
We take low FODMAP recipes seriously at FODMAP Everyday®. That's why Dédé oversees our Test Kitchen and makes sure that each and every recipe works – and is low FODMAP following the most up-to-date science.
Rest assured that you will not find more trustworthy or delicious low FODMAP recipes anywhere – several hundred and counting.
FODMAP Everyday® Low FODMAP Recipes At A Glance:
Come Join Our Low FODMAP Recipe Community!
Use Our Exclusive Recipe Filter To Find The Low FODMAP Recipe You Are Looking For Today!