Low FODMAP Fish Chowder
You might be more familiar with clam chowder, but fish chowder has a long, esteemed and delicious history and our Low FODMAP Fish Chowder is another easy to make classic.
Inspiration At the Supermarket
We love showing all of you how you can cook low FODMAP and still thoroughly enjoy the process. We want to normalize the approach – it really is not any different from the way you cooked before.
Inspiration for this chowder came as I was buying some salmon for dinner. Look what the supermarket was featuring (see below)!
How could I resist? Here was an assortment of mild white fish – in this case cod, haddock and perhaps some catfish and monk fish – that were quite inexpensive and perfect for Low FODMAP Fish Chowder. Just as I used to shop for deals, here was a fantastic one that would make a great low FODMAP meal.
What Makes A Soup A Chowder
This is an interesting question. There are chowders that do not contain dairy (I am thinking about Manhattan and Rhode Island style clam chowders for instance), but the great majority does. Chowders are always hearty, combining some sort of soup base with lots of delicious, chunky, large pieces of protein and vegetables. They are classically seafood based, although you will see the term applied to other types.
I have had the good fortune to talk chowders with Jasper White, whose book 50 Chowders is situated prominently on my shelves. He points out that Webster's definition of chowder does not even include the word soup, the idea being that it is so much more than that.
This dictionary's definition of chowder is "a dish consisting of fresh fish, clams etc. stewed with vegetables, often in milk".
We also have a New England style Low FODMAP Clam Chowder for you, but this one is all about fish. Any mild white fish works. Haddock will retain its shape a bit better than cod, but as you can see, I went bargain shopping and my chowder was fantastic!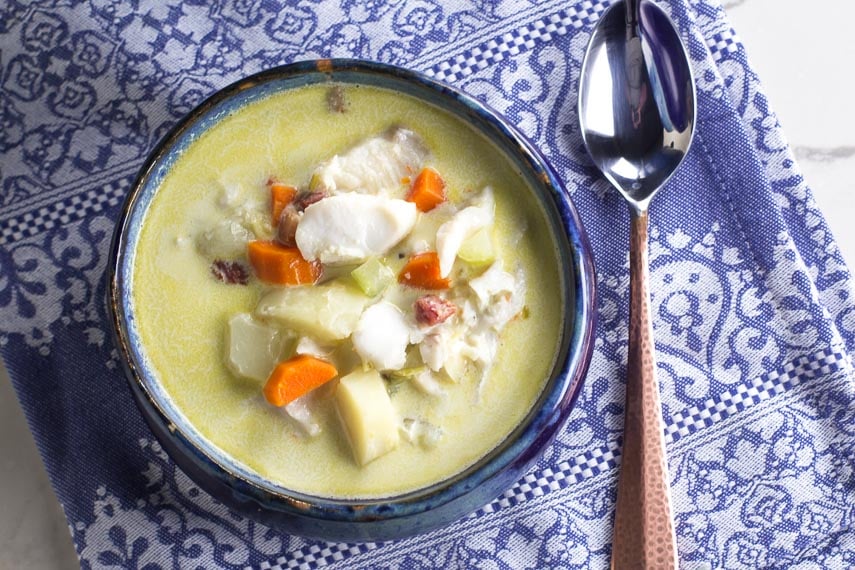 A Slight Deviation
A classic pared down fish chowder would not contain the carrots or parsnips, but I couldn't resist. Since they both contain NO FODMAPs they were perfect additions to our low FODMAP Fish Chowder.
Low FODMAP Fish Chowder
Our Low FODMAP Fish Chowder is like classic New England chowder - now low FODMAP!
Low FODMAP Serving Size Info: Makes about 8 cups (2 L); serves 6
Ingredients:
2-

ounces (55 g)

slab bacon, rind removed,

diced (see Tips

1

tablespoon

unsalted butter

1/2

cup (36 g)

finely chopped leeks,

green parts only

2

medium

carrots,

trimmed, peeled and chopped

2

medium

parsnips,

trimmed, peeled and chopped

1

stalk celery,

trimmed and diced

1 1/2

teaspoons

fresh thyme leaves

2

cups (480 ml)

bottled clam juice

1

cup (240 ml)

water

1-

pound (445 g)

russet baking potatoes,

peeled and cut into large bite-sized chunks

1 ¼

pounds (570 g)

mild white fish fillets,

such as haddock, cod, hake or monkfish

1

cup (240 ml)

lactose-free heavy cream,

at room temperature

Freshly ground black pepper

Finely chopped fresh flat leaf parsley; optional

Snipped fresh chives; optional
Preparation:
Place bacon in a large, heavy Dutch oven and cook over low-medium heat to render the fat and cook until bacon is crisp. Remove bacon bits and reserve, draining on paper towels. Add butter and chopped leeks and sauté gently over low-medium heat for about 3 to 5 minutes or until leeks are soft but not browned. Add the carrots, parsnips, celery and thyme and sauté for about 1 minute to coat.

Add the clam juice, water, potatoes and bay leaf to the pot. Cover and simmer for about 15 minutes or until the root vegetables are all tender. Use the back of a wooden spoon or a potato masher to mash some of the root veggies right in the pot. Their starch will add richness to the chowder.

Add the reserved bacon, fish and the cream and heat over low heat until fish is cooked through and flaky, but do not let the chowder boil. Taste and add pepper as desired. Soup is ready to serve but improves after it sits for an hour.

Serve with parsley and chives sprinkled on top, if desired. The un-garnished chowder can be refrigerated overnight and reheated very gently without simmering or boiling.
Notes:
Tips
If you can find slab bacon, I like it in this chowder and you can cut proper little chewy dice. If you do not have access to it, simply use thick-sliced bacon.
If You Can Tolerate
Fructans: If you have passed the fructan onion challenge, chop one large white or yellow onion and use instead of the leek greens.
Lactose: If you have passed the lactose challenge, feel free to sub in conventional heavy cream.
Nutrition
Calories:
434
kcal
|
Carbohydrates:
27
g
|
Protein:
27
g
|
Fat:
18
g
|
Saturated Fat:
1
g
|
Sodium:
7
mg
|
Potassium:
194
mg
|
Fiber:
4
g
|
Sugar:
4
g
|
Vitamin A:
24
IU
|
Vitamin C:
10
mg
|
Calcium:
21
mg
|
Iron:
1
mg