Low FODMAP Frozen Hot Chocolate
Okay we know the name "frozen" hot chocolate makes no sense, but we didn't make it up! Frozen hot chocolate is a slushy, icy cold chocolate concoction that is unlike any other and it was born at Serendipity, a NYC restaurant and boutique.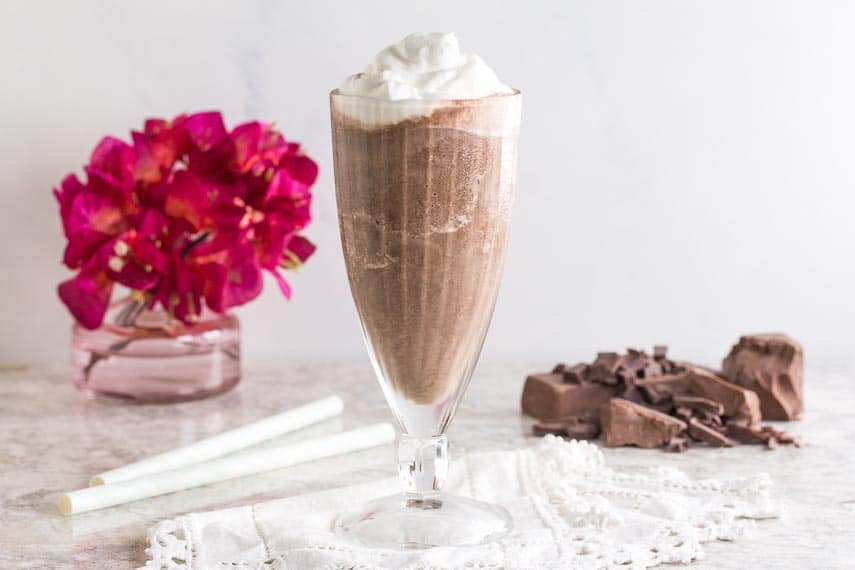 Bigger Is Better – And More Fun!
When I was growing up in the 70s Serendipity was the place to go for kid's birthday parties or some such special event. When you walk into the place it feels like a party.
The nachos were so tall you could barely see over them to your tablemates. The gigantic burgers and oversized hot dogs overhang the plates, but even if you ordered one of these gargantuan culinary delights, most likely you ordered a frozen hot chocolate, too.
(In)Famous For Frozen Hot Chocolate
The frozen hot chocolate came in a huge glass – a goblet, really – and was meant to be shared which somehow added to its specialness. Ours is best shared, too, which helps with portion control!
And TRUST ME when I tell you that even though I have set this recipe at 6 servings, that the portions are generous. It WILL satisfy your chocolate craving. Promise.
How To Make Frozen Hot Chocolate
Decades ago the proprietors finally published the recipe and frankly, it was quite a let down, because they called for so many different kinds of very specific chocolates and cocoas that the idea of making it on one's own was ludicrous.
Years later, they came out with a powdered mix, which was meant to capitalize on the name and the fame, but it was a pale comparison to the original.
FODMAP IT!™
On a hot summer's day I decided I needed to create a low FODMAP version and here it is.
It is rich, yet refreshing, icy and creamy all at once – and decadent and low FODMAP in small portions.
You do need a high-powered blender to crush up all of the ice.
Chocolate & Cocoa
This recipe is ALL about the chocolates and cocoa.
Read up in our articles:
and
It is important to note that the fine print in the entries for all kinds of chocolate on the Monash app provide some very important information and these articles take you through the info step by step.
The short story is that you can often have more of a food than it appears at first and have it still be low FODMAP.
Also read our article, What Is A Low FODMAP Serving Size?
The Low FODMAP Diet Is Not Dairy-Free
Hopefully by now you have realized that the low FODMAP diet is not dairy-free. Read our article, Lactose, Dairy and the Low FODMAP Diet for more info.
The diet is, however, lower in lactose.
If you cannot find lactose-free heavy cream, you can make your own! Check out our article DIY Lactose-Free Dairy.
Also, whipped cream is given the low FODMAP Green Light by Monash University in ½ cup (125 ml) portions, so you can make and serve our Frozen Hot Chocolate with whipped cream made with conventional heavy cream and the recipe will still be low FODMAP.
GET READY TO SLURP!
And if you are looking for other frozen desserts, be sure to check out all of our Popsicles! We have In a popsicle mood? Check out our 2-Ingredient Coconut Pops, Chocolate Covered Banana Pops and our Cantaloupe Lime Pops to begin with.
Low FODMAP Frozen Hot Chocolate
Our Low FODMAP Frozen Hot Chocolate is creamy, icy and oh, so chocolaty. Decadent yet low FODMAP in the portions suggested.
Total Time:
4
hours
20
minutes
Ingredients:
3

tablespoons

sugar,

divided

2

teaspoons

black cocoa

2

teaspoons

Dutch-processed cocoa

2

teaspoons

natural cocoa

1 ½

cups (360 ml)

cold lactose-free whole milk,

divided

2-

ounces (55 g)

bittersweet chocolate,

finely chopped, preferably 65% to 80% cacao mass

2-

ounces (55 g)

semisweet chocolate,

finely chopped, preferably 50% to 55% cacao mass

2-

ounces (55 g)

milk chocolate,

finely chopped

1-

pound (455 g)

ice cubes; about 4 cups of standard sized cubes

1/2

cup (120 ml)

chilled lactose-free heavy cream
Preparation:
Place 2 tablespoons of the sugar and all of the cocoas in a saucepan and whisk to combine. Slowly whisk in about ½ cup (120 mof milk until blended and smooth. Add all of the chopped chocolates and melt gently over low heat, whisking frequently. Take care to not let the chocolate scorch. Once the chocolates melt, the mixture will look like a thick chocolate sauce.

Scrape into an airtight container and refrigerate at least 4 hours or up to 2 days. The mixture will thicken, which is expected.

Have three large chilled glasses ready along with have nice, wide straws (such as bubble tea straws).

Right before serving whip the cream with the remaining 1 tablespoon sugar until soft peaks form; set aside.

Place the reserved 1 cup (240 mof milk in bottom of blender carafe, then add chilled chocolate mixture and top with ice. Blend on high until everything is combined and slushy. Pour into chilled glasses and top with whipped cream. Serve immediately with straws. Your friends and family will worship you.
Notes:
Tips
For a Frozen Hot Mocha version, instead of 1 cup (240 ml) of milk added to the blender carafe, add ½ cup (120 ml) milk and ½ cup (120 ml) of strong chilled brewed coffee. Proceed as directed.
Nutrition
Calories:
265
kcal
|
Carbohydrates:
27
g
|
Protein:
4
g
|
Fat:
14
g
|
Saturated Fat:
1
g
|
Sodium:
1
mg
|
Fiber:
1
g
|
Sugar:
17
g
|
Iron:
0.1
mg