Learn All About Dark Chocolate & The Low FODMAP Diet
The purpose of this article is to teach you All About Dark Chocolate in relation to the low FODMAP Diet.
The term "dark chocolate" typically encompasses bittersweet and semisweet chocolate, and from a U.S. perspective, this makes sense, because the FDA does not distinguish between those terms. (As long as the chocolate contains 35% cacao mass, it can be labeled either semisweet or bittersweet chocolate – and it CAN contain dairy. More on that later).
For this article, All About Dark Chocolate & The Low FODMAP Diet, I will be including unsweetened chocolate as well – and throw in cacao nibs for good measure. For information on cocoa, please refer to All About Cocoa.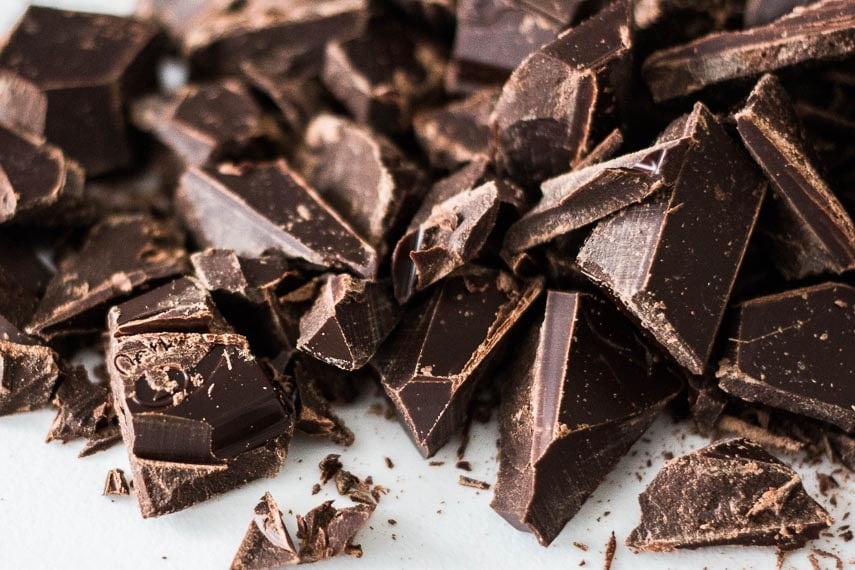 ---
Is Dark Chocolate Low FODMAP?
As with so many ingredients, it comes down to serving size, but the short answer is YES, dark chocolate is low FODMAP and you CAN have dark chocolate on the low FODMAP diet.
As of January 2019 Monash University has lab tested two kinds of dark chocolate and each has its own recommended amounts. For this article I have used the terms that Monash uses, so you can match the info here with their smartphone app.
---
Monash University Approved Dark Chocolate Amounts
* 85% dark chocolate – Green Light/Low FODMAP is 20 g
* Dark chocolate – Green Light/Low FODMAP is 30 g
Why are the amounts different? It is actually not clear, but we can glean answers in the details.
---
Read the Fine Print
We use our Monash University smartphone app all day long to provide scientifically researched low FODMAP facts. Monash lab tests foods and the information is all there, if you look for it!
At first glance, you notice the Red Lights/Yellow Lights/Green Lights next to foods, so you will first see a Green Light next to both the Dark Chocolate and the 85% Dark Chocolate. Green Light means "go" or "low FODMAP" so you know you will be able to eat these foods. But you need more information than that.
1. How much chocolate can you eat?
2. When does a low FODMAP portion become a Yellow Light/Moderate portion?
3. When does it become a Red Light/High FODMAP portion?
You must click through to see more AND you must read the small print to find out. When you click through you will see that the Yellow Light (moderate) portions for Dark Chocolate kick in at 80 g, which is more than double the Green Light amount. And it is important to note that this is based on the inclusion of dairy (see below).
The Red Light/High FODMAP amount is determined to be 125 g or about 4 ⅓ ounces, at which point fructans are present.
---
What to Ignore
You will also notice that Monash says that, "5 squares or ½ small bar" of Dark Chocolate is low FODMAP. This means nothing. It's like saying ⅛ of an avocado is low FODMAP when an avocado can weigh 3-ounces or over 2 pounds! Pay attention to the weights.
---
What is Dairy Doing In My Dark Chocolate?
If you ask me, it shouldn't be there and in fact, in (most) better quality dark chocolates you will not find dairy. High quality dark chocolate should contain cacao mass, sugar and perhaps vanilla and lecithin (an emulsifier) – and nothing else.
(We are talking about pure dark chocolates of course. If you are looking at a bar that has nuts or caramel or another inclusion or flavor, then that is a flavored bar. Another exclusion would be dark milk chocolates. These are chocolates that contain dairy but have cacao content of 40%, 60%, 70% and more!)
Some companies do add a dairy product, or multiple dairy products, to their dark chocolates. The American classic Nestlés Toll House Morsels contain dairy, as does the 60% Ghirardelli bar, which I do often recommend as a decent supermarket chocolate.
The dairy will add richness and you can detect a different kind of mouthfeel in these chocolates. The dairy coats my palate, but not in a good way (my opinion). It is a cheaper way to create a richness in a chocolate without more (or any) expensive cocoa butter.
---
By the way, Soy Lecithin is Low FODMAP
---
Why Did Monash University Test Dark Chocolate with Dairy?
I have no idea. And in my opinion, it is unfortunate. I have asked them and their details are few and did not clarify the approach.
---
What Does All This Mean?
All of this information tells me many things:
Monash tested dark chocolate that contains lactose (dairy products)
That if I eat dark chocolate without dairy, low FODMAP portions will be different
That there is wiggle room for how much I can eat beyond the 30 g suggested
That fructans show up at 125 g, which means that I now know which FODMAP to be aware of in terms of Stacking
And most importantly, it means you CAN have Dark Chocolate while following the low FODMAP diet.
---
Cacao Mass, Percentages & Cacao Nibs
In its most simple form, unsweetened chocolate (also called chocolate liquor) will contain one ingredient – cacao mass. Cacao mass is made up of crushed cacao nibs, which are the very center of the cacao bean. They are very high in fat – which happens to be cocoa butter.
So, a bar of unsweetened chocolate should say 100% chocolate – or 100% cacao, 100% cacao mass, 100% cocoa or 100% cocoa mass or something similar, and it will only contain the cacao nibs, all ground up, which also contain a fair amount of fat (cocoa butter).
Unsweetened chocolate has not been tested as of this writing, BUT, cacao nibs have been tested and unsweetened chocolate is ONLY made from cacao nibs.
Even though cacao nibs are not in the app, they have made their way into foods that Monash has lab Certified as low FODMAP such as goodMix Blend 11.
You might also be interested in our articles