Testing Molasses for FODMAPs
When we learned that molasses had been tested by Monash we got all excited. Visions of gingerbread, gingerbread cookies and gingerbread pancakes immediately sprung to mind.
Then we saw that it was Red Light, but we always click through and encourage you to do so as well. That's when we saw that it was Green Light – at 1 teaspoon. Sigh. Talk about an experience of varied emotions!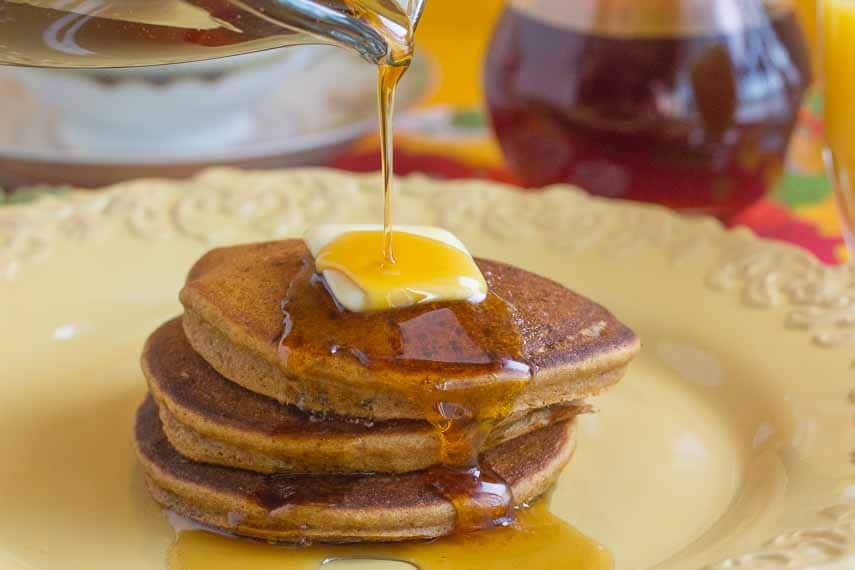 What Can You Do With 1 Teaspoon of Molasses?
The answer, actually, is quite a lot! Molasses is a very intensely flavored sweetener and a little goes a long way, such as in these Gingerbread Pancakes.
The recipe calls for ¼ cup (60 ml/84 g) of molasses and it yields 24 pancakes so we can have a serving of 2 pancakes! This might not seem like a lot, but when faced with the prospect of none at all, it starts to look like a fine idea.
No Sugar Needed
Sometimes mistakes end up being a blessing. Such was the case with these pancakes.
Usually I will add a sweetener, usually sugar or brown sugar, to my pancake and waffle batters. Sugar adds sweetness, of course, but also improves texture, adding tenderness as well.
I knew that I would be using molasses in these pancakes and as I whipped up the batter and dropped the first on the griddle, I realized that I hadn't also added a granulated sugar.
I waited to see what would happen in terms of flavor and texture and I ended up liking them very much! And besides, we end up pouring some maple syrup on top, so these end up being sweet enough!
For another breakfast option that is a little bit special, how about our Red Velvet Waffles!
Looking for more gingerbread deliciousness? Check out our Low FODMAP Sticky Cranberry Gingerbread.
Gingerbread Pancakes
Our Gingerbread Pancakes are gluten-free and low FODMAP and use molasses as a sweetener. No added granulated sugar is used in the batter.
Low FODMAP Serving Size Info: Makes about 24, 3-inch (7.5 cm) pancakes; serving size 2 pancakes
Preparation:
Place flour, cinnamon, baking powder, ginger, baking soda and salt in a large mixing bowl and whisk to aerate and combine. Make a well in the center.

Whisk together milk, molasses, egg, oil and vanilla together in a separate bowl.

Pour wet mix over the dry and whisk together until smooth and well combined.

Heat electric griddle, heavy sauté pan or nonstick pan. Coat with nonstick spray and heat until a few drops of water dance. Dole out 3 tablespoon amounts of batter at a time (we use an ice cream scoop) and cook over medium heat until bubbles begin to appear here and there, about 1 minute or so. The bottoms should be golden brown. Flip over and cook for about 1 minute more or until that side is golden brown as well. Serve hot with real maple syrup.
Notes:
If You Can Tolerate
Fructans: If you have passed the fructan wheat challenge feel free to use regular all-purpose flour. Note that the recipe will no longer be gluten-free.
Nutrition
Calories:
109
kcal
|
Carbohydrates:
18
g
|
Protein:
2
g
|
Fat:
3
g
|
Saturated Fat:
1
g
|
Cholesterol:
18
mg
|
Sodium:
87
mg
|
Potassium:
79
mg
|
Fiber:
1
g
|
Sugar:
5
g
|
Vitamin A:
25
IU
|
Calcium:
15
mg
|
Iron:
0.4
mg