Nothing Ventured…Nothing Gained…So We Ventured!
As Dédé familiarized herself with the commercially available lactose-free dairy products she became painfully aware that there was no ricotta, so of course we thought, we gotta make it! This might just be the world's first low FODMAP ricotta!
Dédé consulted cheese-makers who told her it couldn't be done. They said that it was necessary to start with milk that is not ultra-pasteurized, and the only available lactose-free milk is just that. But she figured, why not try?
We Made Cheese at Home, and So Can You! Low FODMAP Ricotta IS Easy!
Turns out, ricotta is ridiculously easy to make and it worked on the first try! So much for the naysayers. Try our World's First Low-FODMAP Ricotta in the Ricotta Gnocchi with Browned Butter and Sage or the Flavored Ricotta Spreads.
Both of those recipes are a good introduction to working with this easy homemade cheese. You do need a thermometer for this recipe. See our Tips for ideas for using your fresh ricotta. And in terms of milk, we use Organic Valley brand, but you can use whatever lactose-free milk that you like.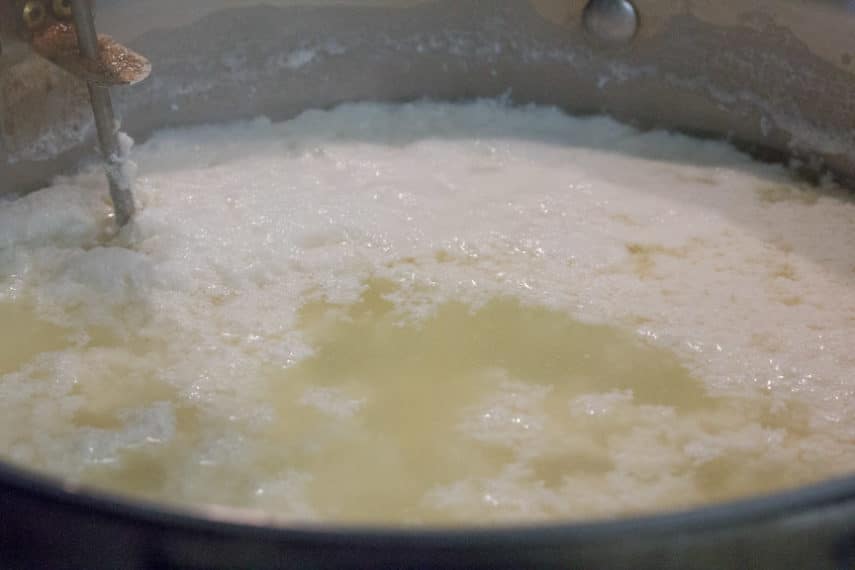 Let's make low FODMAP Ricotta!
Then, check out our recipes for Gnocchi, flavored spreads and even a sweet dessert – a delectable cannoli cream!
The World's First Low FODMAP Ricotta
You can make this lactose free ricotta even if it is your first time trying to make a cheese!
Low FODMAP Serving Size Info: Makes between 1 ½ (372 g) and 2 cups (496 g) ricotta; 4 servings
Ingredients:
Fine-mesh strainer

1/2

gallon (2 L)

lactose-free whole milk or 2%

1/3

cup (75 ml)

distilled white vinegar or lemon juice

¼ to 1/2

teaspoon

kosher salt,

optional

Thermometer
Preparation:
Set up the strainer over a bowl and line the strainer with a total of four layers of cheesecloth; set aside.

Heat milk in a large pot with thermometer attached. Heat over medium heat, whisking often and bring up to 180°F/83°C. Remove from the hot burner and whisk in vinegar or lemon juice and salt, if using (Dédé likes it without). Allow it to sit undisturbed for at least 10 minutes. You should be able to see curds forming and clear, yellowish whey separating out.

Use a large spoon to scoop out the curds and gently place in the strainer. Once you have picked up as many as you can, gently and slowly pour the rest of the curds and liquid into the strainer. (This technique preserves the larger curds).

Allow the curds to drain for 5 to 20 minutes, depending on the dryness and texture you like. Ricotta is ready to use or can be refrigerated in an airtight container for up to 2 days.
Notes:
Tips
Here are our favorite ways to use this ricotta, depending on drainage time:
After 5 minutes the ricotta will be moist and creamy and perfect for dolloping over berries with a drizzle of maple syrup.
After about 10 minutes, when it is firmer but still spreadable, try seasoning it with herbs, spices, salt and pepper and using it as a spread for GF crostini or as a dip for vegetables. See our Herbed & Spiced Ricotta.
After about 20 minutes when it is very firm and dry, try it in Ricotta Gnocchi with Browned Butter and Sage.
Nutrition
Calories:
297
kcal
|
Carbohydrates:
24
g
|
Protein:
16
g
|
Fat:
16
g
|
Sodium:
436
mg
|
Sugar:
24
g
---
Low FODMAP Recipes Created Just For You!
We take low FODMAP recipes seriously at FODMAP Everyday®. That's why Dédé oversees our Test Kitchen and makes sure that each and every recipe works – and is low FODMAP following the most up-to-date science.
Rest assured that you will not find more trustworthy or delicious low FODMAP recipes anywhere – several hundred and counting.
FODMAP Everyday® Low FODMAP Recipes At A Glance:
Come Join Our Low FODMAP Recipe Community!
Use Our Exclusive Recipe Filter To Find The Low FODMAP Recipe You Are Looking For Today!
SaveSave