Great Tomatoes Equal Great Low FODMAP Fresh Salsa
While tomatoes are A-O-K when it comes to FODMAPs, onions and garlic are not, which means that most commercially prepared salsas will not work with our low FODMAP diet. This is especially vexing since corn tortilla chips are.
We need our salsa! This Fresh Low FODMAP Salsa is easy to whip up fairly quickly and best if you can use super ripe tomatoes. Buy the best you can find. Scallion greens and cilantro are low FODMAP and add the expected flavors.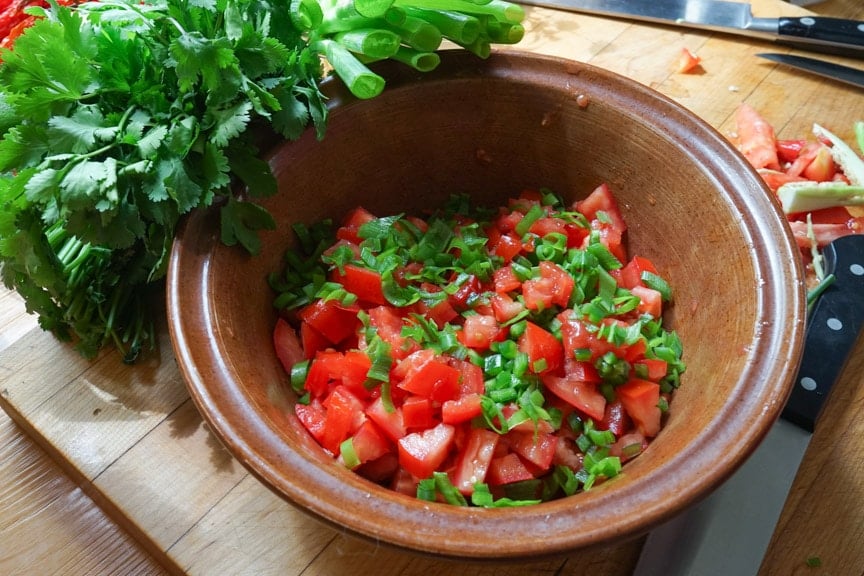 Freshness & Balance
The flavor of the finished salsa is all about the balance of the freshness of the tomatoes, the heat from the hot pepper, the hit of sour from the lime and the all-enhancing salt, which brings it all together. Get dipping.
Serve with our Easy Cheesy Quesadillas. By the way, the Monash app calls the pepper a "green chilli" and they have told us that it is a serrano pepper. And if you LOVE chiles, be sure to read our article about all of the peppers in the FODMAP world that you can enjoy!
Beefsteak vs. Plum Tomatoes
You will note that we state that this recipe can be made with either the more common beefsteak tomato – the typical round ones – or the meatier, oval Roma plum tomatoes. Use whichever are ripest and have the best flavor.
Also, if you are using the beefsteak tomatoes, make sure to follow the instructions and drain away a bit of the excess moisture, or you will have watery salsa.
Your choice of well-flavored tomatoes will make or break this dish, so choose well when shopping. And if you have a garden or farmers' market, certainly use those!
Looking for another Mexican recipe? Try our low FODMAP recipe for Chicken Enchiladas.
And you might enjoy our article about our favorite ways to use salsa, some of which you might have thought of!
Low FODMAP Fresh Salsa
This salsa based on fresh tomatoes can be tailored to your desired heat level; just add more or less green chile.
Low FODMAP Serving Size Info: Makes about 2 cups (480 ml); serving size ¼ cup (60 ml); 8 servings
Ingredients:
1

pound (455 g; about 6)

medium very ripe red tomatoes, plum or beefsteak

1/4

cup (16 g)

chopped scallions, green parts only

1

tablespoon

minced,

seeded fresh green serrano chilli (more or less to taste)

2

tablespoons

chopped fresh cilantro leaves

2

teaspoons

freshly squeezed lime juice,

more or less to taste
Preparation:
If using plum tomatoes, core them, quarter them lengthwise, then chop into roughly ½ inch (12 mm) dice. If using beefsteak tomatoes, core, cut in half crosswise then gently squeeze out excess juice and seeds, which you will discard. Proceed to chop as directed above. Place tomatoes in a non-reactive mixing bowl.

Stir in chopped scallion greens, chilli, cilantro and lime juice. Add salt, taste ands adjust seasoning adding more chilli, lime juice and/or salt as needed.

Salsa is ready to serve but actually the flavor actually improves if you let it sit for an hour. You may also refrigerate in airtight container for up to 24 hours; bring to room temperature before serving.
Notes:
Tips
Handle the chilli pepper with care. The membranes and seeds are especially spicy. Consider wearing rubber or food handling gloves or at the very least, do not touch your mouth, eyes or nose. Wash hands and tools well to remove the hot chilli oils.
If You Can Tolerate
Fructans: If you passed the fructan garlic Challenge, consider adding 1 finely chopped garlic clove to the salsa ingredients. Or, if you passed the fructan onion challenge, add ¼ cup (36 g) finely chopped red, white or yellow onion instead of the scallion.
Nutrition
Calories:
12
kcal
|
Carbohydrates:
3
g
|
Protein:
1
g
|
Fat:
1
g
|
Fiber:
1
g
|
Sugar:
2
g
SaveSave
SaveSave
SaveSave