Recommendations for Commercial Garlic-Infused Oils
If you have not yet read our article Know What's In Your Garlic Oil we highly recommend you do that first.
Please note that in our extended communication with Monash University during the development of our own recipe for Low FODMAP Garlic-Infused Oil, we learned how they make decisions about what garlic oils are considered appropriate for the low FODMAP diet and which are not.
We have used that information to inform this article as well as the information in our sister article, Know What's In Your Garlic Oil.
Ultimately, if a product is not certified as low FODMAP by either FODMAP Friendly or Monash University, we invite you to use the knowledge presented here to make your own best decision as an informed consumer.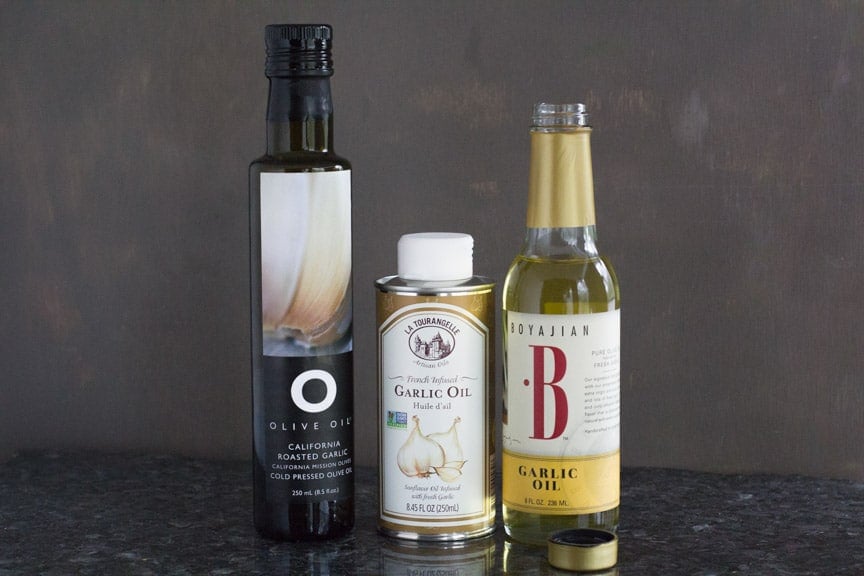 We Did All the Detective Work for You: Low FODMAP Garlic-Infused Oils Explained
We have contacted all of the following manufacturers below to discuss their garlic oil products to get the most thorough and accurate information to help you navigate the various garlic oil options available.
Note that our recommendations contradict some information on other FODMAP sites and in books. We stand by our findings. It is our belief that other recommendations have been made based on what the labels say, only. Unfortunately you have to really dig to get answers, which we found out during our conversations with the oil manufacturers; the labels are not always as they appear.
Rest assured that the following brands that we do recommend are, to the best of our knowledge, suitable for you to use while following the low FODMAP diet, and in fact we use them in our Test Kitchen.
On the other hand, the brands that we cannot recommend without reservations are in that grouping for a variety of reasons. While the recommended oils were all confirmed as containing low FODMAP ingredients and prepared in an appropriate manner, we did not have such clear communication with all oil producers.
Some information provided was very clear that the product was not okay for the low FODMAP diet. Others manufacturers either refused to give us complete information, the information provided was insufficient, or the ingredients have been known to create digestive upset in some people.
In any of these cases the oils are on our Caution List, as we err on the side of caution. Do make sure to read individual entries, though, AND please read the Four Important Caveats below.
Our recommendation is not a certification or medical recommendation.
Please read our Terms and Conditions as they relate to recommendations we make on the site.
We have included our recommended Garlic Oils in our Shop for your convenience if you are not able to get them locally.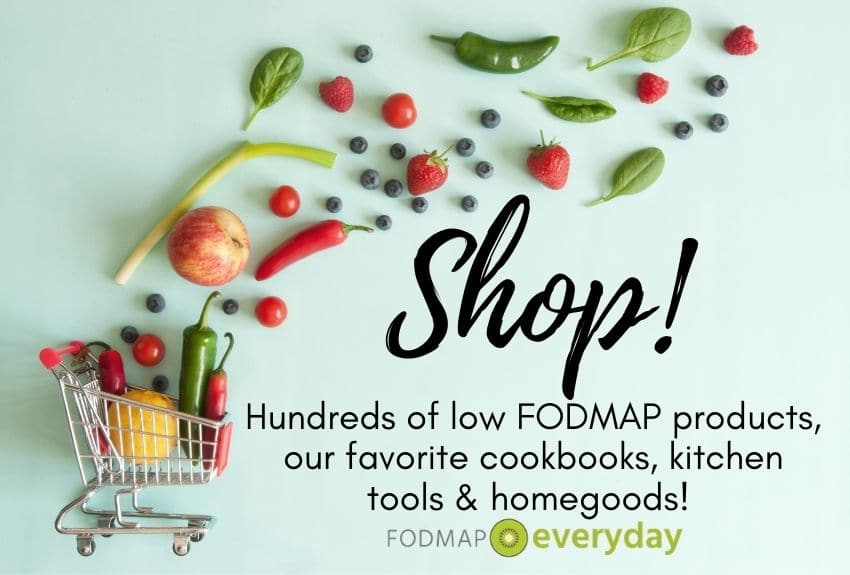 Four Important Caveats
Firstly, as we discuss in our article on natural flavoring, if an ingredient such as "garlic essence" or "garlic essential oil" is less than 2%, (the amount is sometimes indicated on a label, sometimes not) it is unlikely to trigger symptoms. This does not mean that it is impossible to trigger symptoms. YOUR reactions to a food is what is important.
Secondly, if the FDA Nutrition Facts Panel on your bottle of garlic flavored oil says there are 0% carbohydrates, the product is low FODMAP by definition.
Thirdly, we know that some folks still experience digestive upset when using products that have 0% carbohydrates. These reactions are not FODMAP based, but the reactions are consistent enough that we believe it is worth discussing.
And Fourthly, in specific conversations about garlic flavored oil with Monash University, they have repeatedly stated that if a product has not been lab tested and certified low FODMAP, then it cannot be guaranteed to be low FODMAP.
Some of these facts contradict one another. We are just bringing you all the information that we have at our disposal. You, as the consumer, have to make your own educated decisions.
Remember, the right low FODMAP serving size for you is the amount of a food or product that does not trigger symptoms for YOU. We have an article on What Is A Low FODMAP Serving Size? that you might find helpful.
Price is No Indicator
One interesting revelation during our investigation was the matter of price. There were oils using suspect FODMAP flavorings that were very expensive and ones using natural garlic, that we like, that were half the price of that.
There were bottles with identical ingredients that varied in price by as much as 100%. In general, price was not an indicator.
Recommended Brands of Low FODMAP Garlic Infused Oil
This oil is the first low FODMAP garlic infused oil to be certified by Monash University and an oil we use in our Test Kitchen. FODY makes many low FODMAP products and if you are not familiar with their line, it is worth a look.
We had direct communication with FODY and they explained that they use fresh garlic and olive oil, infusing the garlic and then removing all solids. Their label states "Extra Virgin Olive Oil, Garlic (<0.5%)".
The company also touts that the product is gluten-free and non-GMO. Try their Shallot-Infused Olive Oil, too. It is fabulous.
The front label simply says "Garlic Oil"; the company does use a true infusion method and this item is low FODMAP. It also has no additives: the ingredients are simply pure olive oil, extra-virgin olive oil and garlic.
Both of these Australian-made flavored oils have gone through a certification process with FODMAP Friendly and have been lab tested to be low FODMAP.
No ingredients were listed on the website, which was surprising given the large size of this company. Communication with corporate told us that they use garlic essence as well as natural flavors combined with their olive oil. This oil is a perfect example of an oil that we were unsure of at first, but then went on to receive Monash certification for their U.S. product.
This product meets our recommendation profile. According to the manufacturer they use fresh garlic and infuse it in the oil and all the garlic solids are removed. Ingredients are listed as "pure organic extra virgin olive oil infused with the full rich flavor of pure organic garlic", which doesn't tell you the FODMAP story, but we spoke with them and are confident in their processing technique. And they are USDA Organic.
This California company has a wide range of other flavored infused oils as well. This oil is garlic infused sunflower oil. The ingredients are organic high-oleic sunflower oil, sunflower oil and garlic packed in a light proof tin can with an easy pour spout (see back can below). Very high quality and highly recommended. Our pick for garlic-infused oil in a vegetable oil base, which is best for Mexican, Indian and Asian cooking. We use this in our Test Kitchen.
We love the O Olive Oil products, both their oils and vinegars. The quality is very high and the packaging is gift-worthy. Their manufacturing process for this product is as follows: "Garlic is slow roasted in vegetable oil, then removed from the oil. Never crushed. The garlic flavored-vegetable oil is then used to flavor the olive oil." By the way, they also have O Jalapeno Garlic Olive Oil, but this oil is made from crushing the garlic (and jalapenos) with the fresh olives, so this one is not low FODMAP. Make sure you buy the right one.
This one was a happy surprise. The website does not list ingredients, but we discussed our needs with the manufacturer and they assured us that they roast garlic themselves, add the roasted garlic to a carrier oil and then add they oil to their olive oil.
This allows them control the level of garlic flavor consistently and would not allow fructans to be present in the final product.
Brands of Garlic Flavored Oils To Approach With Caution
High FODMAP, Suspect or Impossible to Determine Garlic Flavored Oils
We do not make a blanket recommendation for the following oils as the product is either manufactured in a manner which produces a high FODMAP product, or the garlic components are indeterminate.
The one caveat is that some of these oils are often on the lower end price wise so you might want to try them and seeing how you fare. If you do well with them you will save money and be able to enjoy garlic flavor. Only you can be the judge.
Stonewall Kitchen Roasted Garlic Oil
This one bothered us because we got far along in conversations with them, but then they ceased communicating. This is a well-known company with a long and well-received history in the specialty-food industry. The ingredients of this product are stated as pure olive oil, canola oil and garlic.
Their company representative assured us that "no artificial flavors or ingredients other than roasted garlic are used during the infusion process", but we are still unclear as to their production process.
They also said, "anecdotally, the vendor revealed that they've received many comments from consumers with IBS that the Roasted Garlic Oil is the only product with real garlic that doesn't cause them discomfort."
Many questions were unanswered, but perhaps you would like to try it and see how you do.
Bella Oliva Garlic Extra Virgin Olive Oil
The flavors of slow roasted garlic are added through flavorings. Ingredients: extra virgin olive oil and 100% natural flavor.
Benissimo Gourmet Roasted Garlic Oil
The ingredients listed are canola and extra virgin olive oil, rosemary, minced garlic, thyme, oregano and pure garlic oil. The minced garlic visually present in the bottle makes this off limits right away. Note that the front label product name does not give you the whole story.
Bib's Passion Oil Garlic Infused Olive Oil
This online company makes small batches and after communication with them, it appears that they sometimes vary their ingredients and process, so we cannot recommend the product. They sometimes use garlic essential oil and sometimes use dehydrated garlic and they would not discuss their production process.
California Olive Ranch Roasted Garlic Oil
Ingredient label states extra-virgin olive oil, naturally roasted garlic flavor.
Dean & Deluca Garlic Infused Extra Virgin Olive Oil
Ingredients not listed on their website. A call to their corporate customer service told us that the product contains extra virgin olive oil, garlic and natural garlic flavoring.
DeLallo Dipping Oil, Garlic Flavored
Ingredients include "garlic essence".
Durkee Liquid Garlic
We had high hopes for the concept of this product. What if there were a garlic concentrate that we could use in our cooking? The ingredient list is cottonseed oil and oil of garlic. Cottonseed oil is often derived from crops that receive heavy pesticide use.
Oliver's Heady Garlic Extra Virgin Olive Oil
The bottles do not list ingredients. The company representative told us that the product is produced for them and the only information they are given is that an "all natural flavor infusion" is used.
Fondo di Toscana Double Roasted Garlic Oil
Ingredients list extra virgin olive oil and natural garlic flavor.
Giusto Sapore Italian Garlic Infused Extra Virgin Olive Oil
Ingredients listed as extra virgin olive oil and natural garlic flavor.
International Garlic Flavored Oil
(UK)
Ingredients are olive oil and natural extracts of garlic.
Jansal Valley Double Roasted Garlic Oil
Curiously this label and the ingredient list are quite out of sync. The product not only contains extra virgin olive oil and roasted garlic, but balsamic vinegar and herbs as well. Sounds delicious but not necessarily low FODMAP.
Lucini Robust Garlic Extra Virgin Olive Oil
A pricey oil containing "premium select extra virgin olive Oil®" and essential oil of fresh garlic.
Mantova Garlic Flavored Olive Oil
This company offers two variations of a garlic flavored oil. One uses essential oil of garlic, while the second uses essential oil of garlic as well as dehydrated garlic pieces.
Olive Tap Roasted Garlic Olive Oil
Ingredients are listed as extra virgin olive oil and natural flavors.
Oliveto Garlic Infused Olive Oil
Yet another example of the front label saying "infused", the description saying "fresh pungent garlic" and in actuality, the ingredients are extra virgin olive oil and essential oil of garlic. Not a true infused product.
Oliviers & Co. Olive & Garlic Oil
This company has many high-quality products – we love their Everyday Olive Oil that even works for higher heat frying. The garlic oil, however, would not be appropriate for FODMAPers as it is made by pressing the fresh olives and garlic together.
Their label reads: extra virgin olive oil 99%, garlic 1%.
Pampered Chef Garlic Infused Canola Oil
This company does not make its own products and would not provide any further information on the product's manufacture. Ingredients state canola oil and fresh garlic but we have no additional information.
Pastene Garlic Oil
The ingredients read "Pure Olive Oil, Canola Oil, Fresh Garlic". We did some digging with their corporate representatives and unfortuantely they would not divulge any production information, which lands it on our not caution list.
Roland Garlic Oil
Ingredients are canola oil and garlic extract.
Scott's Food Products Garlic Oil
This online company produces a garlic-flavored oil that lists ingredients as canola oil flavored with garlic. We had extended discussions with them about what their label meant, in regards to sussing out potential FODMAP content.
They said they had a "company policy to keep this information proprietary".
Sonoma Canyon Extra Virgin Olive Oil Garlic Infused
This brand contains California extra virgin olive oil cold pressed & unfiltered and natural garlic flavor.
Tastefully Simple Roasted Garlic-Infused Oil
Ingredients are olive oil, canola oil, natural roasted garlic flavor. Note that this is an example of a label that says "Infused" and yet a true infusion process is not used to create the garlic flavor.
Trader Joe's Garlic Flavored Extra Virgin Organic Olive Oil
This brand lists as the ingredients organic extra-virgin olive oil and organic natural garlic flavor. Communication with corporate provided no further answers.
Vervana California Cold-Pressed Crushed Garlic Olive Oil
This oil has a vibrant garlic flavor due to the fact that the garlic is crushed along with the olives themselves. Note that the ingredient list states: Extra virgin California olive oil, fresh garlic.
Wild Groves Toasted Garlic Olive Oil
Dewey Lucero and his family make some wonderful California olive oils including one they call their Kitchen Blend, which has a smooth and buttery profile, suitable for everyday use. Their garlic oil, however, does not use fresh garlic and does rely on flavorings.
Salute Santé Roasted Garlic Infused Grapeseed Oil
This was one of the products that did not list ingredients on their website. We spoke directly with and had email communications with this manufacturer and they stated that their product is made with garlic extract that is made from a distillation process.
Williams-Sonoma Roasted Garlic Infused Olive Oil
Another name we know, but unfortunately, and very surprisingly several emails and phone calls to their corporate offices left unanswered questions. The ingredients are listed as California extra-virgin olive oil (cold pressed and unfiltered), garlic oil.
Sonoma Farm Organic Garlic Infused Extra Virgin Olive Oil and Garlic Grape Seed Oil
:
We tried repeatedly to get this company to answer our inquiries to no avail. Their ingredients state oil and garlic with no clarifications.
Our Takeaway
Be prudent. There are garlic-infused oils that we believe are safe for FODMAPers to use, based on the available information from current FODMAP research and the oil manufacturers themselves.
Oils made in the true infusion manner, such as our homemade recipes, are safe.
Oils (and any products) that have been through a low FODMAP certification process, via lab testing, are safe. Currently, FODMAP Friendly and Monash University both have certification programs and products will have their certification logos on the label.
Look for one of these logos below.
Many garlic-flavored oil products have 0% carbohydrates, which means, by definition, they are low FODMAP.
Researchers at Monash University directed us that their stance is that if a garlic oil product has not been lab tested, then there is no guarantee that it is low FODMAP.
If you have a bottle of garlic oil that your digestive system has been happy with, regardless of what is on the label, then by all means, keep using it.
And conversely, if you are reacting to a product, whether it is certified or not, then cease using it.
As always, we recommend that you make dietary decisions in conjunction with your medical team.
Now you can get your garlic fix!