We decided to jump in and explore Low FODMAP Shopping at ALDI and are happy to report that we came out with a cart full. I have to admit, that even though we have a local ALDI, I had not been a regular shopper – until now. That has now changed. This article is about how to shop at ALDI if you are following the low FODMAP diet, and how the Fig app can help facilitate the process.
What Is ALDI?
ALDI is a German supermarket chain with over 10,000 stores in 20 countries. 2000 of those stores in 36 states are in the U.S. They are known for their low prices, constantly rotating weekly deals and even non-food items such as home goods, apparel and kitchenware. The weekly deals are referred to as ALDI Finds and are typically in the center aisles of the stores.
While we will focus on foods items, I will just mention the Finds briefly. On a current trip there were seasonally scented candles, a wooden bar cart, an LED motion-sensor outdoor light, a heavy-duty dolly, fleece-lined clogs, a large airtight pet food storage container, all kinds of sheets and blankets.
For the kitchen: cast iron pans, wooden cheeseboards, bamboo chopping block and ceramic-coated Dutch ovens, to mention a few. It is always worth a look. The prices tend to be great.
Why Shop At ALDI?
Speaking of prices, the main reason we hear from consumers as to why they shop at ALDI is because they say they save money on food and non-perishable items.
How Does ALDI Keep Prices Down
There are a variety of ways ALDI keeps prices down.
Bring a quarter! You use a quarter to access the large shopping carts and you get your quarter back when you return the cart.
Expect to see foods merchandized in a more casual way than you might be used to. For instance, fruits and vegetables might just be in a box that you reach down into.
Some of the produce isn't as "pretty" as that at fancier supermarkets. You might pick and choose. For instance, I might buy potatoes at Aldi, but buy berries at another store as they will be fresher and last longer – but that is not always the case. Sometimes the berries are just fine. Use your judgement.
You also need to bring your own bags or boxes to put your purchases in (although they sometimes have boxes, too).
And you will be bagging/boxing your own purchases.
What Brands Does ALDI Carry?
ALDI has several house brands, including some that are organic, and you will find some name brands that are familiar. In the U.S. that might include Chobani, Campbell's, Utz, Little Debbie, Gatorade, Quaker Oats, Smithfield and others.
ALDI House Brands
As you become familiar with ALDI you will begin to notice certain brand names coming up again and again. Just like Costco has their "Kirkland" house brand, ALDI has several house brands, each with a specific niche:
LiveGFree — gluten-free food
SimplyNature — organic food and beverage products
Specially Selected — gourmet food products.
Fit & Active — healthier food fare
Little Journey — baby products
Mama Cozzi's — frozen pizza and related products like pepperoni
Earth Grown – vegan items
Parkview — hot dogs, bacon and sausages
Park Street Deli – hummus, snacks (cheese and nut/fruit combos), and prepared products
Kirkwood — fresh and processed meat and poultry products
Sea Queen — fresh and frozen seafood products
Little Salad Bar — salad and related items such as hummus and dips
Baker's Corner — baking ingredients
Peanut Delight – peanut products. We tried the No-Stir Creamy Peanut Butter and liked it better than Skippy!
Friendly Farms — milks and non-dairy products
Stonemill — spices
Winking Owl — wine
Millville — cereal, bars and related products
Clancy's — salty snacks
Low FODMAP ALDI Shopping Tips
Let's get to what you can find at ALDI for those following the low FODMAP diet and some strategies for getting the most out of your shopping trip.
We suggest going to ALDI first. Oftentimes they do not have every single item on our shopping list and this way we can save as much money as possible loading up our cart at ALDI, and then supplementing that shop at our local supermarket with the items we couldn't find..
For instance, on a recent shop they did not have parsnips for our pot roast, or fresh cranberries (and it was right before Thanksgiving). You never know, but it pays to go there first and look.
Use Your Fig App
We highly recommend that you use your Fig smartphone app to help you shop at ALDI (as well as at Albertson's, BJ's Wholesale Club, Costco, Hy-Vee and over 60 markets).
After personalizing your Fig (please see our Q&A for more info) your Fig app will show you what is likely low FODMAP at ALDI and suitable for you. Take a look at a sampling of what Fig was able to show us as items to try:
Clancy's Wavy Potato Chips
LiveGFree Gluten Free Pancake & Baking Mix
LiveGFree Gluten Free White Wide Pan Bread
LiveGFree Gluten Free Linguine
Fusion Asian Inspirations White Rice Ramen Noodles
Southern Grove Pecan Halves
Simply Nature Organic Creamy Peanut Butter
Simply Nature Organic Non-GMO Stir-In Paste Ginger
Simply Nature Organic Blue Corn Tortilla Chip
Casa Mamita Crunchy Taco Shells
Simply Nature Organic Original Beef Jerky
Berryhill Sweet Orange Marmalade
Burman's All Purpose Reduced Sodium Soy Sauce
Burman's Dijon Mustard Made with White Wine
Burman's Real Mayonnaise
Season's Choice Quick Fries Extra Crispy French Fried Potatoes
Millville Quick Grits
Appleton Farms Pre-Sliced Boneless Natural Ham
Appleton Farms Premium Pork Sausage
Appleton Farms Gourmet Thick Sliced Bacon
Deutsche Kuche Smoked Knackwurst
Fusia Brown Rice Pho Noodles
Earthly Grains 100% Whole Grain White Quinoa
Parkview Jumbo Franks
Parkview Jumbo Cocktail Sausages
Park Street Deli Pork Carnitas
Specialty Selected Bacon Wrapped Shrimp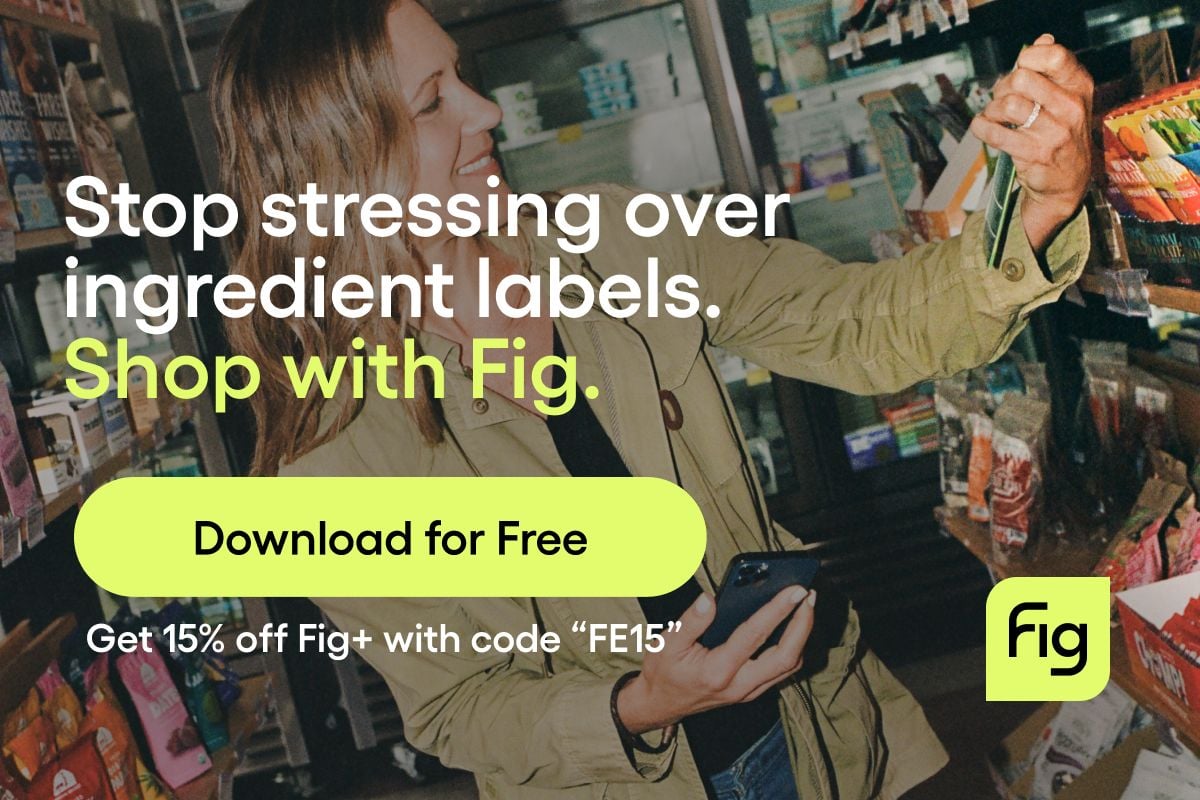 Pick Up Basics
In addition to packaged items, there are many basics that are worth seeking out. Here are items we often buy at ALDI:
Carrots
Spring Mix baby lettuces
Red grapes
Persian cucumbers
Assorted low FODMAP crackers
Corn tortilla chips
Pecans and walnuts
Raisins
Almond flour for baking
Big hunk of beef for pot roast
Meatball mixture (beef, pork, veal – YUM!)
Olive oil
Balsamic vinegar
Eggs
Sliced turkey for lunch
The last time we went we spied some cocoa-coated almonds that we plan to try next time.
The Takeaway
The ALDI supermarket chain has many items to offer those following the low FODMAP diet. In many instances you can save money by shopping at ALDI, which we know will be a boon to many. (You might also find our article on eating Low FODMAP on a budget to be helpful).
We find the best way to shop at ALDI is to use your Fig app to help assess items that fit your dietary needs (based upon personal the info you have entered in the app), and we suggest that you make it your first stop. This way if there are any items that ALDI doesn't have, you can then pick them up at your regular supermarket.
So, bring a quarter for the shopping cart, gather your shopping bags together, fire up your Fig and try a shopping trip to ALDI.