Fig is a low FODMAP app. It's also a gluten app, a vegan app and an app for dozens of other diets and ANY food allergy.
Fig stands for "Food Is Good" and the developers have created a scanner app that can help you identify potentially problematic ingredients in packaged foods – all tailored to your particular medical and dietary needs. 60% of the world lives with dietary restrictions – we need help!
Fig's motto is "No more restrictions. Only options", which fits in so well with what we do here at FODMAP Everyday®, since we like to focus on what you CAN eat. Fig aims to be your digital companion that helps you find food options, no matter how restrictive your dietary needs are.
We sat down with co-founder Andrew Hollar and head of Product & Growth, Tyler Scheviak to learn more about this easy-to-use tool. Fig features a scanner app and is available for both iPhone and Android.
What Is Fig?
Dédé Wilson: Thank you for talking with us! We have known one another for a few years now and the progression and growth of your smartphone app has been huge! For those who don't know what Fig is, tell us a little bit about how this started – and where the app is at this point.
Andrew Hollar: Absolutely, thanks so much for having us!
Fig is on a mission to help everyone find food they CAN eat and enjoy. Just tell the Fig app your unique dietary needs, and Fig will show you thousands of foods that likely work for you at 100+ grocery stores and ~15 chain restaurants. More stores and restaurants are on the way!
Fig is unique because it's designed to understand all of your dietary needs. If you react to FODMAPs, have a soy allergy, limit added sugars and also struggle with a blueberry and/or citric acid intolerance, that's no problem. Fig can help you find food that fits all of those needs. Fig works with ANY ingredient or allergen.
Soon, Fig will also let you share your dietary needs with friends and family. This way, they can better love and support you through food, too.
Fig Covers Restaurants Too!
Thank you for bringing us up to speed. The addition of chain restaurants like Chick-fil-A, Panera McDonald's and Starbucks on the app is so helpful. We see numerous requests for grocery stores like Trader Joe's, ALDI and Walmart, which is why we have content for our readers on these popular stores and fast food restaurants too! So those are great to see on the app for added convenience.
Andrew: I'm also extremely excited about the new restaurant feature. Eating out is one of the biggest challenges when you follow a complex diet.
The restaurant feature is still in testing mode, but we've heard lots of early success stories from our members. For example, if you follow a low FODMAP diet, Fig will show you items that are likely Low FODMAP at popular restaurants. It even tells you how to modify orders to make them low FODMAP.
Why Fig Was Created
This is an incredibly helpful feature! I'd like to veer off on a tangent for a moment and talk about you, Andrew. You have been very open about your own experiences that occurred after a trip to Mexico in 2014; your life changed from a dietary perspective.
Andrew: Yes, that's right. My life changed suddenly in 2014 after a work trip to Cancun. Up until that trip, I had never had any significant health problems. But when I got home from Mexico, I was in terrible shape. I was waking up in the middle of the night itching all over my body. My fatigue and brain fog during the day were debilitating. And within a few months, terrible GI symptoms started happening as well. Life as I knew it literally came to a stop.
From 2014 to 2017, I saw more than 20 doctors trying to figure out what was going on. I saw doctors at all of the best hospitals in New York City. Over and over, the doctors would tell me the same thing. "We believe that you're having terrible symptoms, but all of the tests are coming back normal. We just don't know how to help you."
Finally in 2017, I was reading a blog from an alternative medicine doctor in Chicago. He mentioned a condition called SIBO or small intestinal bacterial overgrowth. I flew to see the doctor, and the breath test for SIBO was off-the-charts positive. I finally had a partial explanation for my symptoms over the past three years.
All of us hope that we get to the point where we have a reason, or reasons, for our symptoms. One thing I'd like to interject is to tell folks not to give up! The reason I wanted to bring your experience to light is because so many people reading this will be able to relate. I have family members whose GI tracts were compromised during travel, and it is comforting to know we are not alone – and that you can empathize with what your users need and are going through.
Andrew: Exactly. There are so many of us who struggle with dietary restrictions, especially those that come on later in life after travel or a case of food poisoning.
At this point, studies have shown that post-infectious IBS (PI-IBS) is incredibly common. And the really unfortunate part is that the IBS symptoms can last even years beyond the initial time frame when we ingested the food or drink that was contaminated with a bacteria, virus or parasite. You know, in our FODMAP Everyday® community we do not use "safe" or "unsafe" terminology to talk about low or high FODMAP foods. High FODMAP foods are just high FODMAP foods, but foods that are contaminated are the foods that are unsafe!
Andrew: In my case, the treatment for SIBO involved antibiotics and a significant diet change. I started a low FODMAP, low sugar, and low preservatives diet. My GI symptoms resolved, and for the first time in three years, I finally felt like myself again. It made me a believer in the power of food.
The problem? There were more than 500 ingredients I needed to limit or avoid entirely on the diet. I remember my first trip to the grocery store – I literally cried in the aisle thinking this was going to be my new life. I'd spend hours in the grocery store and often come home empty-handed. There had to be a better way.
This was my inspiration for Fig. Why couldn't I tell an app my specific dietary restrictions down to the ingredient level, and then the app would instantly show me EVERYTHING I could eat?
Fig Is For Everyone And Your Unique Needs
So, about 3 years later when you developed Fig, I can see how your personal experiences influenced the app. The app is so clearly laid out: one can filter by diet, such as low FODMAP, dairy-free, low histamine or vegan; you can filter by allergy, such as corn, shellfish, lupine or wheat; filters exist for ingredient preferences such as artificial food colors, onion and garlic, gums & thickeners; and users can even filter for individual ingredients – 2,551 of them to be exact!
Tyler: That's right, we built Fig to be incredibly customizable. When a new member comes onto Fig, the first thing they do is tell the app how they personally eat.
For Fig to be most helpful, we knew it needed to understand ALL of your dietary restrictions. For example, I personally have intolerances to corn, gluten, peanut oil, almonds, bananas, chocolate, and citric acid. I also avoid a lot of additives and food colorings. I had used pretty much every scanner app in the past, but they weren't helpful. In a gluten free app, I still needed to check for all the other ingredients I avoid in every food it suggested.
Fig is different. The app recommends products based on ALL of your dietary needs. Fig currently works with dozens of diets and thousands of ingredients and allergens. And we're always happy to add more if a Fig Member doesn't see their needs on the app.
We hear from users all the time how responsive you are to their needs and suggestions! It supports the idea that we really are all in this together – and that you aren't just an app developer. You understand! Do you see a trend in needs from your users? Or is it really all very individual?
Tyler: What's incredible is that 80% of our Fig members have a different Fig profile than anyone else on the platform. We all have different dietary needs that shift with time.
That is an amazing statistic. I love it.
Tyler Scheviak: Fig accommodates those changing needs. If you start out low FODMAP and then realize you actually tolerate fructans and mannitol, you can update your Fig to allow those FODMAP groups. If you learn you personally tolerate strawberries, cherries and peaches, you can update the app to allow those specific ingredients, too.
We are certainly seeing a trend of more members with likely gut issues. More Fig members than ever before are trying to start a Low FODMAP diet. This isn't surprising. ~15% of the population is estimated to have IBS!
Fig and FODMAP Science: All About Accuracy and Trust
While many folks in our community have concurrent issues along with their IBS, FODMAPs are our focus. We all look to Monash University and FODMAP Friendly as the primary resources. They are the entities doing the original FODMAP research. How does their science come into play with your app? I know that some people are under the mistaken impression that your app entries are crowdsourced by non-medically trained lay people (your users).
Andrew: Absolutely. Fig works closely with four GI dietitians, three of whom are certified by Monash University. The fourth dietitian personally lives with inflammatory bowel disease.
These dietitians stay current with the latest research from Monash and FODMAP Friendly. They helped us to evaluate more than 2,500 ingredients for their likely FODMAP content. We continuously update ingredient ratings for each diet on the platform as new scientific information becomes available.
I think it is really important for folks to understand this; you work with trained medical professionals and always put evidence-based science at the top of your agenda. Talk to us a bit about what you call "micro-optimizations" within the app. We know your goal for accuracy is paramount.
Andrew: Our members trust us to help them find food that fits their unique dietary needs. This is a responsibility we take very seriously. We've spent a tremendous amount of time working on the accuracy of our algorithms and product data.
There are more than 2,500 ingredients and 200,000 ingredient synonyms in our database. While similar apps might consider "cherry" as one ingredient, we've painstakingly built our algorithms to tell the difference between cherry, cherry powder, cherry juice, cherry juice concentrate, artificial cherry flavor, and cherry tomato. These are all unique ingredients evaluated differently for every diet on the Fig platform.
For example, cherry juice concentrate is typically going to be higher in FODMAPs than a regular cherry. Or, a regular cherry might be OK for someone with a corn allergy, but cherry juice concentrates might not be. Concentrates often include traces of unlabeled flavorings, preservatives or color enhancers, any of which could be derived from corn.
And, as another example, artificial cherry flavor is low FODMAP! (As are all artificial flavorings). These are important distinctions.
Andrew: Exactly. We also have algorithms that account for diet-specific quirks. For example:
Ingredients used in small quantities (i.e., ingredients listed as "2% or less" or "for coloring") are evaluated differently than other ingredients for the Low FODMAP diet.
The lactase enzyme is considered when evaluating a product for lactose content.
Allergen statements are only flagged for Fig members with allergies.
These are just a handful of the hundreds of micro-optimizations we make every month to try to make the app as accurate as possible. We are far from finished. I've learned it's very much an unending marathon, not a sprint. We're committed to improving every day for our members who count on us.
You have other dietitians listed on your Team. How do you work with them? Do they review the app entries?
Andrew: Yes, in addition to the GI dietitians mentioned earlier, we also work with other dietitians who are specialists in their fields. These include vegans, celiacs, dietitians with food allergies, etc.
We try to work with dietitians who personally struggle with dietary restrictions, as they understand these diets better than anyone on the planet.
These dietitians look over every ingredient in the app as it relates to every diet/allergy. This ensures our algorithms are accurately rating foods. Because the dietitians live with restrictions themselves and take on clients with similar restrictions, we know Fig Members are getting their information from the best sources.
What do you say about the fact that Monash is quite vocal about being anti-scanner app? Yet folks are clamoring for one, and we hear every day how Fig allows them to begin exploring their relationship with FODMAPs. Your app is the key for so many people entering the FODMAP world.
Andrew: I certainly understand and respect where Monash is coming from. Like us, they want to help people feel better through food. They also fear leading people astray with inaccurate food recommendations.
Ultimately, too many people are failing the low FODMAP diet. It can be too challenging to get started. I've met countless people who stopped the diet after their first grocery trip. They couldn't find compatible groceries, they didn't know how to navigate ingredients that were missing from the Monash app, they thought restaurants were impossible on the diet, etc.
I wish every food product were laboratory tested for FODMAPs; unfortunately, that's just not realistic. Fig has more than 300,000 food products in its database, and Monash has tested less than 1,000 foods. We designed Fig's algorithms with our dietitians to assess the likely FODMAP content of any grocery product. I am confident that Fig is as accurate as it's ever been – and it keeps getting better each day.
Most importantly, we've received hundreds of e-mails from our members letting us know the Fig app finally helped them tackle complex diets like low FODMAP and find relief. Those messages are incredibly rewarding and motivating for our team.
We will continue to make Fig as helpful as possible for the low FODMAP community. I'm also excited to eventually partner with Monash to make the diet as accessible and easy to follow as we can.
How Fig Continues To Grow
How do new items get added into the app? Is there more than one way?
Tyler: Yes, we use data from multiple sources to add products to the app. We also use these sources to check the accuracy of ingredient and allergen information.
If a member scans a product and it's missing from the app – or if the app is displaying outdated information – the member can submit a picture of the product directly through the app. Then, our team gets to work reviewing the product, confirming its ingredients and allergens, and updating the product entry on the app.
Accuracy is of utmost importance to us. We've got new, exciting features coming to increase the trust that Fig Members have with the app.
Watch Our Video On How To Use Fig
How To Use The Fig App
We love how you use a green, yellow, red-light system because for those of us who are already familiar with the Monash University app, which uses the same color light system, we have an easy on-boarding process with your app. Please explain what the colors mean for those who might not be familiar.
Tyler: We love how simple the system is, too!
A green Fig check means that a product LIKELY matches your dietary needs.
A yellow Fig dash means a product MAY match your dietary needs. You typically need to limit or research yellow ingredients in order to understand if they fit your needs.
In terms of a low FODMAP diet, ingredients like "natural flavors" are flagged yellow since they often contain garlic or onion. Similarly, ingredients with both low and high FODMAP serving sizes are flagged yellow. Members can click any yellow-colored ingredient in the app to read a note from our dietitians. The note will explain why that ingredient may or may not work.
A red Fig X means a product likely does NOT match your dietary needs. In terms of a low FODMAP diet, ingredients like "garlic" or "onion" would appear red. Just as with yellow ingredients, members can click any red-colored ingredient to read more about that ingredient in the app.
And, not only does the user get the colored lights, but let's say they are looking at a product that has a yellow light. They can also click through into that app entry to see what ingredients are suspect and they will be highlighted with the yellow color. Same for red light foods and ingredients.
How would you explain to the app user the very best way to use your app for it to be the most effective? I love that you say Fig is meant to "be a guide, not a crutch".
Andrew: Once you tell Fig your dietary needs, Fig will show you thousands of products that likely work for you. You can search those products, filter them by grocery store, and build shopping lists with them.
You can also scan a product's barcode to see if that product likely works for you in under a second. The scanner works at home in your pantry or in the grocery store. We've heard stories from Fig Members about how this feature saves them hours every week in the store. It's such a rewarding feeling.
This is something our entire team has dreamed of since our individual allergies and gut issues started: a world where you can eat everything you see. It's incredible that Fig makes this into a reality and we get to use it ourselves.
As you mentioned though, we highly encourage our members to use Fig as a guide, not a crutch.
Here's how I think about it: When you walk into a grocery store, there are anywhere from 15,000 to 25,000 products. Maybe 2,000 products actually work for you. When I first started my restricted diet back in 2017, I remember feeling overwhelmed. I picked up product after product and kept finding ingredients that wouldn't work for me.
Fig's goal is to quickly show you the 10-20% of products in a grocery store that DO likely work for your needs. This way, you can quickly find those products, confirm they do work for you, and then enjoy them.
Fig has hundreds of thousands of food products in its database. Since food manufacturers change ingredients and allergen statements regularly, it's almost guaranteed there will be incorrect information at times.
For this reason, it's absolutely CRITICAL to double-check the ingredient and allergen label for any product before you buy it or eat it. We're doing our best at Fig to keep information as accurate as possible; however, because of the sheer number of products out there, it's almost impossible for us to be right 100% of the time. When members join the app, a pop-up reminds everyone to double-check ingredients and allergens!
With that being said, if one of your readers does find a product with incorrect ingredient or allergen information, please let us know by using the "Report issue" button. We'll update the information in the app as soon as we can verify it.
How does that happen? Do you update weekly? Monthly?
Andrew: We process feedback that comes across daily, and we update it within the app weekly.
Fig is an incredibly powerful tool, but it's important to us that our members use it responsibly. This goes for any similar food scanner or discovery tool.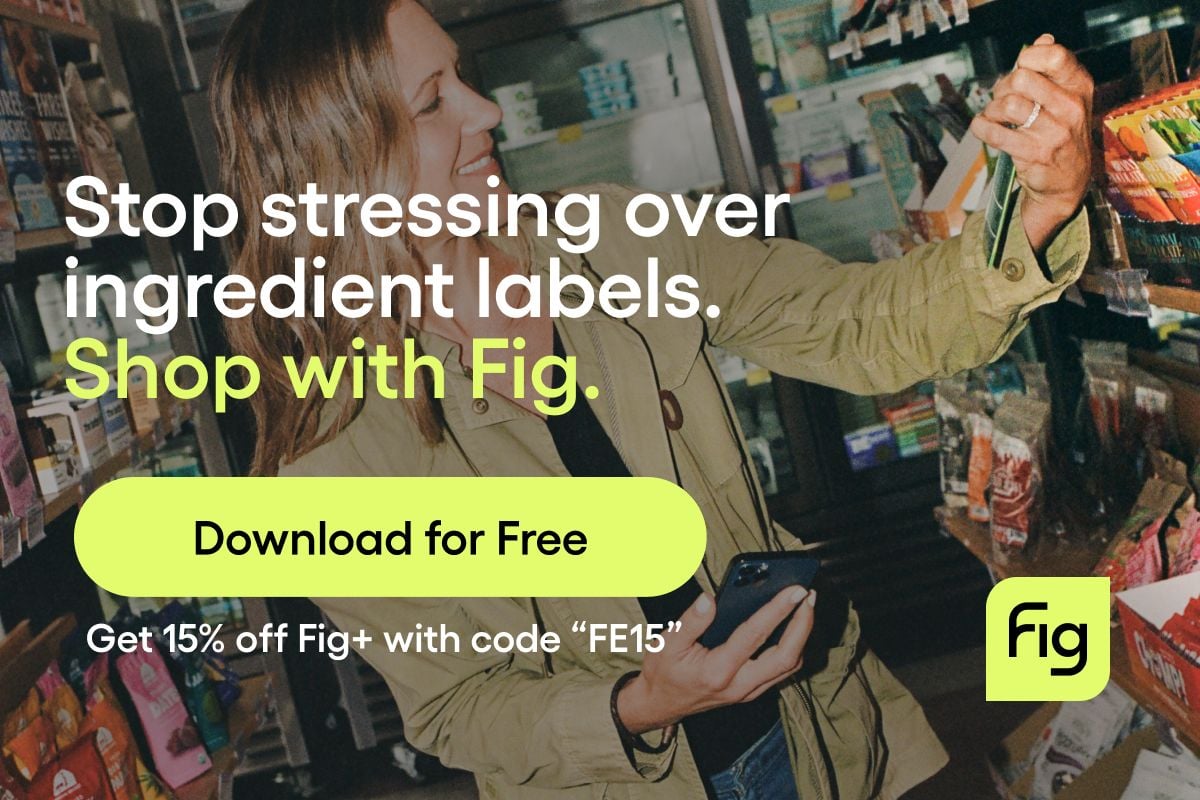 How Much Does Fig Cost?
Is the Fig scanner app free? Tell us about how one signs up and what they get.
Tyler: Fig is fully free to download and get started. We have a feature-packed free version and a premium version called Fig+. This helps us cover the expenses of running Fig and keeping it accurate.
On the free app, you can sign up and create your Fig profile. You can search a list of 2,500 ingredients to check if each one matches your dietary needs for free. You can also search our entire list of 300,000+ grocery products an unlimited number of times for free. Add each of these products to a grocery shopping list for your next trip to the store.
When you go to the grocery store, you're able to scan five products each month to check if they fit your dietary needs. After five scans, we do ask that you upgrade to Fig+. It's ~$3.33 per month if you pay for the yearly plan.
That is incredibly reasonable.
Tyler: Upgrading to Fig+ gets you access to unlimited scans, food recommendations at ~15 restaurants (with more to come), and grocery store filtering. Fig+ members can also access new features as they come out.
This paid version also helps support our mission. Similar apps like FoodMaestro in the UK have shut down because they ran out of money. We do not want this to happen to Fig and everyone who depends on it.
You can get a Fig+ subscription for 15% off using FE15 at checkout! Just click here.
Andrew: I want to genuinely thank all of our members who have already upgraded to Fig+. This helps support Fig financially. Not many people know this, but Fig actually costs close to $100K per month to run. To keep Fig as accurate and useful as possible, we're constantly updating product ingredient and allergen information, partnering with dietitians and building new features. We couldn't do it without the financial support of our members. I feel like we're on a mission together, and I truly mean it when I say THANK YOU for your support.
Where Is Fig Available?
Thank you for being transparent about this. Robin and I have been working full-time for 5 years on FODMAP EverydayⓇ. Educating the public to the low FODMAP diet is our only job and we, like you, are trying our best to keep as much free to our community as possible. That said, we need to put food on our tables, too!
Right now, your app is available for US users. Can you tell us about whether there are plans for expansion?
Tyler: Yes, we're actively working on expanding to Australia, Canada, New Zealand and the United Kingdom. We're hopeful this will be ready by early 2023.
Folks are going to be so excited about that! How many people are using the app at this point (late 2022)?
Andrew: We're thrilled to have more than 300,000 people on the app and part of the Fig mission.
I often say that dietary restrictions are a silent epidemic. So many people have them, yet no one talks about them. We're forced to shoulder the burden of dietary restrictions on our own.
We're trying to change that with Fig. We dream of a world where everyone can enjoy food, regardless of their dietary needs.
For Fig's team, the problem of dietary restrictions is personal. Most everyone on the team lives with dietary restrictions themselves. Tyler has more than 400 dietary sensitivities including citric acid, chocolate, gluten, bananas, and corn (which is in everything!). Engineers Brian and Bex each have MCAS (Mast Cell Activation Syndrome) and follow a complex low histamine diet. Bex also lives with a corn allergy and is famous within that community. Bex runs the popular website cornallergygirl.com. And of course, I live with IBS and SIBO and have been exploring the possibility of a histamine intolerance.
Dietary restrictions are VERY real for the Fig team. The team knows what it's like to live with a restricted diet. This empathy carries over into everything we do.
We can feel it; we really can.
Tell us about your Ingredient Transparency Pledge, and the fact that you look at Fig as a movement, not just a singular tool.
Tyler: Of course. As Andrew just mentioned, most of our team lives with dietary restrictions. We know how frustrating it is to see "natural flavors" and "spices" in a product's ingredient list. It's simply not helpful and can be dangerous.
If you follow a low FODMAP diet and see "natural flavors" in a product, you immediately wonder, "can I actually eat this? Does it have garlic or onion in it?" E-mailing the manufacturer for clarity sometimes works, but most of the time they won't give you an answer.
Earlier this year, we launched a petition calling on manufacturers to stop including vague ingredients in their products. More than 27,000 people have already signed the petition. We're excited to highlight awesome brands like Gourmend and That's It who have pledged not to use vague ingredients.
This is just one way we're hoping to build a better future for people who live with dietary restrictions. We're also hoping to build partnerships to let you use your Fig profile at more places. Imagine a world where you can go to Amazon.com, Instacart.com or Walmart.com and ONLY see products that match your Fig. We dream of having our own personalized grocery store.
Andrew: We've also partnered with many patient organizations to add more diets and dietary restrictions to the platform. Recently, we added a Low Iodine diet for patients about to start thyroid cancer treatment and an emulsifier-free diet for patients with Cavernous Malformations.
We're adding new diets each month. If we can add a diet for you, your family member or your patient organization, let us know. Please reach out to support@foodisgood.com.
I know Fig stands for Food Is Good. How did you come up with that name?
Andrew: We named our mission Fig because we wanted people with dietary restrictions to fall in love with food again.
When you live with dietary restrictions, it's very easy to start fearing or even hating food, since eating the wrong thing can cause symptoms for days. Because of this, many people with dietary restrictions will eat the same five foods over and over, because they know those foods won't make them sick. Unfortunately, this isn't healthy from a nutritional standpoint. And it's no fun either – food is meant to be enjoyed!
Our driving goal is to help everyone feel their best through food. Each day that I get to help someone discover a new favorite food with Fig is a real blessing.
It's our mission for everyone to believe that Food is Good again, no matter how they need to eat.
Andrew and Tyler thank you so much for this fascinating interview. Fig has so much to offer those following the low FODMAP diet – and especially those with additional dietary issues. It can be a game changer, and hopefully now our community will have a better understanding of the vigor and oversight that goes into your app and the information you share. Thank you for what you do – and how you do it!