The low FODMAP diet requires all of us to follow very specific food guidelines. At first it might seem as though you might have to completely redo the contents of your pantry and refrigerator and that of course would be an expensive proposition. If you are on a tight budget or relying on a food assistance program the idea of having to follow a restricted diet with complicated requirements can be daunting.
This article is about following the low FODMAP diet on a budget, or on a food assistance program, and we promise you it can be done – with perhaps fewer changes than you expect.
Knowledge is Power: Educate Yourself & Get Support
Get Professional Support
We recognize that following the diet can appear confusing, as it is so nuanced and complex. This is why Monash University, and we, strongly recommend that you undertake the diet along with a FODMAP trained dietitian.
There are several ways to find a low FODMAP experienced or trained registered dietitian.
When money is tight the reality of affording a dietitian may be out of reach for some, but even one or two sessions with the right support can make the difference between success and failure. And we know that living with IBS impacts all facets of your life.
Affordable Low FODMAP Diet Courses and Support Programs
Some lower cost options are to educate yourself about the Low FODMAP Diet so you truly understand how to get the most from undertaking the diet. We highly recommend taking the Monash University Low FODMAP Patient Course. To learn more about this course read Monash University Low FODMAP Patient Course: Overview & Review
You can also get the support of a dietitian led program at a lower cost through Diet vs Disease. Check out their program here in our interview with it's creator in our article Diet vs. Disease: Dietitian Joe Leech Is On A Mission.
Download The Monash University & FODMAP Friendly Low FODMAP Diet Apps. Now
In addition to that it is our opinion that every single person following this diet should have the Monash University Low FODMAP Diet smartphone app and the FODMAP Friendly Low FODMAP Diet smartphone app. These are the two entities that are lab testing individual foods and packaged foods, and referencing these apps is the easiest way to tell whether there is a low FODMAP serving size of the food you're interested in and what that serving size is.
With these apps it is very easy to look up what basic foods you should be stocking your refrigerator with.
Learn how to use these apps by reading our articles:
The Food Guide on the Monash University Low FODMAP Diet app, for instance, is divided into about a dozen categories ranging from Fruits to Vegetables, Dairy to Fats & Oils, Condiments to Snacks, Bars & Cookies, Meat, Fish & Eggs to Beverages, Breads, Cereal, Rice & Pasta, etc. There are also sections of foods that have been lab tested and certified low FODMAP (such as pasta sauces, snacks, cereals, crackers, dairy products and so much more).
Once you familiarize yourself with these apps, it's ready to plan your shopping.
Community Support
We aren't advocates of crowd sourcing health and medical information but having a community who are on the same journey and who love to share cooking and shopping tips can be helpful. We have a wonderful group of low FODMAP friends who love to help and share over on Facebook in our group Low FODMAP For Foodies. Come join us!
Eating Low FODMAP Is Not That Different
What shelf stable and refrigerator items do you actually need to have on hand to help you follow the diet successfully? The good news is that there are standard, easily found items from your regular supermarket that fit the bill.
If you were eating broccoli, sweet potatoes and canned tuna before, they can stay on your shopping list. If you like to eat boxed cereal in the morning, you might have to switch to a low FODMAP version, but the point is you can still have cereal.
Were you a cow's milk drinker? You can sub in lactose-free milk. Enjoyed yogurt before? There are many choices. Our entire site is dedicated to educating you. So be sure to explore!
Plan Your Shopping
Any guide to shopping on a budget will tell you that planning plays a key role. By planning your meals you will buy just what you need, nothing to excess, reduce waste and stave off impulse buys.
Plan Your Meals: Schedule out what you plan to eat at each meal. Our Low FODMAP Meal Planner over at Real Plans is a cost effective way to manage planning and shopping for meals.
Not All Supermarkets Are The Same: If you have your choice of supermarkets, take time to get to know each one. Many people go to the same supermarket because it's the one they've been going to for years, but it's not necessarily the one that is going to help with your budget.
Cost Is Not Everything: Take a look at the produce section. The fruits and vegetables might be cheaper at store A, but they might be fresher at store B, last longer, and therefore give you more bang for your buck. Be sure you have a meal plan for using all of your produce- otherwise it will defeat the purpose.
Shopping At More Than One Store: It might save you money at the cash register if you buy certain items at one store and other items at another, but certainly take into consideration your time, effort and transportation needs, whether it is more gas use for the car, more walking or use of public transport.
Don't Overlook On-line Shopping: More and more people do at least part of their shopping online and there are deals to be had. Non-perishable items like energy bars are a good bet and

very often they can be shipped for free –

and you don't have to pay any food tax. We have found that Thrive Market usually can save you up to 30% on items you may want to buy and they have a HUGE low FODMAP selection. Even if you don't stick with the subscription, the sign-up bonus is a good deal. Worth checking out.
Gather your coupons and monitor sales: And don't forget to sign up for rewards cards and email/online coupons and sales alerts from your most frequented stores.
Make shopping lists – if you shop at Whole Foods, Trader Joes, Walmart, Thrive Market or Coles (in Australia) be sure to download one of our Low FODMAP Supermarket Shopping Lists to help you create a personal shopping list. Make sure you have a copy in your bag or on your phone when you go shopping. You can use an app for list making that also has a way to store your favorite recipes and transfer ingredients to the shopping list. If you have a smart phone check out "AnyList: Grocery Shopping List". It has 4.9 star ratings with almost 60K reviews.
Build in Leftovers: We look at creative use of leftovers as recycling food. Or maybe we should say up-cycling because you get a brand-new dish out of something you've already made before. Roast a whole chicken and use leftovers for soups, salads or enchiladas.
Use our Real Plans Meal Plan to automate the tasks mentioned above. This does require a monthly subscription fee but if used to plan, shop and cook users tell us that it does help them save money in the long run as well as help keep them on track with the diet requirements.
Save Receipts: Review your receipts to notate what you have spent and if you need to adjust for the following week.
Plan Of Attack At The Store & Online
Once at the store – or online – learn to compare prices, don't forget to use those coupons, look for in-store sales, save money by buying seasonal produce, buy in bulk and keep an eye out during check-out to make sure you are not being mis-charged.
We don't go shopping without either the Spoonful App or the Fig App. You can search for low FODMAP products by type and compare prices before you leave home by price shopping online or while standing in the aisle while at the supermarket.
Learn more about these supermarket scanner apps in our articles:
Buying In Bulk
Buying in bulk is always an economic way to go. Perhaps you have a supermarket or food co-op nearby (find one near you in this Food Co-op directory for the US and CA) that has bulk bins of grains and spices, legumes and granolas, dried fruit and nuts. Or perhaps you will be buying online. Either way it is a good approach when you're on a budget.
For instance, let's say you want to buy oats or rice, or dried herbs and spices? All of these can be purchased in prepackaged bags, boxes, and jars but they can also be bought in bulk and that is the economical way to go.
Always Check Per Unit Pricing
By the way, did you know that when you shop on Amazon there is often a per unit price, just like at the store? At the time of this writing, we took a look at the following items, and you can see the range of prices varies dramatically.
Price Range
Oats: 9 cents per ounce to 29 cents per ounce
Long Grain Brown Rice: 7 cents per ounce to 40 cents per ounce
Bulk Dry Chickpeas: 4 cents per ounce to 53 cents per ounce
Dried Oregano: $1.16 per ounce to $8.72 per ounce
Ground Cinnamon: 39 cents per ounce to $4.32 per ounce
Obviously on any given day or a week the prices might be different, but the ranges will be similar, and we think this makes a very strong argument for buying in bulk.
Proteins In Bulk
Meats and other animal proteins can also be bought in bulk at big box stores and at butchers (and farmers markets). For instance, you could buy a whole fresh pork loin and slice it into individual chops. Or buy whole chickens and break them down, refrigerating what you are going to use soon and freezing what you will use later.
Buy ground beef in bulk and separate out with plans for hamburgers immediately, meatloaf down the line, and even meatballs at some point. Or try our Super Quick Korean Beef, which is a FODMAP Everyday® community favorite.
If you are able to follow the sales in your local market and purchase in bulk when sales occur that may be your best bet. But if you want to put your money into the best quality meat protein available you can also look into online meat subscription services.
Butcher Box is a standard favorite and their meat runs on average $10-$16 a pound for grass-fed and finished beef and they have awesome new member deals.
Prepared and Packaged Foods
We know that when on a budget, in terms of money and time, families often default to buying prepared and packaged foods. What's easier than throwing a box of pasta and powdered cheese together? Or microwaving a Hot Pocket?
When following the low FODMAP diet, and most especially when undertaking the Elimination Phase, we encourage you to stick to fresh ingredients and low FODMAP recipes until you are sure you know what your sensitivities are.
Prepared and packaged foods can be a FODMAP minefield.
Also, don't waste time or money on just any recipes. Unfortunately there are many recipes online that say they are low FODMAP when they are not. With our recipes you can be assured that they are trustworthy. FODMAP Everyday® is accredited as a FODMAP educator by FODMAP Friendly, as am I as an individual, I have over 30 years years' experience as a professional recipe developer and am also Monash University trained in the low FODMAP diet.
Once you are more experienced with the diet use our Shopping Lists to find prepared or packaged foods to branch out to.
Why Are Certified Low FODMAP Products Often Expensive?
We hear this question a lot. Why are lab tested and certified low FODMAP products often so pricey? First of all, not all are, so it still pays to become familiar, and of course, as with any food, you can shop sales.
But let's say you have a conventional jar of marinara sauce, and one with identical ingredients that is certified FODMAP, and the latter might be more expensive. If they have the same ingredients, why is that the case? Some people have suggested that manufacturers are gouging us because they can, but that is not why.
Both Monash University and FODMAP Friendly have certification programs. Manufacturers submit their products for lab testing and certification and this involves a lengthy and expensive process of review by researchers and scientists as well as actual lab testing of the product. In return, manufacturers are allowed to put a certification icon on their products, as seen below.
You can find many of these certified products and other low FODMAP products in our shop!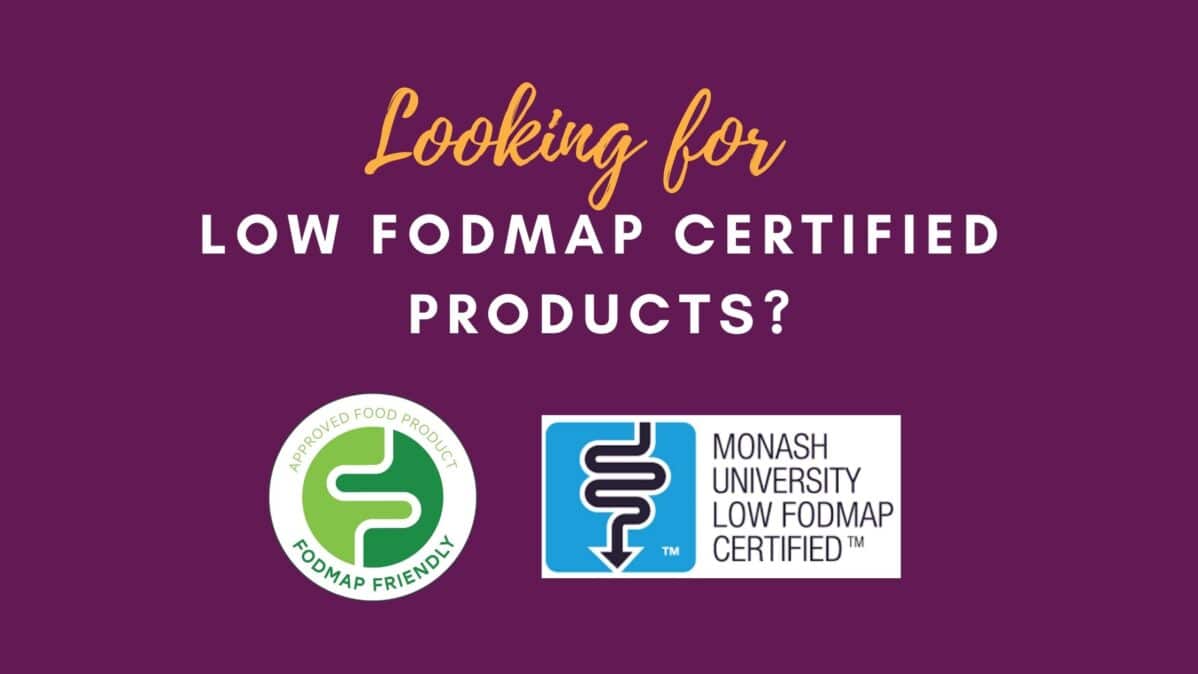 What you get as a consumer is a guarantee that the product is low FODMAP in the serving sizes recommended on the label. This is a welcomed and comforting assurance. We trust that this helps you understand the price differential.
You can read more in our article, How To Read A Low FODMAP Certified Food Product Label.
Shop Farmers Markets
If you're lucky enough to live in an area where there are farmers market, certainly check them out. Buying direct from the growers can cut out the middle people and save you money. These days more and more farmers markets are available year 'round, especially when they have places to move indoors in the colder months.
You might think a farmer's market as simply being fruits and vegetables, but more and more are also offering fresh herbs, starter plants, breads, preserves, maple syrup, meat, fish, poultry, cheeses and more.
Farmers markets can also be pricey depending on the farmer and item. Don't be shy to ask a farmer at the market if they have discounted or seconds they are willing to sell. Many farmers markets here in the United States accept SNAP/EBT as well.
Direct From Farmers Programs: CISA
CISA stands for Communities Involved in Sustaining Agriculture. This organization is over 25 years old, and their goal is to support farmers, agriculture and restaurants and make it easy for people to buy locally, which is often budget minded.
On the CISA website you can search for local farmers, see which farmers accept SNAP/EBT (formerly called food stamps) and support HIP (Healthy Incentives Program), find recipes and cooking tips in addition to offering DIY Resources.
You can also split shares with another family if you want to include local fresh produce but don't need a full share. One word of caution: you do not always know in advance what will be in your weekly box so it makes planning meals a bit more challenging.
The DIY resources offer guidance on storing winter vegetables, gardening resources and also information on canning and preserving. All of these techniques can save you money if you have the storage and access to gardens.
Shopping Low FODMAP When On A Food Assistance Program
We are located here in the United States and are most familiar with the food assistance programs in this country. But our recommendations are likely applicable globally. Each food assistance program will have foods which are approved for purchase using their assistance funds. It is important you know what those are. In most cases they include what is termed "staple food items".
Staple food items fall under 4 categories:
1. Fruits or vegetables;
2. Meat, poultry, or fish;
3. Dairy products; and
4. Breads or cereals.
They do not usually include prepared, or packaged food items or alcohol. Theses categories actually fall well within the same guidelines for the low FODMAP diet!
It's far easier and healthier to build meals from fresh ingredients rather than prepared or packaged. And with some planning you can ensure you are not spending more money doing so.
You can find an example of foods that are approved in this document for the Supplemental Nutrition Assistance Program (SNAP).
Shopping At A Local Food Bank or Food Shelter Store
Food banks are non-profit organizations that collect and distributes food to hunger-relief charities. Food banks act as food storage and distribution depots for the smaller frontline agencies who make food available to the public.
Contact your local food bank to see what agencies near you might have food you can access. Much of this can be done online at FeedingAmerica.org. You can simply put in your zip code. If you are not in the U.S. inquire about similar organizations through local governmental offices, churches, etc.
Challenges with Food Bank Shopping
Food banks have different food available week by week depending on donations they have received. One week they may have a huge amount of pasta and canned corn, another week they may have no pasta but a massive amount of rice. This can feel frustrating if you are dependent on a food bank or shelter for the majority of your food shopping needs.
And finding fresh vegetables and meat, poultry or fish proteins can also be a challenge. If you are able to stock your dry pantry from the Food Bank, and supplement it with smart discounted budget purchases of fresh ingredients from local markets or online subscriptions this will give you the most flexibility when it comes to meal planning.
Consider Seconds
Many supermarkets will have an area in the produce section where they set aside discounted produce. Perhaps the bananas need to be eaten within a day or two, or perhaps a cantaloupe or cucumber shows a bruise. If you are making banana bread, you want very ripe bananas! Great deals can be had, so definitely take a look. (PS: ripe bananas can be low FODMAP).
Here in the U.S., there are entire businesses that have popped up that focus on potential castoffs. Too many of us have been taught to shop for that perfect unblemished strawberry, or head of lettuce where every single leaf is as crisp as can be. The fact is that there are plenty of slightly blemished fruits and vegetables that are perfectly good to use.
Misfits Market is one such company. Their motto is, "Save big by saving food". The service allows you to buy organic produce and sustainably sourced groceries that are delivered to your door, and they promised saving up to 40% and also fight food waste. You might receive an avocado that needs to be eaten immediately, or maybe the box of cereal is about to go out of date, but you save money and time and you do not even have to leave your house, therefore you are saving on travel time and expenses well.
Prepared Meal Options
We hope that you are aware of two fantastic US based low FODMAP prepared meal options: ModifyHealth and Epicured. Both companies create pre-made low FODMAP meals. The benefit of using a prepared meal service can be several: no food waste, you are secure in the fact that the meal is indeed low FODMAP, and you are not spending time and travel related resources to planning, shopping and cooking.
ModifyHealth has a Patient Assistance Program, which offers discounted meals to eligible individuals. You can call ModifyHealth's Customer Care team toll-free at 1-888-7MODIFY (1-888-766-3439) or email patientassistance@modifyhealth.com to learn more and find out if you meet eligibility requirements. You can also use our exclusive coupon code FE4FREE to get 4 free meals when you order 8 for the first order.
Epicured works with potential customers on a one-to-one basis. You can ask to fill out a financial hardship form; they have helped students and vets in the past, as well as others. You can email them, or call (917) 260-8506.
Join Your Local Buy Nothing Group!
If you are on Facebook or have a smart phone anywhere in the world you may have a resource at hand that you didn't know existed: It's called "Buy Nothing!" and it's a wonderful way to ask for and to share with others items you need or have too much of. Including food!
We've given away perfectly good jars of condiments we know we won't finish, or fruit we bought too much of and have asked for even small amounts of an ingredient we don't need a full bottle of so we can make a cake or special dish. It's all hyper-local and based on being a good neighbor!
Read more about it here: BuyNothing Project
In a nutshell:
"BuyNothing offers people a way to give and receive, share, lend, and express gratitude through a worldwide gift economy network in which the true wealth is the web of connections formed between people. We believe that communities are more resilient, sustainable, equitable, and joyful when they have functional gift economies".
Principles:
We believe our hyper-local groups strengthen the social fabric of their communities and ensure the health and vitality of each member.
We come from a place of abundance ~ not scarcity.
We believe in abundance, we give, we ask, we share, we lend and we express gratitude.
We are a gift economy, not a charity. We see no difference between want and need, waste and treasure.
We do not buy, sell, trade, barter, or otherwise exchange money for items or services.
We measure wealth by the personal connections made and trust between people.
We value people and their stories and narratives above the 'stuff.'
We are inclusive at our core.
We value honesty and integrity in all our interactions.
We view all gifts as equal; the human connection is the value.
We believe every community has the same wealth of generosity and abundance.
Minimize Purchasing Prepared Food
There is no getting around the fact that if you cook from scratch, you will be able to save money, whether you were following the low FODMAP diet or not. Before you started the diet, if you have always been someone who relies on prepared and packaged foods, you are not only spending a lot of money, but it is also now more difficult to find prepared and purchased foods that are Elimination Phase compliant.
Let's divide prepared foods into two categories. The most expensive way to go is to purchase perishable prepared foods. This would include take-out or going to the supermarket and buying prepared tuna salad or going to the hot bar or salad bar. FYI, none of these are allowable as a purchase under US food assistance programs.
But let's look at an example where you have options.
You could go to the store and buy prepared hummus and that would be the most expensive way to go.
Now, if you want to make hummus yourself you could buy dried chickpeas and cook them yourself, which would be the most economical way, especially if you buy the chickpeas in bulk.
Or you could buy canned chickpeas, which would be taking a middle-of-the-road approach. This would be a way to save time, but still save you some amount of money. You have choices.
Storage – Maximize Your Purchases
Storage in general is something to address because I am sure we have all had the experience of having fresh produce in the refrigerator going bad before we use it or finding something in the back of the pantry that is now out of date – or in the case of something like nuts they may have turned rancid. We want to maximize all of our proper purchases and storage is key.
It pays to get really good at only buying what you need – that you know you will use up in a relatively short period of time. But for those food items that will be stored on a more extended basis, even if it is just the current week for your fresh produce, how you store these things can make a difference between them staying fresh enough to eat, and therefore you get your money's worth, and them turning and not edible.
Use High Quality Storage Containers
If you buy in bulk, we highly recommend using good storage containers. If you buy them new that will be an upfront cost, but they are ones that you can use forever. We do recommend glass with airtight lids as they will store your items safely, are easy to clean, and if you take care of them will last the longest.
We love canning jars, which can be found in a large variety of sizes. This is a perfect example of an item you can ask for in your local "Buy Nothing" Group.
How To Organize Your Refrigerator
Your refrigerator has many different regions, from top shelves to bottom shelves, to drawers and storage on the inside of the door, and they are not all equal in terms of temperature. There are ways to organize your refrigerator that will maximize the longevity of your food, which will in turn be friendly to your budget.
Use The Fridge Door Wisely
Inside of your refrigerator door is the warmest place in your refrigerator – and the area most prone to temperature fluctuations – and you should not store milk (or other liquid dairy) there, as an example (even though the containers fit perfectly). It is the perfect place, however, for things like jams, mustard, mayonnaise and other condiments and items that have preservatives.
Use The Produce Drawers
Many produce drawers have humidity controls; you should read your refrigerator manufacturer's instructions for maximizing use of your particular refrigerator model. We like to line our produce drawers with paper towels to take up any excess moisture.
There are many resources on the internet dedicated to testing and reviewing various ways to prolong storage of specific types of food. We encourage you to explore some of them and figure out what works best for you.
Separate Cooked From Raw
While we can't claim to follow this rule 100% all the time, it is considered the most sanitary approach to store cooked food and raw foods separately. The bottom shelf is the coldest part of the refrigerator and therefore is a very good place to store raw meat and poultry and fish. We store cooked foods and leftovers in airtight containers on the top shelf.
Not Everything Should Be Refrigerated
Not everything should be refrigerated and of course there are certain things that are obvious like boxes of crackers, but what about that loaf of bread? There are some food items that are open to discussion, but know that the refrigerator, in general, will dry things out and refrigerated bread will dry out more quickly than if left at room temperature.
Of course, if you are not eating that loaf of bread within the week you may very well want to refrigerate it to prevent any mold development, or you can freeze it and take out slices as you need them.
Budget Friendly Meal Plan
A budget friendly meal plan will largely depend on what you have available, therefore it is difficult to provide specific examples, however, we will give you some basic guidance below.
Meal planning has been shown to help save money
Being flexible is important. If you were going to make meat sauce for pasta with ground beef but see that ground turkey is on sale when you get to the market, go with the turkey.
A tuna melt is always a great lunch or dinner. Keep cans of tuna on hand.
Make good old grilled cheese. Add some sliced tomato and a schmear of mustard.
Build a meal around which budget-friendly starch or grain you have available: rice, quinoa pasta, then add the protein available and vegetable
Stir-fries are a great way to think about a meal using what is at hand. Remember that using soy sauce and bulk spices and condiments will be less expensive than bottled prepared sauces.
Think about serving sizes and quantities. Do you always seem to have leftovers? And do you rarely get around to utilizing those leftovers? Then re-think your quantities in general; make less, save more.
Keep tortillas on hand; many things can be used to make a burrito!
Build a bowl: start with whatever cooked grain you have on hand and add protein, vegetables and inexpensive add-ons like nuts or seeds.
If you have a slow cooker, they are great for tougher, economical cuts of meat; try a beef stew or pot roast (use our recipe as a template; it uses some specialty ingredients, but you can substitute).
Are you exhausted? We have had cereal for dinner; we don't judge. Go ahead and do it; just not often. Get fresh fruits, vegetables and high-quality proteins into your rotation.
Throw broccoli, green beans or baby carrots into the pasta water when making pasta. Toss with olive oil and grated cheese, salt and pepper and you've got dinner! Have leftover chicken? Add some of it to make the dish heartier.
The Takeaway
You can follow the low FODMAP diet on a budget. You might have to change some of your approaches to shopping and meal prepping. Minimizing purchases of prepared foods will help your wallet immensely.
Utilizing resources from local or federal agencies can be rolled into your low FODMAP diet needs. Consider using a meal planner, which automates many of the suggested processes for you. By planning ahead, buying in bulk, keeping an eye on second's bins for fruits and vegetables and monitoring weekly sales for meats, poultry and anything else you might need, you can save dollars, eat deliciously – and low FODMAP.
Do you have a budget friendly tip you can share with your fellow low FODMAP diet follower? Please comment below!