We Love Our Thighs
Chicken thighs that is. Chicken thighs are in regular rotation around here and this dish for Chicken Thighs with Grapes was a happy sweet and savory surprise.
We love chicken thighs for their juiciness, high quality protein and the fact that they cook up so easily. And our markets often offer family size packs, which make them economical as well. The challenge is bringing new flavors to dishes featuring the thighs.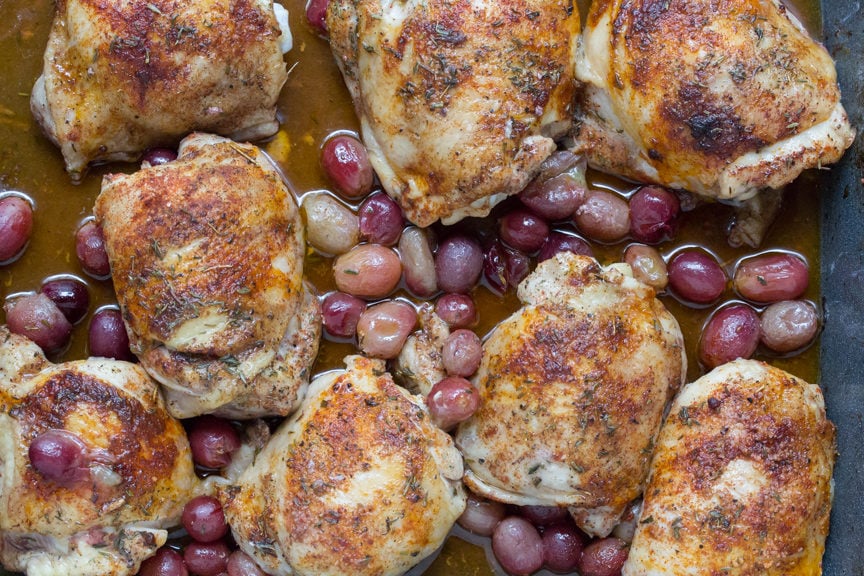 And The French Love Grapes
This recipe for Chicken with Grapes, Thyme and Smoked Paprika takes advantage of the "new" trend of roasting grapes and using them in savory ways.
The reason I put the quotes around "new" is because while roasted grapes have only recently hit social media, they have been cooked this way for decades such as in cailles aux raisins, the very traditional French preparation of quail with grapes.
It is so traditional that most recipes you will find for it are in French.
Don't Worry, We Aren't Getting Fancy On You
This recipe is nothing like that classic, which often employs browned butter and cognac and the quail are presented on toasted brioche.
This Chicken with Grapes, Thyme and Smoked Paprika is a simple one-pan, oven-roasted meal that highlights the sweetness of the grapes, the smokiness of the paprika and the savory-ness of the chicken and thyme.
It comes together in less time than it takes for the oven to preheat and is easy enough for a weeknight but fancy enough for non-FODMAP guests.
We made the one pictured with seedless red grapes. If you can find Muscat grapes, try them as well. And if you haven't figured it out by now, we think smoked paprika should be in your herbs and spices pantry.
Let's Make Chicken Thighs with Grapes!
We think once you experience this dish that it will make it into regular rotation.
You might also be interested in our Chicken with Roasted Blueberries, Balsamic Vinegar & Sage and our Balsamic Chicken with Peaches & Rosemary.
Chicken Thighs with Grapes, Thyme and Smoked Paprika
This easy chicken thigh dish, Chicken with Grapes, Thyme and Smoked Paprika, features roasted grapes accented with savory thyme and smoked paprika. Elegant enough for non-FODMAP guests, you can put it together in less time than it takes for the oven to preheat.
Ingredients:
8

medium

chicken thighs,

skin on, bone in

3/4

pound (340 g)

seedless grapes,

preferably red or Muscat, removed from the stem

1

tablespoon

Garlic-Infused Oil,

made with olive oil or purchased equivalent

1/4

cup (60 ml)

dry red wine

1

teaspoon

thyme

1

teaspoon

smoked paprika

Freshly ground black pepper
Preparation:
Position rack in hottest area of oven. Preheat oven to 375°F/190°C

Place chicken in a large roasting pan; there should be space between the chicken pieces to allow for the grapes and even roasting. Scatter the grapes evenly around the pan. Drizzle oil over all. Pour red wine over all. Sprinkle evenly with thyme and paprika, then season well with salt and pepper.

Roast for about 30 to 40 minutes or until chicken registers 165°F/74°C with an instant read thermometer inserted in the thickest part; take care not to touch bone. Allow to rest for 5 minutes for juices to redistribute and serve with your choice of starch. We love this dish with mashed potatoes or white rice. Don't forget something green like a big green salad on the side or steamed broccoli or green beans.
Notes:
If You Can Tolerate
Fructans: If you have passed the garlic Challenge, feel free eliminate the olive oil and simply scatter 1 to 2 minced garlic cloves over the chicken.
Nutrition
Calories:
220
kcal
|
Carbohydrates:
8
g
|
Protein:
14
g
|
Fat:
16
g
|
Saturated Fat:
1
g
|
Sodium:
1
mg
|
Potassium:
6
mg
|
Fiber:
1
g
|
Sugar:
7
g
|
Vitamin A:
135
IU
|
Vitamin C:
0.4
mg
|
Iron:
0.1
mg