FODMAP IT!™ Ben Lee's Butter Chicken
Ben Lee contacted us for help converting his version of Butter Chicken into a low FODMAP recipe. We took it into the Test Kitchen to FODMAP IT!™ and boy, did the Test Kitchen smell amazing on that day!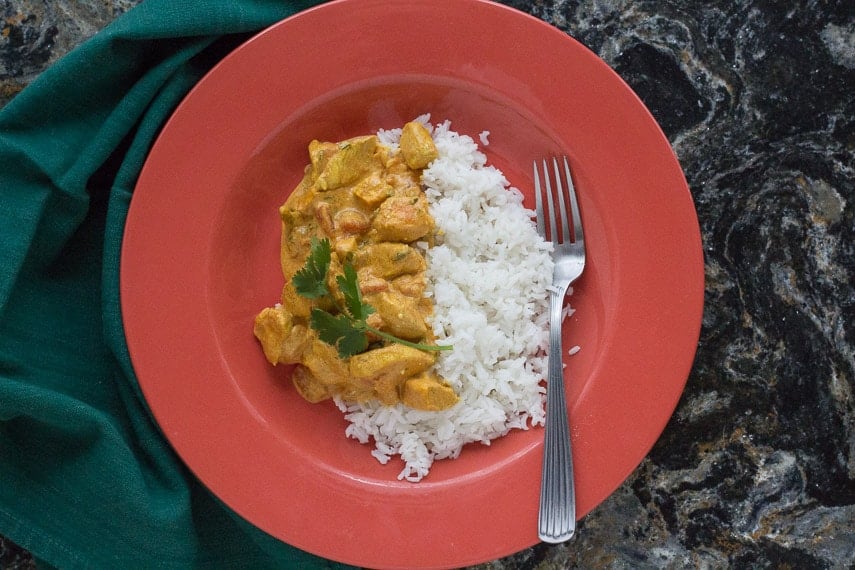 ---
Let's Talk Butter Chicken
Dédé: Ben, tell us a little about yourself.
Ben: I work in a food testing laboratory in Australia. Up until recently I've been sharing a house where everyone fed themselves, but now I have my own place and I'm rediscovering my love of cooking.
How did you first find or create this recipe and tell us why you love it!
I got this recipe from a mate while in Uni years ago. It just came up in conversation that I was looking for a decent butter chicken recipe that wasn't from a bottle. She scribbled down the one she uses and I still have that original torn-out pad paper filed away.
How did you first discover the low FODMAP diet?
When my IBS was getting out of hand I did a bit of research online and came across the low FODMAP diet. I went to the doctor later to confirm that it's right for me and I've been sticking to it since.
What have been some of the biggest challenges for you in terms of preparing meals and things to eat?
Holidays abroad, especially where English isn't the native language. A while back I was planning a trip to Japan. I was lucky enough to have a Japanese co-worker who was willing to help me write up a safe food list and a note in Kanji to pass on to restaurant staff.
What tools do you use to help you navigate the diet?
With my science background the idea of the FODMAP diet wasn't too daunting initially; I could just do a quick Google search or pick the brains of one of the smart dudes at work to get my info. Up until recently I've just been sticking with the basics, but after getting my own space I've been getting more creative and relying heavily on the Monash Uni app, low FODMAP certified products and FODMAP Everyday.
---
Butter Chicken – Murgh Makhani
Ben's version of Butter Chicken, also known as Murgh Makhani, used cream cheese and we wanted to stick close to his approach. Luckily, as you know, we have Green Valley Organics lactose-free cream cheese that can work with our low FODMAP diet. The trick with it is that it doesn't always cooperate in a similar manner to traditional cream cheese, so we had to handle it carefully. We ended up adding it at the very end, which Ben's recipe had recommended as well, and do not allow it to get over-heated.
No Lactose-Free Cream Cheese? No Problem
If you do not have access to lactose-free cream cheese where you live, you can substitute lactose-free yogurt or lactose-free half-and-half, although if using the latter the dish will be a bit thinner.
How We FODMAP IT!™
When we look at a recipe that is brought to us to re-create as a low FODMAP version, we look at it with three lenses:
We look at high FODMAP ingredients that are problematic and immediately work on ways to bring the same flavor to the dish that those ingredients bring, but in a way that we can all eat while following a low FODMAP diet.
We take the original approach into consideration and try to stick to it as closely as possible.
We make changes to the recipe that we believe improves it, while still adhering to the original vision.
Where's The Butter?
Where's the butter in this recipe, you might ask? Ben's recipe did not contain any, and as we said above, we wanted to make "his" recipe, so we followed his lead. Besides, the garlic flavor was going to be infused into the recipe via Garlic-Infused Oil, so the fat of choice was going to be that oil.
A Note on Curry Powder
The term "curry powder" refers to a blend of any number of ingredients – and is not always low FODMAP. We like Frontier Co-op Organic Curry Powder, which contains Organic Coriander, Organic Turmeric, Organic Mustard, Organic Mustard, Organic Fenugreek, Organic Paprika, Organic Cayenne, Organic Cardamom, Organic Nutmeg, Organic Cinnamon and Organic Cloves. It is also non-GMO.
Ben's dish turned out to be quick and easy and packed with flavor. We hope you give Ben Lee's Butter Chicken a try – and consider sending us one of your beloved recipes!
Don't miss Dédé's Quick Recipe Tips Video at the end of the recipe!
If you have a recipe that you would like us convert to a low FODMAP version, simply use our FODMAP IT!™ Submission form and let us know!
Ben Lee's Butter Chicken
This FODMAP IT!™recipe comes from Ben Lee. He asked us to convert his version of Butter Chicken into a low FODMAP version. We hope you try this easy, flavor-packed chicken dinner.
Ingredients:
2

pounds (910 g)

boneless, skinless chicken breasts,

cut into bite sized cubes

1

tablespoon

plus 1 teaspoon Garlic-Infused Oil,

made with vegetable oil, divided

2

teaspoon

turmeric

1

teaspoon

cayenne

1

teaspoon

low FODMAP curry powder

1

teaspoon

ground ginger

1

cup (64 g)

finely chopped scallions,

green parts only

1, 14.5

ounce (411 g)

can diced tomatoes

8

ounces (227 g)

lactose-free cream cheese

Fresh cilantro,

optional
Preparation:
Place cubed chicken and 1 teaspoon of Garlic-Infused Oil in a mixing bowl and season lightly with salt, stirring to coat and combine ingredients; set aside.

Heat large skillet over low-medium heat, then add remaining 1 tablespoon oil. Once heat is shimmering add the turmeric, cayenne, curry powder and ginger and stir for about 30 seconds to release the flavors. Add the scallion greens and sauté for about 1 minute to soften, then add chicken with any juices.

Still over low-medium heat, toss chicken in mixture to coat and cook for a few minutes until all surfaces of the chicken are beginning too cook. Add tomatoes and any juices and stir to combine well with chicken mixture. Adjust heat so that mixture simmers gently, cover and cook for about 5 to 10 minutes or until chicken is just cooked through. Turn heat down, stir in cream cheese until well blended and immediately take off of the heat. Serve immediately with a side of basmati rice and garnish with cilantro, if desired.
Dédé's Quick Recipe Tips Video
Notes:
Tips
If you have a favorite recipe that you would like us to re-create as a low FODMAP version, simply contact us and we will FODMAP IT!™
Nutrition
Calories:
259
kcal
|
Carbohydrates:
5
g
|
Protein:
28
g
|
Fat:
14
g
|
Saturated Fat:
1
g
|
Sodium:
79
mg
|
Potassium:
121
mg
|
Fiber:
1
g
|
Sugar:
1
g
|
Vitamin A:
295
IU
|
Vitamin C:
5.4
mg
|
Calcium:
22
mg
|
Iron:
0.8
mg
---