Easy Smoked Trout Niçoise Salad
The moment I saw this Smoked Trout Niçoise Salad recipe in the April 2018 issue of Cooking Light magazine, I knew I had to make it.
Sometimes an image is what inspires me and the colors and textures beckoned. And I could taste all the flavors in my mind and knew that a low FODMAP version would be easy and really flavor-packed.
This FODMAP IT!™ Smoked Trout Nicoise is very easy to assemble.
The technique of using one big pot of water to cook the potatoes, beans and eggs comes from the original recipe and is a technique I love using whenever possible; saves time and cleanup.
Jammy Eggs
Perhaps you have come across the term "jammy eggs" recently. I see it cropping up everywhere. It refers to eggs that are somewhere between soft-boiled and hard-boiled, with the yolks still a bit moist and there are fans of either end of the spectrum.
For this purpose where I want some moisture but not necessarily a runny yolk, somewhere between a 6 and a 7-minute egg seems to work best. See the directions for a more thorough explanation.
For more info on hard boilings eggs in general, check out our tutorial.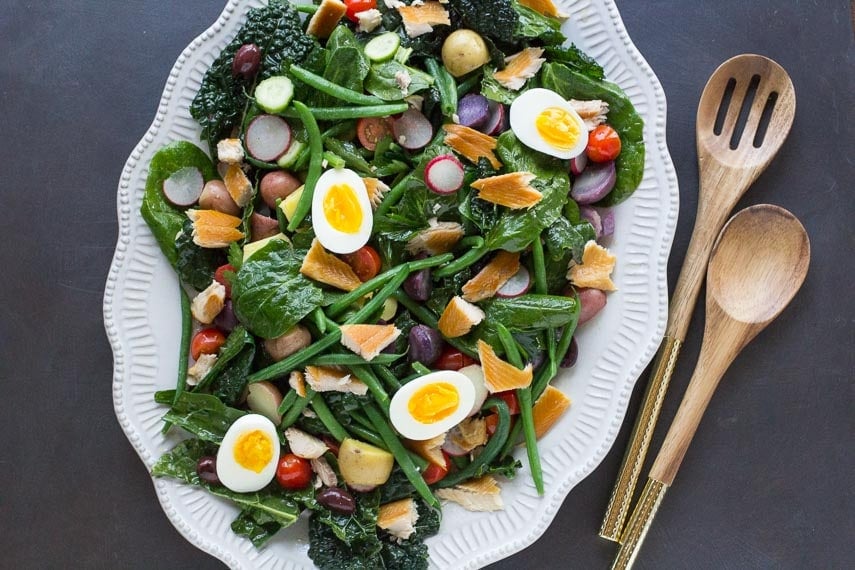 Smoked Fish
Maybe you are familiar with smoked salmon but the idea of smoked trout comes as a surprise. There are many types of smoked fish, many of which are low FODMAP.
Always read labels for any FODMAPs, like garlic, but it is easy to find low FODMAP smoked mussels, oysters and all kinds of fish, such as the smoked trout called for here.
It is meaty and salty and smoky and a convenient protein, which we think is shown off to its advantage here.
And speaking of trout and read-to-use products, check out our Trout Roe on Tiny Potatoes with Lemon Zest & Sea Salt.
More Nicoise Salads!
FODMAP IT!™ Smoked Trout Nicoise
A simple salad to put together taking advantage of prepared smoked trout. You could try other smoked fish as well; just check levels for possible FODMAPs.
Ingredients:
Salad:
8

ounces (225 g)

slender green beans,

stem ends trimmed away

2

large

eggs

1

pound (455 g)

small (2-inch/12 mm) waxy potatoes,

such as blue, purple, baby red or yellow potatoes

3

ounces (85 g)

kale,

tough ribs removed

3

ounces (85 g)

baby spinach

1/4

cup (5 g)

fresh flat leaf parsley leaves,

roughly chopped

1/2

pint

red cherry or grape tomatoes,

halved

1/4

cup (40 g)

pitted Kalamata olives,

halved

3

red radishes,

trimmed and sliced

4

ounces (115 g)

smoked trout
Preparation:
Make the Dressing: Place olive oil, vinegar and mustard in a small bowl and whisk together well. Season to taste with salt and pepper. Alternatively shake together in a covered jar. Set aside.

Make the Salad: Have a large bowl of ice water handy. Bring a large pot of salted water to a boil and add green beans. Cook for about 2 minutes or until just crisp tender and still bright green. Remove with tongs and plunge into ice water.

Add eggs to the same pot of boiling water and cook for 6 to 7 minutes (depending on whether you want them jammier or not), then remove with slotted spoon and add to ice water. Drain. Separate out the eggs from the beans, peel the eggs and set aside. Pat the beans dry; set aside.

Add potatoes to pot of boiling water and cook until tender when pierced with a knife, about 15 to 20 minutes. Drain well. Halve if desired; you want large bite-sized pieces. Set aside.

Tear the kale into a large bowl into large bite-sized pieces. Add baby spinach and parsley. Drizzle about half of the dressing over the greens and use your hands to massage the dressing into the greens; this will tenderize the kale a bit.

Add the tomatoes, olives, radishes and the drained green beans and potatoes and toss some more, drizzling more dressing on top as you go. Taste and add more salt and pepper, if desired. Heap salad onto a serving platter. Break trout with your hands and place here and there. Halve the eggs and place them on the salad, too. Serve immediately.
Notes:
Tips
Hopefully the idea of smoked trout has expanded your idea of what you can eat! Check out tinned smoked mussels, salmon, white fish and all kinds of other prepared smoked fish. Read labels for FODMAPs, of course!
Nutrition
Calories:
352
kcal
|
Carbohydrates:
37
g
|
Protein:
16
g
|
Fat:
20
g
|
Saturated Fat:
3
g
|
Cholesterol:
136
mg
|
Sodium:
116
mg
|
Potassium:
364
mg
|
Fiber:
6
g
|
Sugar:
3
g
|
Vitamin A:
3425
IU
|
Vitamin C:
25.7
mg
|
Calcium:
64
mg
|
Iron:
2.2
mg