Spider Web Cupcakes are Spooky Good!
These Spider Web Cupcakes are a FODMAPed version of ones in my A Baker's Field Guide to Cupcakes. As always with our FODMAP IT!™ recipes we are encouraging you to not give up on your tried and true favorites but instead look at them through a new FODMAP diet lens and see if they can be adapted.
Adapt, Adapt, Adapt
Following the low FODMAP diet means that you have to be flexible. FODMAP content can all of a sudden change in references due to further testing (as happened with bananas recently), your individual reactivity to FODMAPs can change, foods that you frequently buy disappear from the shelves, or the bakery down the street stops making that perfect gluten-free muffin that happened to be low FODMAP, too.
Adaptation is also the name of the game when it comes to applying our newfound FODMAP needs to old-standing recipes.
This recipe was easy to FODMAP. The cupcakes are our based on Low FODMAP Cupcakes. You will simply bake and cool those cupcakes, but not prepare the frosting from that recipe.
The Dark Chocolate Ganache that tops these cupcakes is a separate Basic recipe and is super easy, made with just two ingredients, and the white "spider webs" are simply melted white chocolate.
And, by the way, you literally end up only using a little more than a tablespoon of ganache for each cupcake, believe it or not.
White Chocolate is Low FODMAP?
Great question. Click on over to our All About White Chocolate to read more, but the simple answer is yes, in small amounts, which this recipe features.
You will be piping it with a parchment cone – and we will teach you how to make one – and we will give you a quick hack as well using a zip-top plastic bag.
The key to making successful "webs" is to have the ganache glaze and the melted white chocolate both in a fluid state and at a similar temperature so that when you draw your bamboo skewer or toothpick through the white chocolate, you will be able to create the attractive "webby" shapes.
This will make sense when you get to that point in the recipe – and use the image above for reference.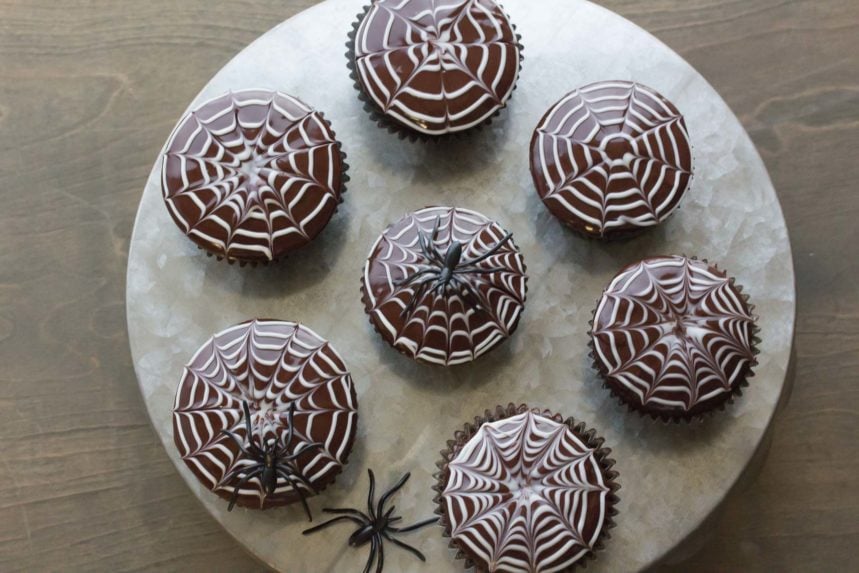 be sure to read our Halloween candy articles to keep you safe this holiday! Our Monash trained RD Vanessa Cobarrubia and I worked hard on Low FODMAP Halloween Candy (because we know you want to eat candy!) and also on an article detailing Candy Ingredients and Serving sizes.
And for more Halloween recipes, check out our creepy Bloody Eyeball Drinks (there is a cocktail and a mocktail version), as well as our 7-Layer Dip Graveyard! Both fun recipes to make with kids.
FODMAP IT!™ Spider Web Cupcakes
These cupcakes are much easier than they look and they always impress! They are based on our basic Low FODMAP Chocolate Cupcakes recipe.
Low FODMAP Serving Size Info: Makes 18 cupcakes; serving size 1 cupcake
Ingredients:
1

batch

Chocolate Cupcakes,

baked in fluted paper cups and cooled

1

batch

Dark Chocolate Ganache,

slightly cooled to a thick but fluid consistency

6-

ounces (170 g)

white chocolate,

melted

3

parchment cones or small zip-top plastic bags
Preparation:
Bake Chocolate Cupcakes according to directions. Cool.

Prepare the Dark Chocolate Ganache and have it in a slightly cooled and thickened but fluid state and in a bowl. Take a cupcake, turn upside down and dip the top of the cupcake into the ganache going just down to where the paper liner and the cupcake top meet. Pull cupcake, still upside down, out of the ganache and make a swirling motion over the bowl to encourage any excess ganache to flow back into the bowl.

Place melted white chocolate in parchment cone to fill about halfway. Snip a very small opening in the tip. Place the tip over the center of the cupcake and very gently squeeze while you pipe a spiral moving towards the outer edge of the cupcake (about 4 spirals). Immediately, while the ganache and white chocolate are still soft, again starting at the center, draw the tip of a bamboo skewer, toothpick or a thin sharp knife out towards the edge of the cupcake. Repeat this in a spoke pattern going around the cupcake (about 6 spokes) – voila, webs! Chill cupcakes briefly until glaze is set. Cupcakes are now ready to serve and best served the same day or within 24 hours. Store in airtight container.
Dédé's Quick Recipe Tips Video
Notes:
Tips
If you like, search out tiny sugar spider decorations from cake decorating stores and place one on each "web". Or, since you are probably making these around Halloween, do what we did and go to a party store or dollar store to pick up small plastic spiders. Just be careful with little children as the spiders are not edible and they might be tempted to put in their mouths.
By the way, the "web" design is actually a very classic French patisserie technique that you might recognize from traditional mille feuille and Napoleon pastries. The technique is called "feathering" and can also be done across the cupcake like this one below, so don't think that you have to wait for Halloween to make these luscious chocolate cupcakes.
Nutrition
Calories:
374
kcal
|
Carbohydrates:
48
g
|
Protein:
4
g
|
Fat:
18
g
|
Saturated Fat:
2
g
|
Cholesterol:
2
mg
|
Sodium:
9
mg
|
Potassium:
27
mg
|
Fiber:
1
g
|
Sugar:
6
g
|
Vitamin A:
5
IU
|
Vitamin C:
0.1
mg
|
Calcium:
19
mg