Gluten-Free Popovers Can Be Low FODMAP
Popovers are easy to make yet, of all the baked goods, they seem to have the most variable results. If you follow my directions for these Gluten-Free Popovers, you will get delicious results!
Parisian macarons can be problematic, too. Popovers are simple, macarons are complex yet they both share the fact that you can make them the same way two, three, four times in a row and they will come out differently every time!
This happens to the best of us.
But with our recipe for Gluten-Free Popovers, you will have all the info you need for success!
Professionals, Too
Dorie Greenspan is a good friend of mine. If you are a baker you might be familiar with her blog and her numerous books. One day, many years ago, she and I were talking about French-style macarons.
I was bemoaning the fact that they seemed to control me, rather than the other way around, which is never a good thing to be saying about a baked good.
She told me that when she was working on one of her collaborative books with Pierre Hermé (an international renowned pastry chef) that she was having the same conversation with him about chocolate macarons.
He told her that they came out differently for him all the time, too. After that conversation, I felt like I was in good company!
Back to Popovers
The image up top shows you some popovers at maximum popped-over volume. This was a good batch. The image below here was made the following day, following everything the exact same way: ingredients, equipment, etc. This batch was much less "popped-over" and denser, less airy. But let me assure you, no less delicious. So don't worry.
Your popovers will work.
They might look like the ones up top, the ones below (less "popped") or somewhere in-between. I do know that they will be delicious.
One thing they all share. A popover waits for no one. They should be served the moment they come out of the oven.
Coordinate!
If you are making these to go along with our Standing Rib Roast, make your batter while the roast is cooking, then crank up the oven as soon as the roast comes out and bake the popovers while the roast rests. See Tips below in recipe.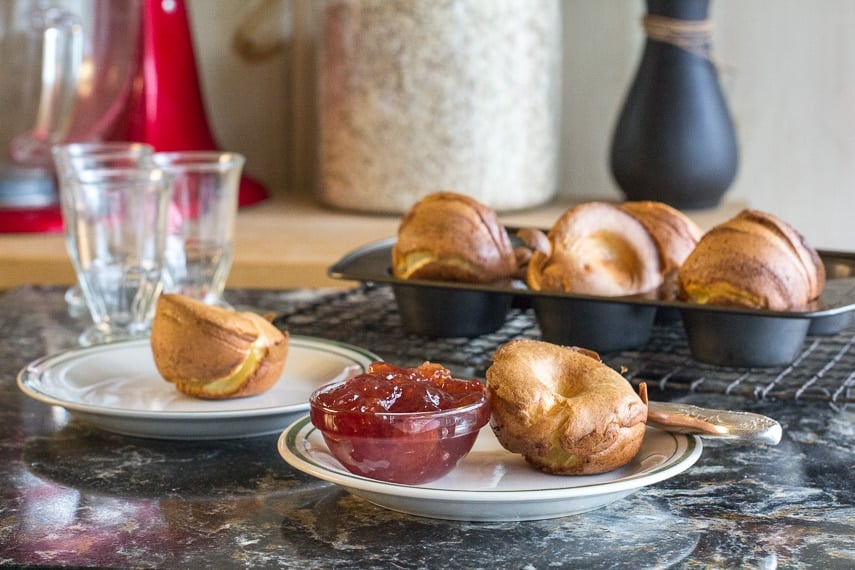 Gluten-Free Popovers
Gluten-Free Popovers are easy to make. Be ready to serve them as soon as they come out of the oven.
Low FODMAP Serving Size Info: Makes 12 popovers; serving size 1 popover
Ingredients:
1

cup (145 g)

low FODMAP gluten-free all-purpose flour,

such as Bob's Red Mill 1 to 1 Baking Flour

1/2

teaspoon

salt

5

large

eggs,

at room temperature

1

cup (240 ml)

lactose-free whole milk,

at room temperature

2

tablespoons

unsalted butter,

melted and divided
Preparation:
Coat 12 muffin tins (inside and tops) with nonstick spray. Position rack in hottest area of oven, most likely the upper third and place prepared muffin pan(s) in oven to preheat along with the oven. Preheat oven to 450°F/230°C.

Whisk flour and

salt

together in a small bowl to aerate and combine.

Whisk eggs in a mixing bowl until very well blended. Whisk in milk and 1 tablespoon of melted butter. Whisk in the flour mixture very well until mixture is smooth.

When oven reaches temperature, quickly and carefully remove muffin tin from oven and very quickly brush the remaining 1 tablespoon of butter inside the tins. Quickly pour the batter into the hot tins, dividing equally. Immediately place pan(s) in oven and bake for 20 minutes. Turn heat down to 350°F/180°C and bake for 10 minutes more. At this point you will want to check them. If you have a good view through an oven window, use it! You can open the oven briefly to check, if necessary. The popovers are done when they are puffed up and golden brown. They might need 5 or 10 more minutes of baking.

Remove pan(s) and place on rack. Pierce the sides of each popover to release steam and serve immediately.
Notes:
Tips
If you are making this to go along with our Standing Rib Roast, use the hot fat from the roast in lieu of the butter to grease the muffin pans. In this case you will only use 1 tablespoon of melted butter to mix into the batter.
There are such things are popover pans; their shape is a bit different from muffin pans. Popover pans are taller and narrower and the shape encourages the classic popover shape. I chose not to call for them for two reasons: most people don't have them and also, they make a very large popover that is twice the size. Since it is important for us to eat moderately and watch our serving sizes, I think it is much better to use muffin pans.
Nutrition
Calories:
108
kcal
|
Carbohydrates:
13
g
|
Protein:
5
g
|
Fat:
5
g
|
Saturated Fat:
1
g
|
Cholesterol:
88
mg
|
Sodium:
130
mg
|
Potassium:
33
mg
|
Fiber:
2
g
|
Sugar:
1
g
|
Vitamin A:
130
IU
|
Calcium:
25
mg
|
Iron:
1
mg