Kebobs just look like summer to us! These Lemon Herb Grilled Marinated Chicken Vegetable Kebobs are easy to assemble and cook and everyone seems to love them. These are comprised of skinless, boneless chicken breasts, bell pepper, cherry tomatoes and zucchini all marinated in Garlic-Infused Olive Oil, lemon juice and fresh herbs.
Parsley is a must, but then you can make up the other portion with whatever herbs you like. I used basil, oregano, rosemary, tarragon and thyme.
Plan Ahead
An hour's marination is helpful, but you can also marinate overnight, so take advantage of this do-ahead tip. I like to marinate everything in a big bowl and then thread onto skewers right before grilling. Yes, that part can get messy but the results are so worth it.
The key to these kebobs is to have the pieces of all the vegetables and the chicken roughly the same size so that they cook evenly. Use image for helping you with this.
Onion? Why is There Onion?
You will notice in the image above that we have included red onion on a couple of skewers. This is because these Lemon Herb Marinated Grilled Chicken Vegetable Kebobs are a perfect dish that allows you to create some servings for those that can tolerate onions or are not following the diet.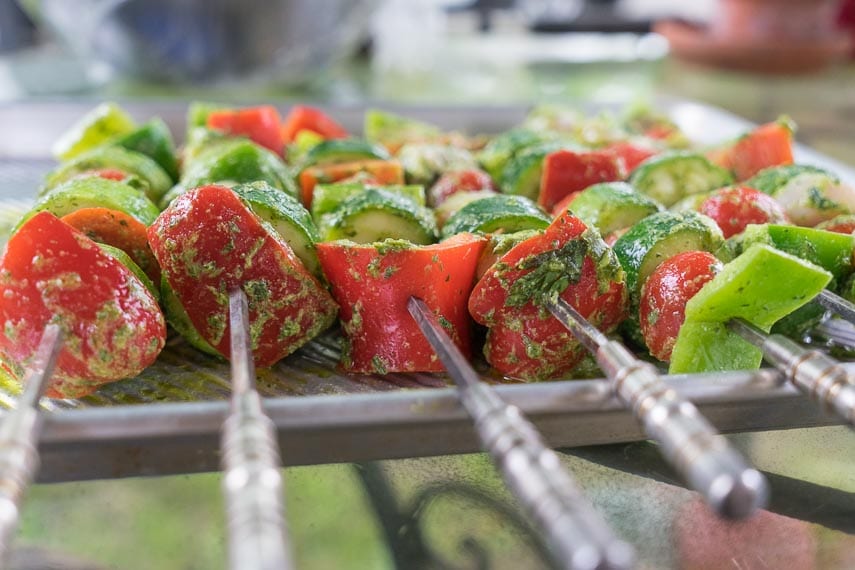 Part of what we do here at FODMAP Everyday® is encourage you to participate in life as fully as you can. This usually means sharing meals with those who are not following the diet. This recipe allows some flexibility and if there are some onion-lovers in your midst, why not please them?
For another grilled chicken dish, try our Spiced Yogurt Grilled Chicken.
Recipe Sponsored By Fody Foods
Lemon Herb Marinated Chicken Vegetable Kebobs
Make our Lemon Herb Marinated Chicken Vegetable Kebobs when you have a crowd to feed. FODMAPers and alike will love them!
Ingredients:
1/2

cup (120 ml)

Garlic-Infused Oil,

made with olive oil or purchased equivalent

1/4

cup (60 ml)

lemon juice

1

tablespoon

Dijon mustard

1/2

cup (16 g)

finely chopped fresh flat leaf parsley

1/4

cup (8 g)

finely chopped mixed fresh herbs,

such as basil, oregano, rosemary, tarragon and thyme

1/4

cup (16 g)

finely chopped scallions,

green parts only

Freshly ground black pepper

1 1/2

pound (680 g)

skinless, boneless chicken breast,

cut into large bite sized cubes

1

green bell pepper,

cored, cut into large bite sized pieces

1

red bell pepper,

cored, cut into large bite sized pieces

2

medium

zucchini,

ends trimmed, cut crosswise into 1-inch (2.5 cm) discs

Red onion,

not for the FODMAPers! Please read headnote and instructions below, cut into large bite-sized pieces

Vegetable oil
Preparation:
Whisk the oil, lemon juice and mustard together in a large bowl until combined. Whisk in parsley, herbs and scallions, then taste and season well with salt and pepper. Set aside.

Add the vegetables - except NOT the onion - and chicken to the bowl as you prep them and toss well to coat. Cover bowl with plastic wrap and refrigerate for at least an hour or up to overnight. Bring to room temperature before cooking.

Thread the vegetables and chicken as shown in the images onto skewers. We like using metal skewers, but you could use sturdy, thick bamboo skewers as well. Create a skewer or two with the addition of the red onion for those who are NOT following the low FODMAP diet.

Prepare a medium hot grill, propane or hardwood charcoal, or preheat a grill pan indoors. Brush (your clean) grates with a little vegetable oil.

Grill for about 6 to 8 minutes total, turning a few times. Get some nice char marks on there! Remove to platter your kebobs are ready to serve after a 5-minute rest. We enjoy these kebobs at room temperature, as well.