Corn Can be Low FODMAP!
It is corn season here in New England! Did you know that you can have ½ cob (38 g) of fresh corn?
That is the amount that is considered low FODMAP, even while on the Elimination phase of the low FODMAP diet.
And being literally surrounded by cornfields you can bet that we come up with lots of ways to enjoy this fiber-packed, seasonal vegetable, like our Grilled Corn with Garlic Herb Butter.
This recipe for Grilled Corn with Garlic Herb Butter begins with fresh corn.
Please – buy fresh cobs only!
Once shucked, you have about 5 more minutes of prep.
We simply take some Garlic-Infused Oil, fresh sweet dairy butter (which is low enough in lactose to be low FODMAP), kosher salt, freshly ground black pepper and then a whole bunch of fresh herbs.
Looking For Flavor in Your Low FODMAP Cooking?
We here a lament all the time – folks feel like their low FODMAP food is boring. Do these images look lackluster to you?
For this recipe it is all about the freshness of the corn, the fresh herbs and of course the Garlic-Infused Oil.
Just as the corn has to be fresh, so do the herbs for this version, but you do have choices.
For the images I used a combo of fresh basil, cilantro, parsley, tarragon, thyme and chives. I also like this recipe for Grilled Corn with Garlic Herb Butter with dill.
Be bold! It's hard to go wrong here. Just stick with the total amount.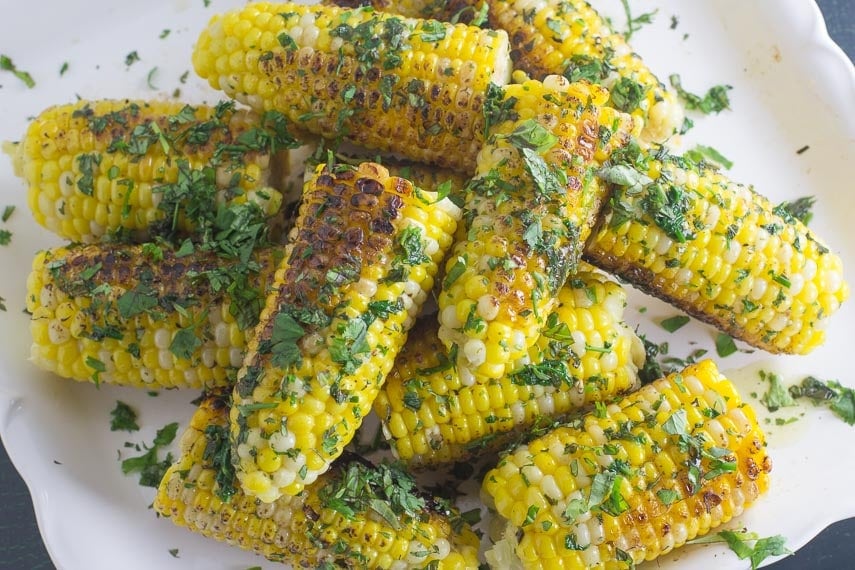 Fresh Herbs Rock
This recipe is all about freshness! Check out the Herbs section of the Monash University Low FODMAP Diet Smartphone App under Condiments.
You will see that there are very generous serving amounts, such as fresh basil, cilantro, dill, parsley and tarragon, thyme, all at 1 cup (16 g).
No FODMAPs have been detected in the approved amount of 1 tablespoon (4 g) of chives!
That's what we are here for; to help you get the most out of the Monash App as it can be your best friend while shopping, cooking and any time you need to look something up.
And of course to help you make your cooking as flavorful, exciting and safe for you as possible.
Get Your Grill Going
This Grilled Corn with Garlic Herb Butter is super easy and we suggest that you make it when you have the grill going for other reasons, such as grilling chicken or some other main-dish protein.
The corn will be on the fire for mere minutes, so it makes sense to make it when the grill is going.
We are partial to the smokiness that hardwood charcoal imparts, but feel free to make this Grilled Corn with Garlic Herb Butter on a propane-fueled fire as well.
But Can I Eat A Whole Ear?
We know this is the question you really want the answer to.
Before we knew what was causing our IBS symptoms, pre-low FODMAP diet, we would eat several ears of corn.
In these parts of New England it is not unusual to make a meal out of several ears (per person!).
Here's the deal.
Corn is High in Polyols, specifically sorbitol, at 1 whole ear (cob). Three-quarters of a cob is a Moderate level. If you have gone through the Challenge/Reintroduction phase and have learned that you can tolerate sorbitol, then be our guest and have a whole cob (or more)!
Ultimately the low FODMAP diet will be tailored to you in a unique way, after you learn your triggers, and corn just might be AOK for you.
You might be interested in our article What Is A Low FODMAP Serving Size?
Don't miss our ultimate guide to outdoor cooking – The Low FODMAP Diet BBQ & Grill Guide – with in-depth info on ingredients, techniques, equipment and much more.
Grilled Corn with Garlic Herb Butter
Got your grill going? Corn in season? Don't miss this opportunity to make easy, fantastic, grilled corn.
Ingredients:
6

fresh ears of corn,

shucked clean

1/4

cup (60 ml)

Garlic-Infused Oil, made with olive oil,

divided

2

tablespoons

unsalted butter

1/4

cup

finely chopped fresh herbs;

use a combo of the following: basil, cilantro, dill, parsley, tarragon, thyme andinclude some chives

Freshly ground black pepper
Preparation:
Prepare a medium-hot grill. Brush the shucked ears with 2 tablespoons of the oil (I lay them out on a rimmed sheet pan) and grill the corn, turning often, until you get some nice char marks on the corn kernels and the corn is nice and hot, about 6 to 7 minutes.

Meanwhile melt the remaining oil and butter in a small saucepan. Remove from heat and stir in herbs and chives. Season with salt and pepper. Slather the corn with the herbed butter before serving. Pass the napkins!
Notes:
Tips
Make this when corn is fresh and you can buy fresh ears/cobs. It is a seasonal dish that everyone will enjoy!
Nutrition
Calories:
55
kcal
|
Carbohydrates:
8
g
|
Protein:
1
g
|
Fat:
2
g
|
Saturated Fat:
1
g
|
Cholesterol:
5
mg
|
Vitamin A:
60
IU