Presenting Low FODMAP S'More Chocolate Chunk Cookies
There are a few more days of summer left and I couldn't resist sneaking one more summeresque recipe into rotation. You gotta make these S'More Chocolate Chunk Cookies!
These Low FODMAP S'More Chocolate Chunk Cookies will make you think you are sitting around the campfire on a warm summer night – except that you don't have to leave your kitchen!
Are S'More Chocolate Chunk Cookies Low FODMAP?
Ours are!
I worked hard on this recipe, bringing together the classic trio of chocolate, marshmallows and graham crackers of traditional s'mores into a low FODMAP, gluten-free cookie that we can all enjoy.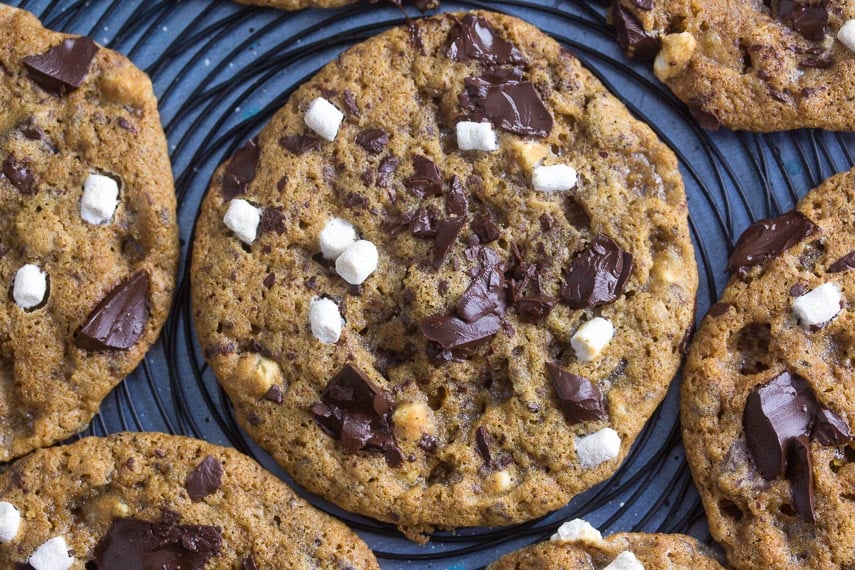 But HOW?
It might surprise you that this is possible. Marshmallows can be low FODMAP and you do have to read labels.
I have found that many of the very commercial brands are fine, while some of the "natural" and vegan ones can contain high FODMAP ingredients.
This recipe calls for Jet-Puffed Mallow Bits, which are teeny tiny marshmallows, as you can see. They are low FODMAP.
Dark chocolate is low FODMAP in 30-gram (1 ounce) amounts and each cookie contains much less.
Get Your Graham On
The graham crackers that we have found to be low FODMAP are made by Nairn's and might not be in your local market.
I had to order them from Amazon. Order a couple of boxes, so that you have some low FODMAP graham crackers around, although you only need 1 box for this recipe.
They are fabulous for making graham cracker crusts for pies. Stock up for fall baking!
For a nearly instant s'more experience, try our 3 Ingredient S'Mores and also our S'Mores Cupcakes, and One-Bowl Low FODMAP S'Mores Brownies.
Low FODMAP S'More Chocolate Chunk Cookies
These Low FODMAP S'More Chocolate Chunk Cookies are just as easy to make chocolate chip cookies - but they are extra special.
Low FODMAP Serving Size Info: Makes 20 cookies; serving size 1 cookie
Preparation:
Position racks in upper and lower positions of oven. Preheat oven to 350°F/180°C. Line three rimmed half-sheet baking pans with parchment paper; set aside.

In a small bowl, whisk together the flour, graham cracker crumbs, baking soda and salt; set aside.

Cream the softened butter in a mixing bowl with an electric mixer, then add brown sugar and sugar and beat on high until fluffy. Beat in vanilla, then egg and beat until combined. Beat in dry mixture until a few floury streaks remain, then beat in chocolate chunks and marshmallow bits until evenly blended.

Dole out evenly spaced on pans in about Ping Pong sized balls; no need to flatten. Bake two pans first for about 10 to 12 minutes, one on each rack, rotating front to back and top to bottom halfway through baking. When done the cookies will darken and flatten and will be firmer around the edges and still a tad soft in the center; they will firm up upon cooling. Cool on racks and bake the last pan. Don't try and remove cookies from pans until they cool. Store in single layers, separated by parchment paper, in airtight containers for up to 4 days.
Notes:
Tips
Make sure you have everything you need before starting. The recipe is easy but does call for specialty ingredients (graham crackers, marshmallows) that might have to be ordered ahead.
Nutrition
Calories:
150
kcal
|
Carbohydrates:
19
g
|
Protein:
1
g
|
Fat:
8
g
|
Saturated Fat:
2
g
|
Cholesterol:
1
mg
|
Sodium:
90
mg
|
Potassium:
61
mg
|
Fiber:
1
g
|
Sugar:
10
g
|
Vitamin A:
5
IU
|
Calcium:
6
mg
|
Iron:
1
mg