DIY Gum Free Low FODMAP Gluten-Free Flour Blend
In our Test Kitchen we rely on a commercially available low FODMAP gluten-free flour blend as we appreciate the convenience and know that if you use our recommended choices, that you will get reliable results.
That said, we know that many of you want to DIY and prefer a blend without any gums. This is our Gum Free Low FODMAP Gluten-Free Flour Blend, which is easy to make and that we know you will enjoy.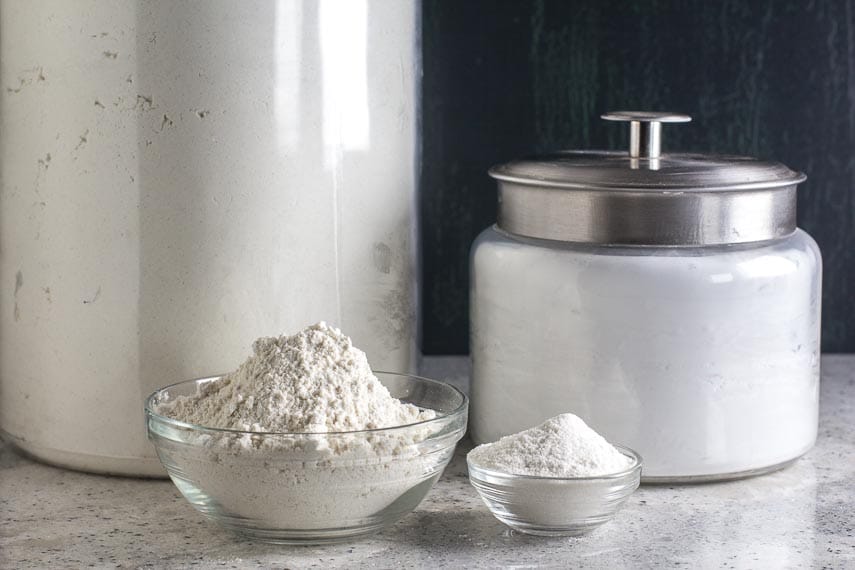 A Simple Blend
We have deliberately kept this flour blend very simple, with few ingredients, but your choice of ingredients makes a huge difference. Especially when it comes to rice flour.
Label Reading
If you have been eating gluten-free for a while and/or if you are a label reader you have probably noticed that rice flour, both white and brown, figure heavily into many GF blends and GF foods.
But one rice flour is not necessarily like every other. If you read what GF bloggers and bakers are saying, many praise the quality of Authentic Foods Superfine Brown Rice Flour in particular.
Many companies say their brown rice flour is "super" fine or "extra" fine" but Authentic Foods version is actually finer than the rest. You can even tell by feel. This very fine raw texture translates to a very fine crumb in finished baked products.
The gritty texture that some rice flours leave behind is absent.
Choose Your Ingredients Wisely
So, I do call for rice flours in our house blends and depending on your choice of your rice flour, the results are going to be varied. I like the Authentic Foods Superfine Brown Rice Flour very much.
Unfortunately it is not as easy to find in brick and mortar stores where I live, so I have to plan ahead and purchase it online. I recommend that you try this recipe with the products suggested for best results.
According to Authentic Foods
I spoke with Aaron Rice, Vice President of the company – but as he said, he "does a little bit of everything". And yes, Rice is his last name! He was very helpful and answered many questions, including offering a description of what their "AF Fiber Blend" consists of, so that we could determine whether it was low FODMAP.
This fiber blend is used in two of their newer blends.
Special Rice, Special Process – Premium Results
Aaron explained that the rice used in their packaged rice flour and their flour blends is a special variety (their source is in northern California) that they have been using since 1992. His company has studied the properties of rice flour in GF baking and have a proprietary approach for processing the rice, which creates desirable properties in the resulting flour – particularly in how it absorbs and interacts with moisture.
If you have Authentic Foods Superfine Rice Flour on hand and another brand, from Arrowhead Mills for instance, you will see that there is a tangible difference in texture and grittiness.
More DIY Flour & Info
If you are looking for a DIY blend that does contain gums, try our FODMAP Everyday® All-Purpose Low FODMAP Gluten-Free Flour, which mimics Bob's Red Mill Gluten-Free 1 to 1 Baking Flour and does contain xanthan gum.
If you are interesting in reading about gums, check out our Are Xanthan Gum & Guar Gum Low FODMAP?
Want to read more about choosing low FODMAP Flours? We have an article.
 This recipe is meant to be similar to Authentic Foods GF Classical Blend.
If you enjoy reading about flour comparisons in detail, check out Annalise Roberts' blog, My Gluten Free Table.
Gum Free Low FODMAP Gluten-Free Flour Blend
This is our DIY Gum Free Low FODMAP Gluten-Free Flour Blend. Use it as an all-purpose flour in your low FODMAP baking and cooking.
Low FODMAP Serving Size Info: Makes about 3 cups (488 g); servings size is ½ cup (81 g)
Preparation:
Simply whisk the ingredients together very well. Store at cool room temperature in an airtight jar.

Whisk again before measuring to use in recipes. Use within 3 months.
Notes:
Tips
Brands of rice flour vary considerably in taste and texture and even color. I highly recommend using the brands listed for the best results.
Nutrition
Calories:
305
kcal
|
Carbohydrates:
67
g
|
Protein:
6
g
|
Fat:
2
g
|
Saturated Fat:
1
g
|
Sodium:
14
mg
|
Potassium:
263
mg
|
Fiber:
4
g
|
Sugar:
1
g
|
Vitamin C:
1
mg
|
Calcium:
17
mg
|
Iron:
0.4
mg