Hearty Low FODMAP Lasagna
We have a few lasagna recipes here, but this Hearty Low FODMAP Lasagna is classic: it combines a richly flavored meat-based red sauce with lasagna noodles, creamy cheese filling, Parmesan and both fresh and dried herbs.
Our recipe will fulfill your lasagna yearnings, it is fun to make, and you even get to use a potato masher! (More on that in directions).
For some of our other lasagna versions, check out our Roasted Vegetable White Lasagna, Skillet Lasagna and Chicken & Spinach Lasagna Bake with Four Cheeses.
Let's Make The Sauce
You will want to get your sauce situation together first thing. This could be as easy as popping open some jars of low FODMAP marinara sauce, and if you want to take that shortcut, I won't judge, but I do suggest that you make our hearty meat sauce from scratch at least once. I think you will agree that it is worth the effort after one bite.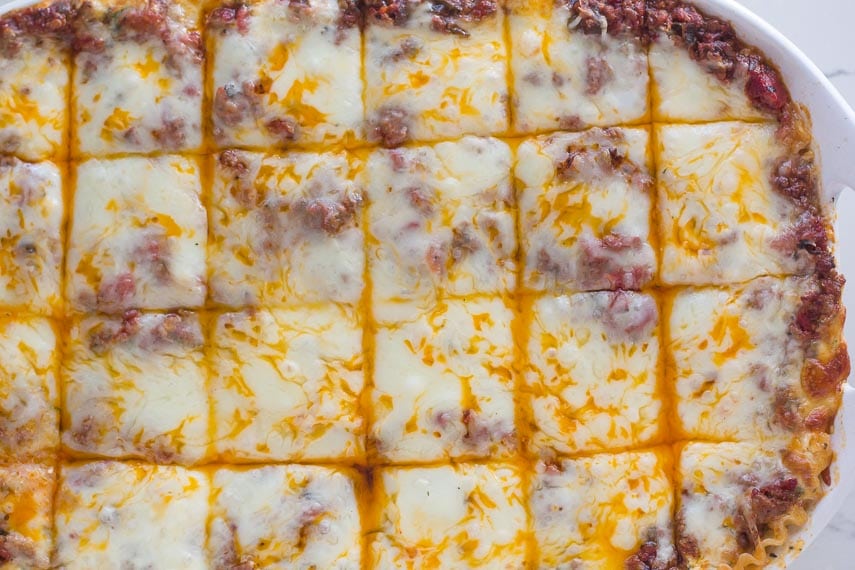 Sausage Can Be Low FODMAP
You could use 1½ pounds (680 g) of ground beef, but our combo of half ground beef and half low FODMAP sweet Italian sausage is fantastic! You will need to ask questions of your butcher and/or read labels to find a sausage that is free of garlic and/or onion. Many sausages do contain garlic in particular, so do your due diligence.
About Low FODMAP Gluten-Free Lasagna Noodles
Gluten-free lasagna noodles are easy to find and most are low FODMAP, the majority of them being made of rice. They are not, however no-boil.
There are no-boil GF lasagna noodles available, but they are not carried in all stores, whereas the uncooked ones seem to have become standard. I wanted to use those, as they are easiest to find.
While I never have any issue boiling and cooking rice-based GF noodles in smaller shapes, such as spaghetti, linguine and fusilli, the long, broad lasagna noodles are not as user-friendly.
These GF noodles often either stick together or fall apart! There is often little middle ground. I have found that soaking them in hot water – not boiling water – is a great way to soften them before layering with your other ingredients. Timing info is given in directions.
Dairy, Dairy, Dairy
Ricotta cheese is typically used in lasagna, but you won't find any here. That's because as of now there is no easily accessible low FODMAP, lactose-free ricotta commercially available. We do have a recipe to make your own, if you like.
Ricotta, being a soft cheese, has a small low FODMAP serving of 2 Australian tablespoons or 40 g.We prefer to use lactose-free cottage cheese, which can be more easily found in most large supermarkets. And, we do not think of this as a poor substitution. In fact we love it! Cottage cheese has a bit more of a tangy cheesy flavor, which we love.
The mozzarella and Parmesan are naturally low lactose and not a problem.
It's All About Assembly
If you have ever made lasagna you know that it all about the layering. Get all your ducks in a row – meaning have your sauce ready, your noodles softened, your cheese grated, your cottage cheese whipped – and assembly will be a cinch.
Hearty Low FODMAP Lasagna
Our Hearty Low FODMAP Lasagna features beef, sausage, tomato sauce and all the cheese you crave, yet it is low FODMAP!
Cook Time:
1
hour
30
minutes
Total Time:
1
hour
50
minutes
Ingredients:
Pasta & Cheese:
12-

ounces (340 g)

low FODMAP gluten-free lasagna noodles,

such as Jovial

2, 16-

ounce (453 g)

containers lactose-free cottage cheese

1

cup (100 g)

grated Parmesan cheese

2

large eggs

2/3

cup (10 g)

chopped basil leaves

½

cup (16 g)

chopped fresh flat-leaf parsley leaves

Freshly ground black pepper

1-

pound (455 g)

mozzarella, whole milk or skim,

shredded
Preparation:
Make The Sauce: Heat the low FODMAP Garlic-Infused Oil in a large non-reactive straight-sided skillet over low-medium heat until shimmering. Add leeks and scallions and sauté for several minutes until softened, but not browned. Add ground beef and sausage, breaking up well, and continue sautéing until the meats are no longer pink. Stir in the wine, turn up the heat, and cook, stirring often, until most of the wine evaporates. Stir in the tomatoes, tomato paste, dried basil, dried oregano, red pepper flakes and a generous amount of black pepper. Now grab your potato masher! Mash the sauce, mashing the tomatoes and the sausage, which might still be a bit clumpy. The masher works wonders. Adjust heat to a simmer and cook for about 30 minutes, partially covered, stirring occasionally, until sauce thickens. Set aside to cool briefly. Sauce may be made 2 days ahead and refrigerated in an airtight container. Bring back to room temperature before proceeding.

For Pasta & Cheese: While sauce is simmering, fill a large pot with very hot, but not boiling water and add the lasagna noodles, stirring them to keep them separated. Let them soak for 10 minutes or more. Keep an eye on them. You want them pliable, but not so soft that they fall apart. Drain when done.

Meanwhile, place cottage cheese in a large bowl and whisk vigorously until it smooths out a bit. Whisk in Parmesan cheese, eggs and herbs, season with black pepper and combine everything well.

Position rack in center of oven. Preheat oven to 375°F (190°C). Coat the inside of a 13-inch by 9-inch (33 cm by 23 cpan with nonstick spray.

For Assembly: You will be creating four layers. Layer #1: Spoon a little bit of the sauce into the bottom of your pan and schmear it around to cover pan to help pasta release upon serving. Completely cover the bottom of the pan with noodles, cut to fit as needed. Dollop one-third of the cottage cheese over the noodles and spread it into an even layer using the back of a soupspoon. Now add one-quarter of the mozzarella evenly over all.

Layer #2: Evenly spread one-third of the remaining sauce (you can eyeball it), another layer of noodles, half of the remaining cottage cheese mixture and another quarter of the mozzarella.

Layer #3: Spread half of the remaining sauce, another layer of noodles, all of the remaining cottage cheese mixture and another quarter of the mozzarella.

Layer #4: Evenly spread all of the remaining sauce overall and then top with the rest of the mozzarella.

Spritz the bottom of a large piece of aluminum foil with nonstick spray and, this side down, very lightly cover the lasagna, tented as high as possible so as not to touch the cheese.

Bake for 45 minutes, then remove the foil and bake for about 15 minutes or until cheese is melty and bubbly. Allow lasagna to sit for 15 minutes before serving. Lasagna can also be wrapped up well in plastic wrap and foil before baking and frozen for up to a month. Defrost before baking.
Notes:
Tips
There is no getting around the fact that this is a bit of a production. Why not make two at once and freeze one? And/or, once baked and cooled, you can also divide into individual portions, wrap, freeze and reheat as needed in microwave for super-easy, last-minute meals.
Nutrition
Calories:
239
kcal
|
Carbohydrates:
14
g
|
Protein:
18
g
|
Fat:
13
g
|
Saturated Fat:
2
g
|
Cholesterol:
17
mg
|
Sodium:
185
mg
|
Potassium:
86
mg
|
Fiber:
1
g
|
Sugar:
1
g
|
Vitamin A:
123
IU
|
Vitamin C:
1
mg
|
Calcium:
112
mg
|
Iron:
1
mg
And we have an article for you for more tomato inspo: Canned Tomatoes to the Rescue: 18 Delicious Low FODMAP Recipes for Busy Weeknights.