Lactose-Free Hot Cocoa
If you think hot cocoa comes in individual packets with hard little nuggets that are supposed to be mini marshmallows – then this recipe will be a revelation. When we want decadence, we make our Parisian-style Hot Chocolate.
We also have a Mint Hot Chocolate, FYI!
When the kids come in from sledding or skiing and want something sweet and hot, we turn to this recipe for hot cocoa. It is rich, but not too rich, just sweet enough, quick to make and economical.
Hot Cocoa is Made with Cocoa Powder!
No surprise, right? Hot cocoa is made with cocoa powder. But we actually see recipes for hot cocoa and hot chocolate all the time that do not contain their namesake.
Here at FODMAP Everyday® we keep our hot chocolate and hot cocoa recipes pure. One is not better than the other – they are just different and should be celebrated for their individuality.
Want something a little lighter and more kid-friendly? Make this Hot Cocoa. Want something to satisfy a very adult bittersweet chocolate craving? Make our Hot Chocolate.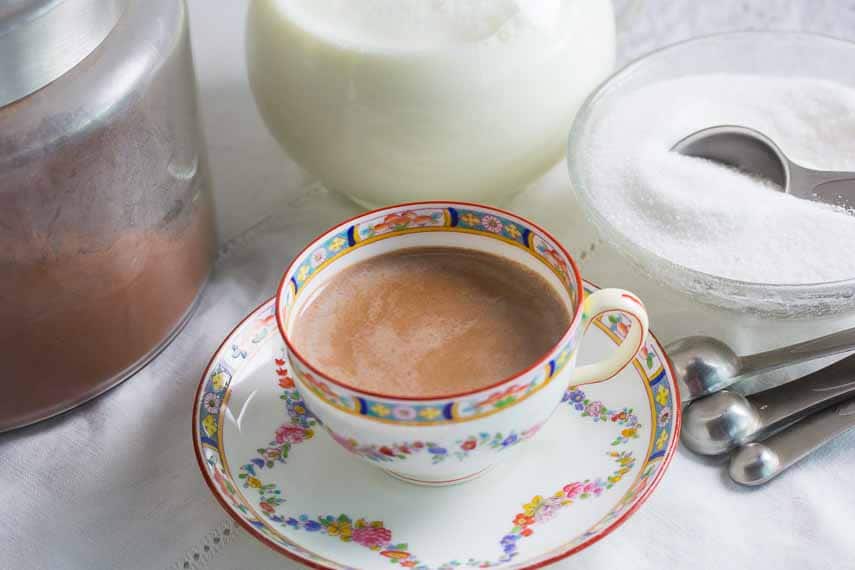 So, for this recipe you need a good quality natural cocoa. Read All About Cocoa for more cocoa-related information.
With a little sugar and milk, you will be on your way to the best-ever hot cocoa that could never be matched by the pre-packaged stuff – and ours takes only 5 minutes to make!
You CAN Have Marshmallows!
Are you wondering if you can float a marshmallow on top of your hot cocoa? YOU CAN! There are marshmallows that are low FODMAP and our Candy Ingredient article will teach you how to read labels to make sure that you are choosing low FODMAP ones.
Hot Cocoa
Make low FODMAP Hot Cocoa with lactose-free milk and high quality cocoa powder.
Ingredients:
2

tablespoons

sifted natural cocoa

1

tablespoon

sugar

2

cups (480 ml)

lactose-free whole milk

1/8

teaspoon

vanilla extract
Preparation:
Whisk together the cocoa, sugar and a little it of milk in a saucepan until smooth, then whisk in remaining milk. Bring just to a simmer over low-medium heat, whisking occasionally until piping hot. Whisk in vanilla, divide into cups and serve.

This cocoa is best if enjoyed right after preparing.
Notes:
Tips
You could double the cocoa and sugar and it would still be low FODMAP, but we like this hot cocoa a little lighter as it is. If you want something more intense, try our Hot Chocolate.
Make a minty version substituting peppermint extract for the vanilla.
You can make this with unsweetened almond milk.
If You Can Tolerate
Lactose: If you have passed the lactose challenge, feel free to use regular milk.
Nutrition
Calories:
91
kcal
|
Carbohydrates:
11
g
|
Protein:
4
g
|
Fat:
4
g
|
Sodium:
1
mg
|
Sugar:
9
g
---