This post may include affiliate links. Please see our complete disclosure here.
Creamy & Low FODMAP Lobster Mac n' Cheese
This gluten free and low FODMAP Lobster Mac n' Cheese might be the ultimate combination of comfort food and elegant. You get creamy, gooey, cheesy macaroni and cheese, and if that weren't great enough, there are pockets of tender lobster scattered throughout.
I made this dish for an important family get-together and everyone went crazy over it. This is a really nice dish for Valentine's Day or New Year's Eve, FYI.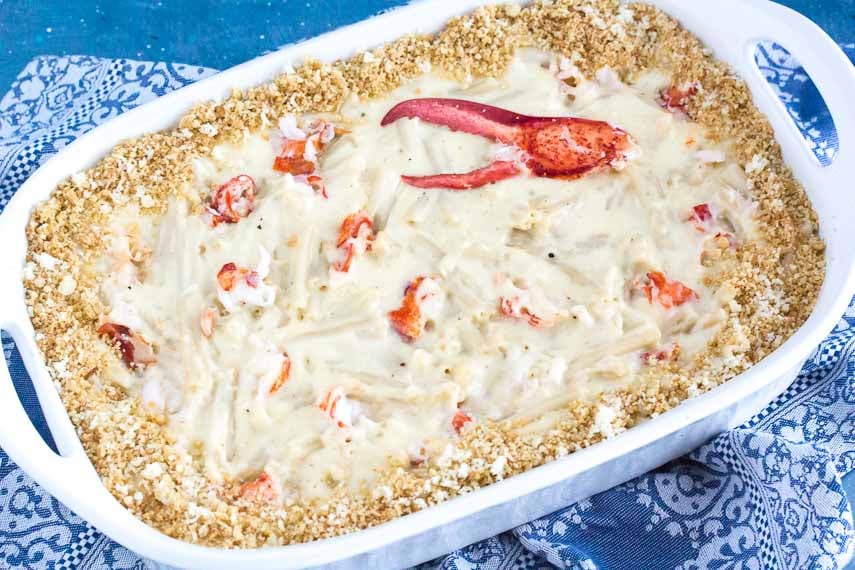 Choose Your Pasta, Choose Your Cheese
The pasta will be a low FODMAP gluten-free option of course, but you can choose shapes! I have used elbows, tiny shells as well as casarecce (kind of a short, twisted rope shape). They all work.
As far as cheese I am going to ask you to be a little more specific. The lobster demands an elegant flavor profile from the cheese; ones that enhance the seafood and Gruyere and mild white cheddar do the trick.
Note that you will cook the lobsters first and then use the water to cook the pasta. All that lobster-y goodness maximized!
And have we made this totally clear yet? This dish is lactose-free, gluten-free and low FODMAP!!!
Make Now, Enjoy Later
This baked mac n' cheese allows you to make the whole shebang the day before you intend to serve and then just heat n' eat. You could also freeze it for up to a month!
Comfort, elegance and ease all in one dish!
Big, Small & In-Between
You can make this in one large casserole as directed, or in smaller oven-safe containers- such as these adorable and perfectly sized ones from Lodge – as you can see in the pictures.
Having one all to yourself feels pretty special.
Recipe Sponsored By FODY Foods
Lobster Mac n' Cheese
Lobster Mac n' Cheese is the most incredible dish - both comfort food and elegance all rolled into one.
Ingredients:
Pasta, Lobster & Sauce:
1/2

cup (113 g) plus 1 tablespoon

(1 stick plus 1 tablespoon) unsalted butter,

cut into pieces, divided

6,

5 ounce (140 g)

cold-water lobster tails

(such as Maine lobster tails), frozen and defrosted or fresh, or 4 lobster tails and 1, 1 ½ pounds (680 g) lobster

1

pound (455 g)

low FODMAP gluten-free pasta,

elbows, tiny shells or casarecce

6

tablespoons (1.6 g)

gluten free flour,

such as Bob's Red Mill Gluten Free 1 to 1 Baking Flour

5

cups (1.2 L)

lactose free whole milk or 2%,

at room temperature

8

ounces (225 g)

finely grated mild or medium sharp white cheddar cheese

8

ounces (225 g)

finely grated Gruyere cheese

1/2

cup (50 g)

finely grated Parmigiano Reggiano

1 1/2

teaspoons

kosher salt

Freshly ground black pepper
Preparation:
For the Topping: Melt oil and butter over medium heat in a large sauté pan, preferably nonstick. Add breadcrumbs, toss to coat, and cook for a minute or two, just until crumbs begin to take on color and smell fragrant (like garlic toast). Remove from heat and stir in Parmigiano Reggiano and salt; set aside.

For the Pasta, Lobster & Sauce: Position rack in middle of oven. Preheat oven to 400°F/200°C. Butter the inside of a 13 x 9 inch (33 cm x 23 cm) ovenproof dish with the 1 tablespoon of butter; set aside.

Bring a large stockpot of salted water to a rolling boil. Add lobster tails and whole lobster (if using), cover, and cook lobster until done, about 3 to 5 minutes for tails and about 10 minutes for whole lobster. The shells should be bright red. The tail shells should be tightly curled around and the tail flesh should be creamy white, with no translucence. You can also tug at one of the antennae; it should separate easily from the head.

Remove lobster(s) from water, reserving water. Let lobsters cool, crack open the lobster shells, drain away and discard any liquid and roughly chop the flesh. (You can save one whole claw for decorative purposes like we did).

Bring the lobster water back to a boil and cook pasta until it is very firm, even more so than "al dente", and still has a slight firmness; do not overcook as pasta will cook further in oven. Drain; run under cold water to stop cooking.

Melt ½ cup (113 g) butter in large pot over medium heat then whisk in flour until combined to make a roux. Cook over medium heat, whisking almost constantly, for about 2 minutes or just until roux is very light brown. Slowly add milk, whisking all the while. Continue to cook over medium heat, bringing back to a low boil, whisking all the while, for about 3 minutes or until sauce is thick and creamy. You should be able to see whisk marks for a moment before they dissolve back into the sauce. Remove from heat and slowly add grated cheddar, Gruyere and Parmigiano Reggiano, whisking them in as you go. The residual heat should melt the cheeses. Whisk gently until cheeses are melted, incorporated and the sauce is thick and smooth. Season with salt and pepper, going lightly on the salt as the pasta and lobster will be adding salinity. Stir in pasta and cooked lobster meat. Scrape into prepared pan, then sprinkle toasted breadcrumbs evenly over top, or along the edges. (Your Lobster Mac n' Cheese may be covered with aluminum foil at this point and held at room temperature for 2 hours before baking, refrigerated overnight or frozen for up to 1 month. Bring to room temperature before baking).

Bake for about 25 to 35 minutes or until edges are bubbling and topping is light golden brown. Lobster Mac n' Cheese is ready to eat. Leftovers may be covered with plastic wrap or placed in airtight containers and refrigerated for up to 3 days. Reheat in microwave or in a 300°F/150°C oven covered with foil to prevent it from drying out.
Notes:
If You Can Tolerate
Fructans: If you passed the fructan wheat challenge you can sub in traditional wheat based pasta for the gluten-free pasta in the recipe.
Lactose: If you passed the lactose challenge you can sub in conventional milk for the lactose-free milk.
Nutrition
Calories:
645
kcal
|
Carbohydrates:
51
g
|
Protein:
38
g
|
Fat:
25
g
|
Cholesterol:
78
mg
|
Sodium:
942
mg
|
Fiber:
2
g
|
Sugar:
4
g
---
Low FODMAP Recipes Created Just For You!
We take low FODMAP recipes seriously at FODMAP Everyday®. That's why Dédé oversees our Test Kitchen and makes sure that each and every recipe works – and is low FODMAP following the most up-to-date science.
Rest assured that you will not find more trustworthy or delicious low FODMAP recipes anywhere – several hundred and counting.
FODMAP Everyday®Low FODMAP Recipes At A Glance:
Come Join Our Low FODMAP Recipe Community!
Use Our Exclusive Recipe Filter To Find The Low FODMAP Recipe You Are Looking For Today!
---