Low FODMAP Angel Food Cake
Our Low FODMAP Angel Food Cakes is as light, low in fat, sweet and versatile as the traditional version. Ours is based on the very soft and cake-flour-like King Arthur Gluten Free Measure for Measure Flour.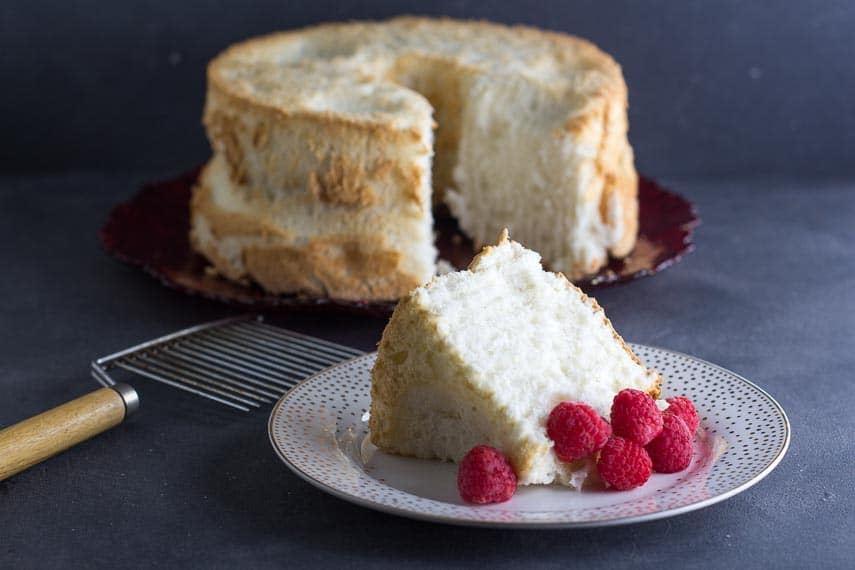 Choose The Right Low FODMAP Flour
We have a fabulous article about choosing low FODMAP flours. In short, for this recipe, I wanted very soft and powdery flour, as similar to conventional cake flour as I could get.
For this purpose I like King Arthur Gluten Free Measure for Measure Flour. It has the cake flour-like qualities I am looking for that help create a very soft, tender, lofty cake. It is for these same reasons why I do not like it as my go-to all-purpose low FODMAP flour, for which I prefer Bob's Red Mill Gluten Free 1 to 1 Baking Flour.
Angel Food cakes demand a very light and soft flour, so the choice you make will greatly affect the end result.

Angel Food Cakes Are Versatile
Angel food cakes can be served plain but they truly shine with a little something alongside. We love them with a little fruit compote or scoops of lactose-free ice cream or sorbet – or even a dollop of Lemon Curd.
The optional almond extract adds a lovely flavor that balances out the inherent sweetness. Note that you do need superfine sugar for this recipe and you can make your own by buzzing regular granulated sugar in a food processor fitted with a metal blade.
For a spectacular use of this cake, be sure to check out our Low FODMAP Cranberry Cheesecake Trifle, which we particularly like during the winter holidays with its festive red and white color scheme. And it tastes like cheesecake!
Specialty Equipment
You do need a two-piece angel food cake pan for this recipe. Note in the directions that you do leave it uncreased. This is not an oversight!
While the pan is necessary, for the classic shape, there is a another tool which is nice to have – an angle food cake cutter! Angel Food Cakes are so light and lofty that they can be compressed if cut with a standard knife. These combs make quick work of this delicate cake and are great for chiffon cakes, too. And if you are a collector, the are fun to search for at antique shows. The one on the right below has a Bakelite handle and dates from the 1920s or 30s.
Speaking of light and fluffy, angel food cakes are so light that they can fall back upon themselves during cooling. While some pans have little feet (and ours does as you can see) and you can invert the cake to cool on those feet, many bakers, me included, prefer to prop the cake on the neck of a wine bottle. Don't worry, the cake won't fall out!
Low FODMAP Angel Food Cake
Our angel food cake tastes just like the classic version but ours is LOFO and GF.
Low FODMAP Serving Size Info: Makes 1, 10-inch (25 cm) angel food cake; 12 servings
Preparation:
Preheat oven to 350°F (180°C). You need a 10-inch (25 cm), two-piece loose bottom tube pan; leave it ungreased.

Whisk together the flour, ¾ cup (149 g) superfine sugar and salt in a medium bowl to combine and aerate; set aside.

In a large, clean, grease-free bowl, beat egg whites with an electric mixer on medium-high speed until frothy. (If you have a standing mixer, definitely use it along with the balloon wire whip attachment). Add cream of tartar and continue to beat until soft peaks form. Gradually add remaining ¾ cup (149 g) superfine sugar and continue beating until firm peaks form. Beat in vanilla and almond extracts.

Sprinkle about one-third of dry mixture over meringue and begin to combine by hand using a large balloon whisk. Add another third of dry mixture, continue folding with whisk, then add remaining dry mixture. Use a folding action with the whisk until well combined, taking care not to deflate batter. Carefully spoon mixture into ungreased tube pan, smoothing the top with a small offset spatula.

Bake for about 30 to 40 minutes or until a wooden skewer tests clean. Immediately prop cake pan upside down to cool completely. If your pan has feet, as ours does in the image, you can invert on a rack, otherwise prop the pan upside down on the neck of thin bottle. I like to use a bottle anyway, for better air circulation.

Once the cake has cooled, run a thin knife or icing spatula around outer edge of cake, and around inner core, and unmold. The flat bottom of the cake is now the top. Cake is ready to serve. May be stored at room temperature for up to 2 days under an airtight cake dome.
Notes:
Tips
Note that you use the pan ungreased. This allows the meringue-based batter to cling and climb up the sides of the pan. Don't worry! It will unmold.
Angel food cakes are so light textured that using conventional knives to cut into them will compress and crush the cake. An angel food cake cutter does the trick.
FODMAP Information
Our recipes are based on Monash University and FODMAP Friendly science.
Sugar: Monash University and FODMAP Friendly have both lab tested white, granulated sugar. Monash states that a Green Light low FODMAP serving size of white sugar is ¼ cup (50 g). FODMAP Friendly simply states that they have tested 1 tablespoon and that it is low FODMAP. Regular granulated white sugar is sucrose, which is a disaccharide made up of equal parts glucose and fructose. Sucrose is broken down and absorbed efficiently in the small intestine.
Please always refer to the Monash University & FODMAP Friendly smartphone apps for the most up-to-date lab tested information. As always, your tolerance is what counts; please eat accordingly. The ultimate goal of the low FODMAP diet is to eat as broadly as possible, without triggering symptoms, for the healthiest microbiome.
Nutrition
Calories:
156
kcal
|
Carbohydrates:
35
g
|
Protein:
4
g
|
Fat:
1
g
|
Sodium:
49
mg
|
Potassium:
52
mg
|
Fiber:
1
g
|
Sugar:
25
g
Also check out this article: Satisfy Your Sweet Tooth with These 22 Delicious Dairy-Free Recipes