Charoset With Apples? Yes!
2018 was our first year of bringing you low FODMAP recipes for Passover, including our original low FODMAP Charoset, which we based on jicama.
Jicama is a very mild flavored, slightly sweet and very crunchy vegetable that stands in very well for apples, however, over the last year Monash University has lab-tested apples and honey and while the low FODMAP amounts are very small, they can be incorporated into recipes.
(Take a look at our article Are Apples Low FODMAP?).
We decided to create an even more traditional take on charoset and add a low FODMAP amount of apples. Presenting our Low FODMAP Apple & Walnut Charoset for your enjoyment.
About Apples & Honey
For the record, Pink Lady apples are low FODMAP in portions of 20 g and Granny Smith in 30 g amounts. The image below shows you what that looks like.
Some of you might still not have a scale, so seeing this visually can be of great help. (And we encourage all of you to get a good digital scale to help you navigate the diet).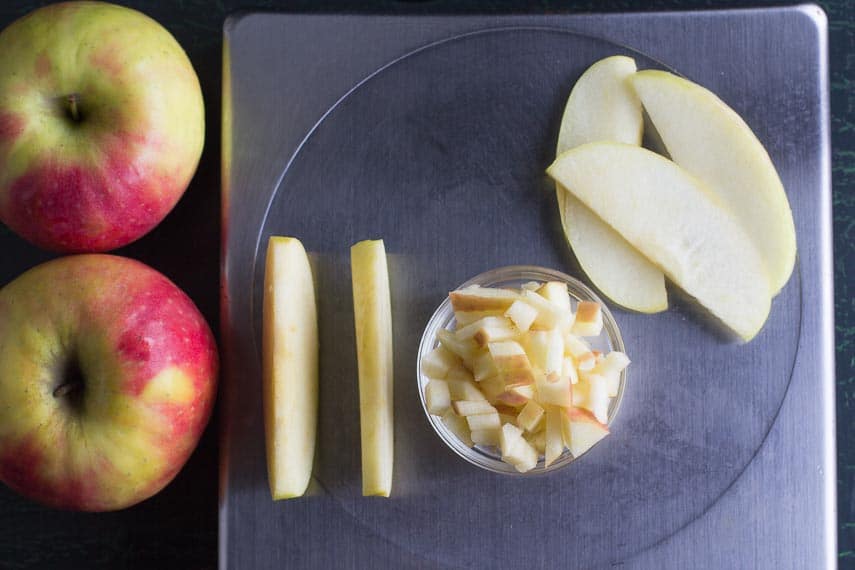 Honey is low FODMAP in 1 teaspoon amounts. These amounts have been taken into account in the development of this recipe and if you follow our recommendations for serving size you can enjoy this Low FODMAP Apple & Walnut Charoset even during Elimination.
You can read about both apples and honey here.
The Low FODMAP Passover Seder Plate
Charoset is part of the Seder plate, which includes other items, many of which are perfectly fine for those of us following the low FODMAP diet. See our article, The Low FODMAP Passover Seder Plate for more in-depth information.
By the way, this recipe has slightly different amounts from our original charoset recipe to take advantage of the fact that one average jicama and one average apple will yield the amounts that you need here below.
Low FODMAP Apple & Walnut Charoset
We have two charoset recipes for you. This one includes low FODMAO amounts of apples!
Low FODMAP Serving Size Info: Makes about 6 cups (810 g); 12 servings; serving size ½ cup (68 g)
Ingredients:
1-

pound (455 g)

jicama,

peeled and finely diced

4 ¼

ounces (120 g)

peeled and cored finely diced Pink Lady apple

3/4

cup (75 g)

toasted walnut halves, finely chopped

1/2

cup (83 g)

raisins

1 1/2

tablespoons

red wine or cranberry juice

1

tablespoon

honey

1

teaspoon

firmly packed light brown sugar

1/2

teaspoon

cinnamon

Pinch

teaspoon cloves

Pinch

teaspoon nutmeg
Preparation:
In a medium mixing bowl stir together all of the ingredients until well combined.

Scrape into an airtight container and refrigerate for at least an hour for the flavors and textures to meld. We think it is even better the next day and even the following! Charoset can be refrigerated for up to 4 days.
Notes:
Tips
As unconventional as it might seem, any leftover charoset is fabulous with yogurt or - ok this is going to sound sacrilegious - alongside a pork chop. We don't mean to offend our Jewish brethren, it's just that we are not orthodox in any way, shape or form and do eat pork around here and wanted to point out this unusual pairing.
Nutrition
Calories:
104
kcal
|
Carbohydrates:
15
g
|
Protein:
2
g
|
Fat:
5
g
|
Saturated Fat:
1
g
|
Sodium:
3
mg
|
Potassium:
81
mg
|
Fiber:
3
g
|
Sugar:
2
g
|
Vitamin C:
0.5
mg
|
Calcium:
3
mg
|
Iron:
0.3
mg