You CAN Have Some Apples & Honey
Are you surprised to read the title of this article? Apples dipped IN honey – are synonymous with a tradition associated with the Jewish holiday of Rosh Hashanah, which is why we are talking about this now.
As of August 2018 Monash University Low FODMAP Diet Smartphone App update that honey and apples have actually made it into small low FODMAP/Green Light approved amounts!
Clover honey in particular is low FODMAP in amounts of ½ teaspoon (3 g). A more generic honey has been lab tested and is low FODMAP in 1 teaspoon (7 g) amounts.
Both Granny Smith and Pink Lady apples are low FODMAP in amounts of 20 grams (generous 2 tablespoons), shown below.
The diced amount in the bowl is 20 grams; the thicker slices on the left are 20 grams; and the thinner slices on the right are 20 grams.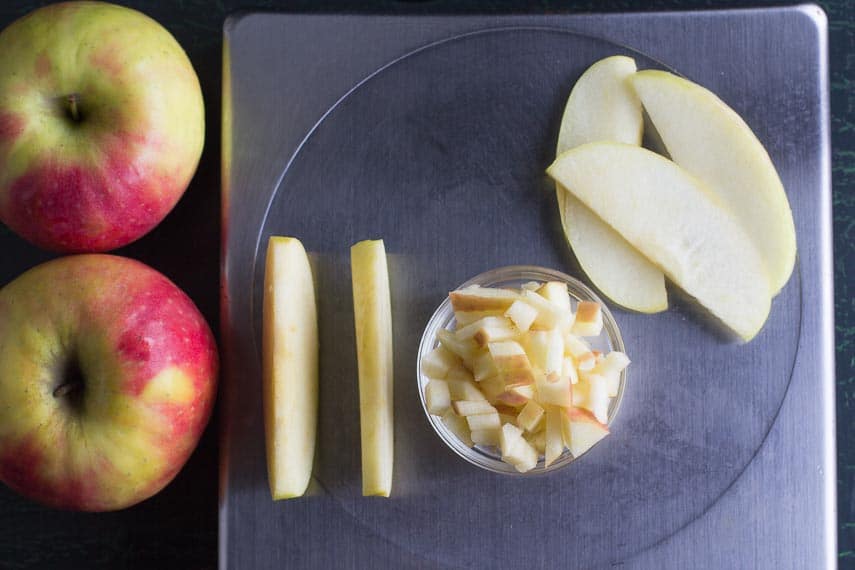 Rosh Hashanah is the beginning of the New Year, and it is customary to have sweet foods. Apples and honey are both sweet, and they are emblematic of the sweet year that we hope God will bring us. As of right now, your Nana's honey cake might have to be set aside. That would be too much honey!
Remember, the amount of foods counts!
Jewish Tradition & The Low FODMAP Diet
We recognize that the low FODMAP amounts of apples and honey are small, so how can we incorporate them into our Rosh Hashanah celebration? Simply dipping apple slices into honey would most likely create a high(er) FODMAP intake, so we came up with some tricks.
Start with half the suggested apple amount. So start with 10g of apples, which can easily translate into two thin slices. Then, we suggest taking ¼ teaspoon of honey and thinning it with a few drops of water. Then, brush the apple slices with the honey mixture and serve as part of your ritual.
Your mouth and tummy will thank us! Check out some of our other recipes to grace your table at Rosh Hashanah such as our Short Ribs with Horseradish, Matzo Ball Soup, Honey Cake, Garlic & Herb Roast Leg of Lamb, Pomegranate Lamb Shanks, Low FODMAP Carrot & Potato Tsimmes, Sweet & Sour Brisket with Sweet Potatoes and Grapes and more!
We wish all of our Jewish FODMAPers a Joyous New Year!