Can I Eat Apples on The Low FODMAP Diet?
Great questions! And the answer is, YES, you can eat apples on the low FODMAP diet. Monash University is constantly testing and re-testing foods and in the August 2018 update they have now provided a low FODMAP/Green Light portion of 20 grams for either Pink Lady Apples or green Granny Smith apples. 
This is approximately a generous 2 tablespoons of finely diced apple, if measuring by volume.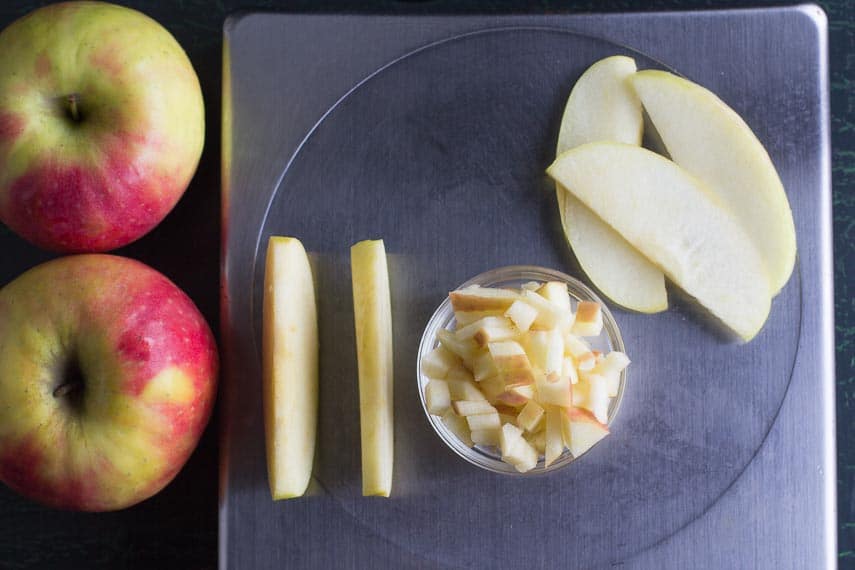 Let's See How Much We Can Eat!
The images on this page are showing you the amount of apple that is OK to eat! Of course you always have to listen to your own digestive reaction, but these serving sizes are a good place to start.
Dices & Slices
The dish in the middle above contains 20 g of diced apples. This amount could be added to oatmeal, granola or yogurt, or, multiplied up by serving size, diced apples could be added to quick breads, muffins, scones or even savory dishes like our Apple & Walnut Charoset or our Low FODMAP Curried Chicken Salad.
The slices of apple on the left are a little thicker; the slices on the right a little thinner, so you can have 2 or 3 slices.
Apples & Peanut Butter = The Perfect Low FODMAP Snack
Below you can see 3 approved slices with schmears of peanut butter; almond butter is great, too!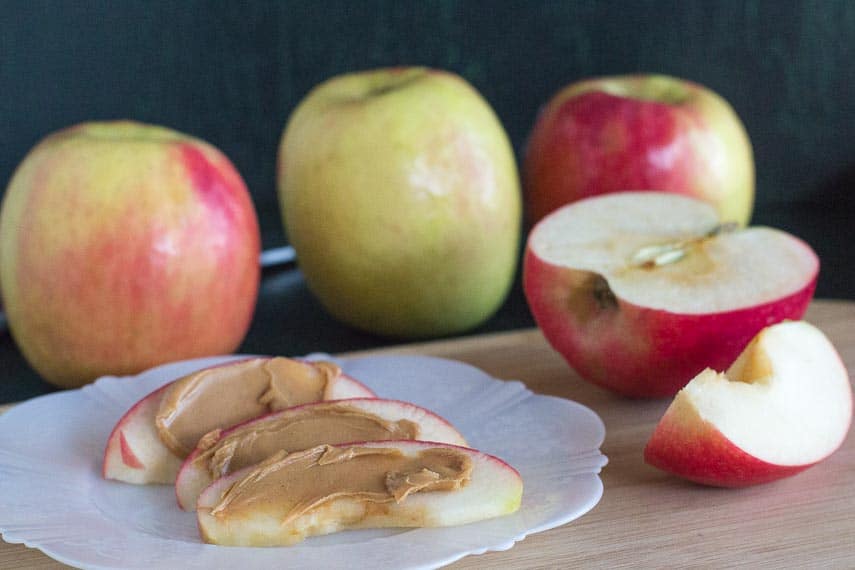 The wedge to the right of the peanut butter covered slices is 20 grams as well.
The image below gives some perspective, showing my hand holding the 20 gram wedge of apple.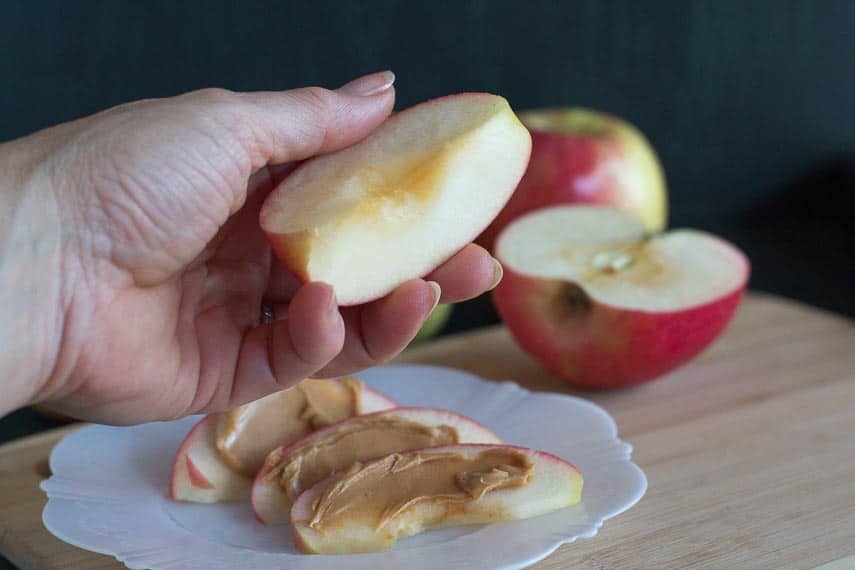 Get a Digital Scale
While following the low FODMAP diet it is incredibly helpful (we actually believe necessary) to own a digital scale. Serving sizes for raw ingredients are often represented in grams or ounces and you must use a scale to truly know what the acceptable amount is.
Our photos are an attempt to help you see what the serving sizes are.
We use an OXO Digital Scale in the Test Kitchen and find it to be well made, well priced and intuitive to use.
Can I Drink Apple Juice or Cider?
Apple cider has not been lab tested. Reconstituted apple juice has been tested and is high FODMAP even at 100 ml or 105 g, with both fructose and sorbitol.
Extrapolations can be made for fresh cider and juice – but extrapolating about FODMAPs can steer us wrong, so be careful when you apply them. All you have to do is look at winter squashes (not the same), peppers (not the same), cabbages (not the same), etc.
But let's look at the likelihood. Apples are rich in fructose and sorbitol. Reconstituted apple juice has shown similar. I would expect cider to be similarly high or probably higher as it is not as filtered as juice.
It is true that we do not know about smaller amounts, as Monash has not tested them. In order words, if you used ½ cup (120 ml) in a recipe but then the recipe was divided into 4 servings, would that be low FODMAP? We don't know.
Personally, I would not use during Elimination. Check with your RD and put it on the list to try during your Challenge Phase.
Low, Moderate, High FODMAPs
As with many foods, there will be servings that are low FODMAP, in this case 20 grams (as shown on this page), Moderate in FODMAPs at 28 grams (moderate in polyols) and one apple at 200 grams is considered high FODMAP (high in polyols and fructose).
Note that the line between Low and Moderate FODMAPS is very close. You need a scale to differentiate between Low at 20 grams and Moderate at 28 grams.
An Apple a Day?
You know the old saying, "an apple a day keeps the doctor away"? Well, we cannot eat a whole apple, unless our digestive system tolerates polyols and fructose very well, but we CAN have a few slices and that opens up a whole world of ways to enjoy this fabulous, fiber packed fruit.
Tell us below what you will be adding apple to!