Low FODMAP Cilantro Lime Rice
I was going to call this Green Rice because while this version is for Low FODMAP Cilantro Lime Rice, it is just as delicious – and green! – when made with parsley, which might be more enticing for some of you.
The instructions show you how to make this rice with either cilantro or parsley.
Feel free to sub in parsley for the cilantro, if you like. Use flat-leaf parsley, not curly, for best results. We know that some of you just don't like cilantro.
Cilantro Tastes Soapy
We are divided into cilantro lovers and cilantro haters, but there is a reason. For those who taste soap when they eat cilantro, it is because they have a variation of olfactory-receptor genes that allows them to detect aldehydes—a compound found in cilantro. It's not your imagination!
Go with the parsley variation. Parsley and lime and just as delectable – and colorful.
Acid Adds Interest
Most dishes are a balance of several primary tastes and flavors and sourness is one of them. Often referred to as acidity, you will find it in many of your favorite dishes, from coffee, which is naturally acidic, to lemonade, vinaigrettes and more.
The lime in our Low FODMAP Cilantro Lime Rice is not just a small addition. It really makes the dish! And use fresh lime juice for best results.
That Color!
If you have been looking at pictures of cilantro lime rice on line, you may have noticed that many (most?) of them are very white.
Where's the cilantro? Where is all the herb?
For our very green low FODMAP version I purée the cilantro, scallions and lime juice and it not only adds color, but it permeates the rice with TONS of flavor.
Speaking Of Color
If you use white rice the color will be at its most vivid. The rice used for the images was brown rice, so even then you are in for a visual treat! And a tasty one, of course.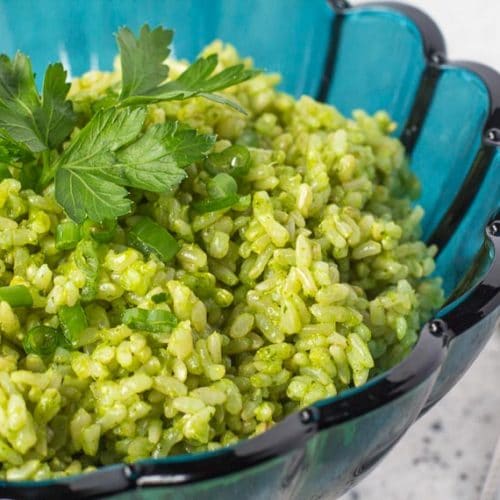 Low FODMAP Cilantro Lime Rice
Our Low FODMAP Cilantro Lime Rice is vivid in color due to the blending of a generous amount of herb (cilantro or scallion) and scallions in a blender with garlic-oil. This is the best green rice!
Low FODMAP Serving Size Info: Makes 4 cups (800 g) of rice; 8 servings; each serving ½ cup (100 g) of rice
Ingredients:
4

cups (800 g)

cooked rice

white or brown,just cooked and still warm

1

cup (30 g)

lightly packed fresh cilantro (or parsley) leaves

½

cup (32 g)

chopped scallions

greens only

¼

cup (60 ml)

Garlic-Infused Oil,

made with vegetable oil, or purchased equivalent

2

tablespoons

freshly squeezed lime juice

1

teaspoon

kosher salt

Lots of freshly ground black pepper

Zest of 1 lime;

optional
Preparation:
Have the rice set aside and kept warm.

Place the cilantro (or parsley), scallions, oil, lime juice and salt in a blender carafe. Add a generous amount of black pepper and optional lime zest, if using. Blend until combined and smooth.

Fold the herb mixture into the rice thoroughly. The rice should look green throughout like the images! Serve immediately.
Notes:
Tips
It should go without saying that you MUST use fresh herbs for this dish. The leaves of your cilantro or scallions should be sprightly and not floppy.
Nutrition
Calories:
183
kcal
|
Carbohydrates:
27
g
|
Protein:
2
g
|
Fat:
7
g
|
Sodium:
291
mg
|
Fiber:
1
g
|
Sugar:
1
g
---
Low FODMAP Recipes Created Just For You!
We take low FODMAP recipes seriously at FODMAP Everyday®. That's why Dédé oversees our Test Kitchen and makes sure that each and every recipe works – and is low FODMAP following the most up-to-date science.
Rest assured that you will not find more trustworthy or delicious low FODMAP recipes anywhere – several hundred and counting.
FODMAP Everyday®Low FODMAP Recipes At A Glance:
Come Join Our Low FODMAP Recipe Community!
Use Our Exclusive Recipe Filter To Find The Low FODMAP Recipe You Are Looking For Today!