Low FODMAP Cioppino
Our Low FODMAP Cioppino, which is a tomato-based seafood-packed soup – sticks close to the classic and required very little tinkering to make it low FODMAP. You will find both firm flesh fish as well as shellfish in this dish – and we think the somewhat red and green color scheme lends itself well to the winter holidays, perfect for serving as part of our low FODMAP Feast of Seven Fishes.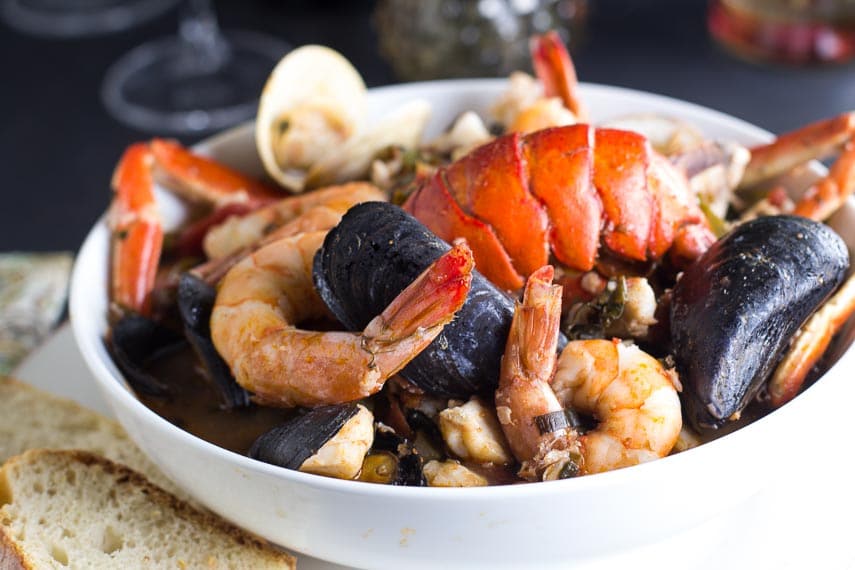 It looks spectacular and is actually easy to make. Just read through before cooking and it will come together with exceptional results, as you can see here.
History of Cioppino
Cioppino was born in San Francisco. The name hails from the Italian word for the fish stew, ciuppin, from Genoa. The original used small whole fish, but early Italian immigrants to San Francisco translated the dish it to include their typical catch, which included Dungeness crab.
According to my research there are written archives describing fisherman's wives making cioppino over wood fires on the slopes of Telegraph Hill. (If anyone knows drawn depictions or images of this, I would love to see)!
In our market, larger crab in the shell is often sold frozen and already cooked. This can be added at the end of cooking. If you prefer, you can use lobster tails, in which case they will be cooked along with the other ingredients.
The point is, that just as the San Francisco fisherman used what was available, so should you.
Buying Fresh Fish Filets
For any fish dish we want to buy the freshest fish possible. We are lucky as our Test Kitchen is in the northeast U.S. within driving distance of the coast and we are spoiled with access to amazing seafood of all kinds.
If you like fish, it pays to develop a relationship with a purveyor so that you can chitchat about what is fresh and just came in. For stews such as this Low FODMAP Cioppino or our Low FODMAP Bouillabaisse you want to use firm fleshed white fish filets.
I recommend sourcing red snapper or sea bass for this dish. Cod loins, which are very easy to find, may be used.
Buying Shellfish
Most shrimp available to most of us is frozen. Even if it is in the seafood case, it is most likely defrosted frozen. But that's ok! There is some very good quality frozen shrimp, but there are a few things to look for.
Ask the seafood monger or read labels. Make sure your shrimp are not treated with either sodium bisulfite, an industrial bleaching agent, or sodium tripolyphosphate (STP), a rehydrating agent.
In addition, some foreign shrimp, which might be less expensive, might also be treated with antibiotics that are banned by the FDA.
Read labels and ask questions at the fish counter for the best tasting and best-textured shrimp. These additives affect flavor and texture negatively and are just not necessary.
The same recommendations go for the lobster tails. Frozen lobster tails are easy to find and the ingredient list will often have just one ingredient: lobster!
Many traditional versions of cioppino feature crab. You could use the same amount of fresh crab in lieu of the lobster; your choice. The easiest way to add crab is to use cooked King crab legs, which often come frozen. Simply defrost and add near the end of cooking your cioppino, just to heat through. They look kinda cool, for sure.
I snuck some cooked crab legs into our bowls just for the festive look in the pictures!
Luscious Liquid: Bottled Clam Juice
Part of the beauty of this dish is the tomato and wine based broth, which is simply fantastic for soaking up with bread. Perhaps you have never bought bottled clam juice? It is inexpensive, easy to find and adds a briny depth that works perfectly in this dish.
It might seem odd to add chicken stock as well, but this addition adds a richness not accomplished otherwise. We highly recommend our Low FODMAP Chicken Stock, but a purchased equivalent is fine, too.
Wine Is Low FODMAP
Speaking of wine, we hope by now you know that wine is low FODMAP in amounts of 150 ml. Some Cioppino recipes call for white wine and others call for red. I like both. It is a what-mood-am-I-in kind of decision. The red wine makes a somewhat richer colored and flavored fish stew.
Take Advantage Of Do-Ahead Tips
The first part of the cioppino can be made the day before, making this a fantastic party dish. See Tips at the end of the recipe for more information.
More Seafood Focused Recipes
Let's Make Low FODMAP Cioppino!
Low FODMAP Cioppino
This Low FODMAP Cioppino is JAM PACKED with seafood, looks fancy and yet is super easy to make. You can even make a good portion of it the day ahead!
Ingredients:
¼

cup (60 ml)

Garlic-Infused Oil,

made with olive oil, or purchased equivalent

1

cup (72 g)

finely chopped leeks,

green parts only

1

cup (64 g)

finely chopped scallions,

green parts only

1

green bell pepper,

cored and diced

1

teaspoon

fresh chopped marjoram

1

teaspoon

red pepper flakes

2

tablespoons

tomato paste

1, 28-

ounce (794 g)

can whole peeled tomatoes,

chopped

1 1/2

cups (360 ml)

dry red or white wine

1

cup (240 ml)

Low FODMAP Chicken Stock

1

cup (240 ml)

low FODMAP fish stock or clam juice

Freshly ground black pepper

1

cup (15 g)

lightly packed fresh basil, torn into pieces, divided

4

lobster tails,

about 4-ounces (115 g) each

4

bamboo skewers

24

mussels or clams,

scrubbed and cleaned; de-bearded as needed

1-

pound (455 g)

fresh fish filets,

such as red snapper, sea bass or cod loins, skin removed, cut into large bite sized pieces

1-

pound (455 g)

very large shrimp (16 to 20 count),

deveined, tail-on

Crusty low FODMAP baguette or sourdough
Preparation:
In a large stockpot (8-quart/7.5 L in size or larger) heat the oil over low-medium heat, add the leek and scallion greens, thyme, marjoram and sauté until softened, but do not allow to brown. Whisk in the tomato paste, then add tomatoes and juice. Use a potato masher to crush the tomatoes right in the pot. Take care as they squirt! Add wine, low FODMAP Chicken Stock and clam juice, cover and simmer for about 20 minutes or until the alcohol taste has diminished and overall the mixture has reduced a bit. Taste and season with salt and pepper keeping in mind that you are about to add a lot of briny seafood (and add more marjoram and hot pepper, if you like). You will need salt, though to balance it out, so don't be shy.

Stir in half of the basil. Insert a bamboo skewer in each lobster tail, right under the top, center of the shell. This will keep the tails straight after cooking. Add the lobster tails to the pot if using. Cover the pot and simmer for about 4 or until partially cooked through.

Add the mussels or clams, cover the pot, and cook until they open, about 8 minutes. Add the fish and shrimp , cover and simmer just until they turn opaque and are cooked through. Remove skewers from lobster tails and cut each tail in half, lengthwise and place one in each warmed soup bowl.

Ladle soup into bowls, garnish with reserved basil and serve immediately. This dish is best served as soon as it is done. Serve with slices of crusty low FODMAP baguette to sop up all of the delicious broth.
Notes:
Tips
Do Ahead: The tomato/stock/broth/wine base may be made the day before. Cool, uncovered, then refrigerate in an airtight container overnight. Bring to a simmer before adding seafood.
Nutrition
Calories:
313
kcal
|
Carbohydrates:
8
g
|
Protein:
43
g
|
Fat:
9
g
|
Saturated Fat:
1
g
|
Cholesterol:
65
mg
|
Sodium:
468
mg
|
Potassium:
239
mg
|
Fiber:
2
g
|
Sugar:
4
g
|
Vitamin A:
255
IU
|
Vitamin C:
10
mg
|
Calcium:
35
mg
|
Iron:
1
mg
---
Low FODMAP Recipes Created Just For You!
We take low FODMAP recipes seriously at FODMAP Everyday®. That's why Dédé oversees our Test Kitchen and makes sure that each and every recipe works – and is low FODMAP following the most up-to-date science.
Rest assured that you will not find more trustworthy or delicious low FODMAP recipes anywhere – several hundred and counting.
FODMAP Everyday®Low FODMAP Recipes At A Glance:
Come Join Our Low FODMAP Recipe Community!
Use Our Exclusive Recipe Filter To Find The Low FODMAP Recipe You Are Looking For Today!